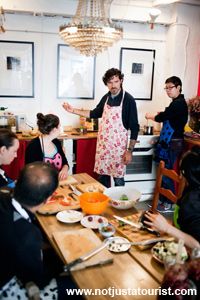 After an intense Flamenco dance class with Noemi and a few new friends at Not Just a Tourist, I had developed quite an appetite and thirst for some authentic Andalusian cuisine. Not too far away from the dance studio, David led our group to a nearby co-work space kitchen where we were greeted by an impressive spread of local organic vegetables on the table and some much needed air conditioning.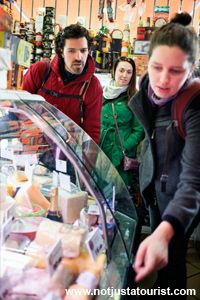 For starters, we got to work chopping up fresh ingredients to make authentic Sangria made with a quality Spanish red wine. As you may or may not know, Sangria must be served chilled, so sadly, it quickly went into the refrigerator to soak in all the flavors from the fresh fruit while we began cutting vegetables for the first course. Alas, there was plenty of cold beer in stock to support us while we listened to a top selection of Spanish music from the stereo.
Andalusian Cooking Class with Not Just a TouristThe next few hours flew by quickly as time seemed to slow down in this traditional space in the heart of old town. We soon feasted on David's traditional salmorejo purée made of tomatoes, bread, oil, garlic and vinegar – a recipe he had acquired from his mother, who inherited it from her mother and so on. By this time, we were partially satisfied and decided to take a break to sip on our chilled Sangria while huddling around the stove in order to finish preparing the main course- vegetarian paella. All the while, our pisto made with tomatoes, onions and eggplants cooked on a nearby burner.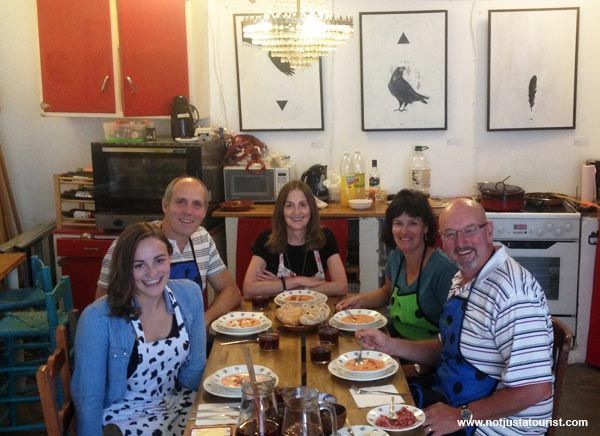 There is no question that this cooking class and the food was prepared with much love and care – evident in the way it tasted and the fact that it was prepared with friends. As a result, we savored a variety of rich flavors to the very end with Spanish Cava and a unique pudding desert topped with cinnamon.
Written by Graziela Camacho
Book the Andalusian Cooking Class with Not Just a Tourist by contacting us HERE.