July is one of the hottest months in Seville and some might say I am crazy to subject myself to this sweltering heat. However, today, I chose to add some fire to the weather with a Flamenco dance lesson!
Most people who come to Seville end up going to the 'touristy' tablaos in the center of town where the fake Sangria is 6 euros per glass and tickets for entry are over 15 euros. But REAL Flamenco was not intended to be such a commercialized circus show. Fortunately, I've seen some amazing Flamenco in Seville thanks to the help of Not Just a Tourist, and as their name states, I was not just a tourist. I was a behind the scenes dancer!
Some people say that Flamenco is a dance that runs through the veins of every Andalusian and when I first met Noemi (our dance instructor) I could tell that I was in for a real experience. It was 6:00pm when we met in Plaza del Pelîcano and as we walked together through the hidden artist complex there, I began to feel excited about seeing her private studio and learning how to dance Flamenco from a real professional.
Noemi showed myself and the group I was with how to look into each others eyes while dancing (with 'duende'/soul), and she oftentimes improvised vocally ('cante') to accompany our customized dance routine. Her fast footwork and physical precision was beautiful to watch and had me wishing I could stay in Seville several years to master this highly technical dance! Olé!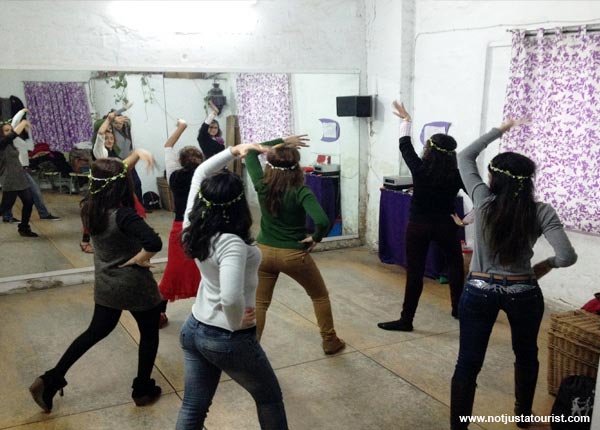 Book the Authentic Flamenco Dance Lesson with Not Just a Tourist by contacting us HERE.
Written by Graziela Camacho