Imagine a medieval temple that depicts your vision of the Universe without the use of sculptures or realistic pictorial representations of people using only the finest age-old materials of jasper, onyx, marble and granite. The amazing structure I am describing is known as the famous, "Mezquita" in Cordoba, Spain.
Luckily, my first trip to visit this magnificent Islamic mosque was with David Delgado of Not Just a Tourist.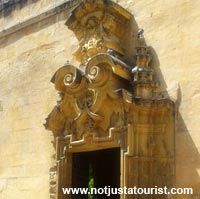 Cordoba had been on my list of places to see in Spain for quite some time now because of the famous "Mezquita" and because of the historic antique medieval city that surrounds it. The control of the Iberian peninsula that it had during the high middle ages is also of important note, because it was the capital of Andalusia from 766 to 1236 until it was conquered by king Ferdinand III of Castile during the Reconquest. Hence, the Christian Cathedral built right smack in the middle of the Mezquita!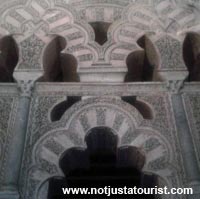 Day Trip to Cordoba with Not Just a TouristI can only imagine what the city looked like during the 10th century with litup oil lamp paved streets, public baths, poets, scholars and other intellectuals in its public squares. At probably ten times the size of Paris, it must have been a wonderful golden age of tolerance amongst Jews, Christians and Muslims. The Mezquita, to me embodies this notion of "one culture, three religions." If you are ever lucky enough to visit it too, you might feel the same way as you gaze upon the impressive arcaded hypostyle halls consisting of 856 columns of stone and marble surrounding you. It is a glorious mix of gothic, renaissance and baroque styles.
It is no wonder that this Mosque/Cathedral is considered to be a world UNESCO World Heritage site. Inside, there can be found elaborate Arabic scripture adorning the columns that I long to understand. On the other hand, I can interpret what historic Andalucia and the Mezquita was like through the poetry of Garcîa Lorca and Allama Muhammad Igbal.
"To Love, you owe your being,
O, Harem of Cordoba,
To Love, that is eternal;

Never waning, never fading."
Book the Cordoba Day Tour with Not Just a Tourist by contacting us HERE.