Usefull Information about Motorcycling in Africa
Please bear in mind that this information can change! Last update 6th April 2015
VISA
Arrival visa at the airport in Addis Ababa for a month for 50 USD. You will get it for as long as 3 months but will cost more. If you need to renew your visa they will probably tell you that you can renew in another city be sure that it's not possible. I had to ride back 800 km to have my visa extended for one more month and on top had to pay 100 USD and wait a day!
MONEY
1€= 25 birr, 1$=20 birr, The exchange rate at the banks at the airport is not different than the other banks throughout the city and they are open late after midnight too. You get much better rates at the black market which can be any shop owner…
FUEL
1 liter of "regular" gas= 20 birr
I guess I was not very lucky as the day I started riding was the day that the fuel shortage started and in my 800 km ride I could not find a single gas station selling any "regular" gas. I had to find it on the black market and they would charge me about 25 to 35 birr per liter. I did a bit of negotiations whenever I bough more gas and most of the time it worked. Generally there is a shortage of gas anywhere outside of Addis so that you really want to make sure to have enough gas or are willing to pay the black market price. The best thing is to stop at each single gas station and refill as much as you can.
ROAD CONDITIONS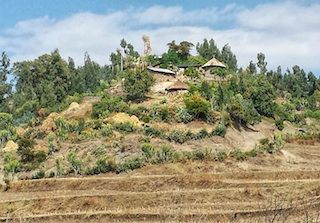 Most main roads are according to the people sealed roads and in good conditions. The Chinese are building roads everywhere so that if they are not sealed yet they will be most probably at some point in 2015. The road from Addis to Mekele is gorgeous and full of mountain passes passing by beautiful scenery and with quite good quality.
The road from the main road to the village of Hawazin where the Geralta massif is does not exist as it´s under construction right now (to be finished soon?). You better take the road from Wukro to Magib as it´s dirt but quite easy. With a bit of sand at some curves though and the scenery is just awesome. The best I had in Ethiopia.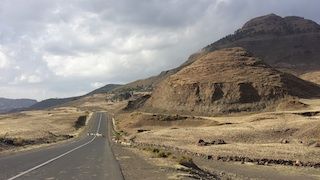 There is a very nice gravel road from Mekele to Samere and then Sokota till Lalibela that you could do in 2 days. The scenery is nice but they have started a road construction that will take 3 years. All in all this road together with the one from Lalibela to Ganesha connecting to Walkdia or Gondor are easy dirt roads and you are going to be almost the only moving object on them!
ROAD DANGER
You need to be careful with 2 things: human beings and kids in the cities and the lambs or goats on the road. Ethiopia is by far one of the most dangerous countries for riding just because of the incredible amount of cattle that you find on the road.
SHIPPING THE MOTORCYCLE TO ETHIOPIA
After looking for weeks for a cheap way to send my bike to Ethiopia and trying to decide weather sea or air I opted to pay the big money and send it by air. First I was trying to send it with Ethiopian Airlines but they only have office in Belgium. Sending it out of Italy was another option but then I had to ride my bike all the way from Spain to Italy. Sending it from Germany would have been 700€ cheaper but again I had to ride to Germany and it was winter. So I decided to send the bike by air from Madrid to Addis. Every thing went very smooth although very expensive but they were professional and responsive. The shipping company received the bike and put it in the crate and it was sent to Addis. Although I was supposed to receive it on Sat and as I could imagine I received the bike first on Tuesday.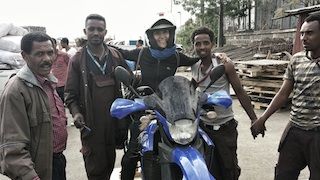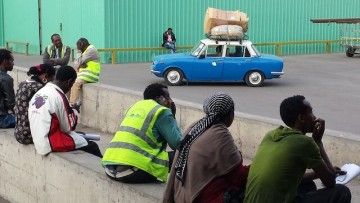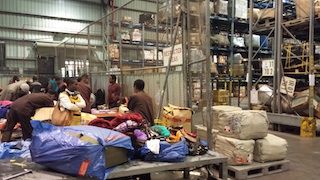 Here are a few addresses I have for the shipping companies out of Europe:
– ojk@intime-ham.com This is in Germany
– Motorbikecargo in Spain (they were fast, very responsive and expensive too so that in the end I shipped with them. The crate was very strong and well-built).
I was looking for shipping companies to ship my bike out of Ethiopia but after contacting many companies and making many friends 🙂 my experience was that they are not responsive or professional at all and I finally decided to ride my bike instead of trusting her to anybody else.
Here are a few companies that I contacted for the air shipment and could provide me with a quote but be warned that they are not really professional and you need to control the whole process. In average it took me 60 emails, 20 calls and a few visits to their office to get a final quote!
– sehene.tamerou@segon-marill.com from Segon Marill very expensive rates for shipping and packaging. You need to negotiate with her.
– ocadplc@gmail.com, Elias.
Your best bet is to go to the Cargo and contact each airlines for their conditions and quote. Most of the time they also do the palleting if the airlines does not require your bike to be crated. I found out that there were airlines and destinations that would not ask you to crate your bike which would make things much cheaper and easier. Emirates Cargo is the most professional one but a bit expensive. You can negotiate though! Ethiopian airlines cargo is fine but a bit chaotic. Lufthansa and Turkish are the other options although Turkish is run by an external agency and is not at Cargo. Good luck!
Finally I sent the bike with sofoniasg@tradepathint.com, the representative of Qatar airlines and the best one among all the other ones. I didn't even crate the bike and they agreed to pack the bike for me and use other dimensions than the real one so that the price is cheaper! It was as if I had taken off the front wheel and have lowered the handle bar but they said I could use the dimensions as if but with no need to really do it! It saved me more than 400 USD! Very happy! Sofonias was really helpful and came personally to the cargo to supervise with me the packing of the bike. I paid 1160 USD for air freight from Addis to Muscat.
The break down was:
– Dangerous good certificate: 170 USD
– Dangerous good surcharge of Qatar airlines: 100 USD
– Price per kilo Addis Muscat 4.19USD. But as usual and in the end we used the volume.
This is how it was wrapped in Addis!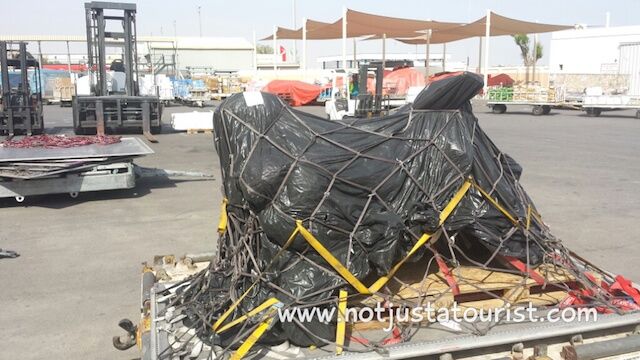 And this is how it arrived originally in Addis!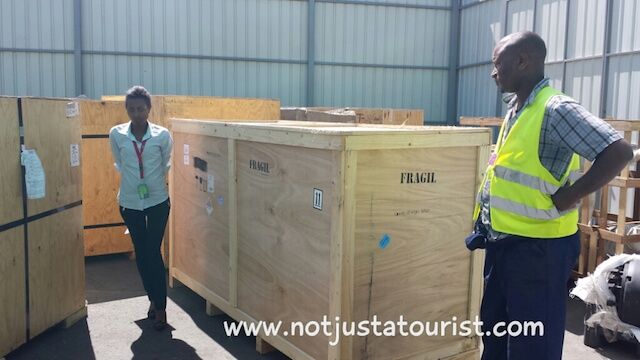 They all say that you need to give them the bike 48 hours in advance or you need an agent to do the customs. I did it myself and it only took 1 hour but you need to be good at dealing with people and know what to do as they don't know the procedure themselves. So a bit of leadership abilities are involved too ;). I gave them the bike only 1 day in advance. The crazy Cargo security wanted me to empty the engine oil. In the end I didn't do it but they gave a me a hard time.
CUSTOMS IN ETHIOPIA/ADDIS AIRPORT
You need carnet de passage to enter Ethiopia. If you have the carnet you can do the customs clearance yourself and in just one or maximum 2 days. you go to the Cargo which is a few km far from the airport itself and there by asking each single person you & skipping all the lines you´ll find out about the procedure which requires a lot of asking around at each step that you take and making a lot of copies at each step. All in all I had a great time and did everything in a record time of only one day! Keep the duty free paper that customs gives you as you will need it if you ship your motorcycle out of Addis.
MECHANIC & MOTORCYCLING PARTS IN ADDIS ABABA
There is a shortage of everything in Ethiopia. In addis you could contact Flavio from Africa Riding Adventures and if he he is not on a tour he can fix your bike or sell you some stuff. Contacting Carlo is another good option as he can fix a lot but be aware that he is not a mechanic but a rider and might not have time to help you. His number is+251 911208147. They both did very great job with my bike and they both know English, Italian and Amharic. Otherwise you can try to contact the Automobile Association in Addis and they might be able to direct you to somebody. +251911223122. There is also a motorcycling club in Addis and the members can be helpful.
Last update of West Africa 11th of March 2012
General rules that can make your encounters with the officials much more pleasant: Be friendly but stay firm, SMILE, the less French you speak the easier you can get rid of the officials as they get bored with you! Be patient & polite. Remember that you don't have to do always what they ask you to! As you will come across many people who boss around, shout, and threaten and you have to take it all as a BIG SHOW. So don´t be afraid. Try to be different to other travelers by understanding their mostly boring & repetitive job by making little jokes, being easy going, polite and sure of yourself. If it all does not work and you have to pay ask always for a receipt.
MONEY MATTERS
It´s much better to use the VISA card in stead of the MASTER card, which is not accpeted by many banks in West Africa.
MOROCCO
VISA
Not necessary for many West European countries.
MONEY
1€ = approximately 11 Dirham. There are plenty of ATMs everywhere.
FUEL
1 liter of gas approximately 10,80 Dirham. It´s cheaper in Western Sahara especially the diesel.
Throughout Morocco there are plenty of gas stations with unleaded as well as super fuel. In Western Sahara the situation changes and you only find in a few places super. It´s hard and most of the time unlikely to find unleaded petrol.
As the distances between the towns as well as the gas stations are quite big make sure that you fill up each time you see a gas station.
ROAD CONDITIONS
The highway reaches from the port of Tanger till south of Agadir. After that and the whole way till Mauritanian border there is a really good tarred road with very little traffic. The road is in perfect shape. The only annoyance can be from the strong wind and the sand specially if you are unlucky and get the headwind. At some spots there might be a little of sand on the road but we generally did not find any.
FERRY FROM ALGECIRAS TO TANGER MED
There are many companies and many ferries departing quite frequently. There was a long queue in Spain but the queue was much longer and way too slower once we arrived in Tanger med- that is situated 50 km in the north of Tanger-. It took us 2 hours to do the custom and border formalities and there was a huge mess. In summer it can get really hot and annoying to wait for the custom officers to attend you.
BORDER CROSSING TO MAURITANIA
There is a guesthouse and a restaurant right before the border on the Moroccan side in case you arrive late and the border is closed –approximately at 6 pm-. Crossing the Moroccan side is hassle free and fast. There is a no man´s land -5km maybe- between the 2 borders with no signs and a lot of sand. I got lost and stuck in the sand but there are always many people hanging around who help you out, show you the way or in case you are not lucky ask you for money to pull your bike or car out of the sand. Personally I did not have any problems and people were all very nice and helpful. I suppose being a girl helps a lot as I also didn´t have to queue at any of the borders and was the first to be attended on both sides.
Once on the Mauritanian side it get´s slower, more confusing and the officials are not as friendly as the Moroccan side. You are supposed to pay a small fee to park your car before going to the custom, where they will ask you for 10 € without giving you any recipe. We had to pay it as there was no way to reject it. But generally we refuse to pay if they don´t give us any recipe. After the custom they send you to get an insurance and change money at the exchange office a bit further. We decided to get our insurance as well as change money in Nouadibou. The rates shall be more and less the same. Be aware not to change money in no man´s land as their rates are very low. All in all we spent only 2 hours at both borders! 🙂
MAURITANIA
VISA
We got it at the consulate in Rabat in 6, Rue Thami Lamdaouar
Rabat-Souissi. GPS: N33 58.7′ W06 50.0′
It takes 24 hours and it will be ready after 2 pm. So if you arrive on a Friday you´ll have to wait till Monday 2 pm. You have to pay in Dirham as € is not accepted. For two double entry visas valid for 3 months we paid 156 €! I think the one month single entry was around 35 €. In Madrid there is a consulate or embassy where you can apply for the visa and the price is the same.
MONEY
1 € = 380 Ouguiya
There are many ATMs. However,they might have a limit per withdrawal so that you have to withdraw money several times for bigger amount of money.
You can buy Mauritanian Ouguiya in the market or the main street at Av. Charles du Gualle, where there are sellers on the street. Ask any shops around the market and they will either change the money for you or take you to a place to change it. Rates can vary and you have to negotiate them.
We also got the best rates for CFA in the market in Nouakchott, which were much better than in any CFA countries. 1€ = 670 CFA instead of 1€ = 655 that we were given in Mali or Senegal.
FUEL
In Mauritania getting gas can be a real challenge and the beginning of a long lasting adventure. You will find gas in Nouadibou and Nouakchott. But anywhere else and in any other cities you might come across many gas stations that only have diesel. If you are lucky somebody will point at a shop where you can buy gas at "Marché noir" at much higher prices. We paid 700 Ouguiya instead of the usual 380 and we were so glad to have found it. Even the gas station on the almost 500 km long road that separates Nouadibou from Nouakchott can be without any gas! We could find black market gas in Aleg and then there was a gas station in Kiffa that had gas. There isn´t anything such as unleaded petrol or super.
ROAD CONDITONS
The road from the border to Nouadibou is in perfect shape. The same is with the road from Nouadibou to Nouakchott although you might find a lot of sand on the road depending on how strong the wind blows. However, the ride can be very tiring as the wind blows strong and you get a lot of side or head wind with too much sand. The scenery is more changing than in Western Sahara as there is much vegetation and more sand dunes in different colors but because of the wind the sky is very hazy.
The road called, la "route de l´espoir" Is good till Kiffa and I found the landscape spectacular with endless rolling sand dunes and surprisingly larger number of the villages alongside the road. At some points you cross nice valleys and pass by cliffs and stone formations. The road from Kiffa to Tantan is under construction –almost 150 km-and it get´s quite horrible with red sand, corrugations, many detours, potholes and the dust and red sand that you get from the passing traffic. After Tantan it gets better till Ayun and then all the way down to the Malian border of Nioro du Sahel. We did not get further than Ayun but I can imagine than it should not be really promising.
Watch out for animals as you will see loads of goats, camels and donkeys crossing the road at the most unexpected places. Despite the good asphalt 80 km/hour was the most we could make and sometimes it looked even to fast to be able to stop in time to let the camel pass! So be very careful.
There are many checkpoints in Mauritania. So be prepared with a so called "Fiche", where all the info should be written to save time and hassle of having to stop each time and write down your personal detail. The police was always very friendly and polite and we never had any problems or major delays handing out the fiche. Have more and less 40 "fiche" prepared and bear in mind that you are not allowed to drive after 6 pm. should it be 6 pm and there is any major city close to the check point you will end up staying with the police. We had to do it once and although the police brought us water to take a shower and invited us to tea and breakfast but we had a sleepless night with all the trucks stopping at the checkpoint and lifting all the sand.
As for the accommodation along the route there is not much to say as in Aleg there is a guesthouse which does ok although it´s really hard to find any food other than meat. In Kiffa and Ayun there should be at least a camping or guesthouse although the standards can be quite low. We heard that one of them had asked for an excessively high price for a tent. In other cities we could not find anything else than fresh bread and meat, which we did not even try.
BORDER CROSSING TO MALI/NIORO DU SAHEL
Border crossing is quite fast as there is no traffic at all. The Mauritanian custom tried again to ask us for 10 € but this time and as we were leaving we refused to give them any money. Some other people had to pay even higher sums. Make sure they don´t keep your paper in their hand and then refuse to pay the sum. Otherwise they might not return your documents!
After the hardships in Mauritanian it was really nice to be in Mali and the police seemed to be much nicer too. They invited us to have some tea with them. Make sure you don´t miss the Custom in the town, Nioro du Sahel which is much further than the actual border. You will recognize the building by the number of cars that are parked in front of it. We had to pay to get the "passavant de circulation" and then they told us to pass by the police. There again they asked us for money and refused to return the paper till we paid. We are still not sure whether we had to pay or not! But we were so happy to be in Mali that we did not much care.
BORDER CROSSING TO SENEGAL/ DIAMA
Rosso or Diama? The answer to this ever-lasting &time & nerve saving question will be definitely Diama. We actually did not take Rosso. Diama was fine, fast and hassle free. Leaving from Senegal a sign less road on the left of the road to Rosso will take you there. You better ask the locals after leaving Saint Louis and you should be fine finding the way.
Once at the border and as you can imagine we were asked by the Senegalese police to pay some money before leaving. We rejected and they just said " n`est pas gentile" –not nice-!
On the Mauritanian side we had to pay the usual 10 € for the custom and then again get an insurance for either 3 or 10 days or longer. At this border the insurance was much more expensive than the insurance that we booked in Nouadibu or the Moroccan border as they know exactly that the closes place to get an insurance after Diama is Nouakchott and you don´t want to enter without a valid insurance. So we paid and then again we had to pay to cross a little bridge and then again the entry fee to pass through the national park.
Entering from Senegal you´ll first pass through the national park with little traffic. The road is under construction but it´s fine. On motorbike it´s best to keep on the upper path instead of the lower one which runs to the right of the upper path although the locals would indicate the lower one. After passing by the village Keur Masa the road gets nasty with lots of sand and many confusing tracks. There is a main road which is work in progress and better not to take it as every now and then it´s blocked. We got lost 1 time due to many little tracks that you have to choose from but it seems that they all run parallel to the main road and lead to the main tarred road which runs from Nouakchott to Rosso. The scenery and the sand variety is amazing and keeps you busy enjoying the colors and forgetting the fact of being too slow. From the Senegalese border till main road to Nouakchott is almost 100 km but it took us many many hours! I don´t know why!
MECANIC IN NOUAKCHOTT
In Mauritania we found a great mechanic called Fal specialized in BMW. He does not have shop what so ever and works on the street next to the "Escuadron de gendermerie" close to the central market. He is actually the mechanic of the Gendermerie´s BMWs. Just ask any officer at the Escuadron and they will point at him. His phone number in case you speak fluent Wolof or feel lucky to understand his French is: 00222 46 59 43 15.
MALI
VISA
You can get it either in Rabat on the same street as the Mauritanian consulate or in Nouakchott Ave de Palais des Congres,GPS: N18°06.48′ W15°58.73′, or even at the border –it can change-. We paid each 22 € -in CFA- for a single entry visa valid for one month.
MONEY
1€ = 655-670 CFA
The best place to change money was the market in Nouakchott. But you also can get cash at ATMS.
FUEL
There are enough gas stations on the road and strangely enough you can find gas in them too! Still we could not get any unleaded or super. 1 liter was 680-690 CFA
ROAD CONDITIONS
The road from the Mauritanian border to Bamako is a perfect road. There is a fee for cars but not for motorbikes. The road from Bamako to Mopti, Djenne and Douentza is ok too although there is more traffic on it. The road from Douentza to Timbuktu is the perfect nightmare that any adventurous soul can ask for. It´s full of sand, gigantic potholes and passing 4Wd that cover you with sand. There is a better way to get to Timbuktu which is by boat. You can take the boat from Mopti along the Niger River with hippos, picturesque villages, mud mosques and cow herds crossing the river. There are public boats or private ones that you can hire for yourself. It can take anything between 31 hours to 3 days but it´s absolutely recommendable. The food on the private boat is normally included but on the public one you can buy it for a cheap price.
The road to Dogon Country is in really bad shape too with a lot of stones and once you are down in the valley with a lot of sand. You are better off leaving your bike in the Bandigara –if you are interested in covering the middle part of the Dogon Country otherwise better to arrange it from Douentza- and hire a car or guide –be careful as most of them are not professional or friendly at all and tend to over charge-to do some walking tours. Good luck!
The road from Bamako to the Guinean border/ Kouremale is in perfect condition too.
MECANIC IN BAMAKO
In Bamako we found one guy who was nice & cheap and repaired our carburetor´s problem. We could also buy from him the rear tyre for the BMW 650 F. His name is Boubakar Traore. His phone number is: 00223 65 70 31 18 and he speaks French as well as Bambara if you are better at Bambara!
GUINEA
VISA
It´s expensive. We paid for 153 € for 2 single entry visas valid for one month which also included the price for the visa for the motorbike which was 7500 CFA! Although they first said that it was possible to pay in € but once there we had to go to the bank and get CFA as they didn't accept any longer €!
The consulate in Bamako is in Boulevar du Peuple between Rue 26 & 28 coming from the river before reaching Rue de la Revolution. GPS: 12º39.404 N 7º59.803 W
They issue the visa on the same day if not right on the spot. Having said that we got it next day as the consul was away. So don´t make too many plans as "this is Africa".
MONEY
1 € = 8500-9150 Guinean Franc
We got the best rate in Conakry at the black market around Rue de la Independce as well as in Labé around the market. There are also exchange offices which were closed at the weekend so that we didn´t try them.
As we were already warned that they are not many ATMs around and there is a limit of 40000 Guinean Frank –not sure yet- each time you withdraw money we did not even try the ATMs.
FUEL
1 liter = 9500 Guinean Franc
You can find it pretty much in all major cities. Otherwise there are always street vendors, where you can find gas. A liter can vary between 11000 & 13000. To see a Total or even Shell station was a sign of civilization to us as we could also buy a lot of European things such as toilet paper or chocolate at their co called boutiques. Be quick to fill up your tank as the stations close quite early and if you arrive late in the afternoon or early in the morning there will not be any gas left. We could not find any gas in Koundara and in Boffa and we were told that we had to wait a day or so.
As in Mali & Mauritania again there will be no chance to find any unleaded or super.
ROAD CONDITIONS
Bad, in deed very bad. Except the road from the Malian border to Kankan and the road from Mamou to Labé most of the roads are either potholed ridden or they are under construction you will just find a horrible track with sand, stones, channels, gravel,…
The road from Labe to Koundara is around 260 km and most of it is quite horrible with a lot of slopes. It is actually under construction but it seems that it will take a few years till it´s finished.
The road or better said the track from Fria to Pita can take you the whole day or even 2 –it took us 3 days!-. There is no need to pass by Telimele as there is a junction with no sign approximately 30 km before arriving in Telimele where you should turn left in order to go directly to Pita.
The road from Mamou to Conakry has a few potholes and a lot of curves. But generally it´s ok.
We heard that both roads from Boke to the border with Guinea Bissau and road from Mali Ville to Senegal are horrible.
There are 2 little rivers on the road from Fria to Pita and from Labe to Koundara where you can take a ferry that is pulled by people. It´s a nice experience. They might ask you for too much. We actually paid for the motor only 5000. No idea if it was the actual price.
BORDER CROSSING TO MALI
The Malian border in Kouremale is fine and we had no problem on both sides. Although the custom guy in Guinea asked us for some 2000 Guinean Francs. In the end we didn´t give him any.
BORDER CROSSING TO SENEGAL IN KOUNDARA
The border to Senegal was also hassle free on both sides . The last gas station is in Koundara and after that in Medina Gounas in Senegal.
For a taste of the corrupt police in Guinea check this video out:
SENEGAL
VISA
No need for Europeans.
MONEY
1 € = 650-670 CFA
There are ATMs almost everywhere.
FUEL
1 liter = 850 CFA
You can find Super here.
RAOD CONDITIONS
Better than in Guinea! Much better. We have not done much so far in Senegal. But so far the road from Guinea to Velingara is fine. After that the road that continues to Ziguinchor has a lot of potholes. The road from Karang border up to Sokone is fine and then it gets nasty and potholed till Caolack. After Caolack till Mbur and Dakar is all ok.
You can find a lot of sand on the dirt roads in Cassamance.
BORDER CROSSING
Despite the horrible reputation of the Senegalese borders and the corrupt officials we had very nice experience with the officials at the following borders in Koundara/Guinea, Velingara to Gambia and again Birkama in Gambia to Selety. We never had any problems with the much feared "passavant" or "passé lassé" as each time they automatically gave us a "passavant" for 10 days. The only problem was at the Karang border where they expected us to pay 2500 CFA for the "passavant".
BORDER CROSSING WTH GAMBIA
The road from Velingara to the city of Basse Santa Su in Gambia is a track –more and less 20-30 km- full of sand and with no signs. Welcome to Gambia!
The road from Birkama to Seleti in Cassamance is fine and all sealed.
The border from Amdallai/Gambia to Karang in Senegal is much more crowded than the before mentioned borders and consequently the officials at both sides try their best to make some extra money. At the Gambian side they asked for some money and when we refused they said that they will have to register our all stuff for drug control. It took us 30 minutes and a few songs that we sung together to convince them not to make us unload everything and let us go without paying anything. Pure luck I would say.
Once on the Senegalese border the police first asked 5000 CFA for the entry stamp which we firmly refused. Then at the customs they asked for 2500 CFA to issue the "passavant" which so far has been issued always free of charge. We refused and argued for hours and even threatened to make complaint about the corruption, etc. they become very violent and said that either we go back to Gambia or pay and the custom guy even started pushing us and hit me on the face! We decided to leave the bike and go the next "gendarmerie" in Karang to make a complaint. But the situation got worse and the chef police did not even listen to us and started shouting and menacing & saying that he would not let us get into Senegal at all! Summary: so far and from what I´ve seen the Senegalese officials/people can get quite aggressive. So it´s best to avoid getting loud or involved in any discussion with them.
BORDER CROSSING FROM DARASLAM & KARTONG TO SENEGAL
There are 2 other borders in Daraslam/Gambia and Kartong /Gambia –at the latter you have to take a little boat to cross the river-. But, inconveniently there is no Senegalese post on the other side so that you have to go to the border of Selety to stamp your pass and get all the papers.
PASSAVANT
Each time it was given for 10 days and it was free of charge except at Karang border. In Dakar we renewed our Passavant for an additional 10 days at the custom office at the Place d´independence, 6th floor in a white building where you see the AXA sign. It was very easy and fast. You only have to show all the documents and find out a good excuse. Ours was that we had technical problems with the bike, which was actually true.
MECANIC IN DAKAR

In Dakar there is a good mechanic called Madou at Mad Bikes who has a well-equipped shop. He repaired our front suspension problem. But his prices are quite European. His shop is close to Yoff village off the route de l'aeroport. GPS: 14º 45. 300 W 17º 28.339 His phone: 00221 33 868 38 30, mobile: 00221 77 450 66 67
GAMBIA
VISA
It depends from which European country you come. For the Spaniards the visa is necessary unless they arrive at the airport. We got it at the border and although it´s apparently 6000 CFA we only paid 10000 CFA for both apparently single entry visas and they accepted that! But, as we had to cross Gambia again in order to go to Northern Senegal we decided to pass by Birkama border trying our luck. It did not take us long to find out that at the first border we actually did not pay for any visa but for the pocket money of the border guys as they hadn´t issued any visa but only an entry stamp! The actual visa should be more than 5000 CFA per person. We argued that we have victims of an official fraud and after some talking, smiling and exchanging our home phone numbers and email addresses they let us go and issued a day "passavant" so that we could cross Gambia on the same day!
MONEY
1 € = 38-40 Dalasi
There are ATMs especially in big cities. If you enter from the east make sure you withdraw enough money as in George town or other cities there aren´t any ATMs. There is also a limit for each withdrawal which can vary between 2000 or 3000 Dalasi.
FUEL
1 liter = 42.15 Dalasi
Surprise, surprise: at some places you can find super. Make sure that you put enough gas in Santa Base as in George Town there isn´t any gas station. Generally you can find almost every where a gas station which actually has got gas!
RAOD CONDITIONS
Most of the road from Santa Base to George Town/Jan Jan Bure is under construction and currently is only a dirt road with a lot of traffic. You will be all red once you have finished that road.
Another bad road is the first 70 km of the road going from Soma to Banjul which is also under construction. Again very dusty, with corrugations, enough traffic to be covered by sand and cough for the rest of the day and for a change you will have a bit of sand here and there!
All the other roads both on the northern side of the river as well as on the southern bank are fine. If you take the northern route you have to take a ferry in Barra to go to Banjul. It can take you 1 hour to 1 hour and half and it looks dangerously old & crowded. For the bike expect to pay 20 Dalasi plus some extra 10 for the luggage. We also changed the side in Farafenni taking the ferry to Soma for as little as 30 Dalasi –20 for the bike and 5 for each passenger-. There is a long queue for the cars and trucks but it was ok for the bike. The crossing took us maybe 15 min.
BORDER CROSSING TO VELINGARA/SENEGAL-BASSE SANTA SU & BIRKAMA-SELETI
A part from the sand track of almost 30 km the reception of the border officials was very welcoming. There were not any signs at all to tell you which path to take. I guess we were lucky! Once you check at the immigration then you have to go to Santa Basse to the customs. They asked us for 200 Dalasi to issue the "passavant". We refused to pay any money and could get away with it! We had the same problem again while exiting Gambia at the border with Selety as the customs guy again wanted 200 Dalasi to issue another "passavant" as ours was already expired. You need the Gambian "passavant" in order to enter Senegal!