What you'll see on a Granada day trip from Seville
Granada is a breathtakingly beautiful place perched at the foot of the Sierra Nevada mountains. Although small, it gets more visitors per year than almost any other Spanish city for one key reason; its famed Alhambra palace. We will get to the Alhambra, but there is so much more to enjoy in the city than just this one castle on a hill. Here's what you will experience on our Granada day trip from Seville.
Albaicín
Most memorably there's the Albaicín. The old moorish neighbourhood of Granda was made a World Heritage Site in 1984 and contains the Alhambra within it. On the opposite hill lies a web of tight streets leading to stunning lookouts over Granada and the mountains beyond.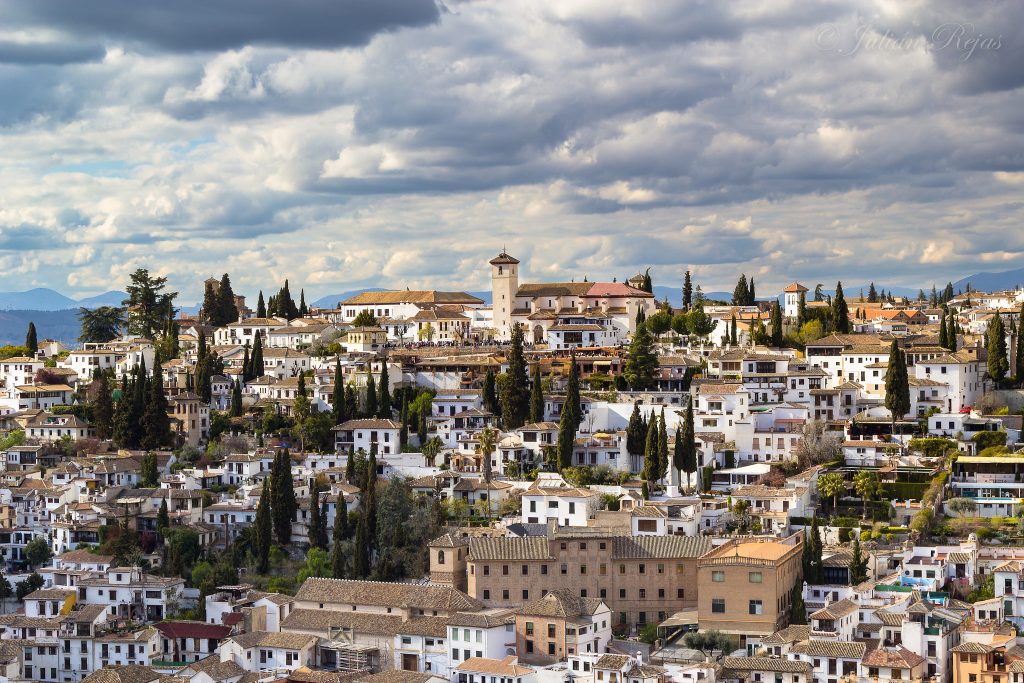 Mirador San Cristobal
The furthest out of the notable lookouts on our Granada day trip from Seville is Mirador San Cristobal. Nowhere in the city can you get a more complete view over Granada. From here you stand like a king, surveying the town in all its glory beneath you. At this point it really does feel like you're on top of the world as you look down upon the Cathedral and town centre.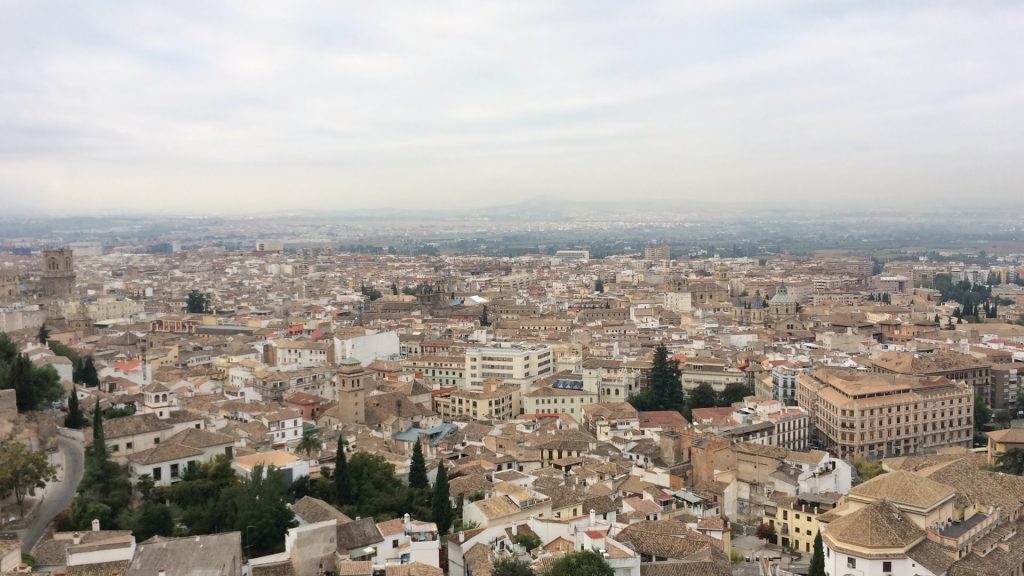 Plaza Larga
Though Granada is an extremely historic city, it is still crammed with life. Nowhere is this more noticeable than in the bustling Plaza Larga, just a short walk away from Mirador San Cristobal, this plaza plays host to a market five days a week, and is taken over by the cafes the hours when the market is not one. You will have time on our Granada day trip from Seville to enjoy this hustle and bustle, and should you desire, grab a drink for a spot of people watching.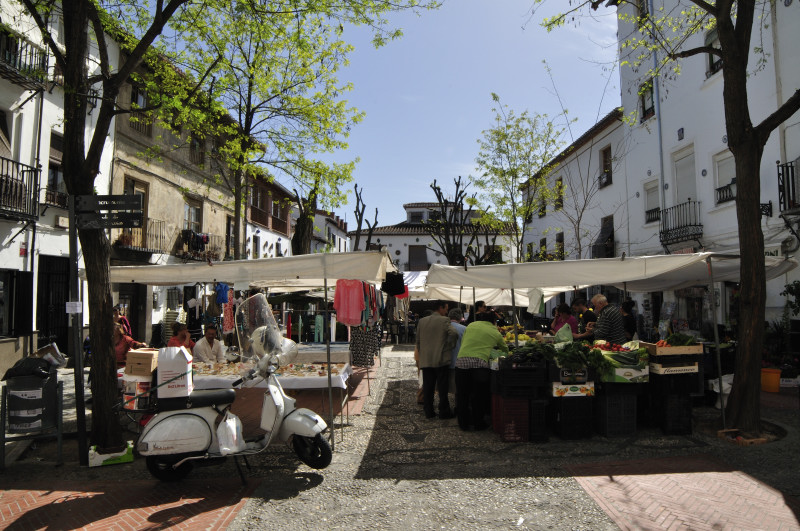 Mirador San Nicolas
Bill Clinton once described the view from here as "the most beautiful sunset in the world." And you'd be hard pressed to disagree with him. Nowhere has a better view of the Alhambra than here, and the snow-capped mountains in the background combine to make the stunning vista one of the most memorable views you will encounter in your life, let alone on this Granada day trip from Seville.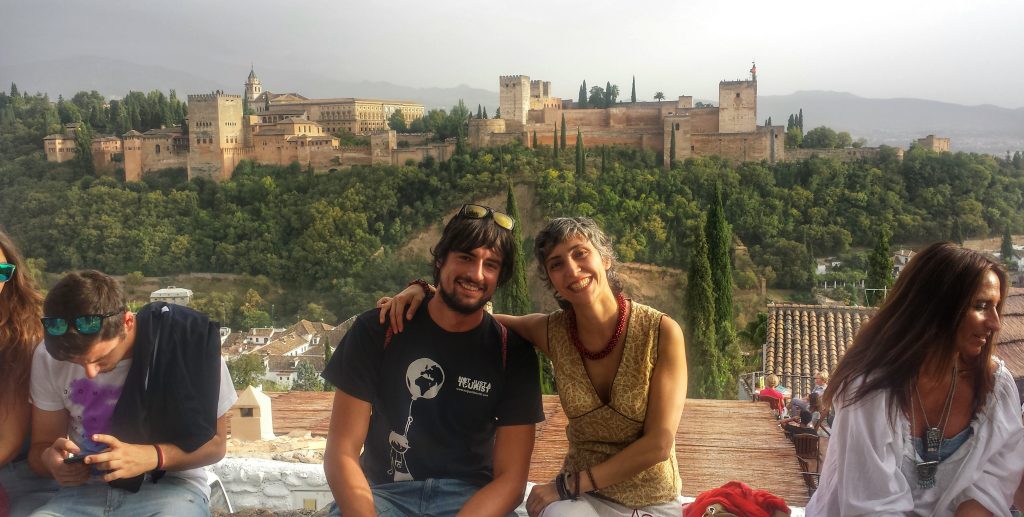 La Mezquita
San Nicolas, much like San Cristobal, gets its name from the church built on this spot. However, as well as the 16th century Mudejar church, there is also a mosque here. After a five hundred year absence, a mosque was finally brought back to the Albaicín in 2003. Although much smaller than any mosque during Moorish times would have been, it has been a popular center for worship ever since it was opened. What's more, the tranquil gardens make for a far more serene viewpoint over the Alhambra than the nearby, lively mirador.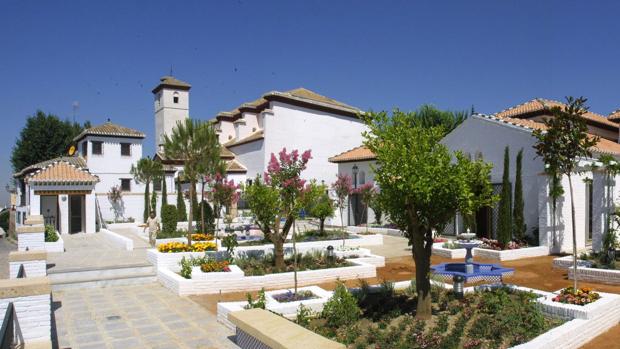 Walking through Albaicín
This neighbourhood is exactly what people search for when they come to south of Spain. Tight streets sandwiched by white washed houses. There is nothing better to do here than simply lose yourself in the winding labyrinth. Search for the hidden vistas across to the Alhambra, or for perfectly sculpted lemon trees poking out from behind walled gardens. They say that travel is the only thing you buy that makes you richer, and when you're endowed with the memories of such perfect scenery, and embraced in the hippy culture which you'll encounter on this hill you won't be able to disagree!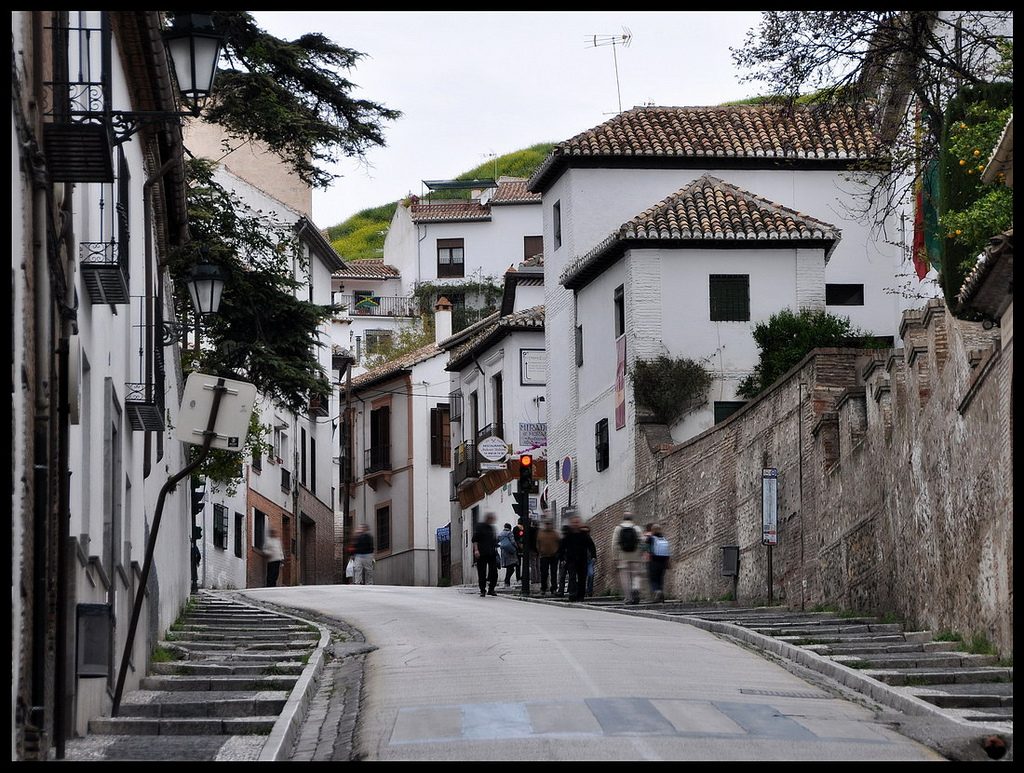 Paseo de los tristes
As our Granada day trip from Seville makes its way down the enchanting streets of Albaicín, we find ourselves coming to a beautiful street alongside the Darro River. This is Carrera del Darro. Should you continue walking alongside the river, one you pass the Flute's Bridge you will be on Paseo de los Tristes. Named passage of the sad because it was the route funeral processions would take on their way to the town cemetery behind the Alhambra, you will feel many emotions here, but sadness will not be one of them. This used to be one of the busiest areas in Granada with festivals and fares being held here. What's more, the Alhambra looming directly above you like a hawk watching your every step makes the walk unforgettable.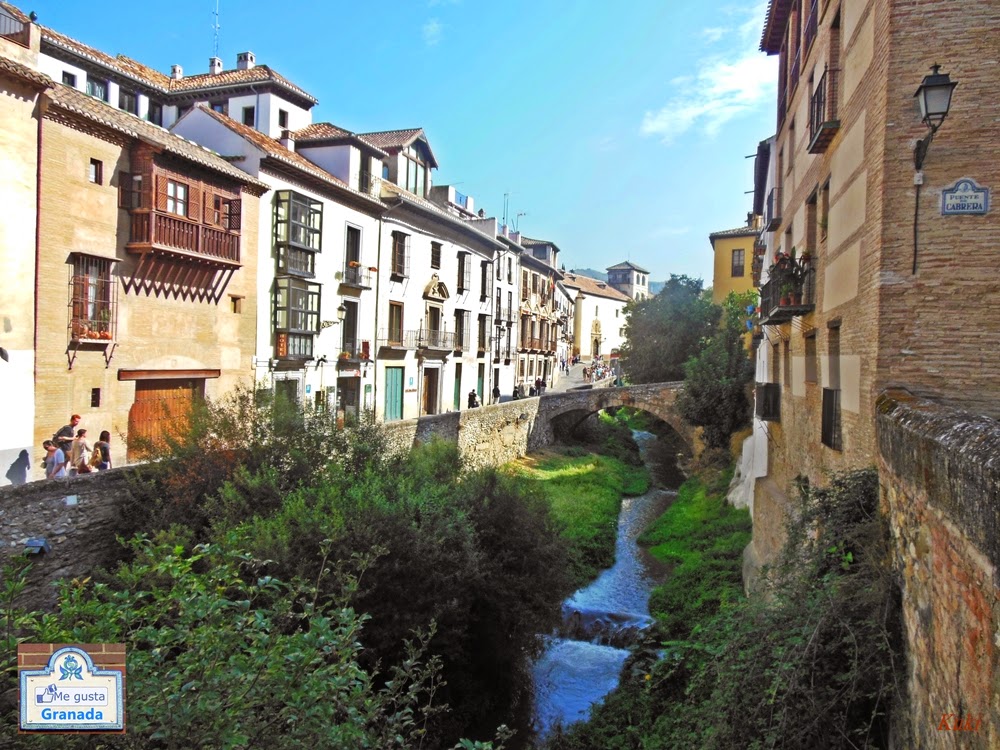 Calle Calderería
Also known as the Moroccan street, Calle Calderería Nueva is filled with tea shops and market stalls. For many, this is the gateway into the Albaicín. What could be a better entry into the old Moorish town than the feel of an arabic market?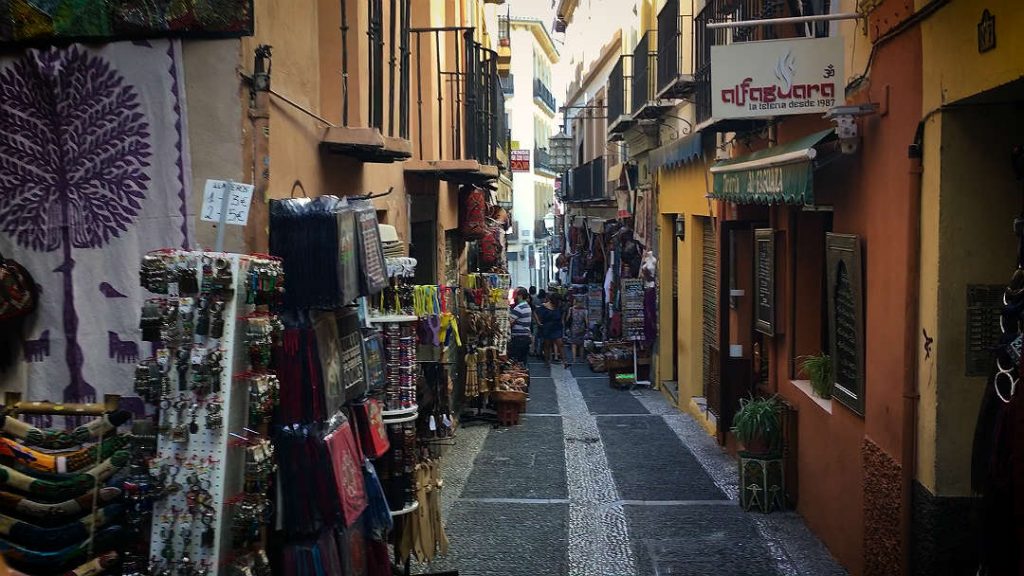 Cathedral
Granada didn't fall into Christian hands until 1492, and so this cathedral is considerably newer than most in Spain. Construction began in 1526 (over one hundred years after Seville's, for example) and was completed by 1561. Designed in the shape of the cross, this grand building is hidden in between more tight packed streets. It comes as quite a surprise as you walk around to suddenly be face to face with this giant edifice, but that is exactly what happens. What makes this church more interesting, is that it is the last resting place of the Catholic Monarchs, arguably the most important King and Queen of Spain's history.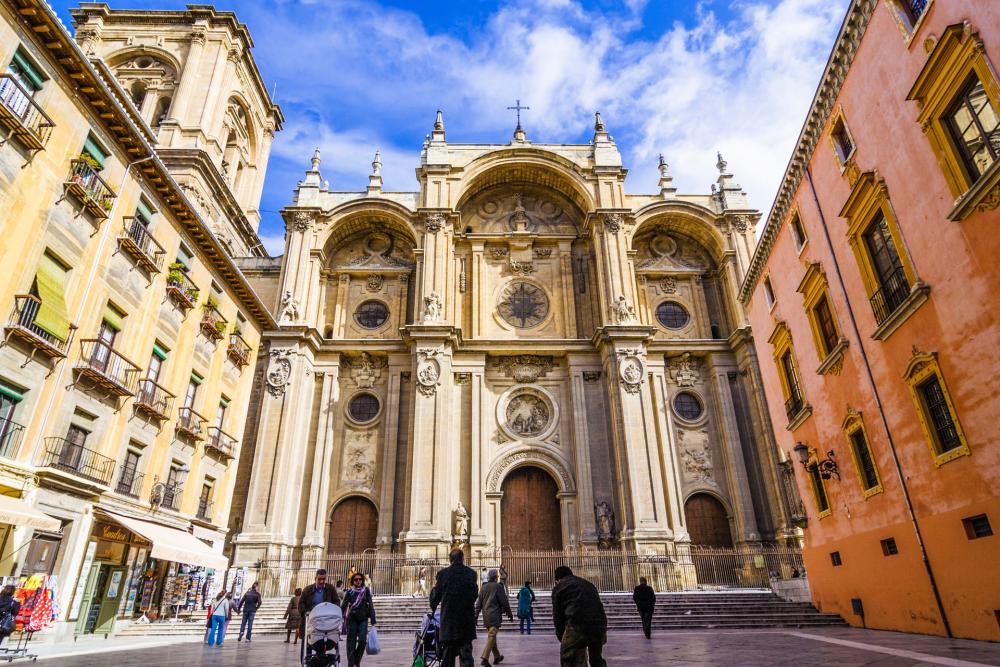 Tapas on Calle Navas
In Spanish culture, tapas was not traditionally a way of eating everything you want for your main meal without getting fat, but actually just as a little side to have with your drink. As such many bars throughout Spain used to give a free tapa with every drink you ordered. In Granada they still proudly follow this tradition. Any bar you go in will serve a tapa with any drink you order. This practice goes back centuries and has since become one of the must do parts of any Granada day trip. There are few better streets to enjoy this than Calle Navas. Slightly hidden from the main tourist spots, but still packed with quality bars, this is the perfect setting for which to enjoy a drink and tapas.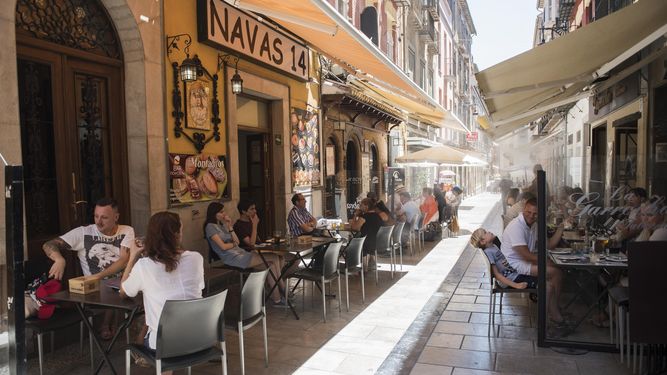 The Alhambra
The Alhambra is one of the most visited sites in Spain, and for good reason! This is the headline act of any Granada day trip. The great red castle is today a tapestry of great palaces from throughout history. A unification of Moorish and Christian architecture. There's nothing that can be said about this magical place that hasn't been said before. All there is to say is that this simply is a must visit for any trip to Spain. A unique collection of castles and kingdoms which supplies unparalleled beauty, not just in the buildings themselves, but also in the views from them. Join our Granada day trip and come and see for yourself whilst learning about the complex history of this wonderful place.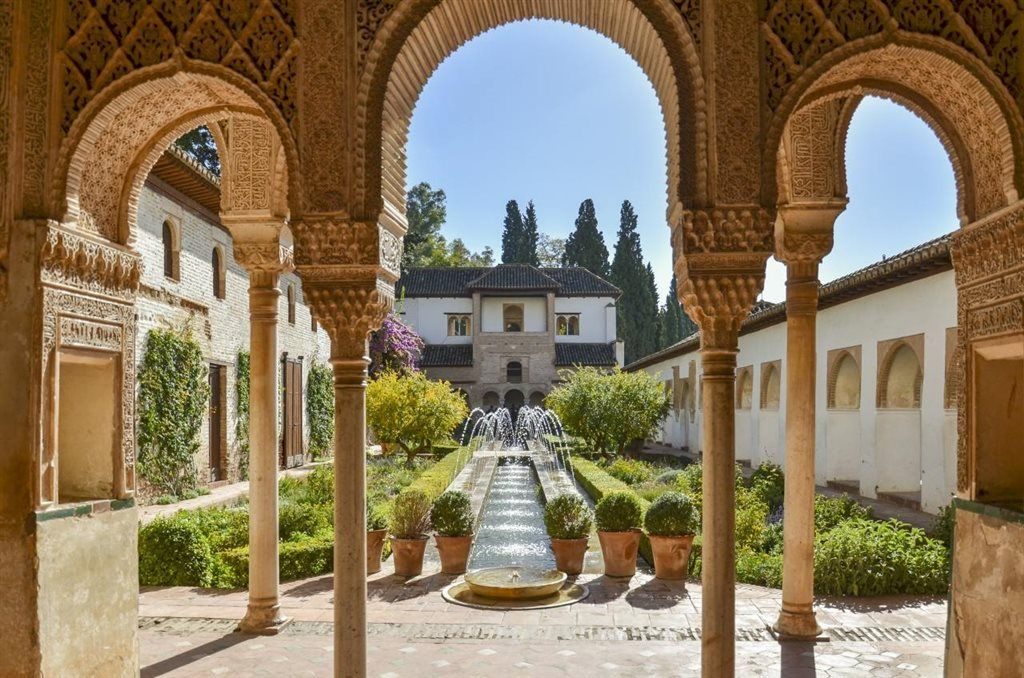 Davey Womack is a tour guide and avid traveller. Read more from his adventures in Spain and around the world by visiting his personal blog.