We met at Seville City Hall at Plaza Nueva at 7:30pm to begin the, "From the Roof Tops" tour of Seville with our guide David Delgado. While waiting for David to arrive, we admired the elaborate carvings of the original Roman founders of the city, Hercules and Julius Ceasar located on the South side of the building. Soon after our exploration of the façade, our group had eventually finished assembling and we began our journey into Seville's historic district towards the Cathedral.
Seville From the Roof Tops Walking Tour with Not Just a TouristThe tour promises creative views from strategic roof terraces, however, David was kind enough to stop at other landmark locations and avante-garde spaces in the city along the way to give us a brief explanation of its historical significance, such as the iconic Moorish Alcázar.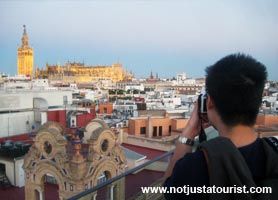 We soon climbed to the first rooftop where we enjoyed our first creative view of the Cathedral – the third-largest church in the world and the burial site of Christopher Columbus. Having just viewed the Cathedral and its Giralda from the ground, it became very clear that this rooftop perspective was necessary in order to truly admire the towering Giralda at 104.1 meters high – an important symbol of Muslim rule before the Christian conquest.
After admiring the amazing 360° view, we descended and continued our walk to the next rooftop where again, we were given a unique perspective of Seville's cathedral, the old city wall, the iconic Alcazar, and interestingly enough, the bell towers of more than 100 churches! I thought to myself, that these panoramic views could not be beat, until David guided us to our last stop on the tour.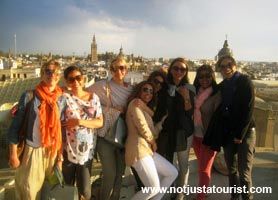 Seville From the Roof Tops Walking TourWe strolled down medieval alleys to the old Jewish quarter of Santa Cruz before heading north and finally arriving at the Metropol Parasol (also known as the "mushrooms" or "las setas" in Spanish) in La Encarnación square. This amazing wooden structure stands at 26 meters and consists of six parasols, (as its name mentions), in the shape of giant mushrooms. From the top of this gigantic wooden structure, I was able to experience an amazing purple sunset over the city. An experience you don't want to miss in a city as vast and beautiful as Seville!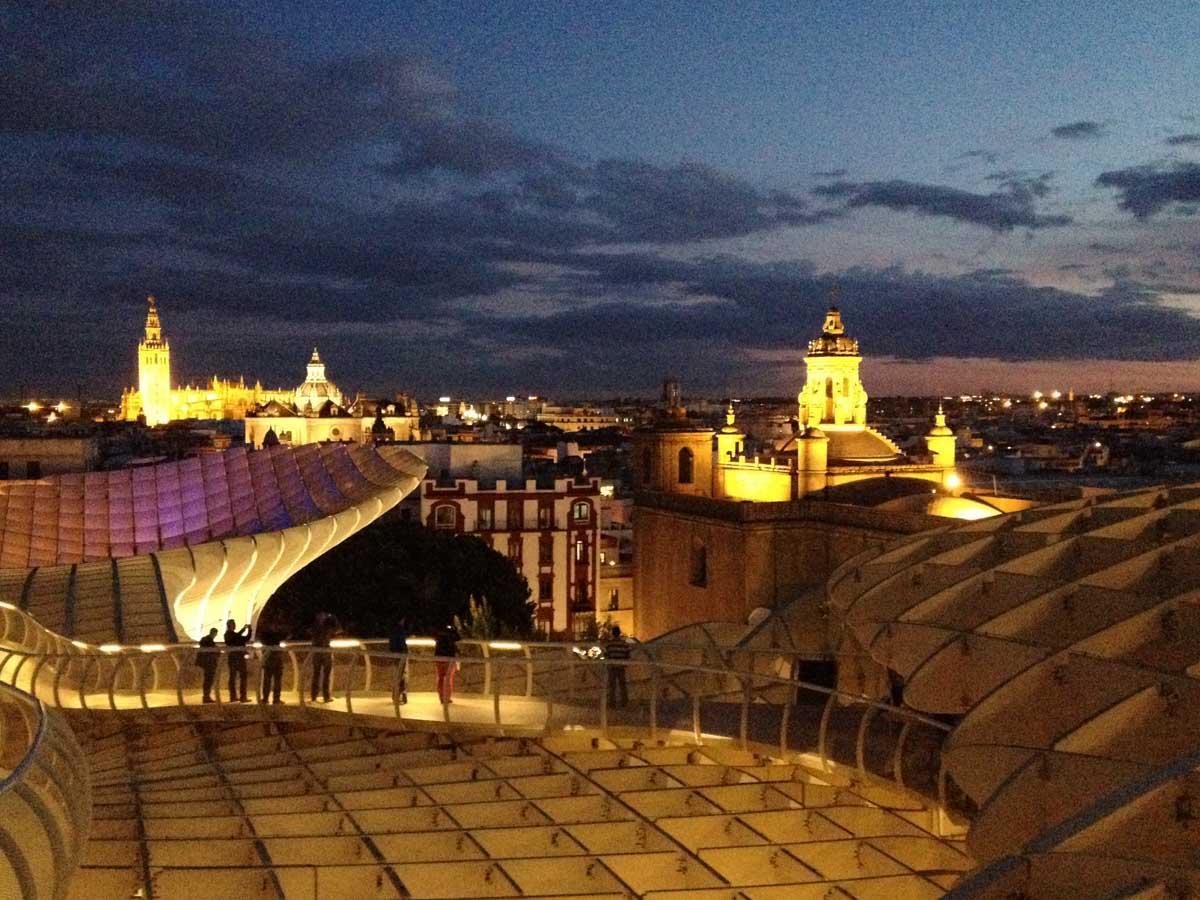 Written by Graziela Camacho
Book the Seville 'From the Rooftops' Walking Tour with Not Just a Tourist by contacting us HERE