In Rabat, in front of the Mauritanian embassy:
We got there early, so early that nobody else was there. We unearthed the reason for our very unusual early arrival a few days later as we noticed that we were missing all the appointments we had made. That is we did not adjust our time to the Moroccan time! In a matter of 2 hours people started to show up: there were black emigrants from other Western African countries, going to their home countries all in a Mercedes 190 –by now I know that you can make up to 1500 € by selling the Mercedes in any of these countries- the white, hippies with hand painted and battered vans, old French couples and the 2 of us that were kind of the highlight of the queue as we were the "bikers", I was the girl and armed with my happiest smile, talking to every body, smiling at everybody & asking everybody.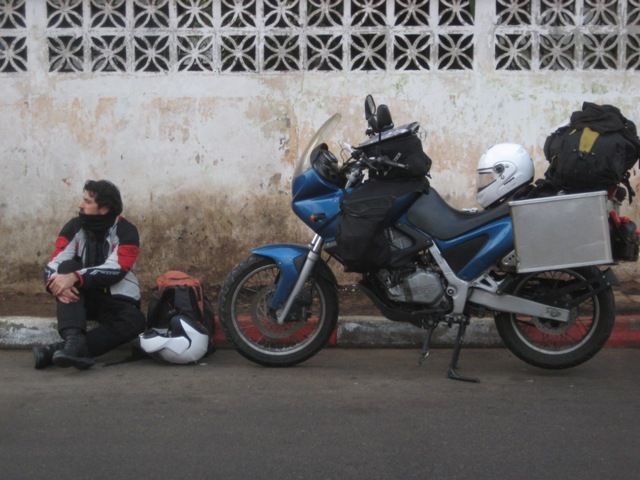 There in front of the consulate we met a few people that we kept on meeting throughout our journey till Mali. Europe seemed to be kind of pest ridden place that every body was trying to scape from. I could feel the enthusiasm in peoples faces and the energy in the air.
That night we camped in a camping in a seaside village, called Tamara 25 km in the south of Rabat. Again there were our overlanders: a Moroccan Belgian hippie couple. The dread lock Bergian guy had very nice music, made some fire and told us about an excellent drug he had and if I wanted to try. I wanted to but then I was too tired and felt asleep! He was the first of many people I met who raved about Ghana. He was actually a capitalist hippy as he was going there to make a lot of money. His old station wagon was full of second hand leader shoes that according to him were worth 10 times more in Ghana. Apart from making aapproximately 10,000 € of benefit in Ghana you could find good food, nice music and nice folks. So the world in Ghana was a perfect place.
Another Belgian guy, who was travelling in his brand new Mercedes van was a surfer heading to Agadir, the surfer paradise to overwinter there. He had quited his job and was following the waves.
Throughout our route crossing the Western Sahara sometimes we were overtaken by some of the overlanders we met earlier and some other times we would overtake them.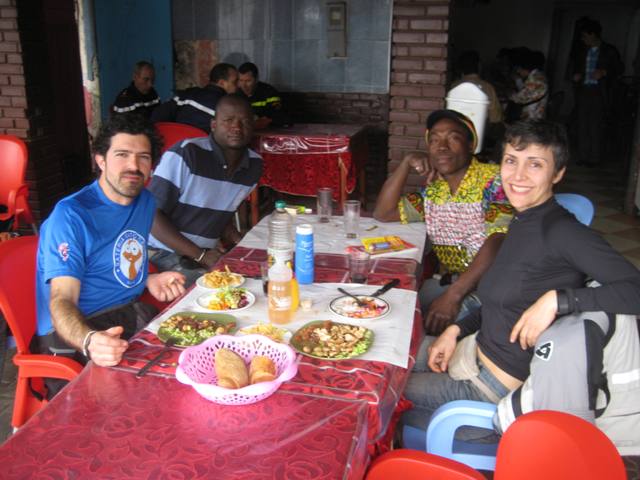 No trace of any bikers till one evening during one of those short lived January days where we were riding as fast as we could to get to the next town before the night fell we came across another biker. He waved at us. We stopped, We had to walk back towards each other. It didn´t take long to realize that we all were from Spain – I am sometimes- Chus was from Avila and he was spending his Christmas holiday crossing the Sahara and then back again to Spain -6000 km at least?!!- he had this happy smile of seeing friends & gave us a strong hug and a big kiss. We went again over the roads, passed the info on the gas stations, campings, hotels, checkpoints & borders. With a worried voice he asked if it was also so loud with our helmets as he was hearing this nasty noise all the time. We paranoid and hear things. We had a lough.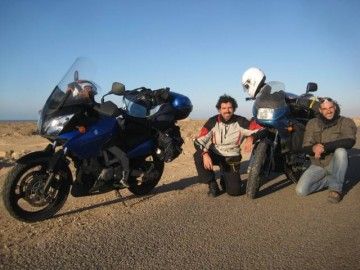 And then something really Spanish happened. He went back to his bike, fumbled inside the bag and handed over to us some Spanish ham –Jamón- saying that his journey was about to finish but ours has just started and that we would need it more than him. I love this fact about many Spaniards as a vast majority would not leave Spain without some vacuumed ham inside their bag just in case they get homesick! We haven´t felt homesick so far but we did eat the ham in one of the many days of famine in the middle of nowhere, thanking him for his genoursity.