Traditional Spanish Paella. by https://unsplash.com/@anniespratt
Although we'd all love to eat at the best restaurants in Seville every day, sometimes just a quick lunch just makes sense. Perhaps you're just looking for a no-fuss-bite-to-eat or some kind of delectable snack on the go, either way, we've compiled a list of ten really good local eateries that offer great light lunch options. Or you could contact us and we'd be more than happy to suggest the Best Lunch Cafes in Seville along our tour routes.
The city of Seville is not a coastal town itself, however being situated in the fertile River Guadalquivir valley. It is just a hundred kilometers from both Cadiz and Huelva, as well as being only two hours drive from Malaga. This means that high-quality fresh fish and other seafood are readily available for restaurants and chefs to use with the plentiful produce from local farmers' markets.
So while you're here on vacation there are loads of high-quality eatery options to choose between. And these are some of the most well-rated by locals and tourists. All of which we can go to on our Seville Day Trips…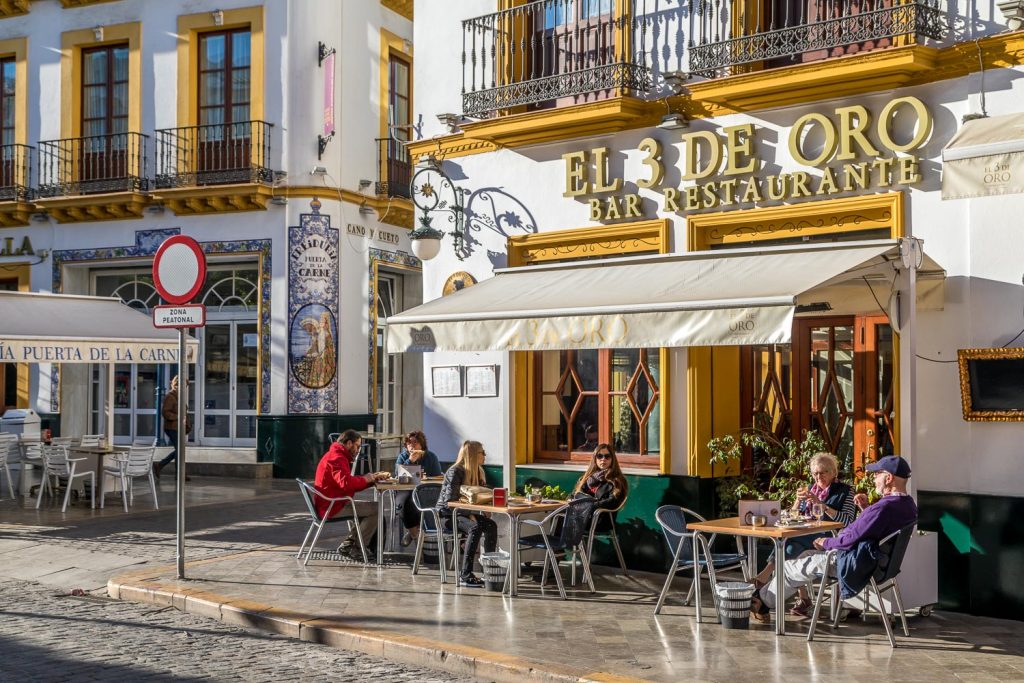 On Street Dining at El 3 de Oro by Andrews Walks
El 3 de Oro – Sta. María la Blanca, 34
This classic Sevillian tapas eatery offers high-end seasonal Andalusian dishes, which can either be enjoyed in their classic dining room. Or on the street terrace which offers amazing views of C. Sta. María la Blanca – just one block from the north gate of Jardines de murillo. So after your meal, you can take a stroll through the landscaped urban park where you can enjoy paved walkways. These are covered by shade trees, with loads of historic monuments. We even offer a Seville day trip to guide you through.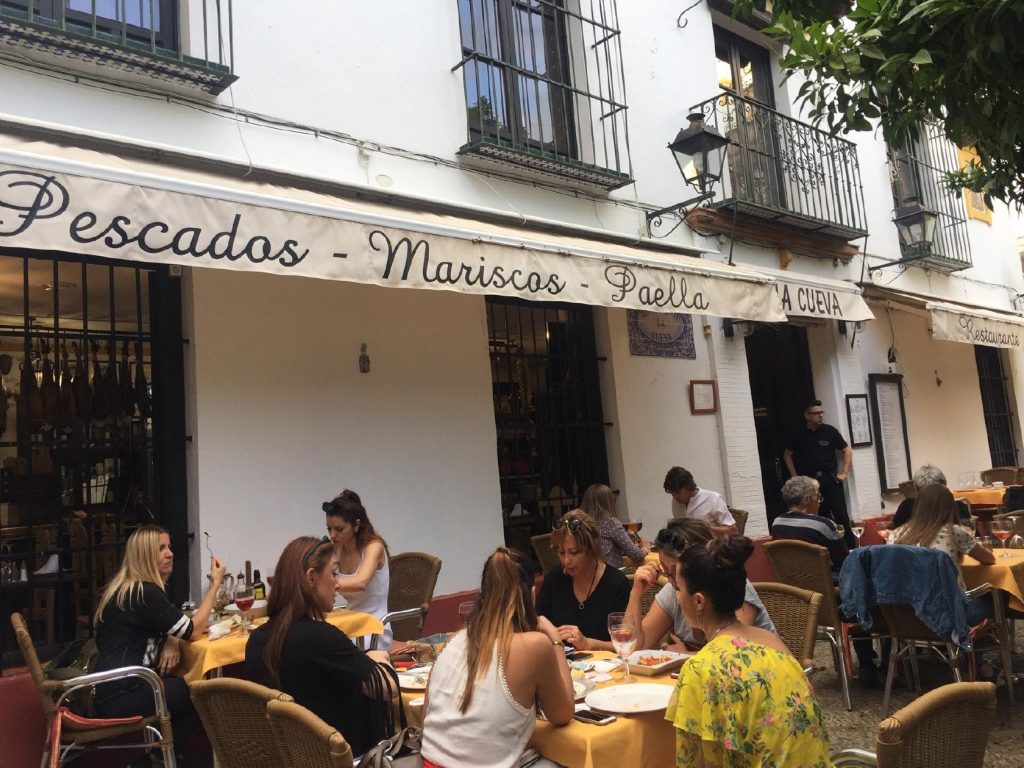 Cafe Dining at La Cueva by Resturant Guru
La Cueva – C. Rodrigo Caro, 18
This cafe-style fine-dining Andalusian Restaurant is situated just 4-min walk from The Royal Alcázars of Seville – commonly known as the Alcazar of Seville which is in fact an actual royal palace. So after you've had an afternoon exploring the residential fortress which was declared a world heritage site in 1987. Then head over to La Cueva — definitely one of the Best Lunch Cafes in Seville. You really enjoy their tasty Tapas while basking in the ancient architectural atmosphere which surrounds their outdoor seating area.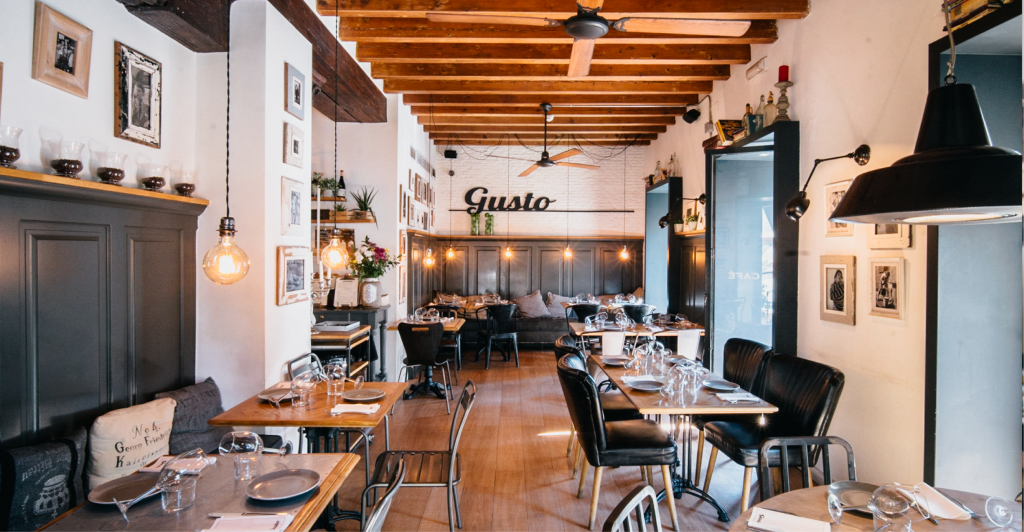 Dining Room at Gusto by Gusto Seville
Gusto Sevilla – C. Alemanes, 23
This casual farmhouse-style paella restaurant also offers a carefully sourced selection of seasonal dishes, artisanal pastries & cheeses. And is just two minutes walk away from the Cathedral of Seville, on the mythical Alemanes Street. And has some really impressive views of the Giralda towers of the church itself. The monument was originally built a thousand years ago and has inspired numerous other projects around the world. These include the Freedom Tower in Miami, to the Palace of Culture and Science in Poland, as well as the Madison Square Garden in New York City.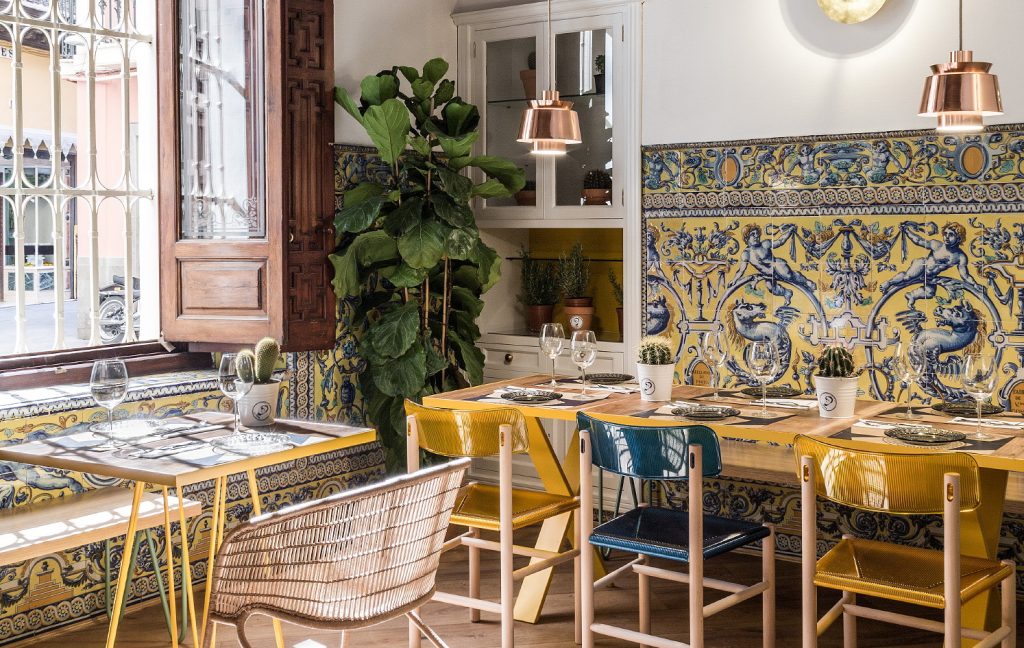 Inside Cafe at El Pintón by Wallpaper
El Pintón – C. Francos, 42
This colorfully decorated culinary destination offers various innovative small plates, as well as amazing sangria and a stunning list of cocktails. It's also located just two minutes walk from the Museo del Baile Flamenco which is home to various exhibitions of painting, photography, or sculpture. There is also the Flamenco and Taps tour where you can enjoy an afternoon of taking in one of the daily shows or even a master class. After that you can head right over to El Pintón another one of the Best Lunch Cafes in Seville. You'll really enjoy relaxing in their cozy outdoor seating area. Otherwise, we've got a few other spots on our Off-the-beaten-path Tapas Tour which you may enjoy.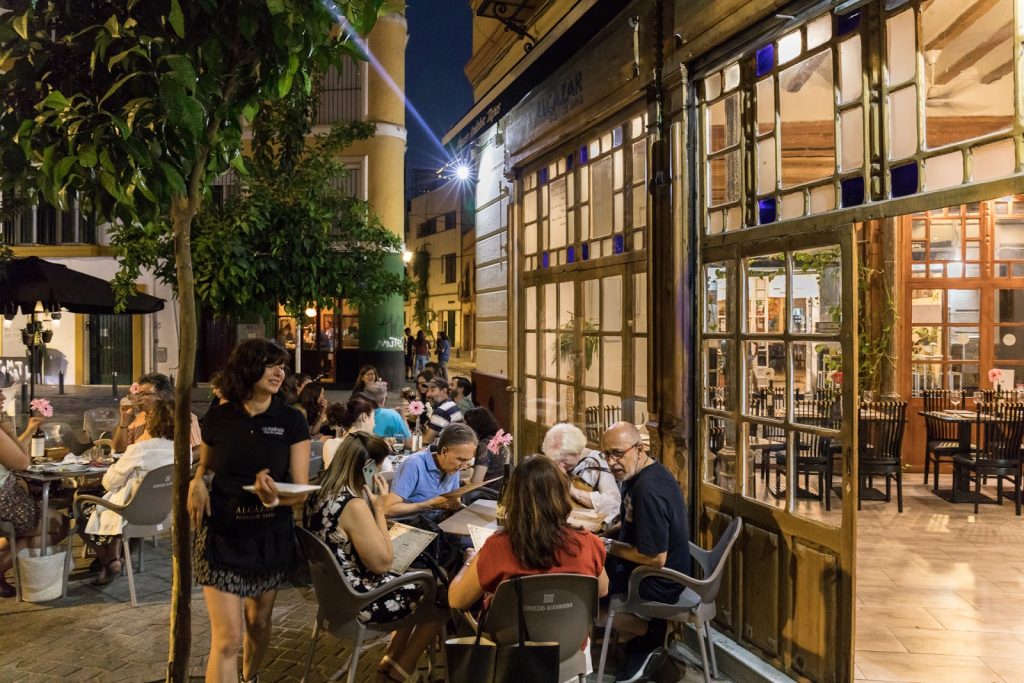 Outdoor Seating at Alcázar Andalusí by Travel Coffee Hot
Alcázar Andalusí Tapas – C. Peris Mencheta, 22
This classic Spanish eatery is a casual spot that offers delicious local fare with something-of-a-global-twist and features plenty of vegetarian, and seafood small plates, along with a great selection of wines. It's also just around the corner from the Palacio de las Dueñas, where they have an amazing array of Gypsy sculptures and other ancient Sevillian artifacts. Which is housed in an exquisite series of courtyards and buildings, designed during the Gothic art-Moorish period right through to the Renaissance. All of which you can easily walk to after your lunch.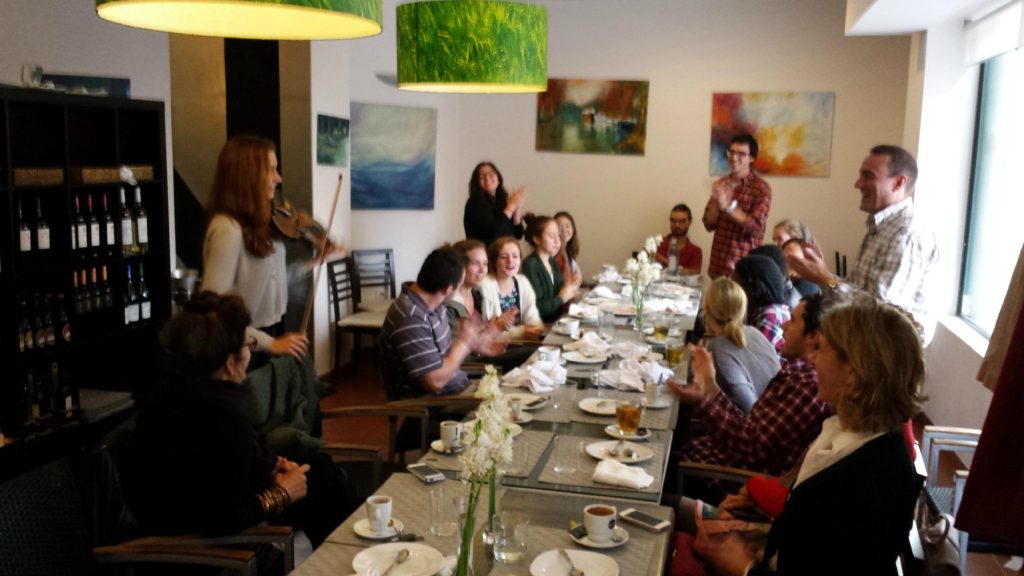 Live Music Inside by Áncora Restaurant
Áncora Restaurant Seville – Av. de Cádiz, 9
This cozy little Mediterranean cafe in the heart of Seville is just two minutes away from the Plaza de España – which is a stunning plaza in the Parque de María Luisa, built in 1928 for the Ibero-American Exposition. So once you've enjoyed their classic paella at Áncora take a Seville Day Trip with us. Where we'll stroll on over and see the amazing fountains.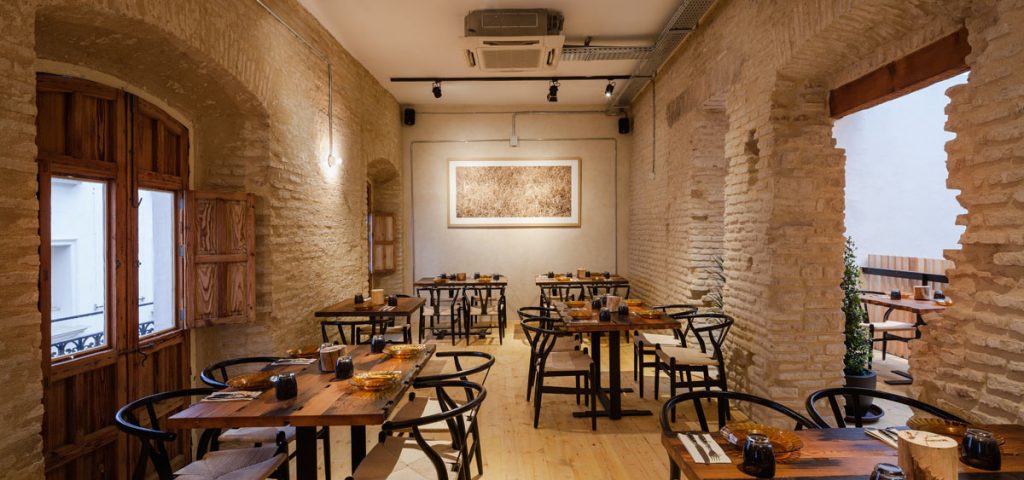 Interior Dining Room by Fernando Alda
Restaurante Perro Viejo – C. Arguijo, 3
This sleek modern tapas restaurant has a rustic charm which creates a beautiful ambiance to enjoy there with a wide variety of options, not to mention the paella. It's also located just around the corner from the Setas de Sevilla known internationally as the Mushrooms of Seville. This amazing wooden structure is located at La Encarnación square Sevilla's old quarter. On our Seville Day Trip, we can show you where they access the ancient Roman Antiquarium. These run under the old city from the sculpture.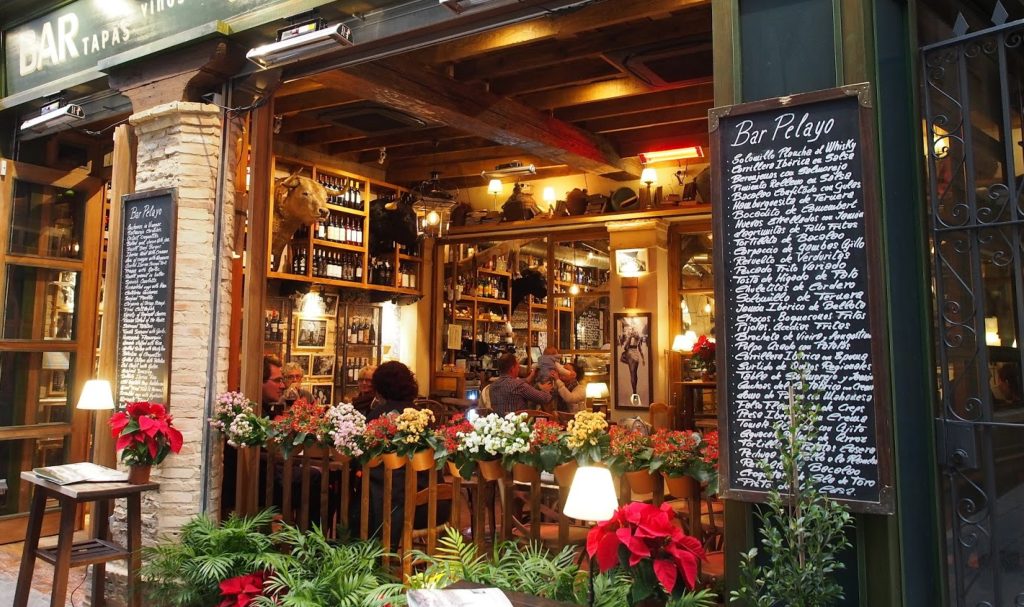 Entrance to Pelayo by Petunia Lee
Pelayo Bar de Tapas – C. de Placentines, 25
This homey cafe-bar option has a menu featuring creative local tapas, and seafood – if you're not budgeting, as well as some really good local wines. It's also right next to the Catedral de Sevilla, where there are also various relics for you to see located throughout their 80 different chapels. So make sure you eat enough paella to keep you going for an entire afternoon of exploration. Or you could take the Triana Tapas tour with us.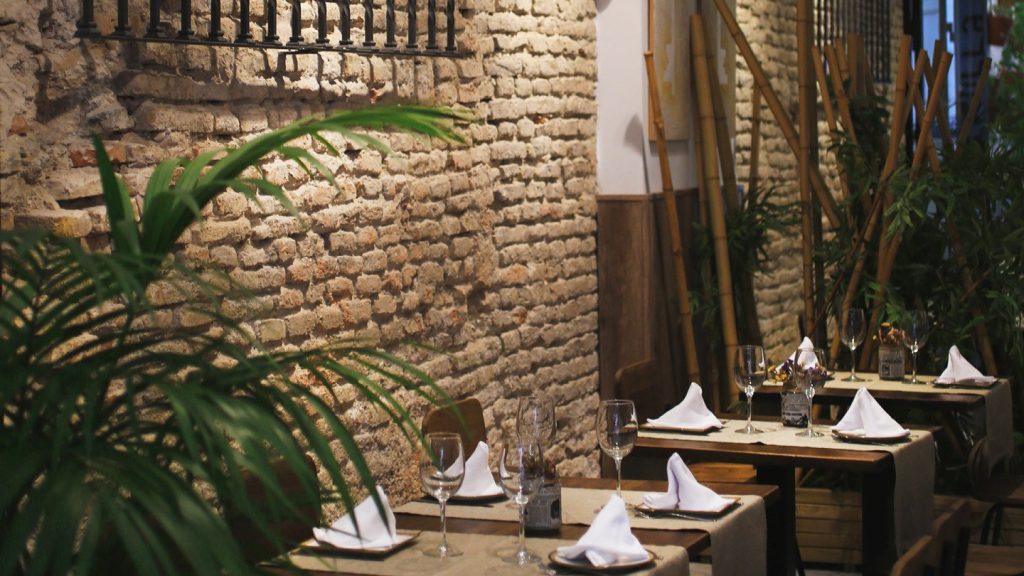 Alta Carte Tables at La Barandilla by Seville ABC
La Barandilla – C. Joaquín Guichot, 10
This funky modern eatery gives traditional Spanish dishes an innovative reimagining – where you can hang out with neighborhood locals. They even have an awesome in-house bar, or you can enjoy some amazing paella in the restaurant area. It's also right on the Plaza de San Francisco where you can take a stroll down the historic building lined Avenida de la Constitución to Plaza Nueva. Which is home to several lovely orchards.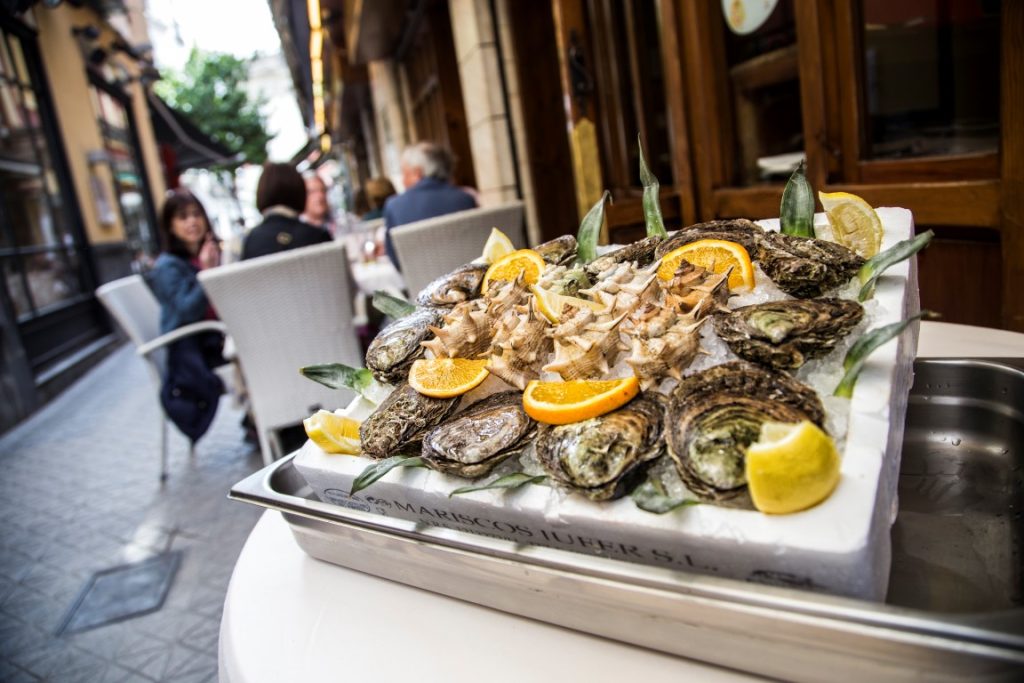 Seafood of the Day by Casa Robles
Casa Robles – C. Álvarez Quintero, 58
This high-end Andalusian eatery of three stories is known for innovative dishes as it spins traditional cuisine into the modern fare. You'll absolutely love their paella paired with one of the multitudes of wines they stock. And once you're done you can explore one of the many parks and gardens in the city including the Park of San Jerónimo. You can even see the Birth of a New Man sculpture here, which is well over 400ft (40meter) in height. Or you could simply ask us about the dozens of other activities on offer in this fantastic region of the world.