Seville is becoming a very attractive location for digital nomads. The
balmy climate, the enchanting history and that indescribable Andalucian charm,
who could keep away, right?
The café, bar and tapas scene of Seville is fun, plentiful, but at times a little
difficult to navigate – especially if you're a digital nomad in need of a
reliable internet connection and somewhere to work for a few hours. So here is
our guide of where works to work in Seville, with the added bonus of coffee!

Almazen Café
This café feels like it should be situated amongst the trees rather than the bustling barrio of Santa Cruz. Here you will find sustainable coffee, smoothie bowls and a plethora of vegetarian options to get your work flow going. Almazen café is also a host to workshops, exhibitions of local artists and designers as well as language exchanges (at the moment only Spanish and French). The relaxing vibe, quiet interior and friendly staff make it a great place to turn into your office for the day.
Calle San Esteban 15 – Opening Times: Tue to Fri 9 – 21:30; Sat 10 – 23; Sun 10 – 16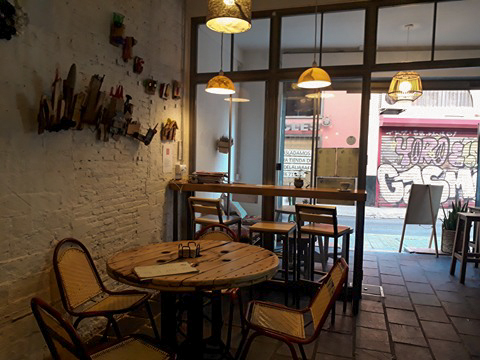 Caotica: Bookshop and Café
Caotica cafe is already teeming with laptops, bookworms and other digital nomads, making it a great place to come and connect with others or find help for your HTML code. Along with your traditional coffee shop fare, they offer a range of artisan beers and other alcoholic beverages. The space is quite impressive in itself; at its maximum capacity it is three stories as well as a co-op bookshop. It can get a bit busy/noisy especially after siesta.
Calle José Gestoso, 8  Opening Times: Mon to Fri 10 – 14, 17 – 21; Sat 10 – 21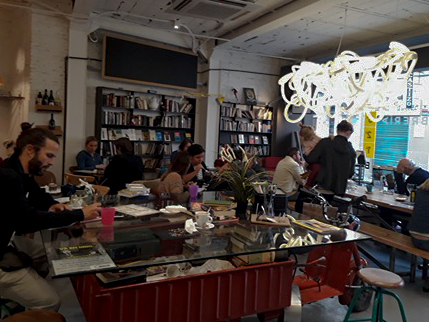 Café Piola
Situated on Alameda de Hércules, Café Piola has a large indoor space as well as a sun-soaked outdoor area. Perhaps one of the few places in Seville where you can find avocado on toast on the menu, along with chilli hot chocolate and mulled wine. This funky café also has sandwiches, burgers and tapas. It's a great place to come and set yourself up by a window and there are even board games available for when you need a break.
Alameda de Hércules, 57  Opening Times: Mon to Sun 9 – 2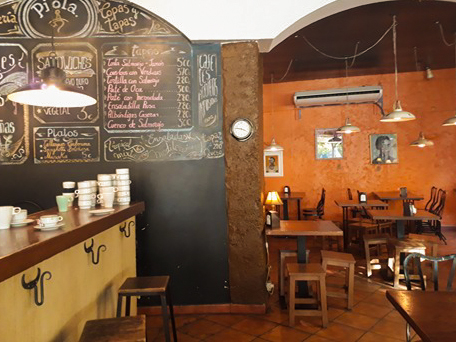 Orfeo
A café/bar so cool and so tasteful it makes you immediately connect to their Wi-Fi and google "how to be more European chic". With smooth jazz playing from the stereo and an interior of dark wooden tables and low-hanging warm lighting, it is hard not to be seduced by Orfeo. The calm ambience makes it a great place to work and the other patrons here also seem to be in search of a quiet place to recharge.  Along with coffee and cocktails, they also offer cakes, freshly-made cookies and tapas.
Calle Jesús del Gran Poder, 19  Opening Times: Mon to Fri 8 – 14, 16 – midnight; Sat 16 – 1; Sun 16 – midnight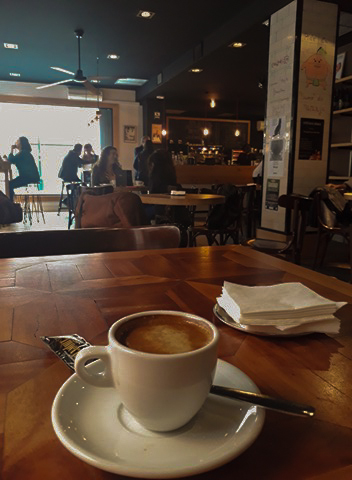 Santagloria
A well lit, friendly staffed bakery-cafe where you will be sure to find a table and a vibe conducive to work. They have a wide selection of baked goods, including artisan breads, quiches and many types of cake, all made on-site. Perhaps more American than Spanish, here you will find waffles, frappes and freshly squeezed juices. The upstairs sitting area is quiet and out-of-the-way, making it ideal for a meeting or Skype call.
Calle Canalejas, 7  Opening Times: Mon to Sun 8 – 21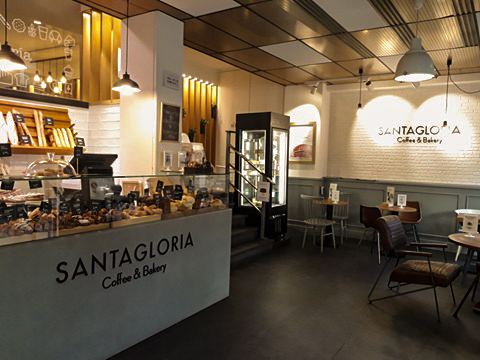 Café de Valle
The chilled vibe of Café de Valle is immediately felt upon entrance, with their green feature lights and wide, cushioned seats. This is a great place if you have any dietary concerns, they can make your coffee – or chai latte – with any type of milk and have a wide selection of gluten and lactose free cakes. Everyday for lunch they offer four different types of salad along with other light meals. Located closer to Los Remedios, it's a nice alternative to the busy cafes of Triana.
Calle Virgen del Valle, 8  Opening Times: Mon to Fri 9 – 21:30; Sat 10 – 14, 16 – 21:30; Sun 16 – 21:30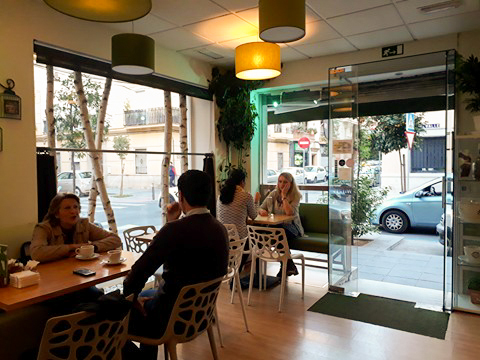 For extra inspiration, visit this page to find Seville Remote Workers. They organise weekly events for co-working where everyone can meet and work together! They also have monthly social events for remote workers, so get involved if you fancy co-working with a difference.