Flamenco dancing is a significant part of Spanish culture and has been a key factor in drawing tourists to Spain for decades. This is particularly true of Seville, the Spanish centre of flamenco dancing and living. As a result of Covid-19, it has become increasingly difficult for flamenco dancers to perform or teach.
Two months ago, I arrived in Spain to work. Whilst I was excited about tapas and the ever present sun, most of all I was desperate to see flamenco. The beautiful and mesmerising dance that had captivated me as a young girl. However, I knew that flamenco in Seville, during Covid-19, would be difficult to find, as it usually thrives in the small and lively tablaus.
Luckily, I was able to see Kati (a celebrated professional flamenco dancer) and her husband David (who regularly accompanies her performances with the guitar) in a socially distanced performance. The atmosphere in the room was intimate and electric, and I was once again stunned by the way flamenco seems to transform technical difficulty into passionate expression. Nevertheless, it was clear by the limited capacity that the restrictions would take its toll on the independent artists who usually made their living from packed out shows. I got in touch with Kati and David and decided to find out how flamenco has adapted to face the challenges of the pandemic.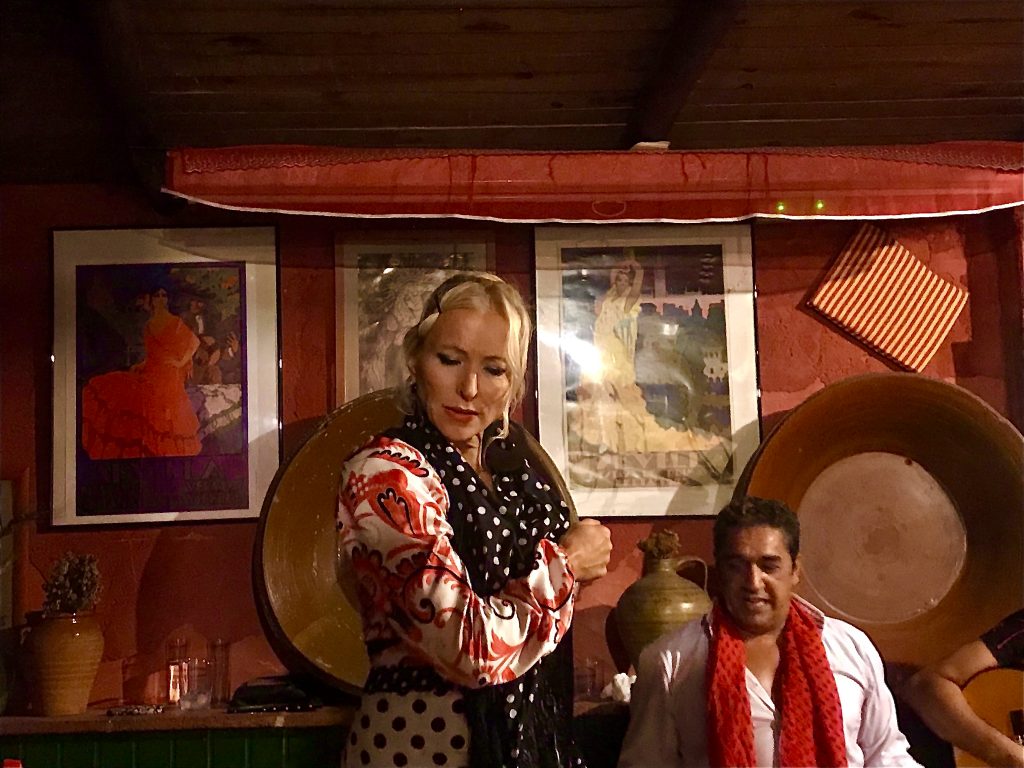 What does flamenco mean to the people of Andalusia?
Kati: Flamenco is very popular here because it is a way of living. It has always been more traditionally inside of the gypsy families, until the middle of the 19th century. However, nowadays it is more mixed. Everybody knows a little bit of flamenco and people are normally very proud of that as a cultural heritage. Many families live it in everyday life if you have strong family traditions, parties and weddings are centred around flamenco. There is something special about flamenco, it is traditional but also appeals to children. Little girls want to be beautiful flamenco dancers, but the little boys also! It's not just a feminine dance. It's very powerful and rhythmical, and children have their idols in flamenco.
Why is Seville such an important place for flamenco?
Kati: Seville is one of the birthplaces of flamenco! In Triana and Alameda de Hercules, alongside Jerez de la Frontera and Cadiz, this is where the oldest styles of flamenco come from. Seville being the capital of Andalusia and the richest city, has meant it has made a lot of the best artists. Even the best artists from Cadiz and Jerez came to Seville. It has the best atmosphere, professors and musicians. Seville is like the queen of flamenco!
What has changed for flamenco during Covid-19?
Kati: Everything, it has been horrible. First of all, the goal for everybody now is just to be able to work. The government has not been able, until now, to give any support. All the artists in Spain make their money from tablaos, which are the everyday small restaurants that do flamenco. They also make money at the theatre, schools and festivals but the tablaos are very important. They all closed and all the festivals were cancelled. We always got our money from the Feria de Sevilla and the big trips. It's a big loss for tourism in general. I know other flamenco artists who have already moved to other countries because they can't make money here.
How have the specific restrictions affected you e.g. smaller venues and masks?
Kati: It is very difficult. We have always been used to being close to people, and the expressions are very far away. We have been doing online shows and tried to do the same atmosphere. Flamenco has to be intense, so when there is nobody there it is very different. Because I can speak English, we have been doing lots of online classes but I know many artists who only speak Spanish and they have been doing nothing since February.
The language helps us reach another public and provide different experiences. People are coming to our home on the screen. But we have all been surprised that once you get used to using the online equipment you can find a way to connect. More than I thought and especially in the classes. People have been very happy to see our shows, but for us it has been difficult.
David: I try and get the same feeling by closing my eyes!
How does the dancer and the musician communicate?
David: We have to study, there are codes and rules and you have to learn how to read the person. Look and listen to intuition. When you know the person well you can communicate better, but there is always that unknown space.
Kati: Every style has lots of variations. The singer chooses the variation and lyrics, the dancer responds in the breaks and in the finals. I can never know beforehand how long it is going to be, but I need to know the possibilities. That's why the career of a flamenco dancer is so long! I think it takes at least twenty years to be professional. There is always some mystery about what is going to happen so it is very fun! But everyday is also a challenge, as everyday is different.
Lastly, why should people come to Seville for flamenco?
David: the quality of flamenco is extremely good but you can also see it more intimately. The level is the highest in the whole country. You don't need a show, you can see it in a bar. It's everywhere.
Kati: You can see good flamenco in somewhere like Madrid but you can't live it. It's only in Seville that you can live it.
Although, flamenco during Covid-19 is a little different, it is no less sensational to see. When travel restrictions lessen, make sure to see flamenco in Seville and support the hugely talented artists.
Post written by: Rhiannon Morris