Santa Cruz is a fascinating place. The old Jewish quarter of Seville is overflowing with history and legends, and is as alive today as it's ever been. Santa Cruz is the labyrinth of houses and plazas bordered by the Real Alcazar, the Jardines de Murillo, Calle Mateos Gago, and Calle Santa Maria. The area gets its name from Santa Cruz church, a Mudéjar style temple built on the site of a ruined synagogue. The church was itself ruined during the Napoleonic wars and a plaza was built on the spot. Plaza Santa Cruz uses the same floor that had been in the synagogue and church. The plaza was beautified in 1921 when the 'Locksmiths Cross' was moved here – a 1692 monument built by Sebastian Conde.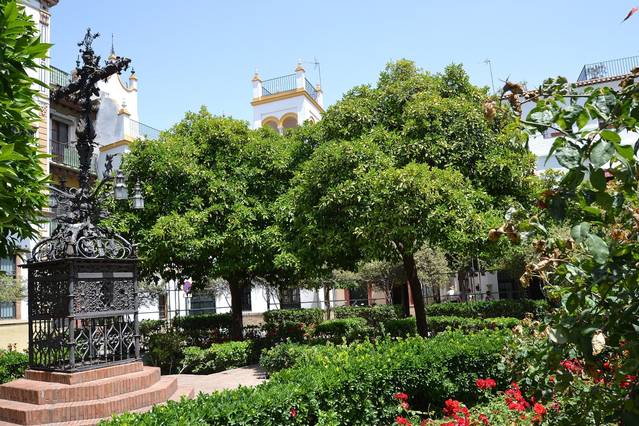 In the Moorish city of Ishbiliya, what is now Santa Cruz was not much different from the rest of the town, the only identifying factor was the aqueduct which ran along the boundary of the city and past the walls of the Alcazar. You can still see the remains of this aqueduct today on the aptly name 'Calle Agua (Water Street)'. It wasn't until the reconquest by Christian King Ferdinand III of Castille, in 1248, that things changed. Religious freedom had been allowed by the succession of Moorish Caliphates and Emirates which had ruled the area for 800 years, but things would be different under the Christians. Almost immediately, Ferdinand concentrated the Jewish population of Seville – the second largest on the whole Iberian peninsula, behind only Toledo – into one small area which was subsequently walled in. It's not known wether the Christians built a wall around the Jewish quarter to keep the Jews in, or the Jews for their own safety and to keep the Christians out, but what is known is that there was discrimination on both sides.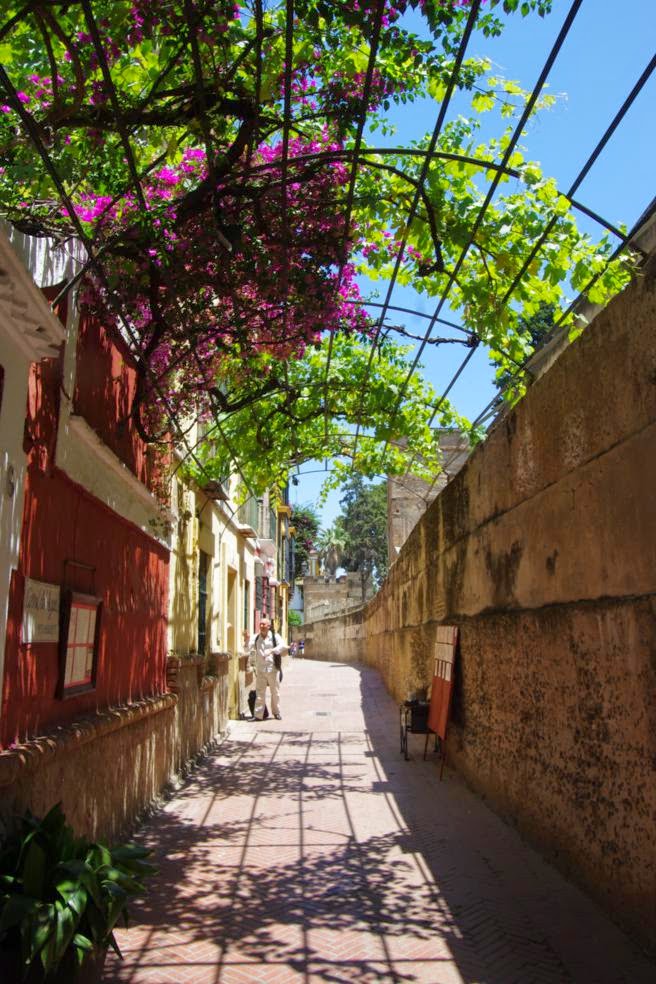 If you venture to Calle Susona in Santa Cruz you will see a chilling reminder to this discrimination. On the wall is a tile with a morbid skull drawn on. This tile has replaced an actual skull which sat there for years. Allow me to explain. At some point during the 14th century, two star crossed lover met: a Christian boy, and a Jewish girl named Susona. Just like Romeo and Juliet, this love was strictly forbidden and families on both sides disapproved. Thinking it to be children being young and foolish, neither side did much about it other than to admonish their children. However, things took a sinister turn when the enamoured youths wanted to get married. A Jew and a Christian marrying was simply not allowed. One of them would have to convert. Fearing the worst for their wayward daughter, Susona's family resolved to murder her young lover. However, she got wind and warned him. This young man was a man of action, and concluded that he couldn't be killed if he got to his would-be-murderers before they got to him. Under cover of darkness, he climbed up through Susona's window and stealthily murdered her family before fleeing Santa Cruz to safety. By the next day, word had spread of what had happened and the Jewish community got together to decide what to do. The solution they came to was an ultimatum for Susona: if she would renounce her love for the man and her new Christian faith and revert to Judaism and apologise for the whole thing she would be off the hook, but if she would not, she would be killed. Susona was nothing if not stubborn. So lovestruck was she that she would sooner choose death over a life without her man. So be it. She was taken by the community and brutally murder. Her skull was placed on a shelf outside her window as a macabre reminder of what happens to those who would turn their back on their culture and religion.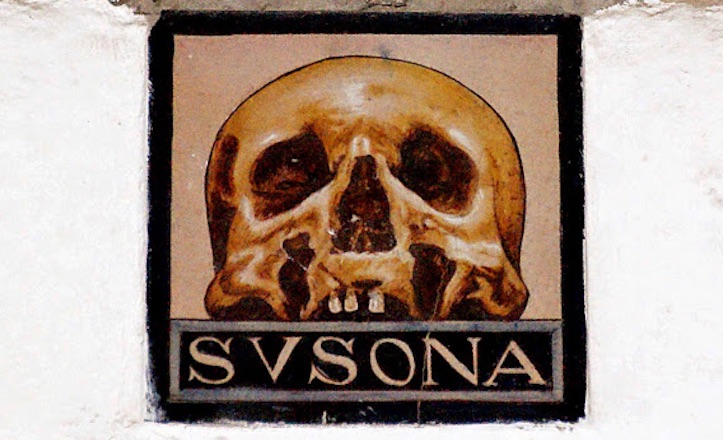 The Jews and Christians lived as troublesome neighbours for two centuries until the fires of the Spanish Inquisition began raging. The first tribunal of the inquisition was held in Seville in 1478 and as a result of being home to it, Seville saw the lions share of brutality from the Inquisition. The persecution of Jews went into overdrive, reaching fever pitch in 1492 went the Catholic Monarchs signed the 'Alhambra Decree', dictating that all Jews in Spain must convert to Christianity or leave the land. To learn more about the history of the lives, and persecution, of the Jews in Seville, visit the Centro de Interpretacion.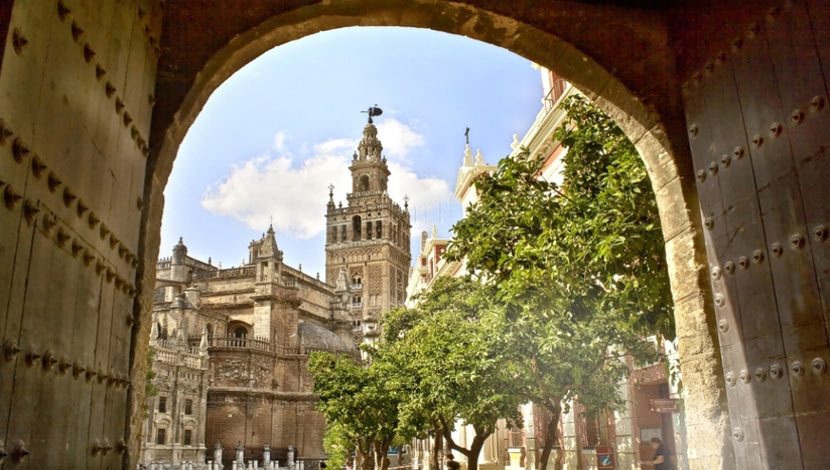 Although many jews left during the 300 years of the Inquisition rather than turn their backs on their religion and culture, the ones that did convert were allowed to stay and continue to contribute to society. These families have gone on to produce some of the most revered Spaniards in history. Take for example the Velazquez family (which is a surname recognised by the Catholic Church in Spain as of Sephardic Jewish origin), one hundred years after the expulsion of Jews began, Diego Velazquez was born in Santa Cruz. He went on to become one of the most influential and celebrated painters of the Spanish Golden age. Following in the footsteps of his success, Santa Cruz (which had fallen into disrepair as so many of its residents had been expelled) became a hub for artists with many, from all different walks of life, moving here. Most notably among them is Bartolomé Esteban Murillo a Baroque painter born twenty years after Velazquez. After making his name in Madrid, he moved home to Seville, choosing to live in Santa Cruz. He lived out the rest of his days here, fathering 11 children with his wife and painting the scenes he saw around him, as well as his more well known religious works. If you'd like to see works by Murillo and Velazquez amongst other golden age artists in Santa Cruz, you can go to the Hospital de los Venerables.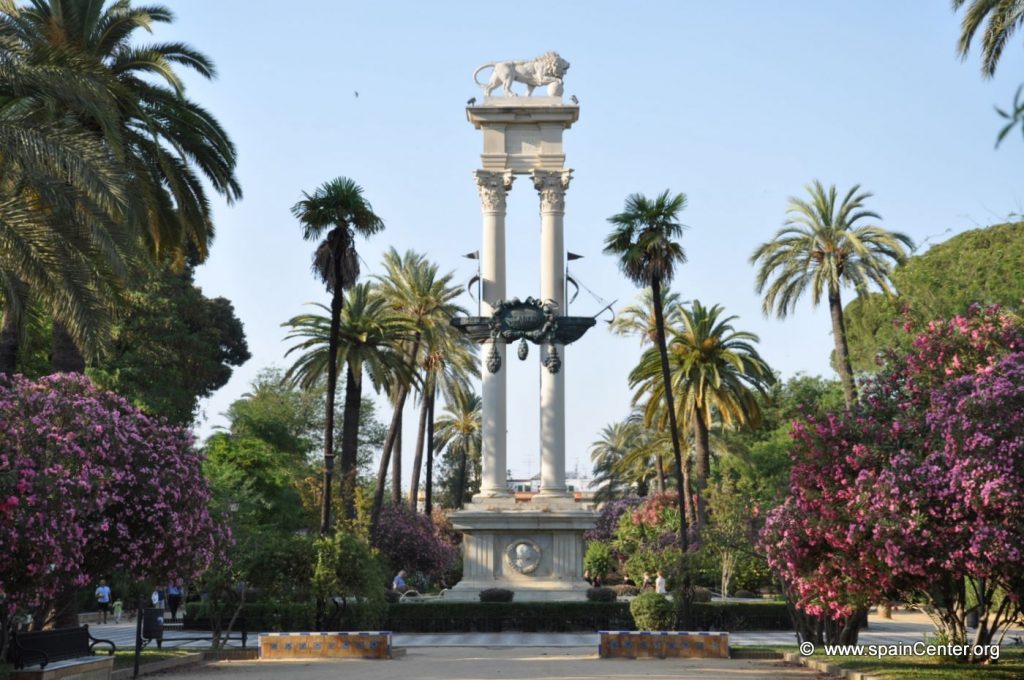 Despite being an artistic hub, Santa Cruz was still in a state of disrepair when, in 1755, a huge earthquake devastated much of the Iberian peninsula. Known as the great Lisbon Earthquake it destroyed large parts of Seville including much of Santa Cruz. This was just the incentive the local officials needed to rebuild an area which was rapidly declining. It was rebuilt as a well-to-do area with many middle class families choosing to build their homes here. This is the Santa Cruz we find today, a wash of tight streets and picturesque plazas (11 in total in the barrio) perfect for escaping the summer sun and no less attractive on a winters day. It has become one of the main touristic areas of the city, an attraction in its own right. Leave your maps at home and come and get lost in this maze of tapas, flamenco, and cafés.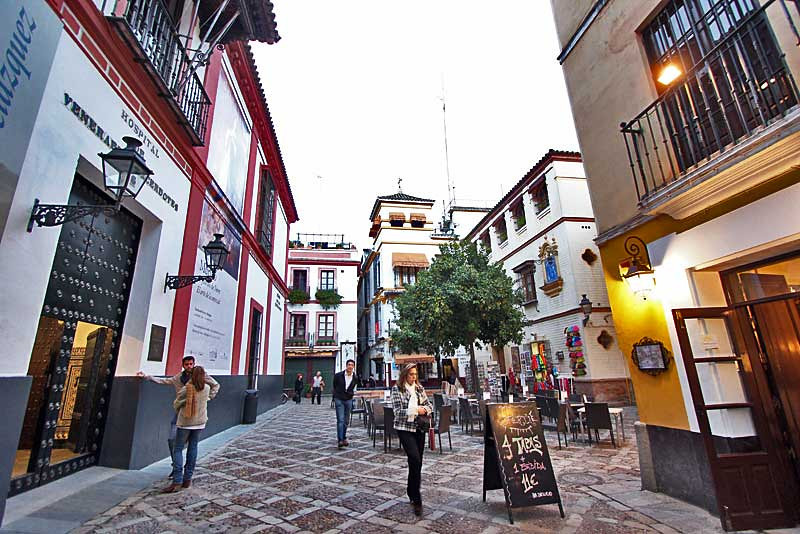 If you want to discover more about this magical neighbourhood, why not come on one of our walking tours? We offer two hour and four hour tours, as well as an 'off the beaten path' tour. Alternatively, for a unique perspective: 'Seville from a woman's point of view', come for a walk through the history of Seville and learn about some of the city's most famous women and how they would have lived. On all these tours we will show you around the sites mentioned above and help you to understand what makes Seville's most memorable neighbourhood so special.
Davey Womack is a tour guide and avid traveller. To read about his adventures around the world, visit his personal blog.