Where to Buy Flamenco Dresses in Seville
Around the world there are a few garments associated with certain cultures: The lederhosen is inextricably linked with Germany, and India have the sari. In Spain, it is the flamenco dress. One look at these fitted dresses conjures up images of dances in romantic cities. As the name suggests, flamenco dresses are used to dance flamenco, a gypsy dance born in Seville – watching a flamenco performance is a must while in the city! Aside from performers, locals will wear these dresses at traditional festivals such as the Feria de Abril. Clearly, then, this is a staple of culture in Seville, and so it is natural that you may want to buy one during your visit to the city. So where are the best places to buy flamenco dresses in Seville?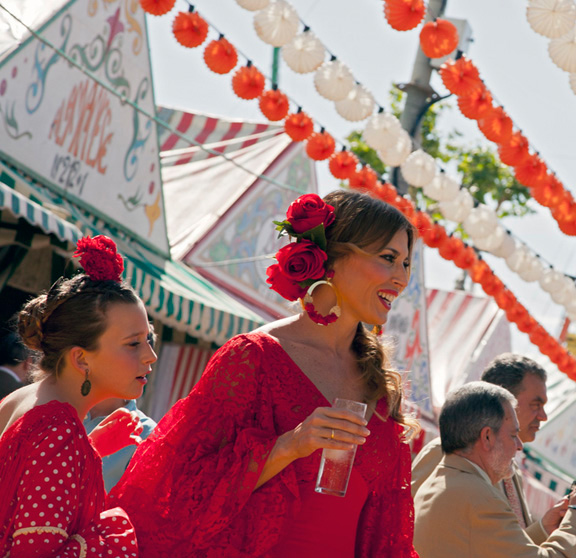 History of Dress
The eye catching dress is actually called the 'traje de gitana' and has its routes in the gypsy communities of Seville. In the middle of the 1800s many livestock fairs had developed in the city, and the wives of many gypsy farmers began attending the events in handmade dresses. They were made from simple fabric which the women found lying around their houses, and so to disguise from their poverty they were adorned with ruffles and thrills. By the time the Ibero-American Exhibition came around in 1929, these beautiful dresses had made their way into the vogue of high society. Once attendees at the exhibition were seen wearing the traje de gitana its place as the festival dress of Seville was cemented.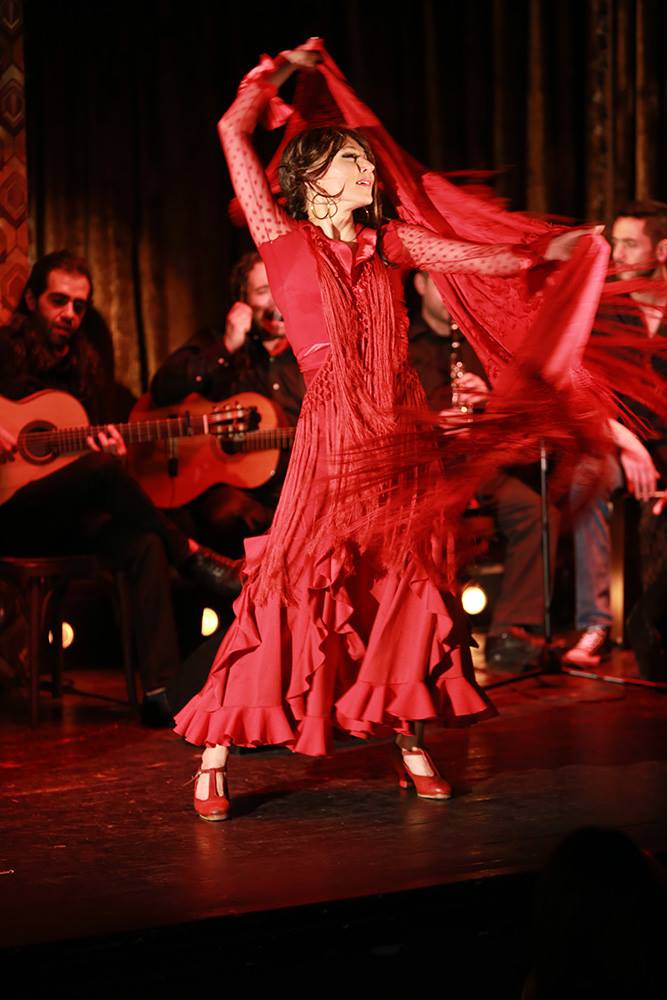 The Neighbourhoods
There are a couple of different shopping areas to check out when looking for flamenco dresses in Seville. It depends on what you want. The area around Calle Feria is filled with vintage shops and hipster outlets. This is a good place to go for a more modern dress. The main shopping area in the city, however, centres around Calle Tetuan and Calle Sierpes. This is a great place to come for clothes shopping in general and has several high-end boutiques selling stunning flamenco dresses. A little above Calle Sierpes, on the way toward the Alfalfa neighbourhood is where most of the best ones can be found. You never know where you may stumble across the perfect dress so we encourage you to walk around and see what you find, but to get you started, some of the best shops for flamenco dresses are:
Does exactly what it says it does! Everything flamenco from dresses to cd's can be found here.
One of the leading flamenco fashion brands in Spain, their flagship store lies in the centre of Seville.
One of the most popular brands for flamenco dresses in Seville. They have a new collection every year, constantly striving to find the balance between traditional and fresh.
Traditional dresses in a central location.
Long established dance and arts performance fashion outlets.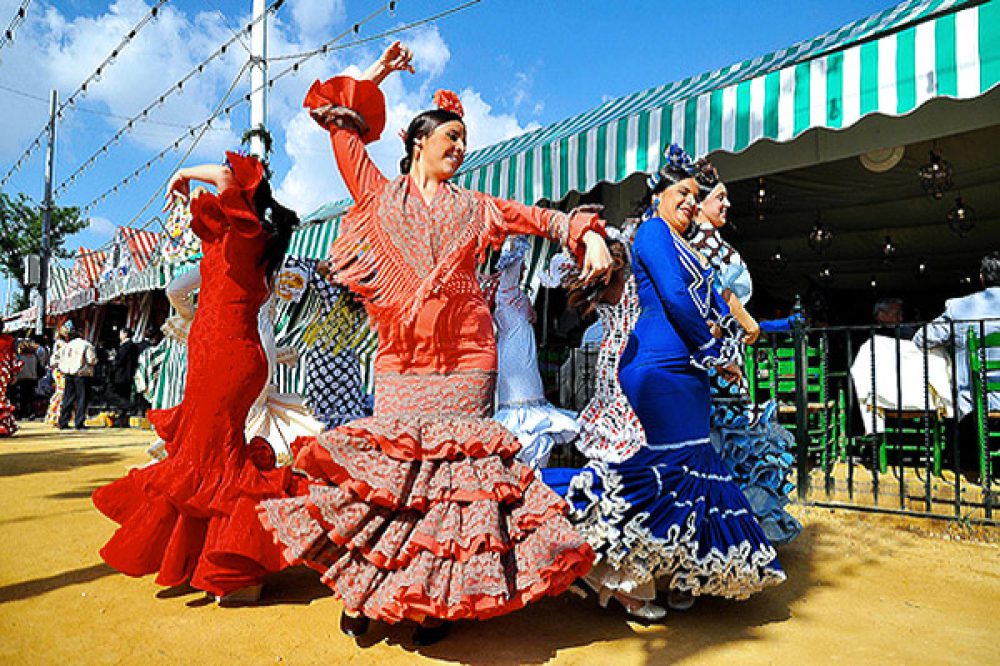 Accessories
Spain is famous for its shoes, and Seville is no exception. All over the city quality zapaterias can be found, but the largest concentration of them can be found around Calle Cordoba in the Alfalfa neighbourhood a couple of blocks up from Calle Sierpes.
As well as shoes, other accessories often worn with flamenco dresses in Seville often include broaches, necklaces, and ornamental head-combes known as peinetas. Most stores selling dresses will sell accessories, but there are a few specialist store such as:
A magnificent shop specialising in high end shoes and jewelery.
This unassuming shop is a treasure trove of majestic accessories.
One stop shop for all things flamenco including some of the finest accessories in Seville.
Personal Shopper
There are so many flamenco dresses in Seville, that finding the perfect one can be quite the process, Marching around the endless stores of Seville hoping the dress reveals itself to you. It can be easy to get disorientated and confused dealing in Spanish with the passionate shop owner. That's why we offer a personal shopper service, Lola will take you shopping to her favourite stores and help you to find the perfect dress. She is a professional flamenco dancer and designer by trade, so is ideally suited to guide you through the styles of flamenco fashion.
Flamenco Photography
It is only natural for garments as beautiful as flamenco dresses to come from Seville. Walking around the city you'll find many a gorgeous building begging to be photographed. Perhaps after buying the perfect dress, you'll want to have your photo in it by these architectural wonders. Reach out to us, and we'll introduce you to a professional photographer and make-up artist who'll take you to all of these locations and conduct a photo shoot of you looking your absolute best.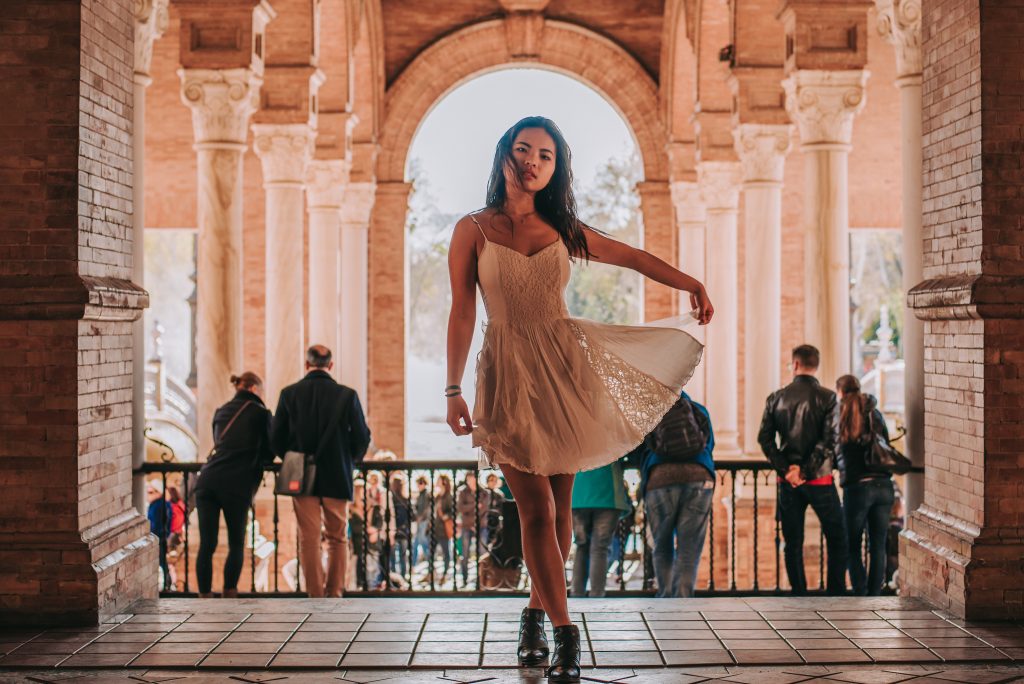 Davey Womack is a tour guide and avid traveller. Read more from his adventures in Spain and around the world by visiting his personal blog.