The Algarve (Portugal) is a stunning destination that offers something for everyone. From sun-soaked beaches to an incredible nightlife surrounded by many cultural attractions. What's best is that, if you're in any Andalucia city like Seville, it's only a short trip to the Algarve – and it's worth it! To help you decide whether you should visit this beautiful region, we have listed at least 5 reasons why you should visit the Algarve while being in Andalucia! Of course, there are many more!
Get Away from the Crowds in Seville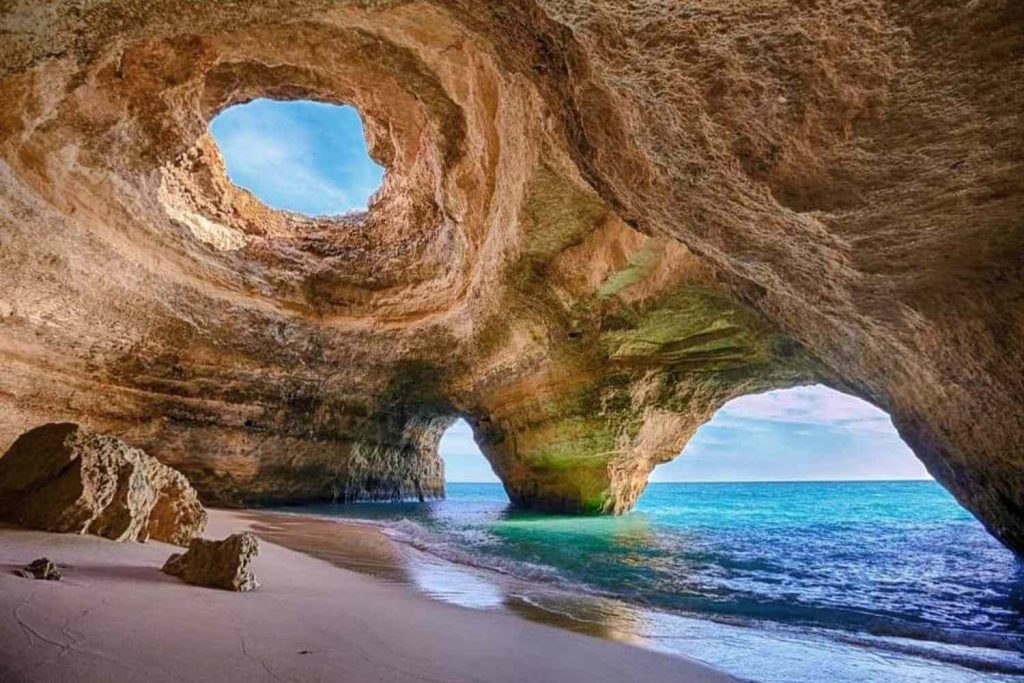 As you might know, Seville is a hot spot on the tourist map, during spring, summer, and autumn when the weather or the summer vacations make it a bustling city. The Spring festivities and the warm weather make many tourists want to visit Seville, so it may get a bit crowded. If you are looking for some peace and quiet, the Algarve may be your getaway. Here you will be able to explore the quiet fishing villages, the peaceful bays, and the dream-like beaches in the Algarve. Did you know that the Algarve is considered a Paradise in Southern Europe? Getting to discover its unique wildlife and the postcard-like coastline may be one of the 5 reasons to visit the Algarve while being in Andalucia.
One of the must-do stops in the Algarve is the Benagil Cave. This gigantic cave never fails to impress anyone who visits it. It could be thanks to its turquoise water, the dazzling orange and yellowish colors of the walls, or the arches that make this cave look like a water cathedral. When you reach this cave (we recommend doing so by boat), don't forget to look up to admire the famous "eye" of the Benagil Cave! If you're thinking of visiting this charm, drop us a note and we will arrange it!
Experience the Paradise-like beaches in the Algarve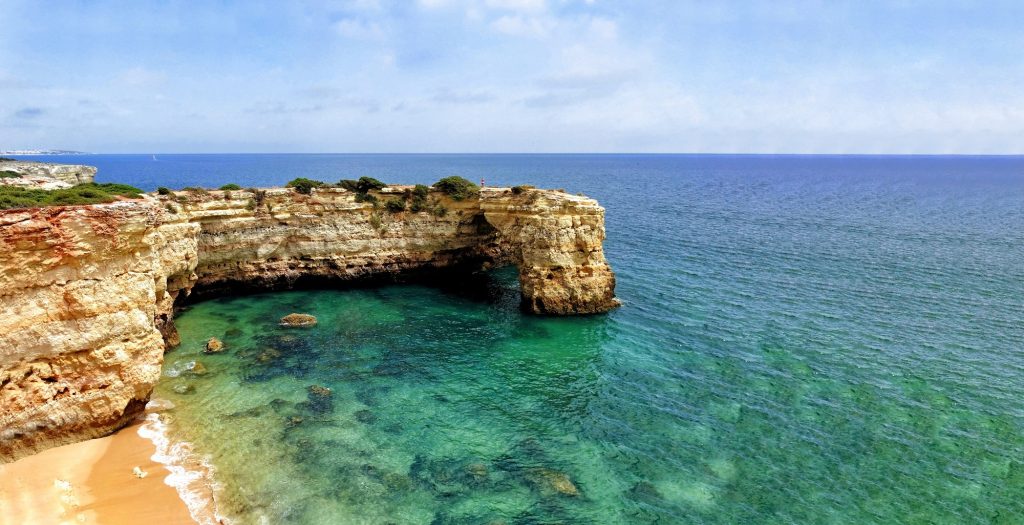 Hit the beach! The only disadvantage in Seville is the lack of sea. However, the Algarve is only a couple of hours drive from Seville. This Portuguese paradise offers spectacular scenery and beautiful sandy beaches, wild waves, fresh breeze and impressive cliffs. The diversity found in Marina de Albufeira – which offers an intimate atmosphere or in Praia do Ancao with its surprising rock formations are just a few examples.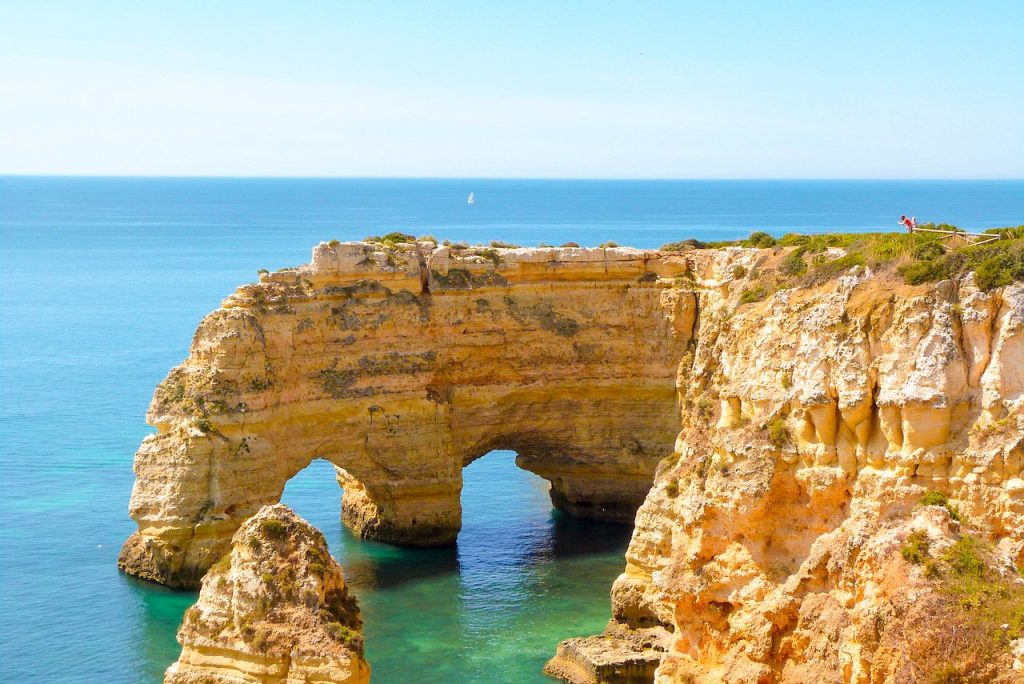 One of the 5 reasons to visit the Algarve while being in Andalucia is the kid-related activities you can find here! Children can enjoy many water sports, such as paddle surf, surfing, kayaking, kite surfing or simply swimming and making sand castles. If you'd like something more than only sand, sea, and swim while you visit the Algarve, you can look for some great viewpoints to spot ancient castles and monuments and explore the old culture and history of the Algarve. Our favorite viewpoint is the one is Praia da Marinha, where you can admire the most incredible coastal trails. Here's an insider tip: it's best to visit this viewpoint during Spring or Autumn, as it will be quieter and you can enjoy a peaceful sunset view.
Relax in the Natural Surroundings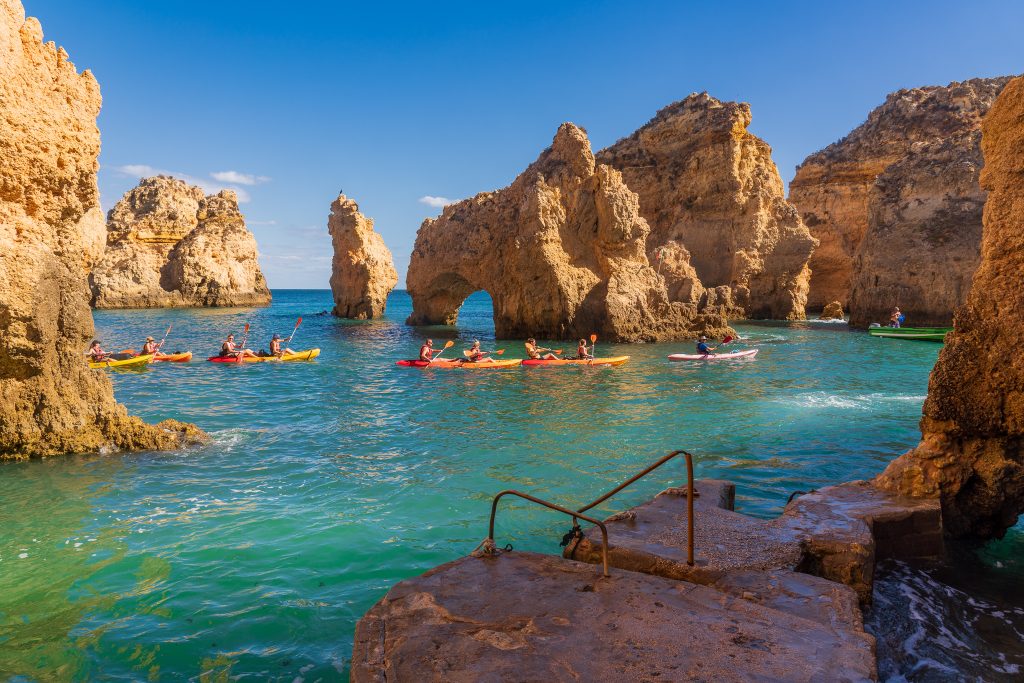 If you're looking to get away from the hustle and bustle of Seville and just relax in a peaceful environment, the Algarve is your best destination. From the rolling hills and the wildflower meadows to the beaches and beautiful bays its breathtaking landscape will surely surprise you at every turn. You could take a boat trip along the coastline and enjoy the landscape made up of rugged cliffs, golden sand beaches and azure water. You can explore the villages of Sagres, Lagos or Faro – which will not disappoint! Whatever you decide to do while you visit the Algarve, you will surely be captivated by its natural beauty!
One of the 5 reasons to visit the Algarve while being in Andalucia has to be its landscape. For instance, we recommend that you visit Ponta de Piedade in Lagos – a unique rock formation setting. There's actually no sand as such to lay down, so the best way to admire this idyllic setting is by boat! This could also be a great opportunity for the youngest travelers, who can do kayaking or paddle surf in this wonderful natural setting!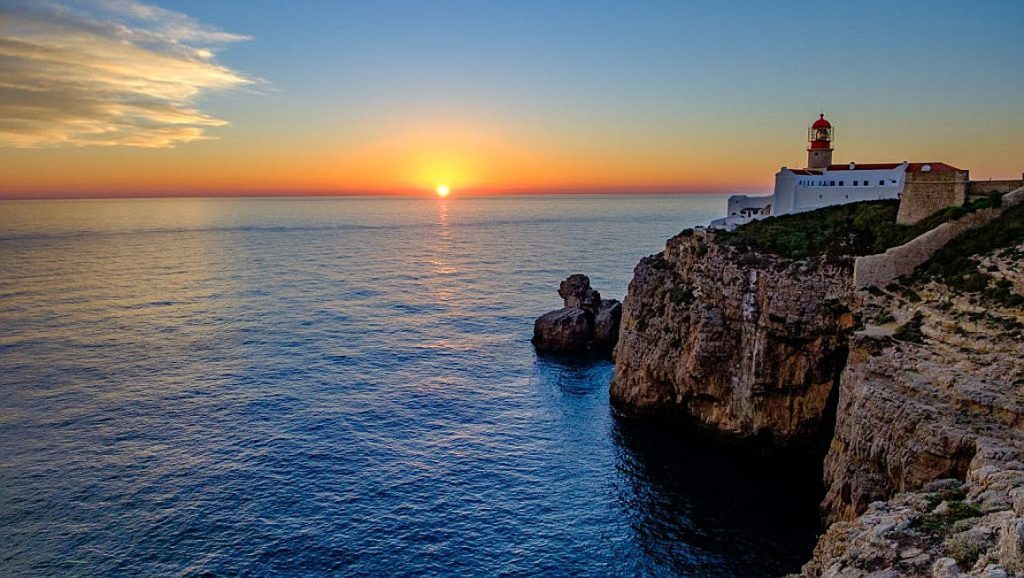 Have you ever thought what's the furthest western point in Europe? What if we told you it is possible to visit this point in the Algarve? The Cabo de Sao Vicente is the most southwestern point of Portugal and the European continent. Its unique landscape with the lighthouse and the fortress makes it a mandatory stop for nature and sunset lovers. Moreover, the scenery created by the sun disappearing into the ocean is astonishing. Did you know that back in the time people considered Cabo de Sao Vicente a balcony to the "end of the world"?
Explore a Mix of Ancient and Modern cities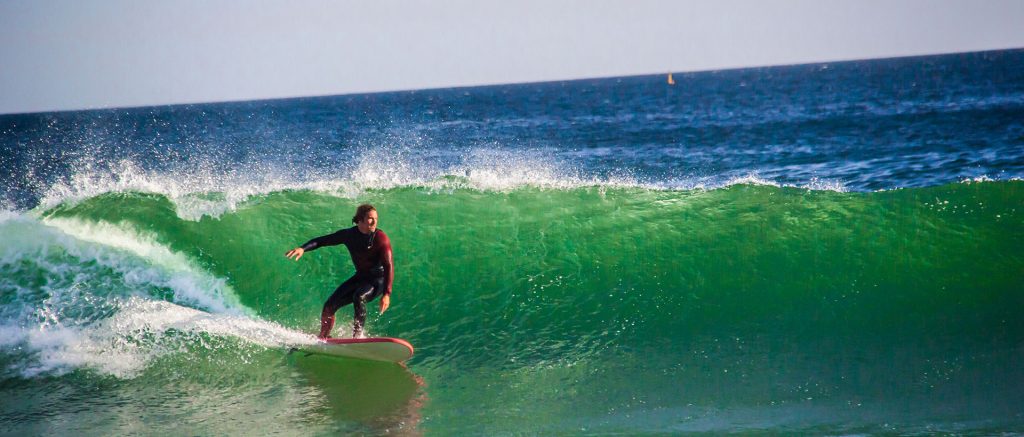 The region of the Algarve has a lot of history, creating a diverse mix of ancient cities and modern resorts. While you visit the Algarve, you can enjoy the medieval winding streets in Faro or get lost in the picturesque whitewashed buildings of Albufeira. If you'd like some fun while in Albufeira, here's an insider tip: head to Montechoro Street for the best bars and clubs! Both Faro and Albufeira are amazing towns immersed in a mix of history and beaches!
If you'd like to try surfing, you could also drive to Lagos. If you didn't know, this town has some of the most popular locations for surfers! It is very convenient to learn (and you will find many surf schools here for all ages). Lago has an incredible vibe with bars, coffee shops, tiny local stores, restaurants, etc. It is a great option to use as a base for your surf holidays!
Not far from Lagos, you can find Sagres (yes – like the beer!) It is a very gorgeous location that offers something for all. From climbing and hiking to the best beaches to swim and lay down in the sun. It's also one of the main surf locations. There will always be one beach suitable for surfing no matter your skills!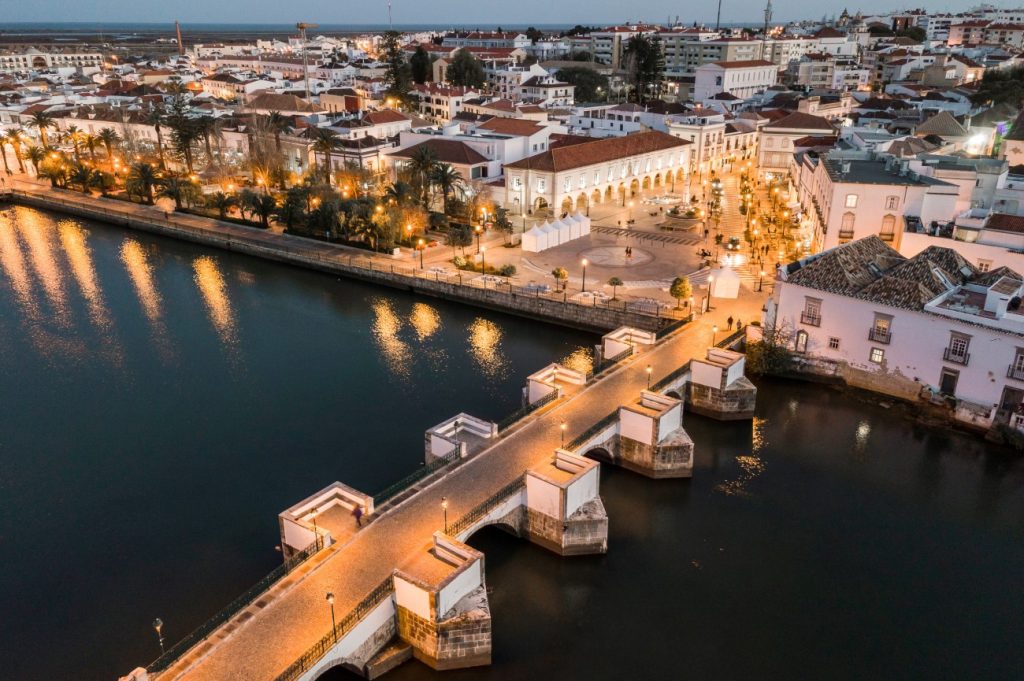 Tavira is also a must-to stop in the Algarve. This fisherman village will not fail to impress you either. When you arrive, you will see how it's different (and quieter) than the rest of the towns in the south. It's also stayed true to its traditions. You could have a walk and admire the tiled walls of the houses, discover its old churches or cross the ancient Roman bridge. It is obviously a coastal town, so you have access to some of the finest beaches in Portugal. And keep your eyes up! You may even spot some wild flamingos!
However, as we said, the Algarve offers something for everyone! For instance, if you'd like to try something a bit more modern, then you can visit Vilamoura. Here you'll find the most vibrant nightlife and plenty of chic and trendy restaurants and bars to discover. Did you know that Vilamoura also has a very well-known Casino? If you're traveling with children, there's also a Waterpark and many sports activities to do with them. You may even want to do a Segway tour on the beach or go fishing! Remember that you don't have to choose just one town to visit. If you'd like, we can create a tailor-made tour just for you!
Enjoy Delicious Local Cuisine and Fresh Seafood Dishes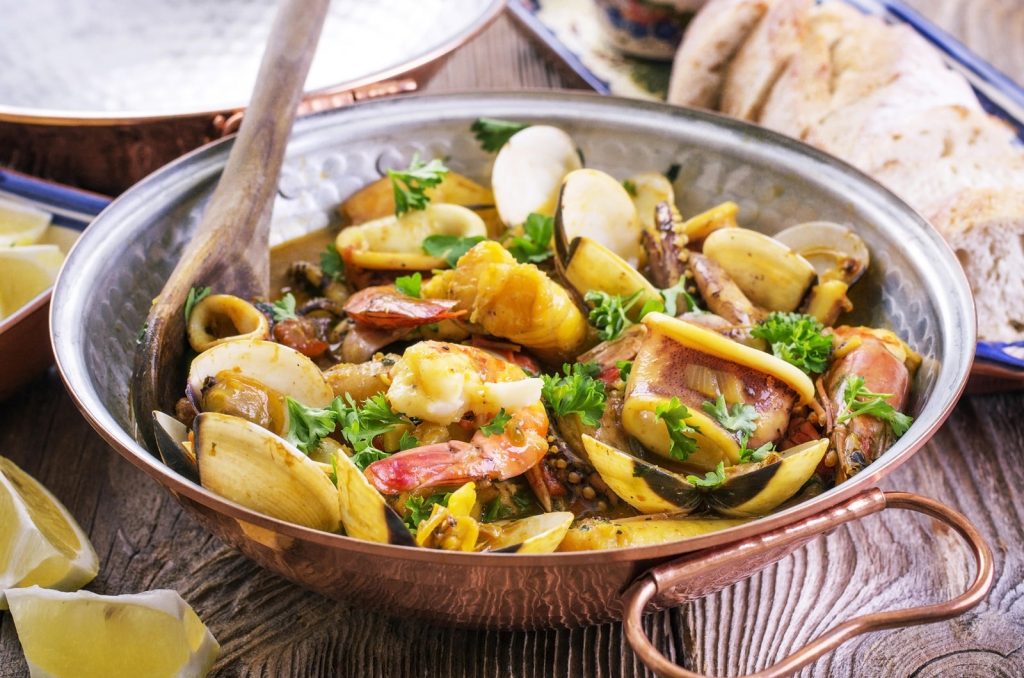 We could not leave out food as one of the 5 reasons to visit the Algarve while being in Andalucia. Without any doubt, one of the best things about visiting a new country is experiencing its cuisine. The incredible sunny weather and the high quality of the local products – all mixed with the talent of the chefs – make Portuguese cuisine very special and healthy at the same time (although it is very underrated by many).
You can head to the local markets in Albufeira or Portimao to see fresh ingredients used by the best chefs. You can also try a range of local dishes like "Cataplana", a seafood stew with clams and chorizo. Here's a fun fact: the name of this dish comes from the name of the cookware item used to cook this dish and many others! Enhance your day with a stop in a local seafood restaurant for amazing dishes such as "Carabineiro do Algarve" (carabineiro shrimp) or "Bacalhau a Bras" (cod).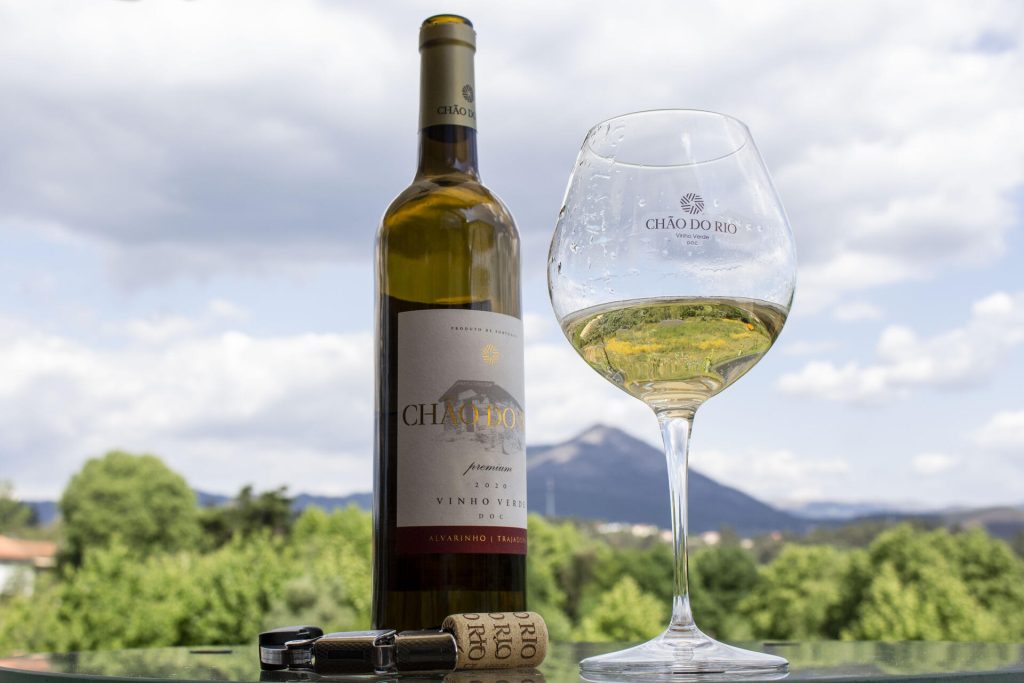 And last but not least, you can taste the best local wines. The region of the Algarve is one of the most important wine-producing regions! This is a chance you can't miss if you're a wine lover! Let your day be flooded with wine by visiting some of the best wineries in the region and trying the famous Portuguese Vinho Verde. Despite its name "green wine" is indeed a typical and delicious white wine!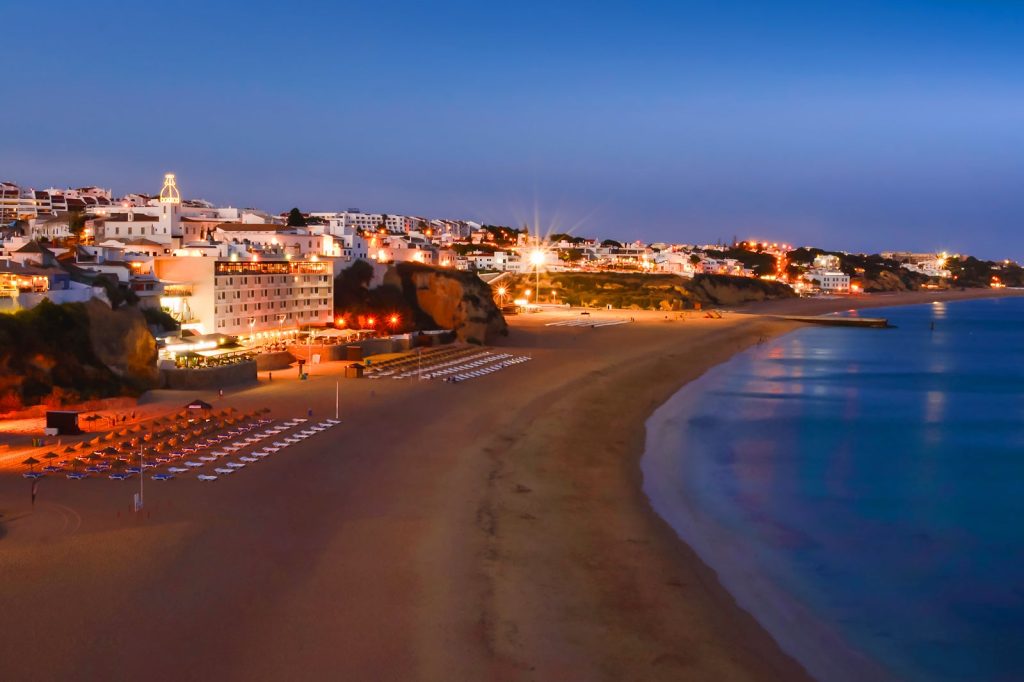 We hope that these five reasons have convinced you to leave Seville and enjoy a magical day trip to the Algarve. The wonderful beaches, the charming towns, the exquisite cuisine… it's all waiting for you! These are only five reasons out of the many others that make the Algarve an amazing destination. If you have more days to spend here, why not let us help you to get there?