Got the travel bug, but pushed for time? Most of us would love to travel the world if it wasn't for our busy schedules restricting our free time. Wouldn't it be easier if we could somehow fit multiple destinations into one trip? Well, thankfully there is! The road trip is making a comeback, and it's the perfect way to see the post-pandemic world. You can maintain strict hygiene standards and remain in a bubble of family or friends. We've put together an itinerary so that you can see two continents in one journey. With our road trip in Portugal, Spain & Morocco, you can tick all the boxes on your travel wish list and feel like you know our wide world a little better.
The first necessity of any road trip is hiring a car and we can help you do this with ease! Whether you prefer to drive yourself or travel by organised transfer, we can customise the trip to suit your needs. Contact us and we can get started planning all of the tedious details and you can look forward to whole heartedly enjoying the experience.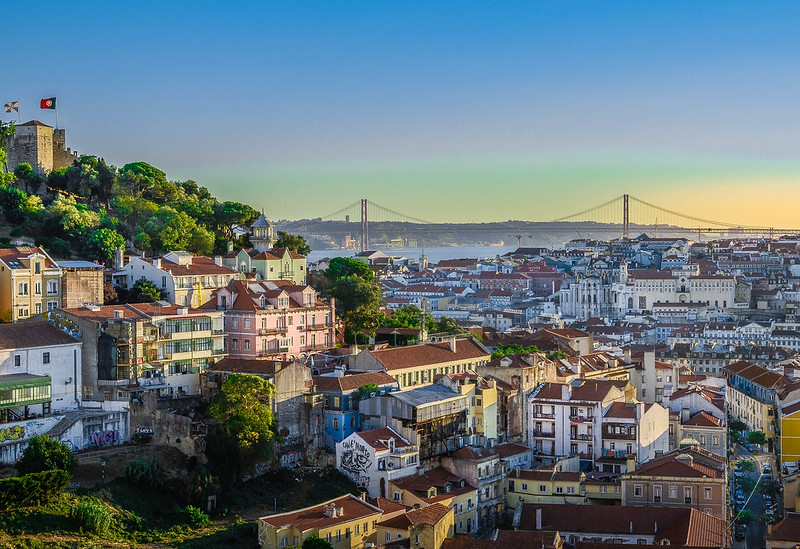 First stop: Lisbon
Start off in Portugal's capital, as the diversity of things to do in Lisbon is sure to prepare you for the variety of sights you'll see across three countries. In the city, you can uncover Lisbon's vibrant food scene from excellent seafood, to underground Chinese restaurants and its famous Pastel del Natas at pretty much every bakery you come across. Jump on Lisbon's iconic tram to discover the best sights in style, including Sao Jorge's castle or Lisbon's eclectic art scene at the Museum of Art. There's no time for you to get bored in this lively city!
However, if you want to take things easy before your journey then Portugal's Riviera is only thirty minutes away! What better way to relax before you hit the road, than sunning yourself on one of Portugal's renowned beaches. Lisbon will have you spoilt for a choice of exciting things to do, so thankfully it's only just the beginning of your road trip in Portugal, Spain & Morocco.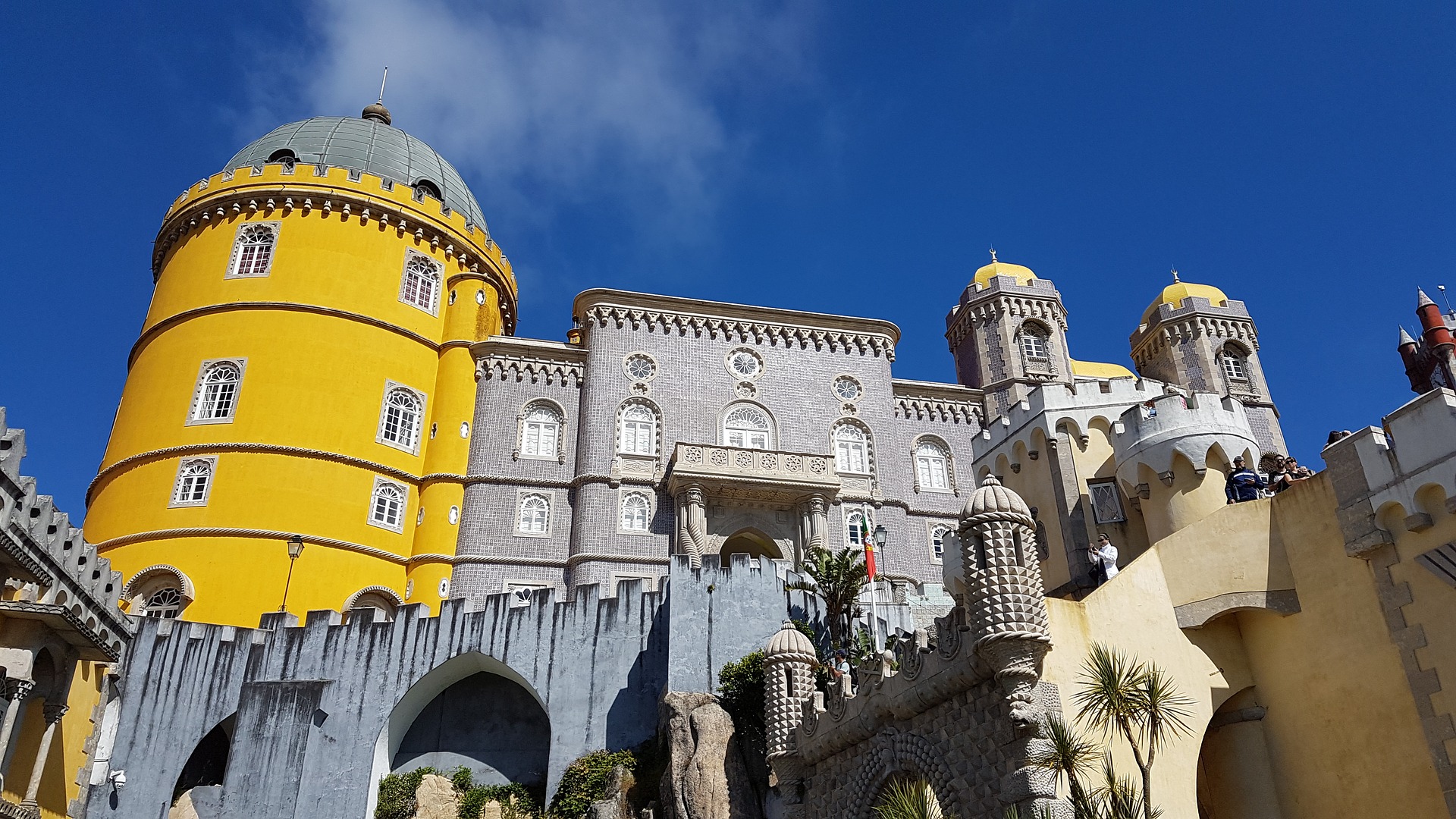 Second Stop: Sintra and Cascais
Sintra and Cascais are must-see destinations, located just a thirty-minute drive outside of Lisbon. Sintra will easily stand out on this tour for its sheer fantastical beauty, with the Palacio de Pena situated on the village's highest hill. Looking like it's straight out of a fairy tale, you'll fall under its magic spell. Especially when you take in the impressive view of the Castelo dos Mouro from the mountaintop!
Sintra is one of the most picturesque settings in Portugal so don't miss your chance to take in its enchanting charm! Just a fifteen minute drive from Sintra is Cascais, a fishing town located on Lisbon's coastline. Although the views are very different from Sintra, they are equally as stunning. Cascais is now a popular resort town for tourists, with excellent beaches and a historic centre. The buzz of holiday makers might just make you want to stay, but we promise the next stop on your journey won't disappoint!
Worried about how to fit your sight seeing into the schedule? Get in touch and we'll customise private tours just for you.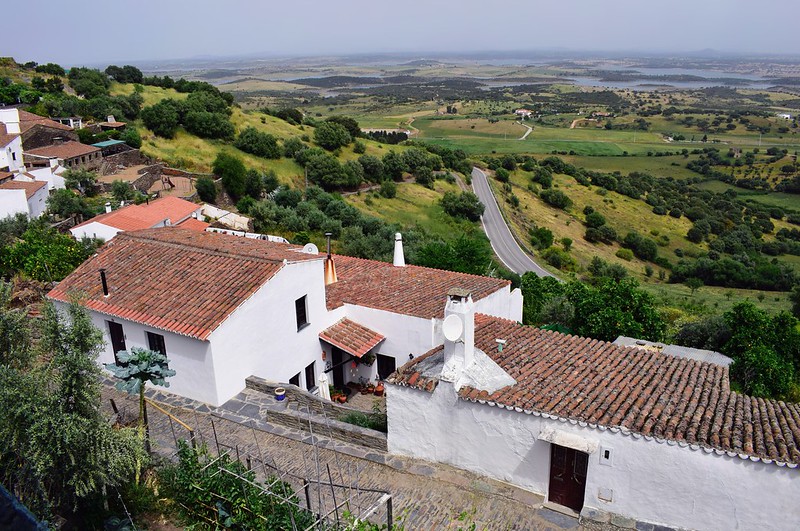 Third Stop: Visit the Alentejo region before heading to Seville
Seville is the capital of Andalusia and one of Spain's most popular holiday destinations. By car, it will take just under five hours to get to. We promise it's worth it! But if you wanted to break up the journey you can stop off in Portugal's Alentejo region, known for its historical landscape and secluded beaches. Visit Evora, one of the best-preserved medieval cities in Portugal or enjoy the peaceful tranquillity of Serpa.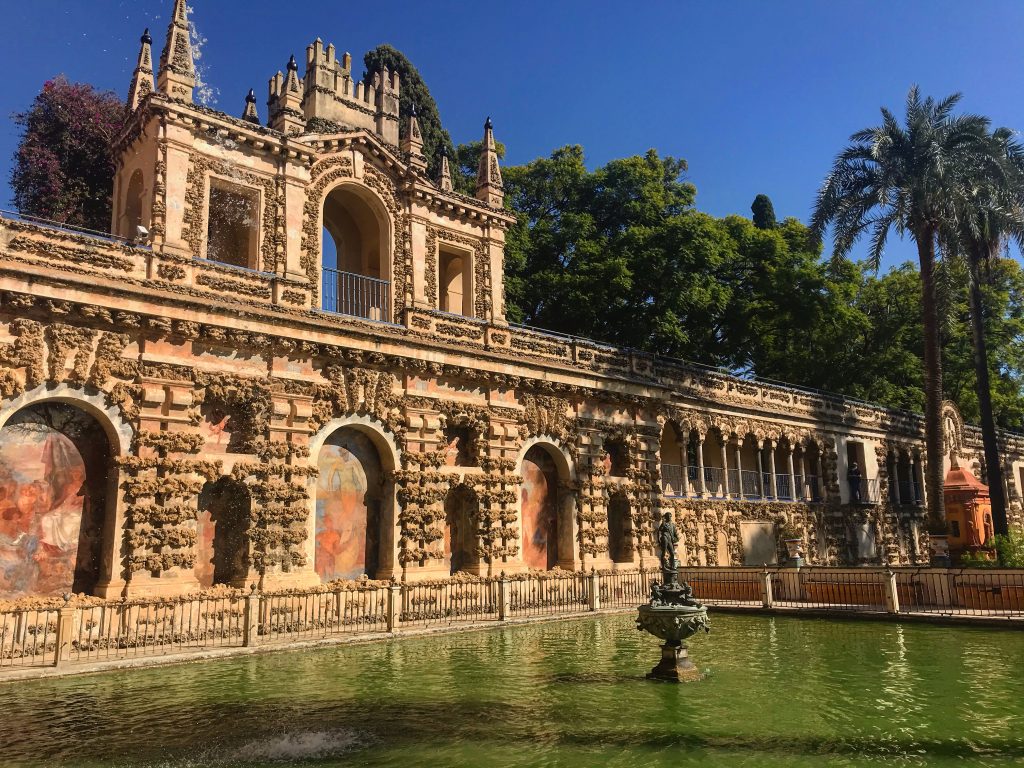 Fourth Stop: Seville
When you get to Seville, there'll be no shortage of things to do. It may be famous for its oranges, but there's so much more to this city then its marmalade exports. Get stuck into the main attractions by visiting Seville's magnificent Cathedral and the exotic beauty of The Real Alcazar, the recent filming location for Game of Thrones. After this, you can wander through the narrow streets of the old Jewish quarter (Santa Cruz) or take a stroll in one of Seville's many luscious parks. Over the river, you can explore Triana, famous for flamenco and tapas. Enjoy the sunset as it stretches over the city, especially from one of the city's many rooftop bars. If you really want to stretch those legs, take a bike tour of the city! It's the essential mode of transport in Seville, so you'll get the full local experience.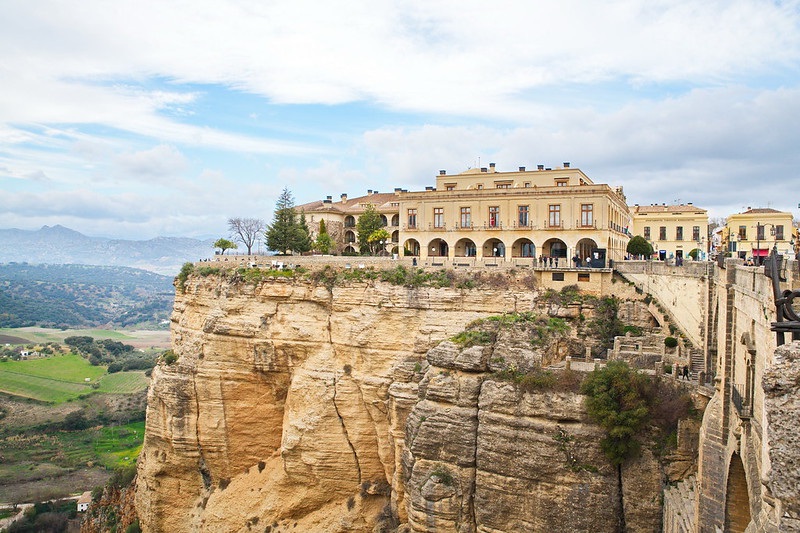 Fifth Stop: Ronda and Zahara
After wandering through the bright and tropical plazas of Seville, the landscape of Andalusia's white villages will be a different change of scene. Just an hour and forty five minute drive from Seville, you can discover the geological wonder of Ronda. The city is uniquely divided into two halves by the Guadalevin river. The El Tajo canyon is 100 meters deep and provides one of the most extraordinary views in Spain. Make sure you pack your selfie stick, because you're going to want to get this backdrop for your Instagram! If you're not afraid of heights, then wander over the New Bridge that spans the cannon and take in the breath taking beauty of the Sierre de las Nieves Natural Park. A forty-five drive from Ronda is Zahara de la Sierra, here you'll see a true 'pueblos blancos'. The white villages nestled into the mountains are a truly spectacular view! Make sure to catch a glimpse of them on your road trip.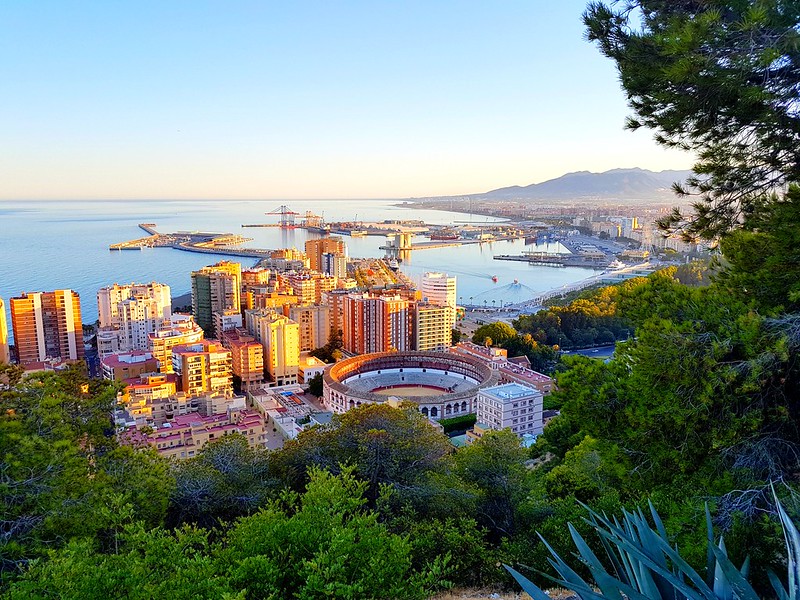 Sixth Stop: Malaga
A two hour drive from Zahara will take you to the popular city of Malaga. Why not get a guided transfer and receive tips from a local guide?
It may be known for its nightlife, but there's lots more than meets the eye to Spain's party capital. With around fifteen beaches to choose from, there's plenty of space for you to relax and take in the sun. There's also some significant historical sites, such as the Renaissance style Cathedral, Picasso Museum and Roman theatre. For something different, you can walk through the Botanic Garden which houses species from over four continents! Make the most of this eclectic city by staying overnight and experience the famous side of the city by night.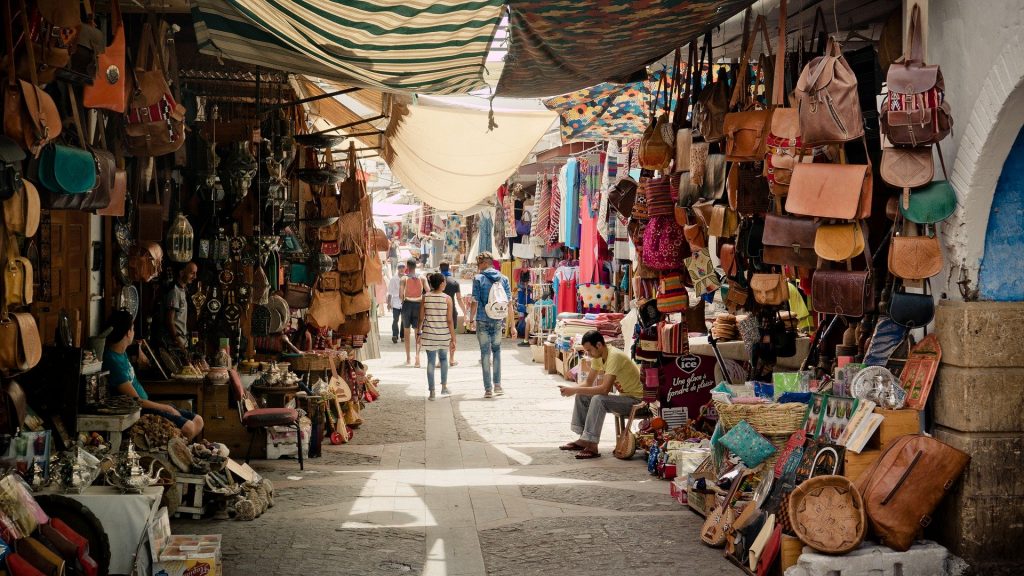 Seventh Stop: Tarifa and Tangier
It's time to head to the third country on this tour, Morocco! Perhaps the easiest way to get there from Malaga is to head to Tarifa. Known as the windy city of Spain, this destination is hugely popular with wind surfers. So, if you like water sports this is the perfect place for you! The relaxed ambience of the beachside town is the perfect stop to pause and take in the best view of Africa from Europe. It's from Tarifa's port that you can take a ferry to Morocco and experience one of the highlights of this road trip in Portugal, Spain & Morocco!
The journey only takes one hour, and soon enough you can explore Tangier's bustling port and explore the vibrant bazar to pick up the perfect souvenir of your trip. Tangier is the perfect day trip so after you've browsed you can take the gentle ferry back to Tarifa, and maybe catch the last few rays of the sun at the beach!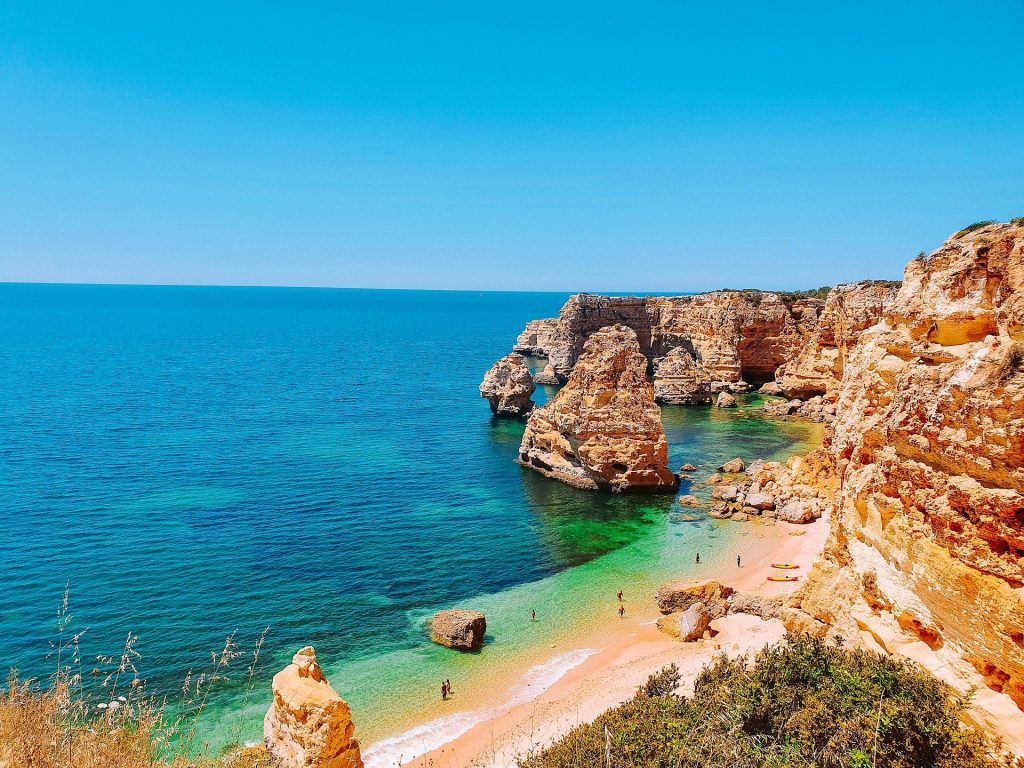 Eighth Stop: The Algarve and Return to Lisbon
It's time to head back to Lisbon, we hope you enjoyed your trip! Before you get there though, make sure to rest and relax in the Algarve. The Algarve is the second least expensive holiday destination in Europe, which is no surprise since the cost of satisfaction with sun, sea and sand is pretty low. What better way to finish your road trip in Portugal, Spain & Morocco than on Portugal's world-renowned southern coastline?
From Faro, the Algarve's culturally rich city with a number of beaches in close proximity you can recharge and refuel for your return to Lisbon. Your drive back will take just under three hours along the A2, with plenty of stops along the way if you're not quite ready to go home!
We hope we've made it a little easier to begin planning your adventure. For car hire and tour assistance, contact us and we'll handle all the little details. We will ensure you get the best rates available, as well as top quality. All you'll need to bring is an open mind and the willingness to explore!
Post written by: Rhiannon Morris