Are you itching to travel to Seville, but are struggling to get those statistics out of your head? Maybe you're worried that your time in the city will be limited by restrictions? Don't worry, this list isn't just a news broadcast! We'll detail the best things to do in Seville that adhere to the government's regulations and minimise risk. Seville is still brimming with exciting opportunities and its usual beauty. Take advantage of the lack of tourists and explore the city like a local.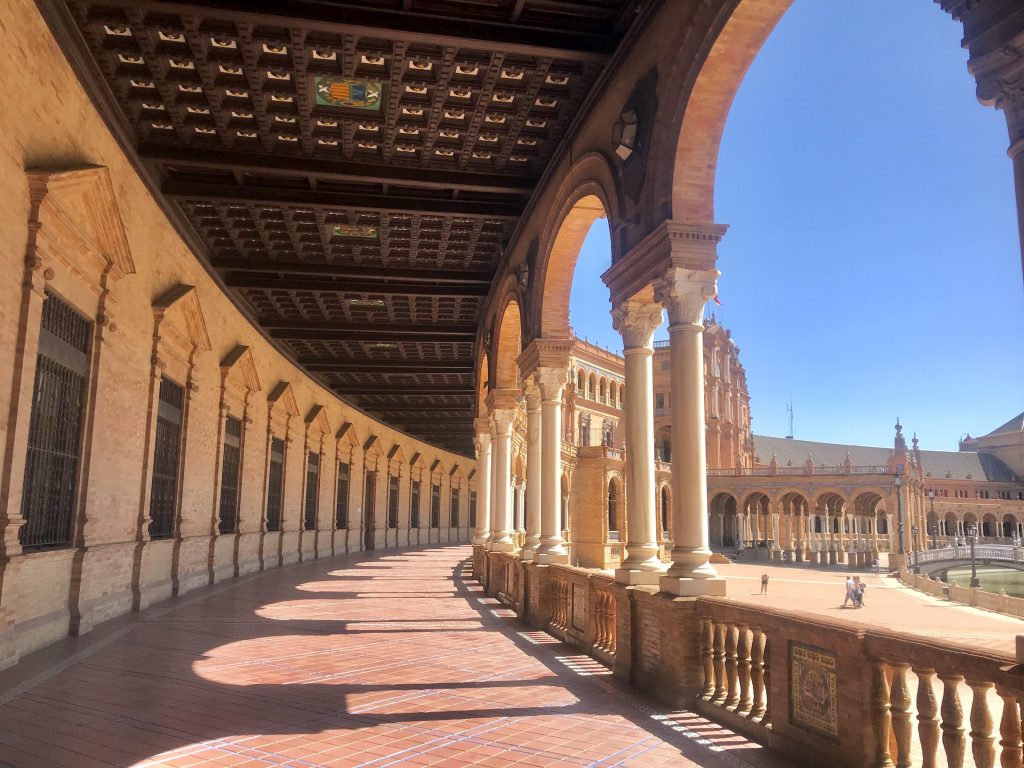 Plaza de Espana, Seville
Take the perfect Instagram at the Plaza de Espana
You simply can't visit Seville without seeing the magnificent Plaza de Espana. You might even recognise its impressive arches from the planet Naboo in the Star Wars film Attack of the Clones. Walking around the impressive semi-circle today, you can marvel at the alcoves that represent a different province of Spain. Or you can take the perfect Instagram photo that everyone wants when they visit Seville.
Traveling to Seville during the Coronavirus pandemic has its benefits for photographers or Instagram users. Standing on one of the four bridges that each represent a kingdom of Spain, you have the rare opportunity to have a backdrop clear of the usual crowds. Without having to dodge other tourists, you can get the perfect photo to capture your time in Seville.
Right next to the Plaza is the Maria Luisa park, a beautiful open space with cafes, fountains and impressive sculptures. There is ample space for social distancing and plenty of fresh air to pause in the quiet amidst the bustle of the city. You can explore both of these locations via our walking tours, which will be regulated for numbers. Masks will also be worn by guides and customers alike, allowing you to sightsee in safety.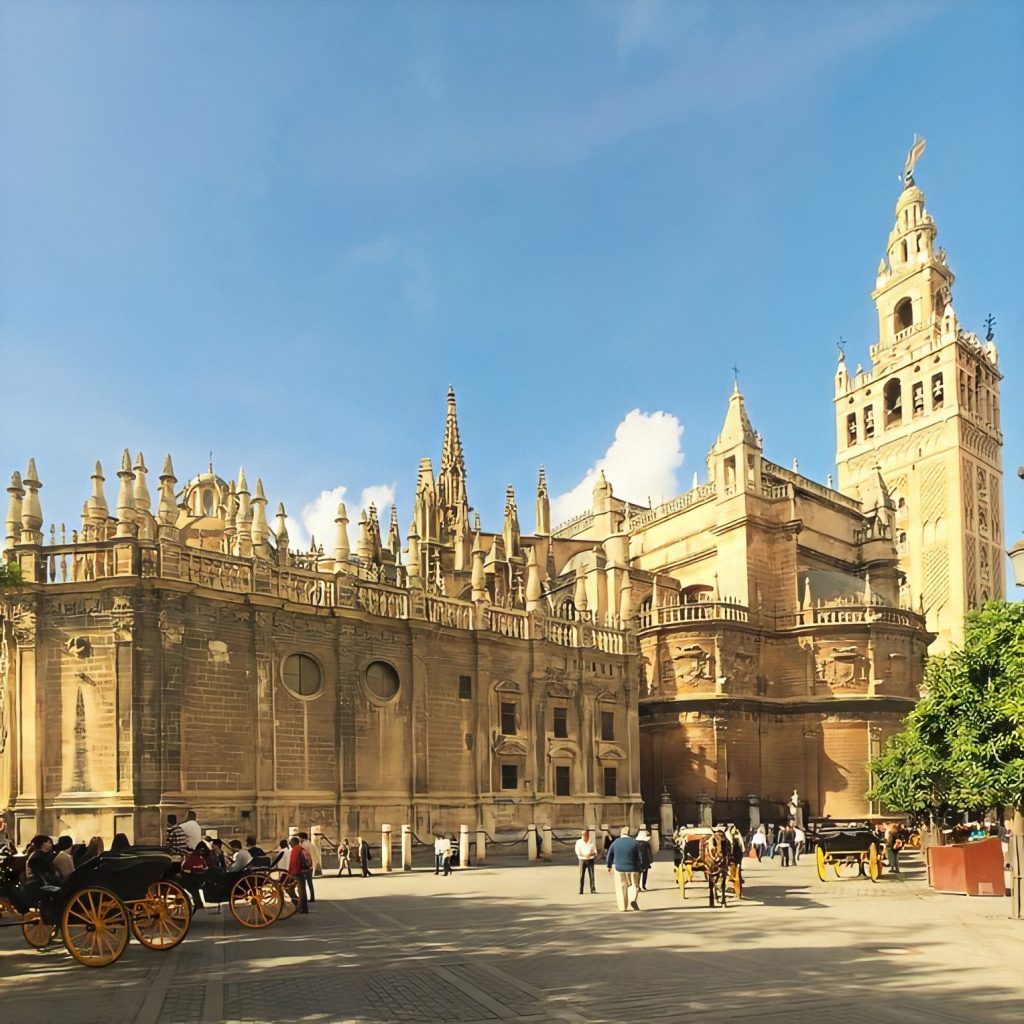 Visit the Alcázar and Cathedral
Seville's main attractions are must-see locations all year round. However, if you want to avoid queues and chatting crowds, this is one of the best things to do in Seville now.
In the times before Coronavirus, you could expect to queue for almost three hours to visit the Alcázar. Now, you can walk in easily without a queue at all. However, this doesn't mean that there are no safety regulations in place! There will be hand sanitizer for you to use and masks are compulsory inside the grounds. The guards will also check your temperature on arrival. Both the Alcázar and the Cathedral are much less busy and there is plenty of room to keep a social distance from others.
Once you are inside these spectacular buildings, you can inspect the ornate architecture, take the perfect photo and go at your own pace. You won't have to worry about the hundreds of other tourists wanting to do the same thing. Better yet, why not make the most of this experience by having a private guided tour? You can feel as though you have these impressive historical monuments all to yourself! Follow an expert guide to discover the history of Seville's most iconic buildings.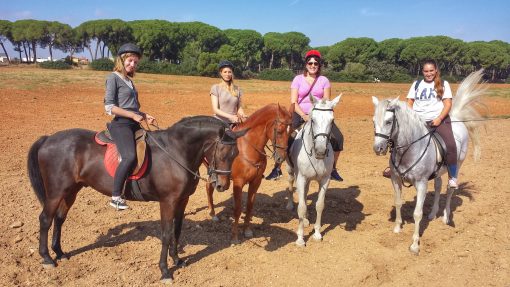 Take a horse riding tour out of the city
As a result of coronavirus, we're currently living in an incredibly stressful climate. It can be hard to put things on pause, take a breath and focus on the world beyond the news. Seville is a vibrant and eclectic city, with no shortage of sights to see and activities to do which can keep you busy for most of your stay. However, Andalusia is also known for its striking natural landscape that is just a short drive away from Seville. Why not venture out of the bustle of the city for the tranquillity of the countryside? Our horse riding tour offers the opportunity to traverse the countryside astride a traditional Andalusian breed suitable for varying levels of experience, even a complete beginner!
You can also chat to the locals who manage the stables and get to know the traditional side of Andalusian culture, first hand. Escape the headlines, enjoy the fresh air and take in this unique perspective of Andalusia.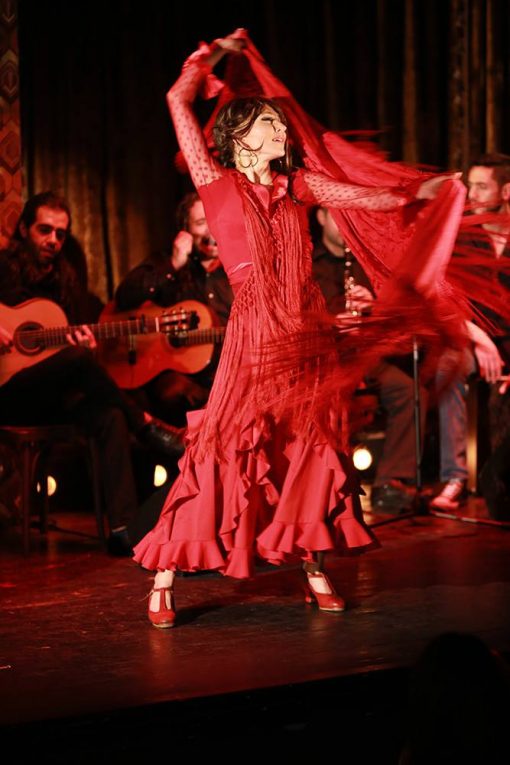 Experience an intimate flamenco show
You may already know that flamenco is hugely popular in Seville and is an essential experience for an introduction to Andalusian culture. Whilst you can sometimes catch a glimpse of flamenco at the Plaza, the best way to see this dance for the first time is during a show. Flamenco is a very communal experience. Whilst the musicians, singers and dancers lead the show, no performance is complete without the impassioned shouts of 'Ole!' from the crowd. We have made sure that this special atmosphere has not been lost due to the pandemic. You can still hear the passionate singing, clap to the infectious beat and witness the mesmerizing dancing at one of our flamenco shows.
Although our shows are still communal experiences, we have reduced the number of attendees allowed into a performance to ensure that social distancing is in place. As a result, flamenco is now more intimate than ever! Come along and feel the passion vibrate through the room.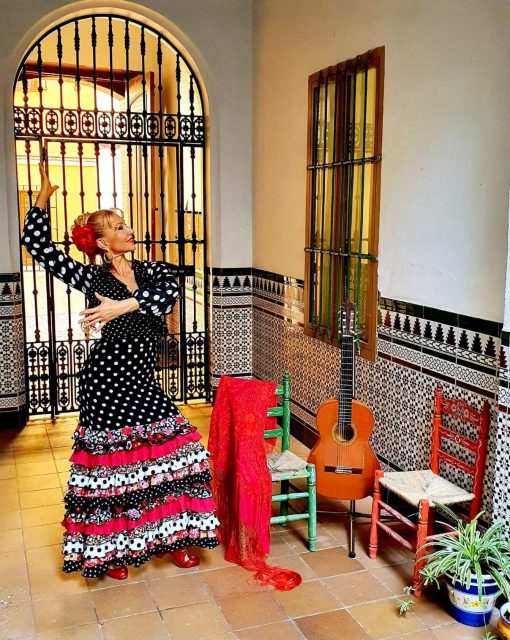 Try an Online Gypsy Flamenco Class
Whilst watching a flamenco show might be one of the best things to do in Seville, we understand that some of you might not feel ready to jump back onto a plane just yet. Don't worry, we've got you covered! We're bringing Seville to your front room with an online gypsy flamenco dance workshop.
With the click of a button, you can step into a courtyard in Seville and learn the essential beginner steps for a traditional flamenco routine. Join one of our professional dancers as she walks you through all the basics, teaches you flamenco etiquette as well as imparts insider secrets. You will also get a recording of the class, a video tutorial of footwork and a list of traditional flamenco music. This one hour workshop is a fun activity for all the family. Bring Spain home and get the kids doing exercise and learning cultural history at the same time!
Make the most of Seville whilst it's quiet and get an authentic local experience beyond the usual tourist.
Disclaimer: Keep in mind that as a result of the changing Covid-19 restrictions the information in this post may not be as accurate. Make sure to check government guidelines before travel.
Written by Rhiannon M.