You may think that how can a city not located on the coast have beaches? We will show you! Granada is not only a town but also a whole region! Did you know that Granada has the highest mountain in mainland of Spain? All of Granada's province's coast is full of beautiful towns and nice beaches, so we are going to mention different options you can choose from them for your next trip! Here's a list of what we think are the 5 best beach towns to visit in Granada.
Motril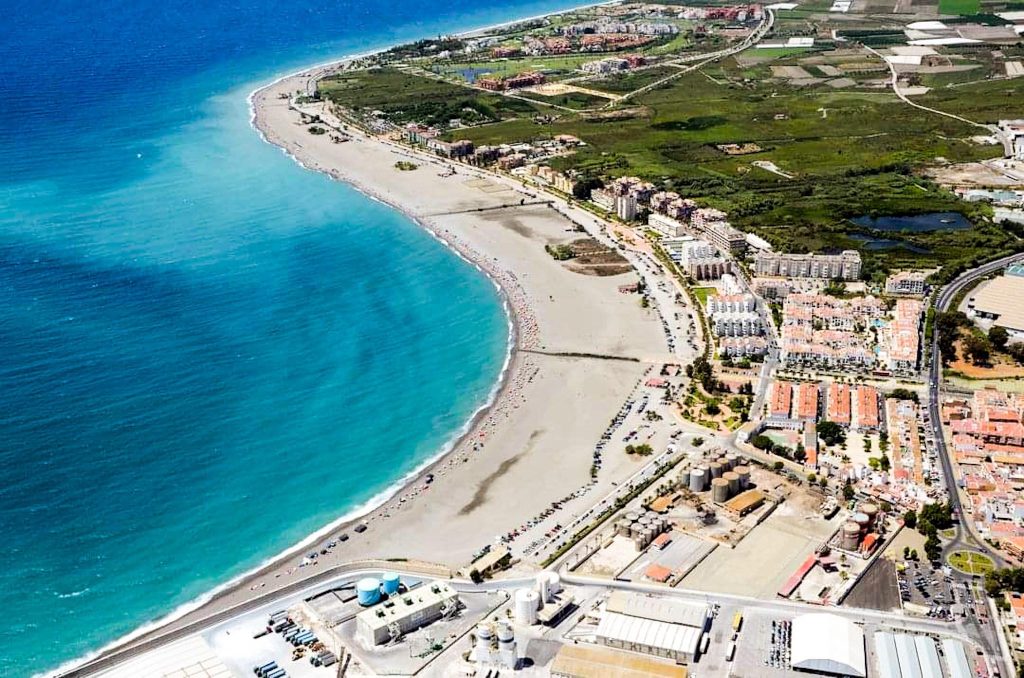 Motril is considered the capital of the Tropical Coast, located on a hill, at the foothills of Sierra de Lújar. Motril is known for its agriculture so the municipality is full of greenhouses! Maybe it's something you couldn't have imagined before and not exactly your idea of THE perfect beach. With that said, fresh fruits and vegetables are right next to the beach! This could be the perfect starting point for your trip through the Tropical coast towns! Motril is full of beautiful beaches, one of which is even called the same as the province – Granada! This is a beach of fine sand and a few buildings nearby. Playa Granada has the European Blue Flag awarded to the beaches that have met the European Union's high standard of environmental quality.
Another reason Motril is included as one of the 5 best beach towns to visit in Granada is the port. It is one of the biggest attractions in the city, where there is frantic fishing, trade, and sport activity. You can also take the opportunity and go to Africa. Port of Motril has ferries to the Port of Melilla and the Ports of Nador and Alhucemas in Morocco (Africa). Probably you have never been so close to Africa before. So why not take a little tour? Check out our 3-day trip to Morocco from Seville.
Also, the Port of Motril has 3 airports within a 45-minute radius by road: Granada, Almería, and Málaga.
Almuñecar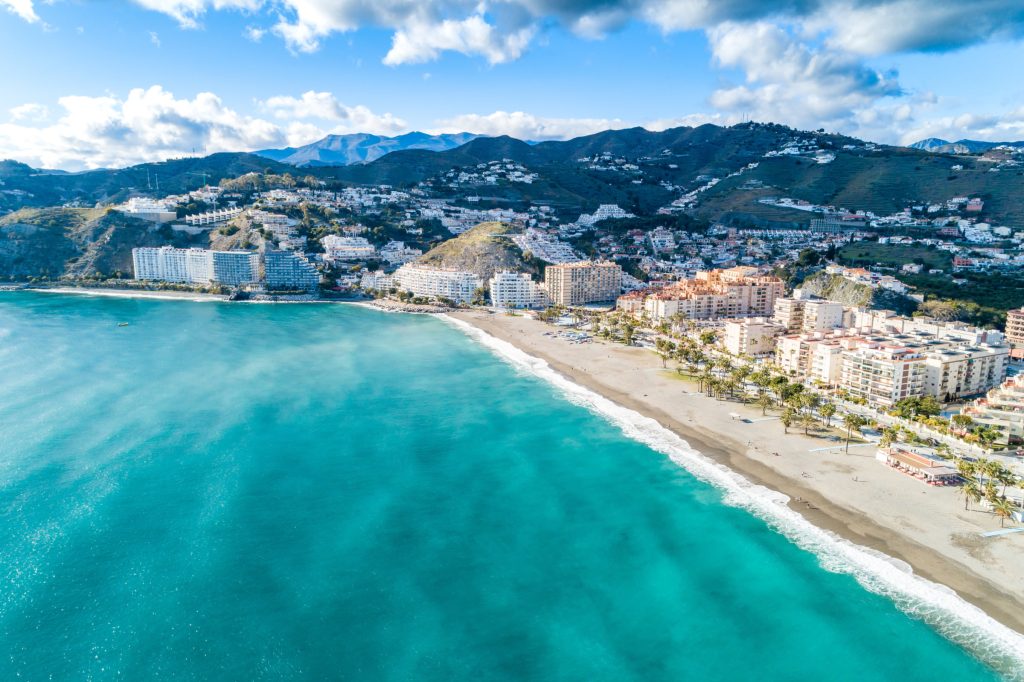 This town is definitely full of surprises, so many activities and new experiences you could get here are indeed one of a kind! They offer all kinds of active tourism, sports, gastronomy, nightlife and even learning Spanish! Visit the "los bajos" area next to the beach which is full of pubs and clubs where you can enjoy the nightlife of the city.
Privileged climate and mild temperatures throughout the year, and is located by the Granada mountains and overlooks the Mediterranean. Almuñécar, Along 19 km of coastline has beaches for all tastes and audiences: urban beaches, coves between cliffs, gravel beaches, gray and black sand beaches, and naturist beaches.
La Herradura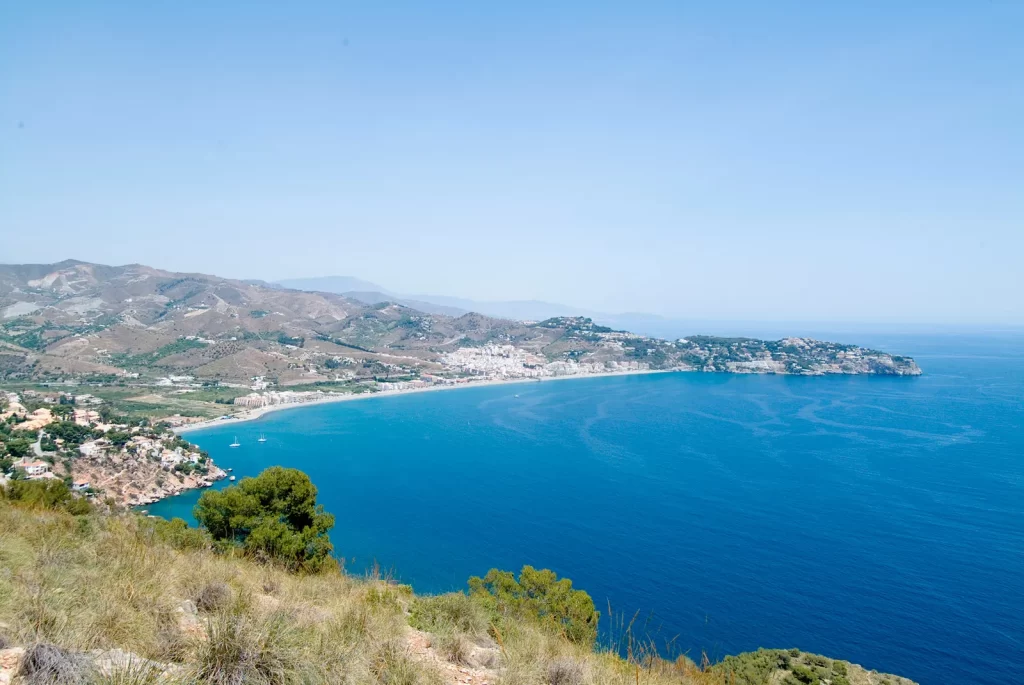 While visiting Almuñecar you can definitely plan to see La Herradura as it is a part of Almuñecar region but not precisely the same town. This small town has just 3,000 inhabitants and is dependent on the municipality of Almuñécar, despite the fact that there is a distance of about 8 kilometers between them.
One of the 5 best beach towns to visit in Granada is also known as – a "Small Mediterranean paradise". It is one of the favorite destinations in Andalusia for lovers of diving and scuba diving. And the coastline that runs through La Herradura is considered one of the most privileged underwater scenarios in all of Spain.
Despite being tiny, La Herradura continues to amaze, especially the alleys of its historic center. Here you have to go through narrow streets and cobbled floors. Areas where transport circulation is non-existent: you can enjoy peace and tranquility. Silence. Above all the leisurely life that we like so much in the south.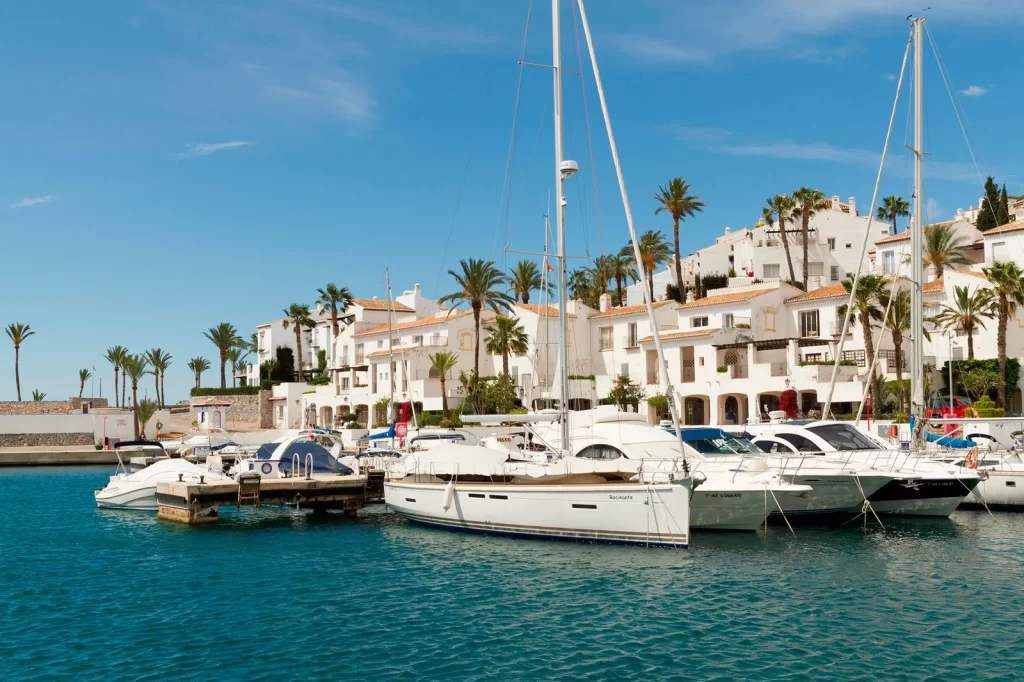 Calahonda
Although Calahonda is considered a part of the Motril municipality, it is located in the eastern part of the municipality, straddling the A-7 coastal road. Calahonda is protected by a headland to the east and shadowed by cliffs that surround it. We're not saying that there is a sense of claustrophobia, but instead, you would rather have a sense of coziness and ease as the village looks out across the Mediterranean. This natural headland has helped to create a sheltered harbor. The beach is clean and well-equipped with showers, sun loungers, and beach bars for the summer months. And also lifeguards do operate in the high seasons. The heart of the village is just a short stroll from the beach, giving you quick access to a good selection of restaurants, bars, cafes, shops, and other local businesses.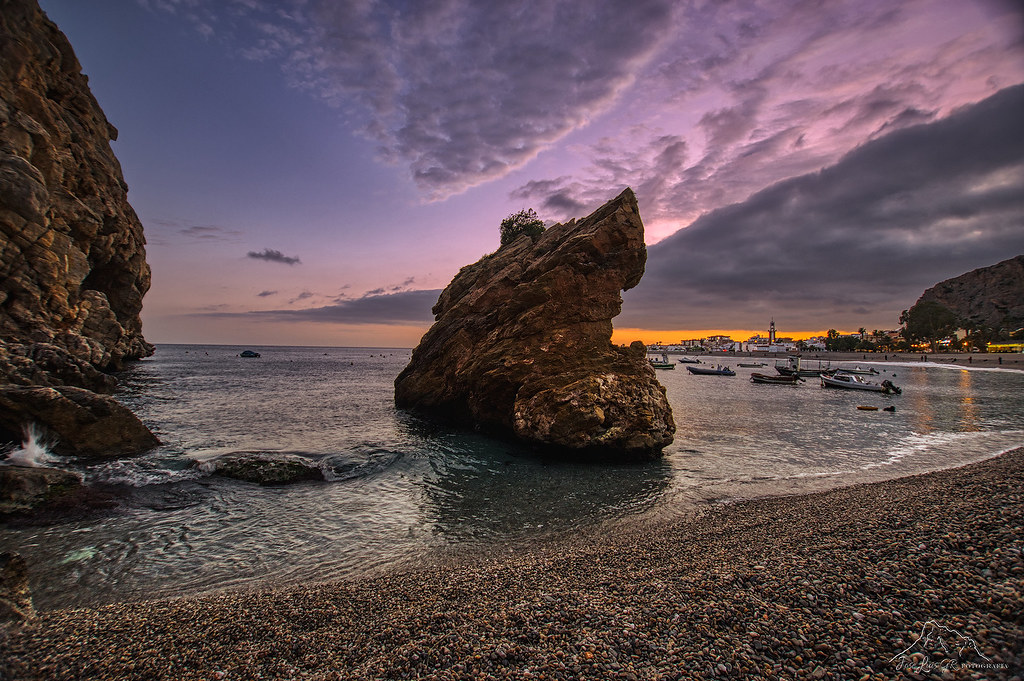 Salobreña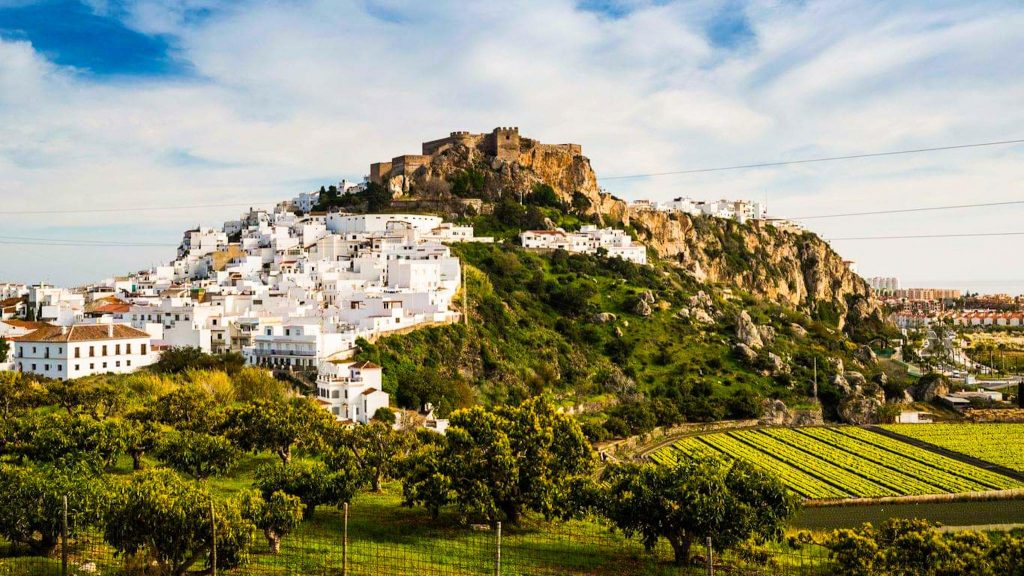 Only 45 minutes drive from Granada, is a town located on a giant rock and crowned with an ancient Moorish castle. Salobreña is undoubtedly one of the most beautiful villages on the Tropical Coast of Granada. That's why we included it on the list of the 5 best beach towns to visit in Granada. Take a walk through its steep and narrow streets as they reveal its Arab past. In the hidden corners you'll find small bars where you can have a welcome drink, some tapas, and enjoy the authentic Andalusian charm. Salobreña has 8 km of coastline and well-kept beaches. A mixture of pebbles and sand covers the small coves and beaches. Offshore there is an artificial reef where you can go snorkeling and enjoy the variety of marine life. For golfers, there is an 18-hole course just 5 km from the town.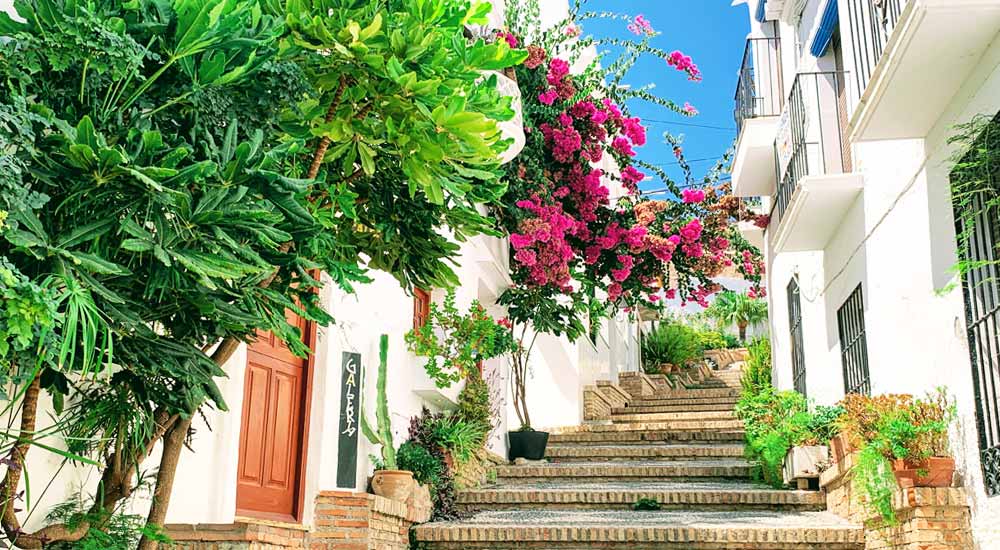 Nerja
Even though we know that Nerja is not considered a part of Granadas province, we might suggest this one too. Nerja is located in Malagas province, on the eastern tip of the Costa del Sol. This is definitely a hotspot for tourists on Costa del Sol coast. Main attractions include the balcony of Europe, The platform has spectacular panoramic views of the Mediterranean coastline. The Nerja Caves; underground caverns with stalagmites, stalactites, and tall columns. If you are interested in experiencing the breathtaking coastline of Nerja, join our private tour of Nerja!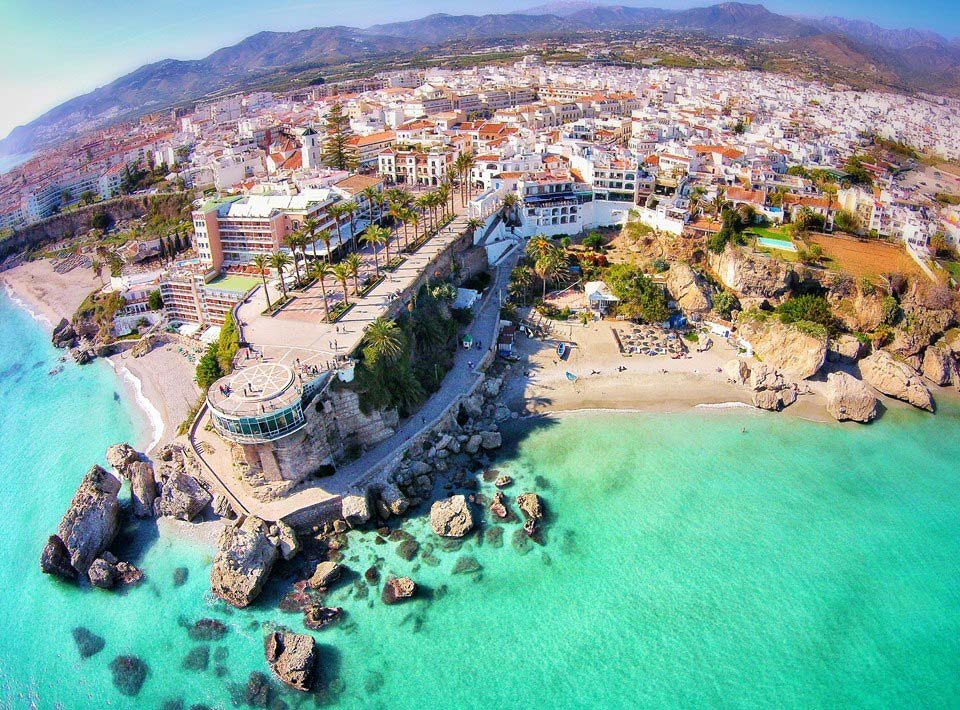 Now that we have recommended the 5 best beach towns to visit in Granada, hope you find this information helpful. So what are you waiting for? Start to plan your next trip! Most importantly, if you want to discover more than costa tropical, you can contact us and check out the tours we provide!