Have you ever heard about the Spanish White Villages, but you have no idea about what it refers to? Keep reading the post to discover the 8 top-rated White Villages or, as they are called in Spanish, Pueblos Blancos, of Andalusia.
Firstly, what you need to know is why they have this name. They receive this name because of the whitewashed walls that characterize this region as well as their red-tiled roofs and the grey cobblestones hilly streets. The Muslims who inhabited this region before painted the houses in white so that the sun reflects and the inside of the house is not too hot in sizzling summers. Let's travel to the past and go back to Moorish times and explore the hidden treasure between the provinces of Cadiz and Malaga.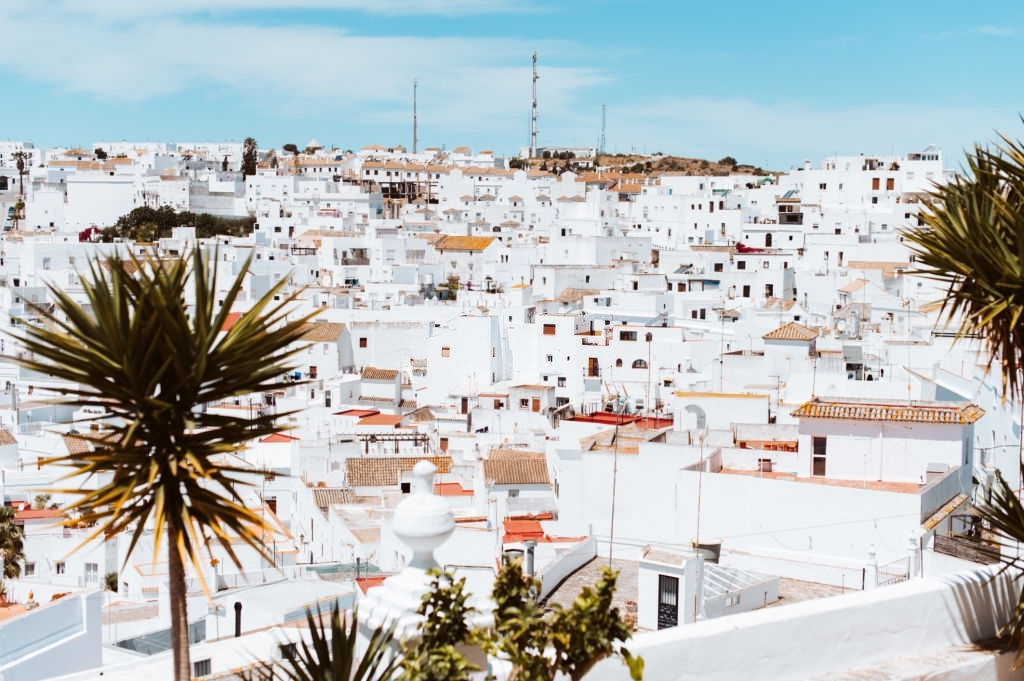 1. Ronda
Starting with the Malaga province, one of the best 8 White Villages of Andalusia is undoubtedly Ronda. At a dizzying height and with some thrilling views, Ronda is a very well-known town in Andalusia's history and bullfighting. Have you heard talk about the Puente Nuevo? But, if you are looking for impressive and panoramic views, you cannot miss it! Built in the 18th century, the bridge stands out at 100 metres. For that reason, watch out if you suffer from vertigo!
Its Old town reveals the Moorish heritage. Take a stroll around the romantic old town to admire the typical architecture between narrow and labyrinthic streets. Undoubtedly, if you would like to admire some architectural treasures, this is your place.
So, here you have a tip: If you travel in spring or summer, Ronda is famous for its festivals.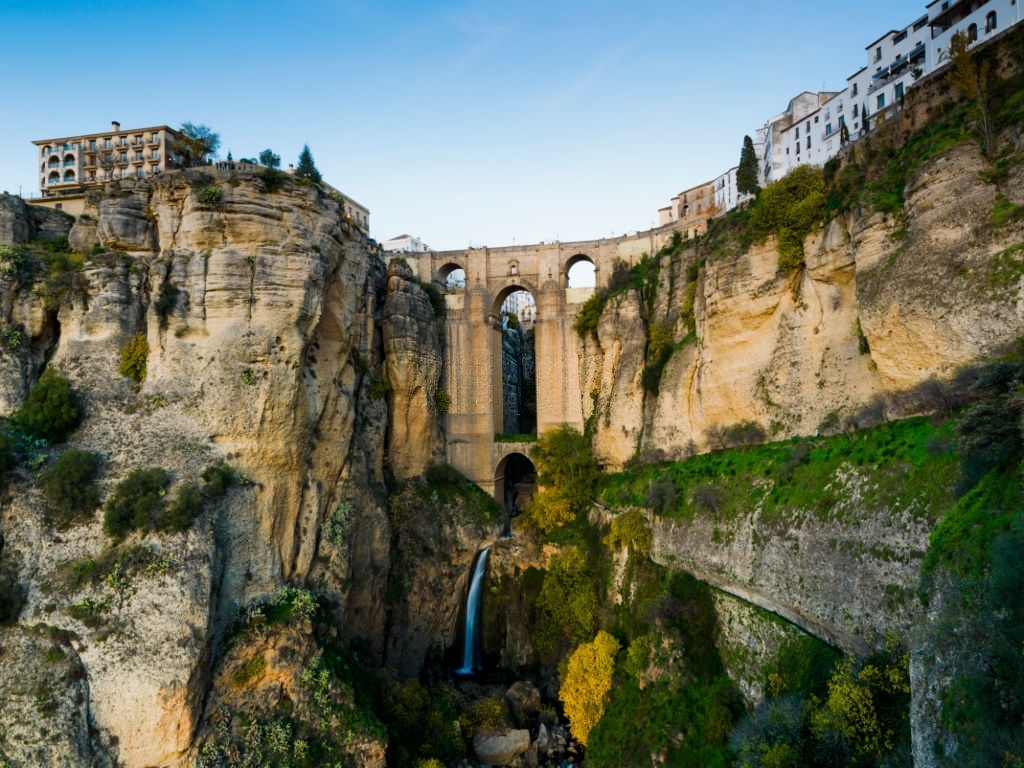 2. Arcos de la Frontera
Declared National Historic Monument and considered one of the most famous villages of Cadiz, Arcos de la Frontera is characterised not only for its whitewashed houses but also for its Moorish architecture. Perched on top of a hill like most white villages it enjoys a scenic location and it was well-used for defense purposes centuries ago.
For that reason, you cannot miss the highest viewpoints of the city to admire the panoramic views. Add it to your list of the best 8 White Villages of Andalusia.
Its houses are arranged on a semicircle way around the hillside. So, it has an impressive location in a steeply sloping rock.
Have you got any idea about where its name comes from? In the past, it possessed some fortresses due to its traditional defensive and frontier character. Frontera means frontiers.

3. Zahara de la Sierra
At the heart of the Sierra de Grazalema and also set into a hillside, Zahara de la Sierra is an Andalusian village declared Artistic Historical Complex. Its narrow and steep streets dotted with whitewashed houses are crowned with one of the main attractions of the town: Castillo de Zahara de la Sierra. Although it dates back to the 13th century, the castle is part of Zahara's history.
Do you know that the town has endured since Moorish times several conflicts between Muslims and Christians?
The best time to go and visit this town is around Easter to be able to admire the traditional Corpus Christi. This festivity has become a real tourist attraction because of the street decoration as well as all the wonderful views of the city over the neighboring turquoise lake and the scenic peak right in front of it…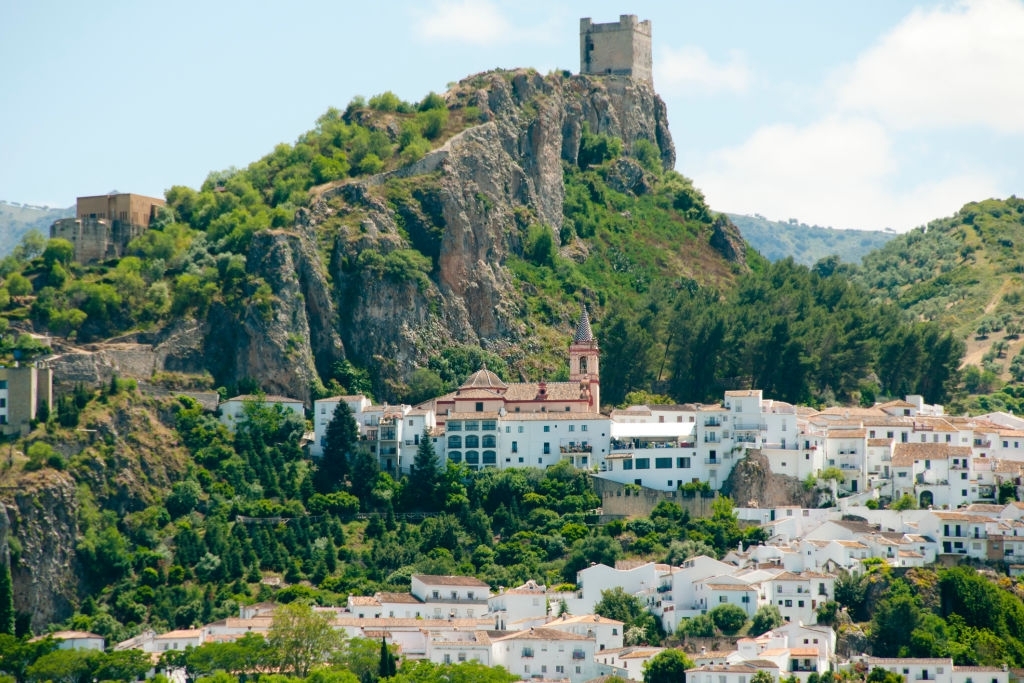 4. Setenil de las Bodegas
Some kilometres away from Ronda, we find Setenil de las Bodegas, another charming white village of Andalusia.
Would you like to know some curiosities and particularities about this village? Setenil is a rock village whose houses and streets are cut into caves. So, it is a cliff-enclosed cave dwelling! Isn't it amazing? Undoubtedly, one of its main attractions is the hamlet built in the rock and the whitewashed houses set at different levels.
Setenil has been settled since the Moorish Almohad period in the 12th century. It is maybe the only white village that is not set on top of a hill but inside a gorge. So make sure to visit this exotic village and enjoy one of the best 8 White Villages of Andalusia!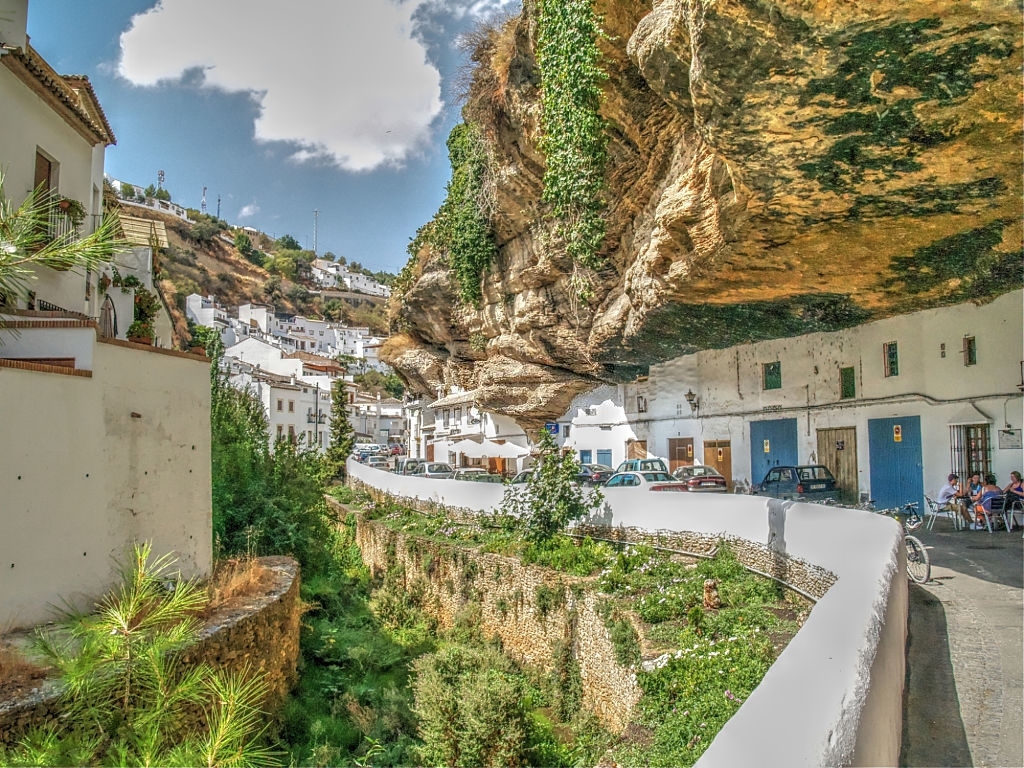 5. Vejer de la Frontera
Considered one of the prettiest villages of White Villages of Andalusia, Vejer de la Frontera is very close to the Atlantic ocean. So, if you are looking for some panoramic views of the coastline, this is a must-stop. Its beautiful flower-filled alleys, its cobblestones streets full of whitewashed houses with colourful courtyards, make Vejer the perfect romantic destination to get lost.
The village was designated as a Historic-Artistic Monument. Vejer was ruled for six centuries by the Muslims and the Islamic ambiance of the place is quite present in every corner. However, don't expect many monuments to visit. In Vejer, you could enjoy just the place itself, strolling along the streets and admiring the viewpoints of this hill town city. There is no better plan than accompanying some great views with a glass of wine made in Andalusia and some flavourful tapas.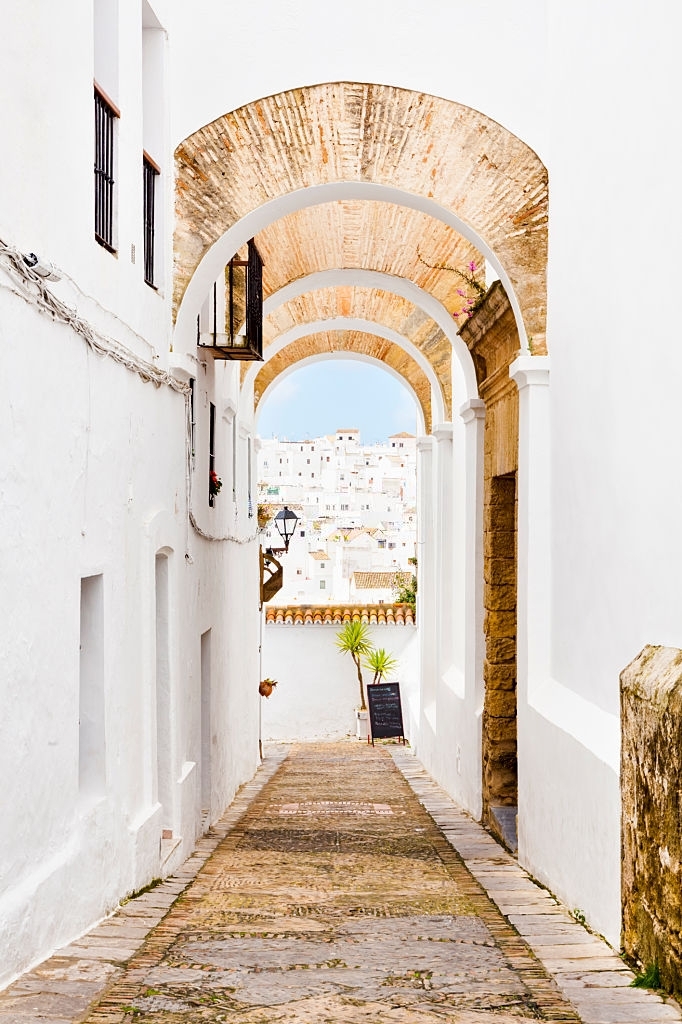 6. Nerja y Frigiliana
In the Malaga province, these two villages constitute two great examples of White Villages in Andalusia. They are famous for their local fell and the cave of Nerja makes a nice family and kid-friendly excursion. Furthermore, their climate made them one of the best destinations in Europe! There is no better combination than the charm of whitewashed houses with narrow streets and proximity to the Mediterranean sea for a refreshing splash!
So, if you love the sea and diving or like kayaking or want to do a short road trip in the mountains you cannot miss this plan! Add Nerja and Frigiliana to your list of the best 8 White Villages of Andalusia.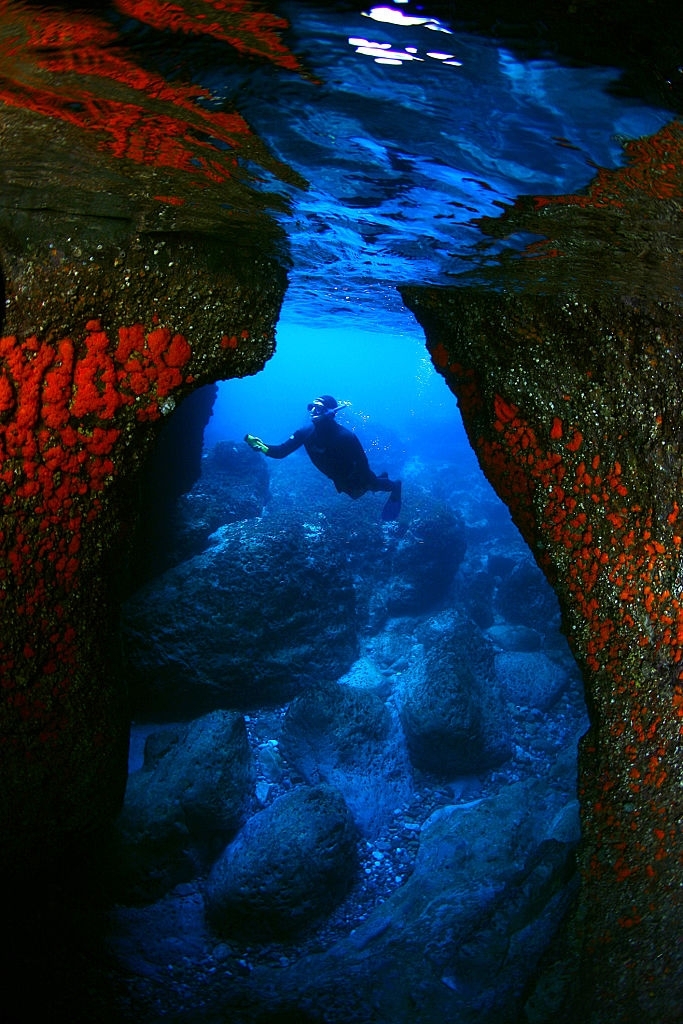 7. Salobreña
Although it's located on the "Costa Tropical"; Salobreña is a Granadian village that overlooks the Mediterranean Sea. Undoubtedly, its warm climate and the exotic fruits that you can find there make the small town of Salobreña one of the best 8 White Villages in Andalusia. Its narrow and twisting streets and its whitewashed houses are flanked by the Moorish ancient castle on the hilltop. So, you just have to climb to the top to admire some seaside panoramic views.
Pay attention! If you are craving some water activities or sports, about two kilometers away from Salobreña, there are beaches you could practice outdoor sports such as scuba diving or windsurf or kayaking. Book your private tour of the city and arrange and personalise these activities to adapt them to your preferences.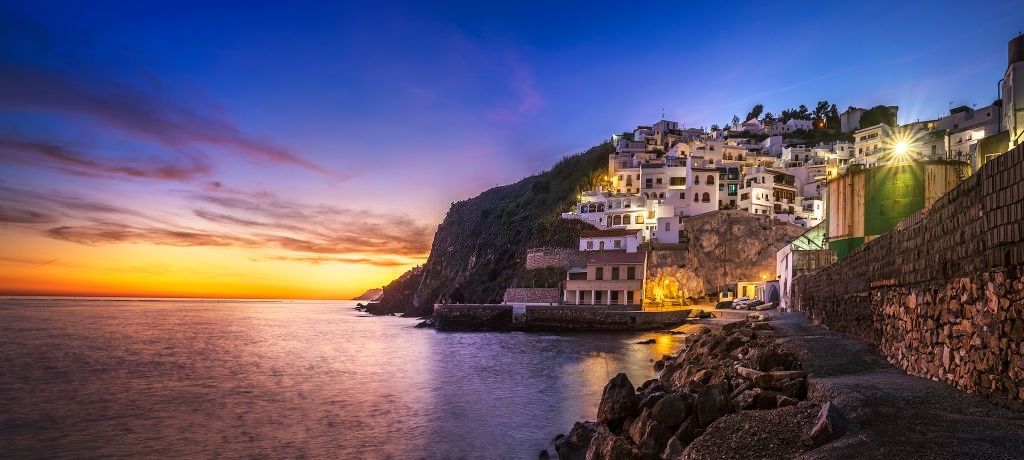 8. Medina Sidonia
Lastly, located in the Cadiz province, Medina Sidonia is a city full of mixed cultures. It was the capital of the Muslim province and nowadays it accumulates ruins from the Roman, Arab, and Christians. Undoubtedly, all this inheritance makes Medina Sidonia an attractive destination.
So, if you are a sunset lover and a great admirer of panoramic views, you might need to take a day trip to Medina Sidonia to admire the esplanade that precedes the Bay of Cadiz and makes this village one of the best 8 White Villages of Andalusia.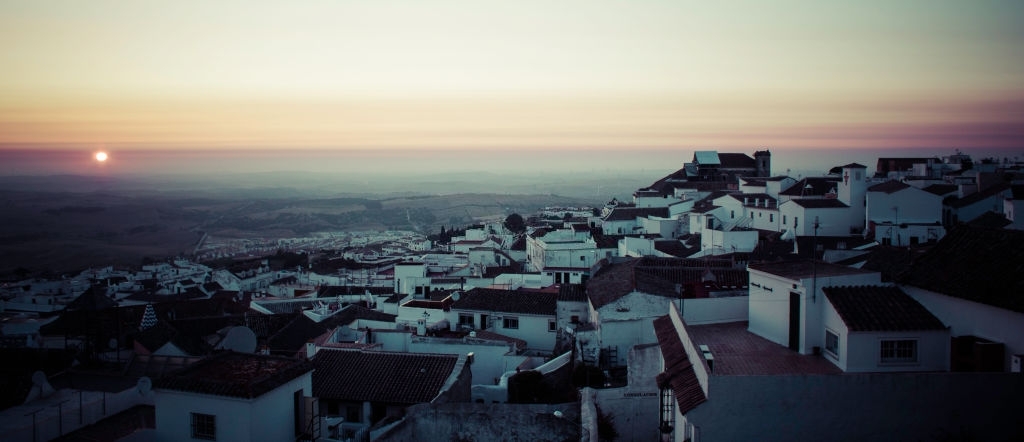 In short, if you want to plan your trip in advance, contact us for any questions you might have. We can arrange your private tours and complement your travel with some outdoor activities that show you the real Southern Spain. So, tired of driving around, day trips, and outdoor activities? Make sure to devour some of the best tapas or embark yourself on a journey to discover the main attractions in Seville!