Among picturesque neighborhoods, busy food markets, delicious tapas and majestic monuments, Seville is a city that has it all! Scroll down to discover the top 10 things to see and do in the city.
Santa Cruz
Probably Seville's most iconic ''barrio'', the Jewish neighborhood called Santa Cruz expands around the Cathedral in a labyrinth of cobblestone alleyways and narrow passages and it's where the heart of the city beats. Even though getting lost in Santa Cruz is unavoidable, the surprises that hide behind each corner will certainly make up for it, as it is the home of some of city's finest tapas restaurants, wine bars and flamenco venues. Nothing could describe Seville better than the smell of a plate of fresh ''calamares'' and the sound of intricate flamenco rhythms echoing down the walls of Santa Cruz.
Discover Seville's coolest neighborhoods!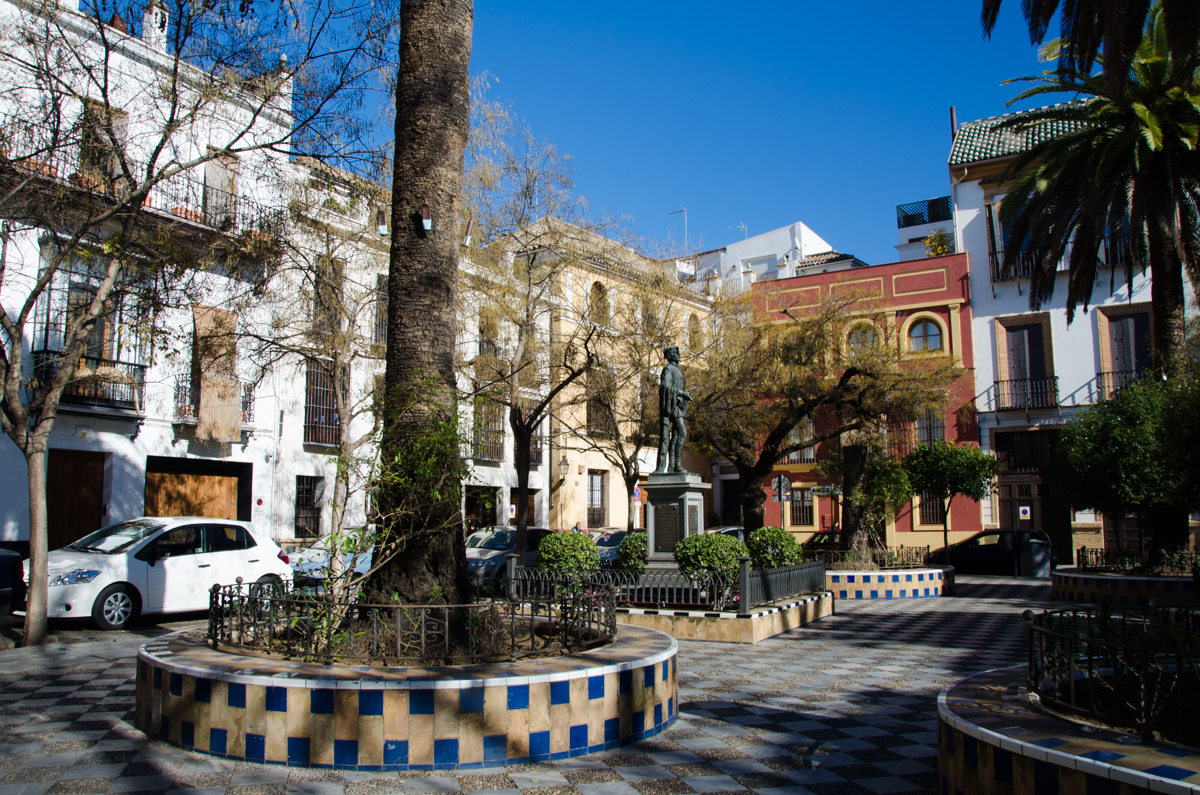 Tapas
Nobody should be allowed to leave Seville before tasting a variety of tapas. Not only they are delicious and cheap but also a great part of Spain's culture. Tapas are small dishes with delicacies of the traditional cuisine. Whether you're a meat lover, a pescetarian or a vegetarian you'll definitely going to find something that suits your taste. It is said that tapas were introduced in the Spanish culture in the 13th century because Castilian king Alfonso X used to eat small meals with his wine between lunch and dinner. So he decided to pass a law that every tavern that was serving alcohol should accompany it by small snacks. Even though tapas can now be found all over Spain, it's widely believed that this tradition was born in Seville's traditional taverns.
Would you like to have a taste?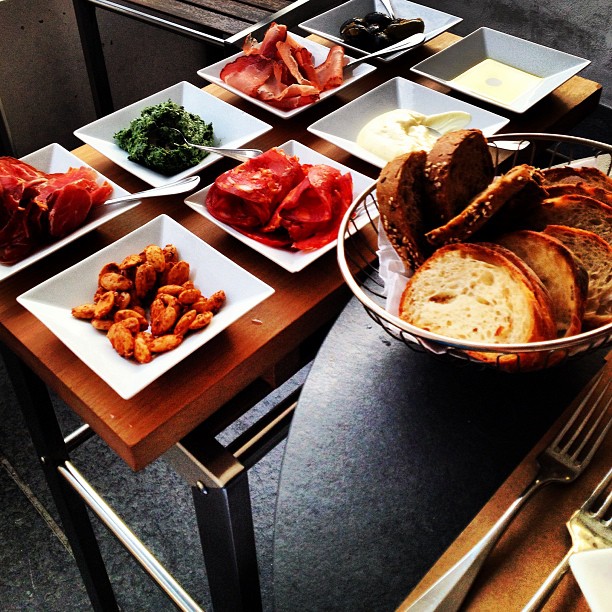 Metropol Parasol
Enjoy the spectacular view from the top of the Metropol Parasol, the largest wooden structure in the world. The architectural masterpiece that is known as Las​ ​Setas (​mushrooms) among locals, stretches 30 metres (98ft) from the ground offering a great overview of Seville. After six years of construction the wooden structure designed by German architect Jürgen Mayer-Hermann was inaugurated in April 2011 and even though it sparked quite the controversy amongst Sevillanos, most would agree that it is truly a magnificent sight to behold.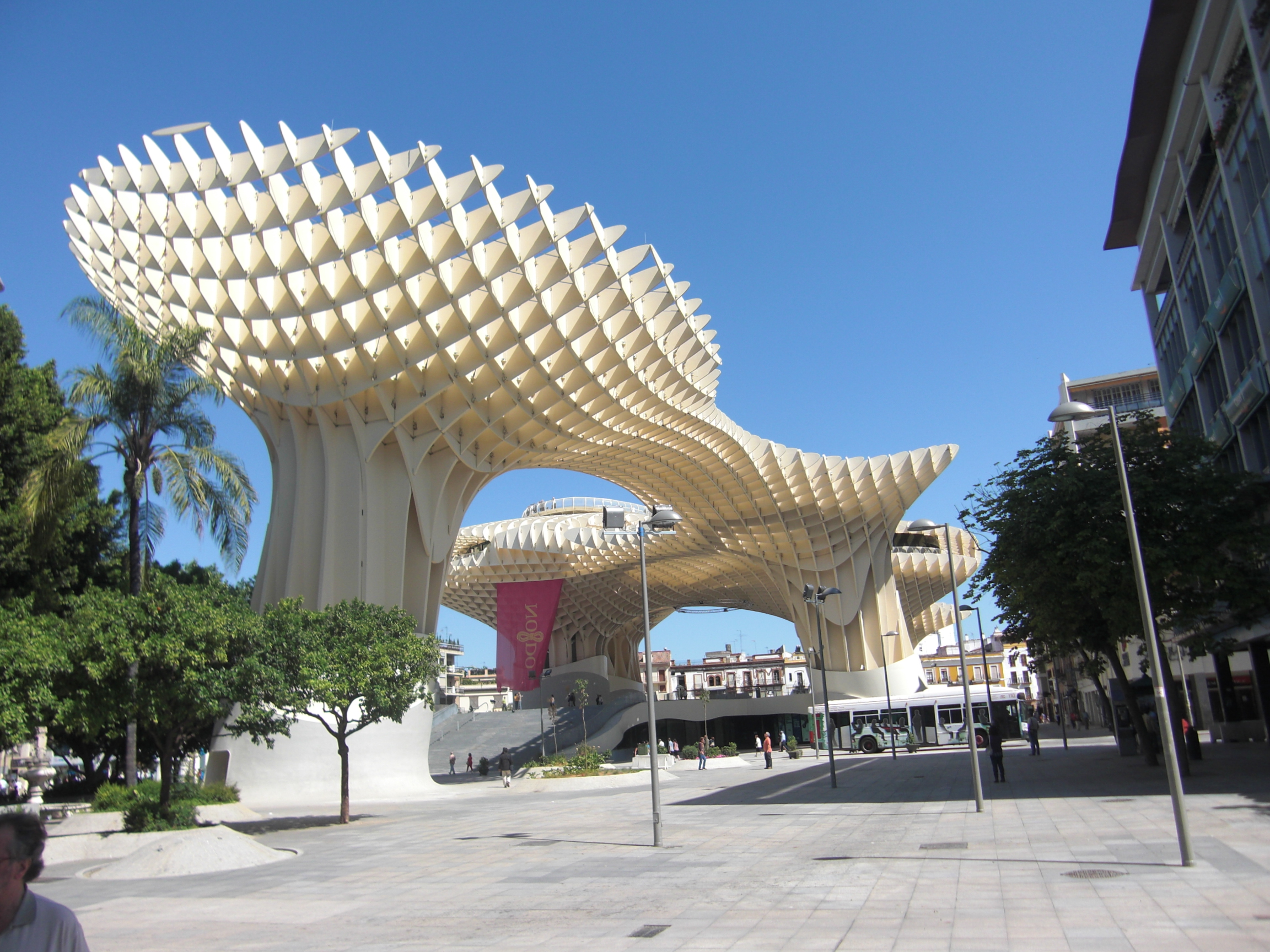 Cathedral
One of top attractions in Seville is the Cathedral of Saint Mary of the See, widely known as Seville Cathedral. The awe-inspiring church was built between 1434 and 1517 and is considered the world's largest Gothic Cathedral. One of the most impressive parts of the cathedral is Giralda, a 343 feet (105 m) bell tower which was built to resemble the minaret of the Koutoubia Mosque in Marrakech, Morocco when the city was under the Muslim rule. Seville's Cathedral was included in Unesco's list as a World Heritage Site in 1987 and is the final resting place of Christopher Colombus.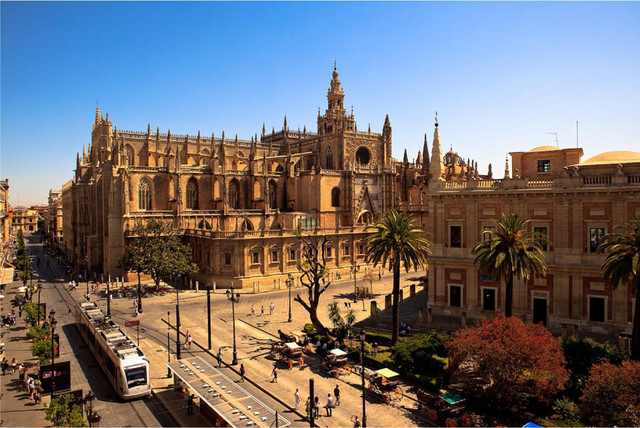 Plaza espana
Plaza Espana is located right beside the spectacular Parque de María Luisa park and is a must-visit for architecture lovers. The breathtaking building was constructed in 1928 for the Ibero-American Exposition of 1929 and it combines different styles of architecture; Renaissance Revival and Moorish Revival (Neo-Mudéjar) styles of Spanish architecture. Nowadays, thousands of tourists visit the impressive building and take a stroll around the enchanting park, while street musicians and flamenco dancers can be seen all day long offering a taste of the Andalucian culture with their great performances. Plaza Espana was also the setting of two very popular movies: Lawrence of Arabia (1962) and Star Wars: Attack of the Clones (2002).
Take a walk through the city with us!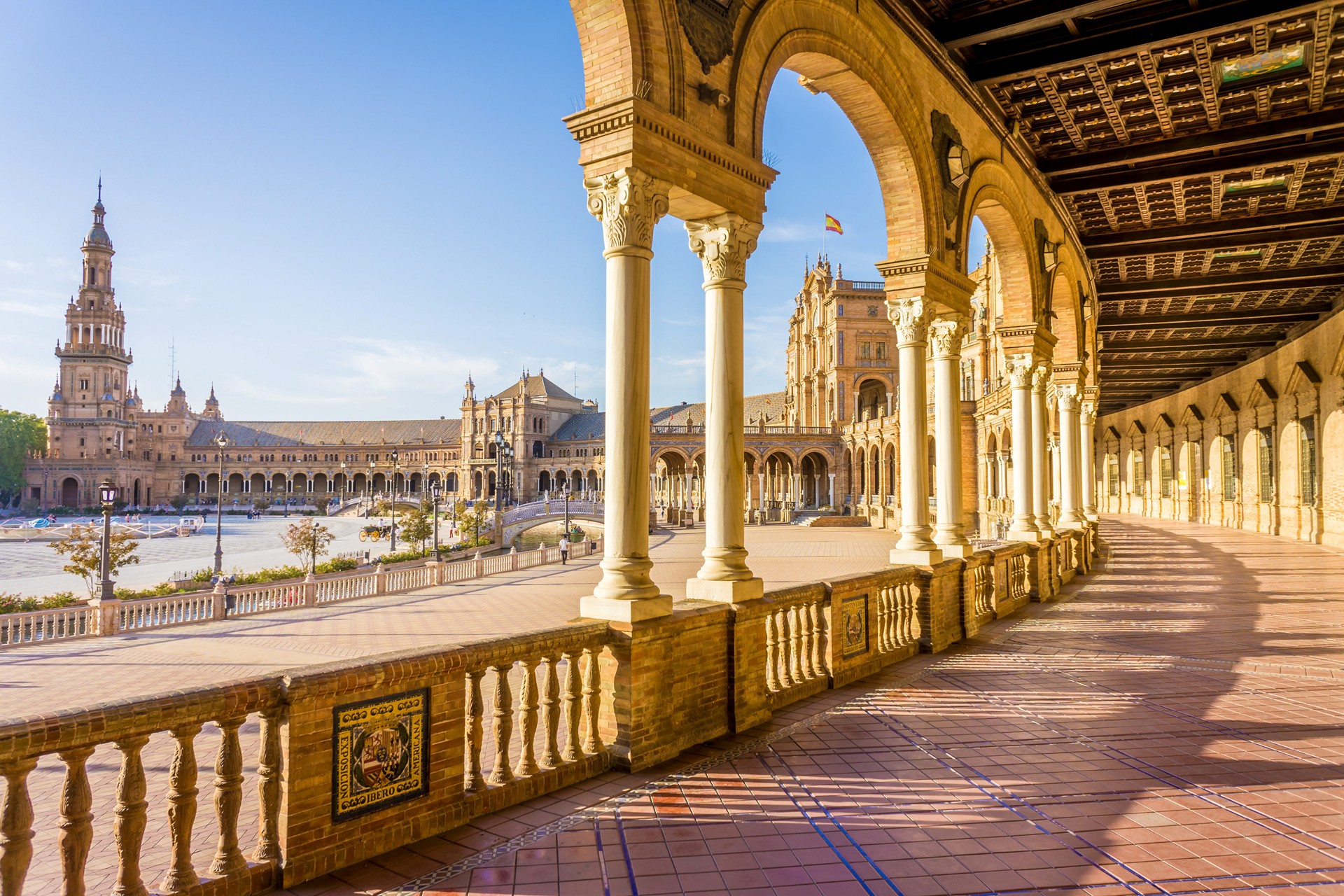 Alcazar Royal Palace
The Alcazar has become increasingly popular in the past few years due to the fact that several scenes of the internationally known series Game of Thrones were filmed there. Even though that alone is reason enough to visit the majestic palace, it's not the only one. The history of the palace dates back in the 14th century, has housed a number of kings and queens and the upper part is still used by the royal family as the official Seville residence. Take a stroll through the glorious gardens and spend some moments of relaxation away from the busy city's hustle and bustle.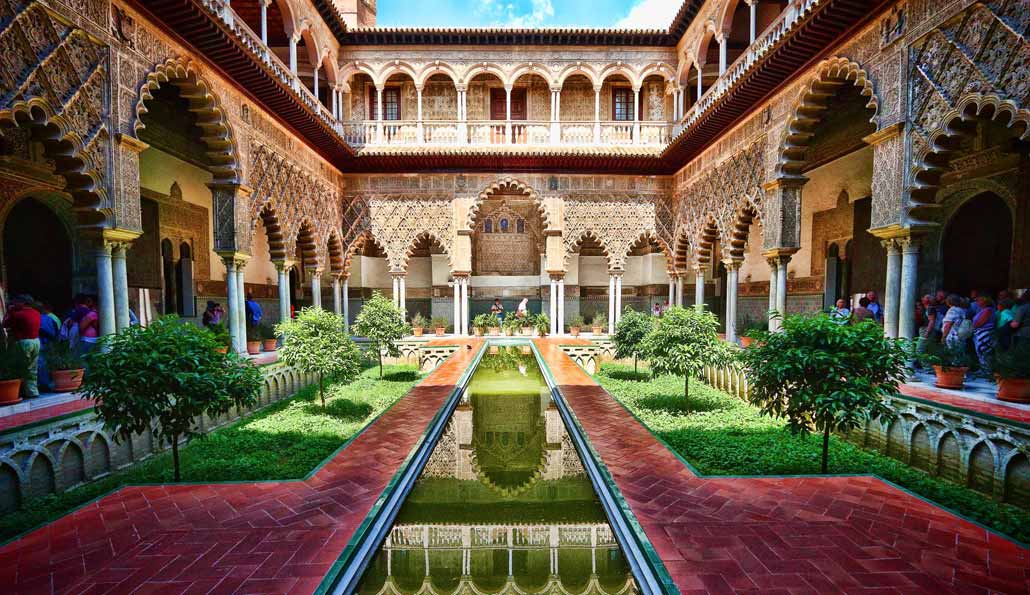 Triana Market
Or as locals would say: Mercado de Triana. If you have had enough of walking through hordes of tourists that flood the city's most famous streets and squares, Triana Market might just be the perfect place for you to relax and grab a bite. This iconic indoor food market offers an authentic Spanish experience as one can be, buzzing with the locals' loud chatter and laughter who gather there to browse through colorful fresh fruit and veggies, get a taste of local craft beer and socialize. Sevillanos are far from shy. While there, be sure to try some of the local delicacies while sparking up a conversation with the vendors who will happily spend their morning explaining the difference between chorizo and salchichon.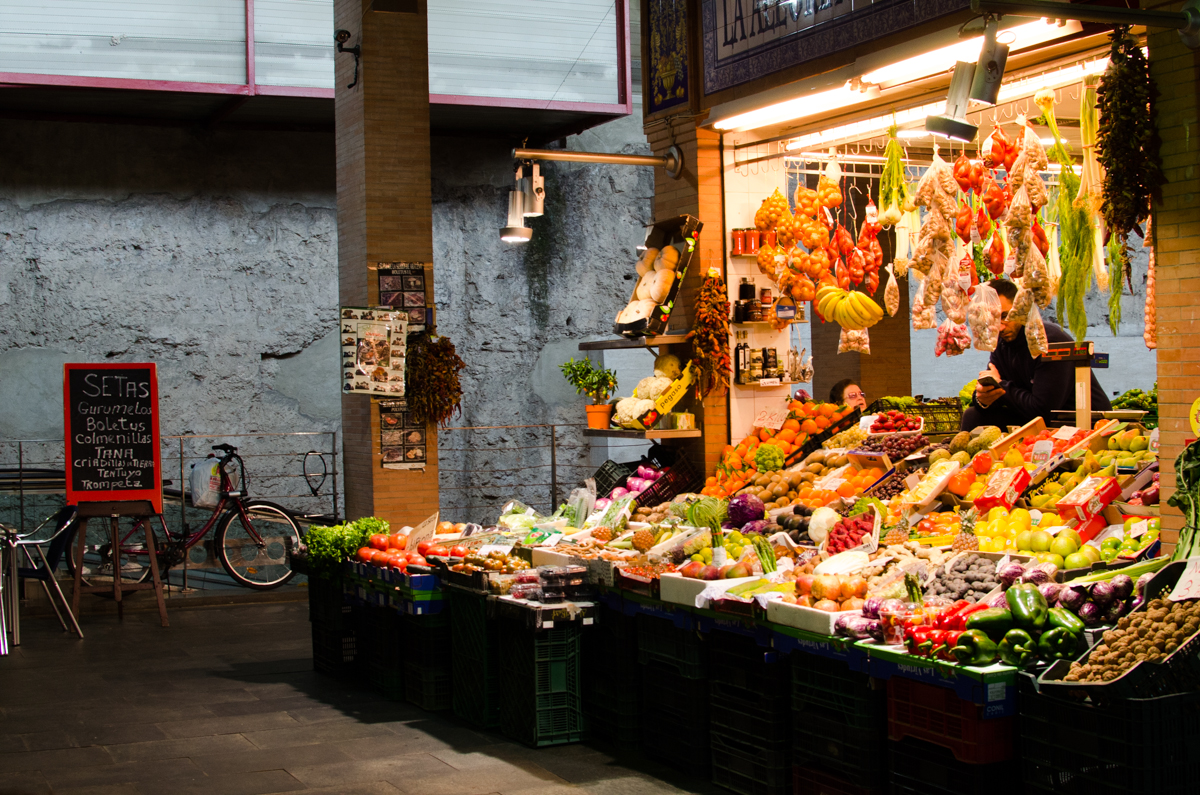 Museo del Baile Flamenco (Flamenco Dance Museum)
In a city that is world renowned for its flamenco dancers and its contribution to the world music scene, a flamenco museum does not come as a surprise. And even though museums can sometimes be boring and regarded by travelers as an ''obligation'', this is definitely not the case with Museo del Baile Flamenco. Though located in an 18th century building, this museum is all but conservative as it manages to offer visitors a unique experience of image and sound through costume displays, video projections, interactive installations and sound samples in what is widely regarded as one of the most technologically sophisticated educational spaces in the country.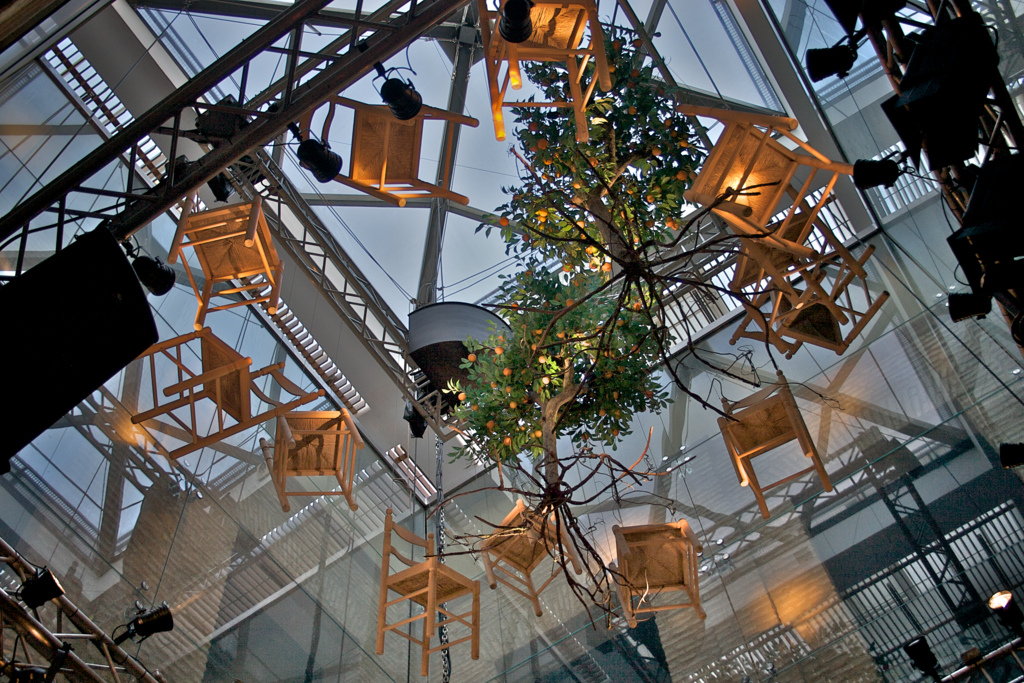 Guadalquivir and Triana
Being the second largest river in Spain and Seville's main port during the ancient times Guadalquivir River is a top attraction on its own. Even though in the past it was used for transportation and trade nowadays it has become a hangout for locals who either relax by the waterfront or hone their skills in Stand-Up paddling and kayaking on the warmer days. Cafes, bars and tapas restaurants stand all along Guadalquivir River's west bank where you can find Triana, the cool neighborhood which is known for its vivid nightlife, flamenco shows and the Spanish style tavernas amidst the city's authentic Spanish atmosphere.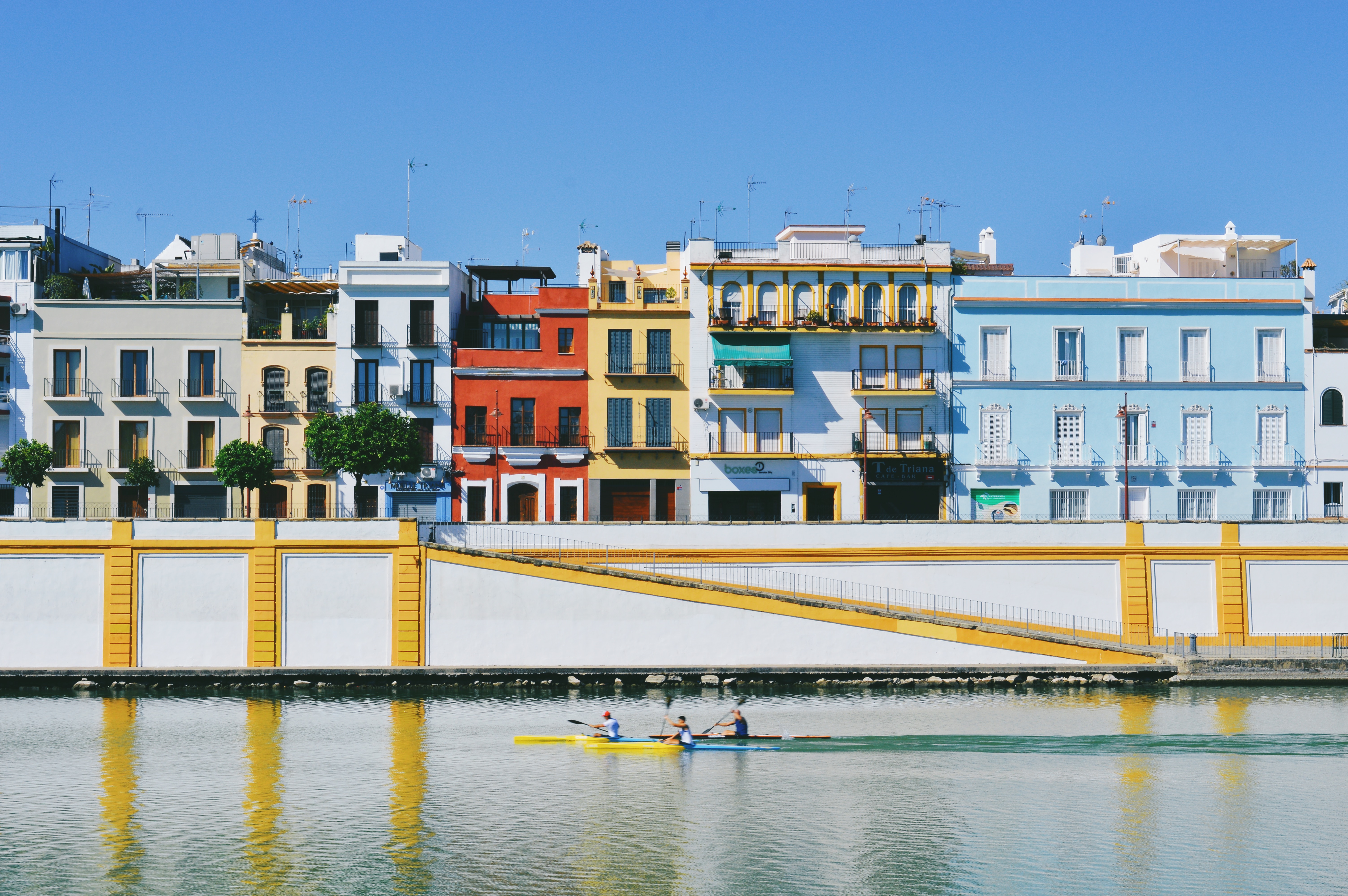 Lonja de Feria/ Mercado de Feria
Nestled in a small pedestrianized alley close to Feria, the street that connects the city center with Alameda de Hercules, the Feria Market is one of the most scenic food markets in the city. Small shops with fresh vegetables, fish, meat and spices are open every day from morning to evening welcoming hundreds of locals and travellers. As soon as the sun sets, the food stores close their doors and the district's stylish restaurants start setting their tables on the cobblestoned square. Seafood, meat delicacies and of course dishes from the traditional Spanish cuisine are only some the options you'll have if you choose Lonja de Feria for a cozy dinner.