Keep Cool in the Top 10 Plazas in Seville for Summer
As you walk around Seville, you will find a city made up of tight streets spilling out into beautiful plazas. This style of city planning developed as the best way to keep the town cool in the unbearably hot summers. The shady streets funnelling the people into plazas filled with trees or water fountains – anything that will offer some respite from the endless sun. Should you visit Seville, it would be natural to want to visit the best and most beautiful of these plazas to experience one of the most gorgeous slices of Mediterranean life. As such here are our top 10 plazas in Seville for summer.

10 – Plaza Pumarejo
We start our countdown with the alternative option. Plaza Pumarejo is in the heart of Macarena district, one of the most vibrant, hipster, areas of the city. What makes this plaza special, is that it stands in front of a derelict mansion of the same name. The Pumarejos who give this square and house their names were a family of aristocrats who lived in the house. After successive generations, the fortunes of this family began to change, and they elected it best to leave their family home in search of pastures new. So eager were they to leave the family pile, that rather than wait to sell it on to someone new, they simply abandoned it. Squatters moved in and claimed this derelict mansion for themselves. After a long period of time, the city council decided they would tear the building down and build some new apartments. The squatters did not take kindly to this, claiming they had been there long enough for it to be their's. An organisation was set up to defend the squatters rights called Puma Rugido (Puma's Roar). A few decades later and the house is still there, beautified by the community, and has become the headquarters for the Puma's Roar foundation who organise many community activities in and around the plaza. If you would like to see this plaza and learn more about the alternative communities of Seville then our Off the Beaten Path Walking Tour is most definitely for you!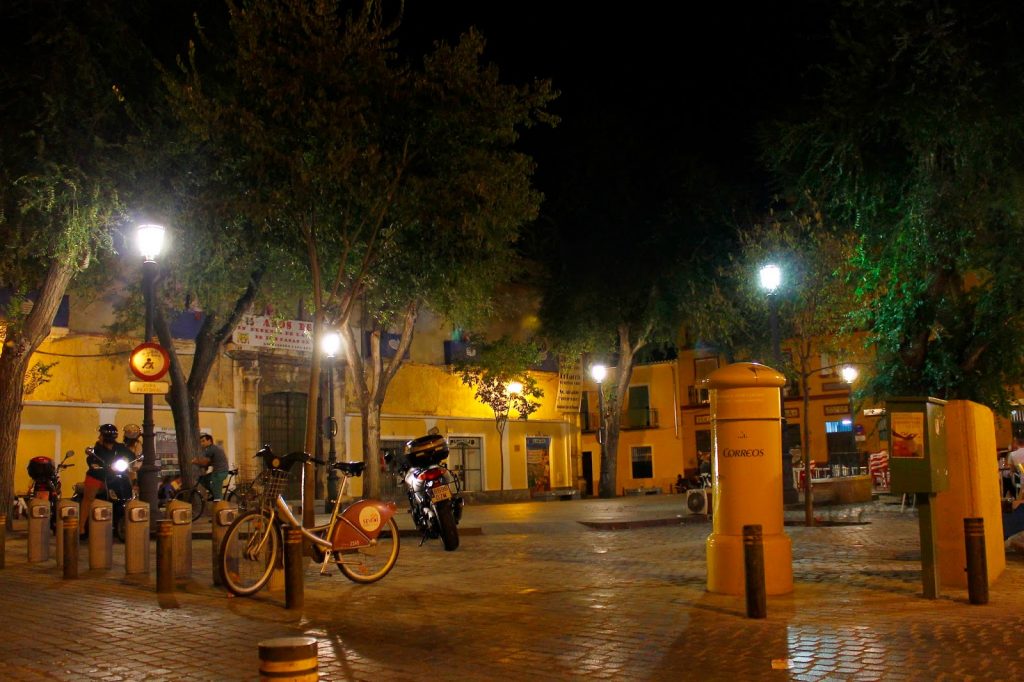 9 – Plaza Santa Cruz
The plaza that gives Seville's most visited neighbourhood its name was never meant to be a plaza. This was the spot of the main Synagogue in the old Jewish quarter. It was renamed Santa Cruz church during the Spanish Inquisition. The church floor still remains in the centre of the plaza; however, Napoleon destroyed so much of the church during his occupation of the city that it was deemed better to tear it down than rebuild it. As such, Plaza Santa Cruz took its place and has become one of the quaintest little squares in the city. The Locksmith gate was moved from Calle Sierpes to here to give it a focal point, and the orange tree rimmed garden in the centre of the square is a relaxing place to take a quick break and keep cool. As such, this had to make our top 10 plazas in Seville for summer.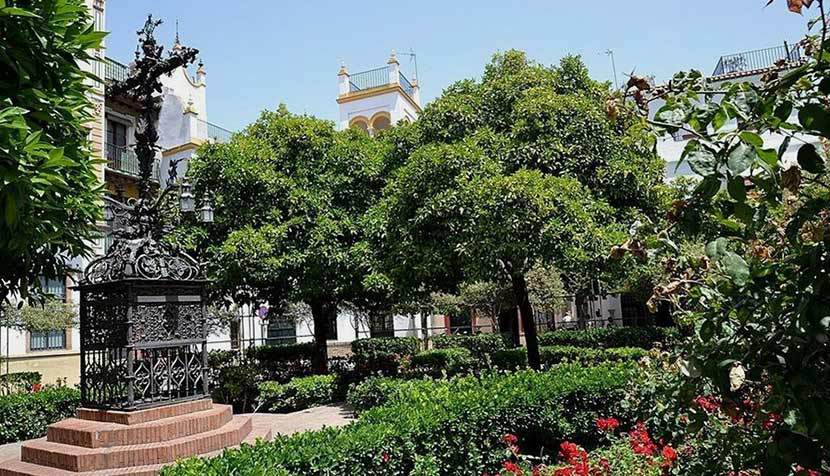 8 – Plaza Nueva
As the name suggests, this is a very new plaza. It was built for the 1929 Ibero-American Exhibition on the sight of an old monastery. Since then, however, it has become a focal point for the city. The town hall sits on it, and many rallies and city events congregate here. As do many of our tours… This wide expanse lacks much in the way of shade or water in order to keep cool in summer in Seville, but need to be on this countdown due to its sheer importance to the city.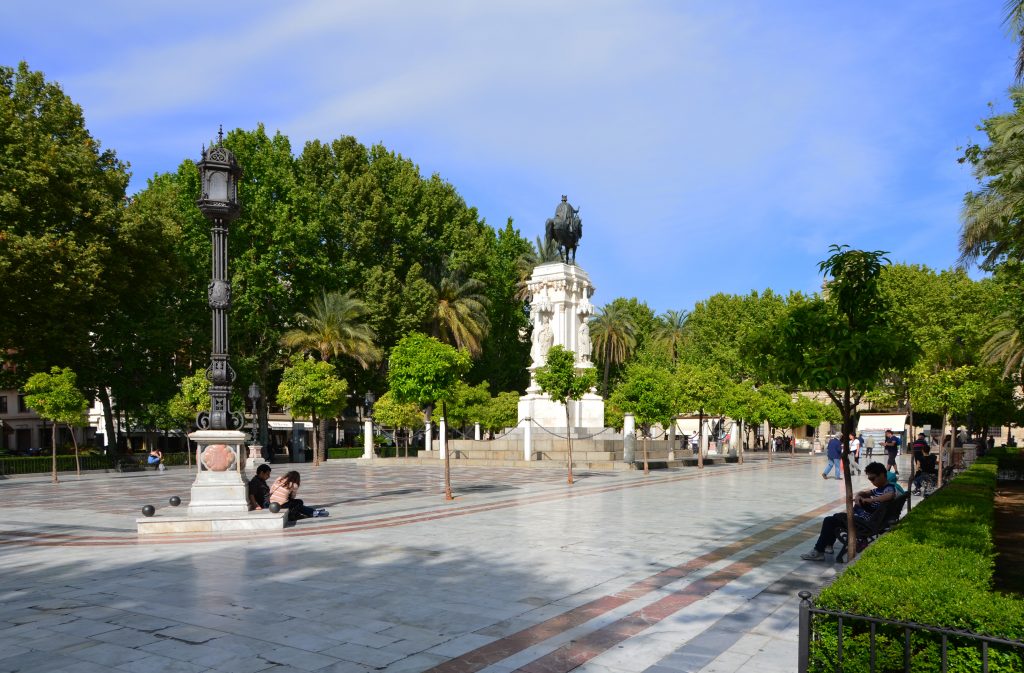 7 – Plazuela Santa Ana
Plazuela Santa Ana sits at the foot of Santa Ana church. This church was built by King Alfonso X as a thanks to Santa Ana for curing his blindness and has since gone on to be dubbed Triana cathedral. Triana was historically separate to Seville (rivers were much bigger obstacles in olden times) and so the neighbourhood across the river has always had a unique vibe. There is no better place to sample this feeling than in Plazuela Santa Ana, sitting in the middle of quaint Triana. It is for this reason that this plaza has made our top 10 plazas in Seville for summer. This neighbourhood is known for many things, from Flamenco to Tapas. We want to give you the chance to enjoy both whilst learning about the turbulent history which makes this area so unique, which is why we've developed not just a Triana Tapas Tour, but a Triana Tapas and Flamenco Tour!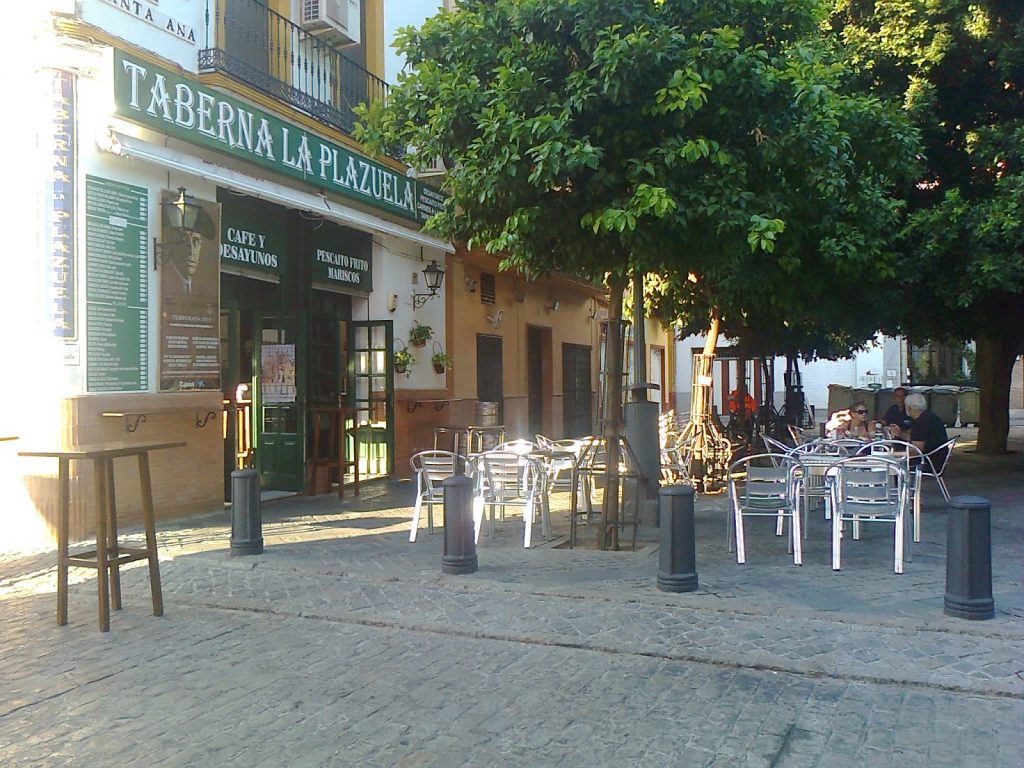 6 – Plaza Doña Elvira
Few places encapsulate the laid back spirit of Seville better than this inconspicuous plaza. A walk around the beautiful Santa Cruz barrio will find you in Plaza Doña Elvira, surrounded by orange trees and Sevillanos content with passing the day in their shade. After all, there are few better places to keep cool in out top 10 plazas in Seville for summer than under an orange tree! Named after Elvira Manuel, a Spanish court official-cum-spy during Spain's Golden Age, this plaza has had a much less busy life than it's namesake. Despite, or perhaps because of, this lack of action, this attractive little plaza is worth your time. Not least because of the breathtaking views it hides from the Museo del Pintor Amalio which sits on the square.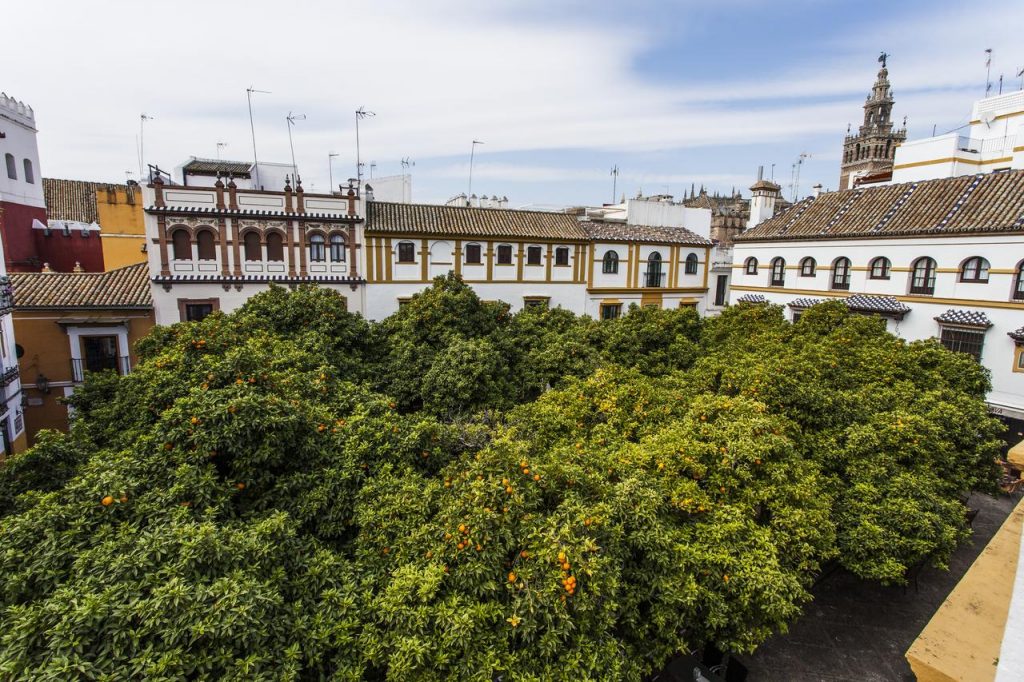 5 – Plaza America
1929 is one of the most important dates in the history of Seville. This was the year of the Ibero-American Exhibition, an event which changed Seville into the picturesque city it is today. Many avenues were widened to allow for the expected hordes of people and countless buildings were beautified in a style developed by architect Aníbal González specially for the event. One of the less well known places built for the exhibition is also one of its most relaxing. The Plaza America sits between two grand museums at the far end of Maria Luisa Park. Those who make the trip will find themselves in an idyllic, quiet, square adorned by myriad different colours of rose bushes.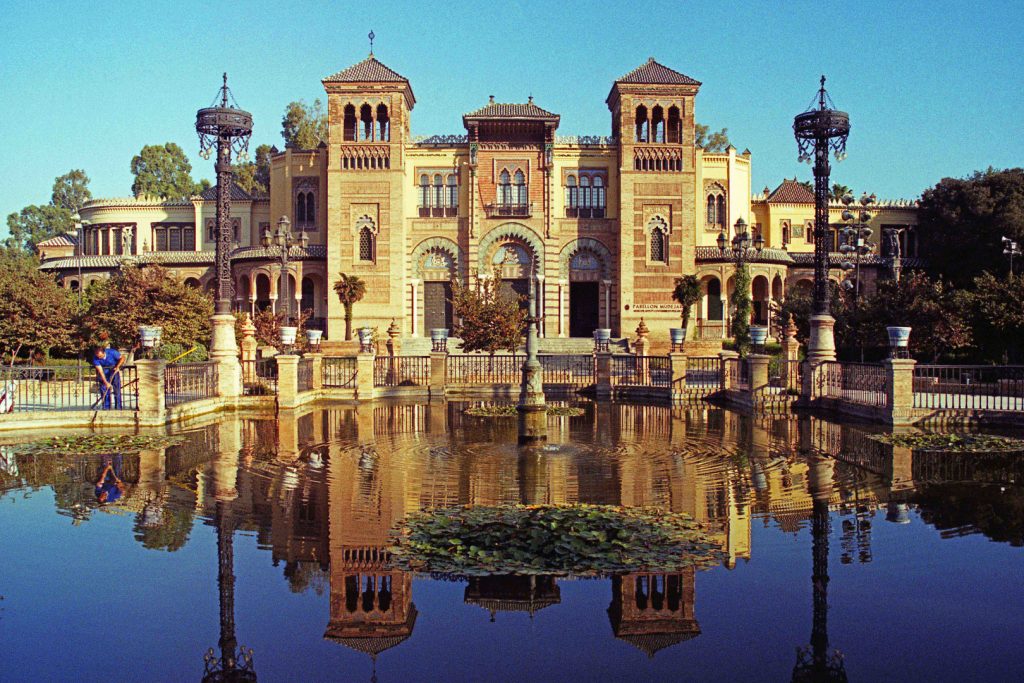 4 – Plaza del Triunfo
Sitting in between the cathedral and the Alcazar, this busy plaza is probably the most seen by tourists, but very few will actually realise that this is where they are. This unassuming plaza was a major meeting point during Seville's golden age with many deals and trades being carried out here. With the building of the Indian Archives, the plaza is half the size of what it used to be, but it is never the less a convenient point to rest your legs during a day exploring the city's two main attractions. On a day such as this you will appreciate its use as a place to keep cool and understand why we've placed it so highly in our top 10 plazas in Seville for summer. You will pass by this plaza as we take you on a private tour of the cathedral and Alcazar.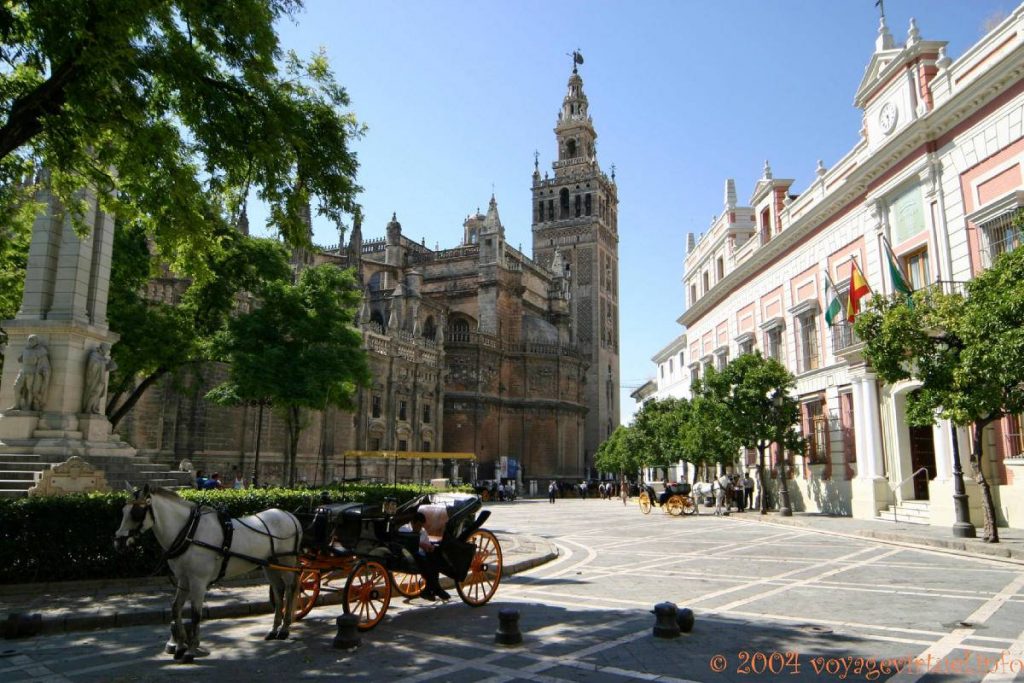 3 – Plaza de la Encarnación
Plaza de la Encarnación was home to one of the most popular markets in town for a century, but int the 1990's the powers that be decided it was becoming too derelict and that it should be knocked down and replaced with a new one. All was going to plan, until, as they were digging to build an underground car park beneath the market, they came across Roman ruins. No one was quite sure what to do until a German architect by the name of Yurgen Mayor came along with the idea of leaving the ruins where they are and turning it into a museum, then building the market on top of that, and then a giant viewing platform above it all. The Metropol Parasol is the world's largest wooden structure. It has become knowing as las setas (the mushrooms) to locals because of its resemblance to the tasty fungi. As it's name suggests, the Metropol Parasol provides great shade for the Plaza de la Encarnación and as such turns this once sun drenched market square into a haven of cooling breezes during the hot months. The ideal criteria for keeping cool in summer in Seville! How could a place with such an iconic landmark not make out top 10 plazas in Seville for summer? Should you want to learn more about Las Setas, and see Seville from above, then our Rooftop Walking Tour is the perfect tour for you.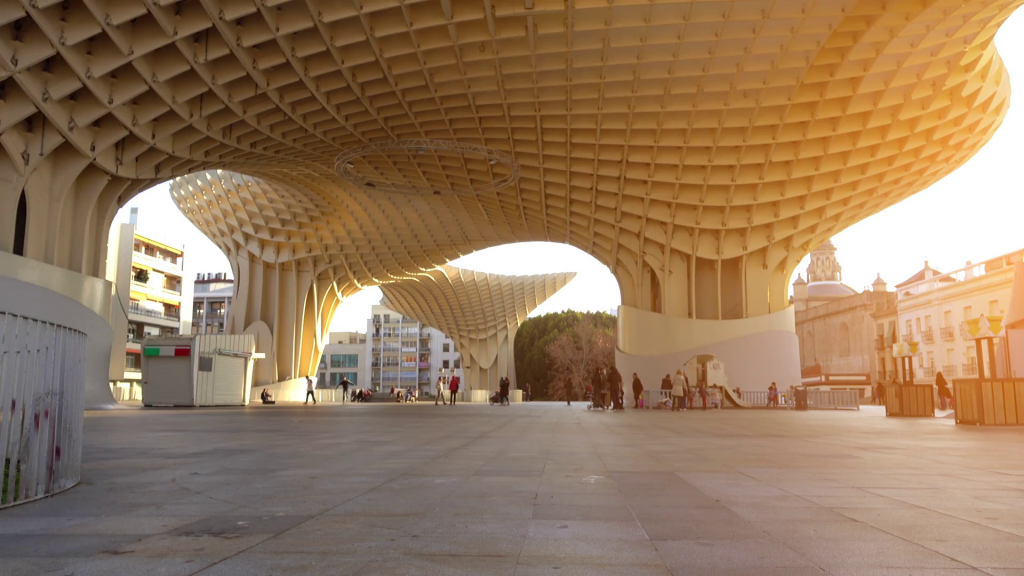 2 – Alameda de Hercules
This is the oldest public gardens in Europe. A fun fact which will be hard to believe when you visit the Alameda. A colourful history has seen this humungous plaza go from original course of the river to well-to-do promenade to seedy red light district. In the 80's thirty-five brothels were recorded in this square. Thankfully, it was cleaned up for the 1992 World's Fair and has since developed into one of the most popular social spots for locals. Trees line the entire promenade and water jets shoot out of the ground, providing a popular combination to keep cool in summer. Our Alternative Tapas Tours take you around a sample of the myriad of magnificent tapas options which line this square in amongst cafes and children playing. Join us to see what life in Seville is really like.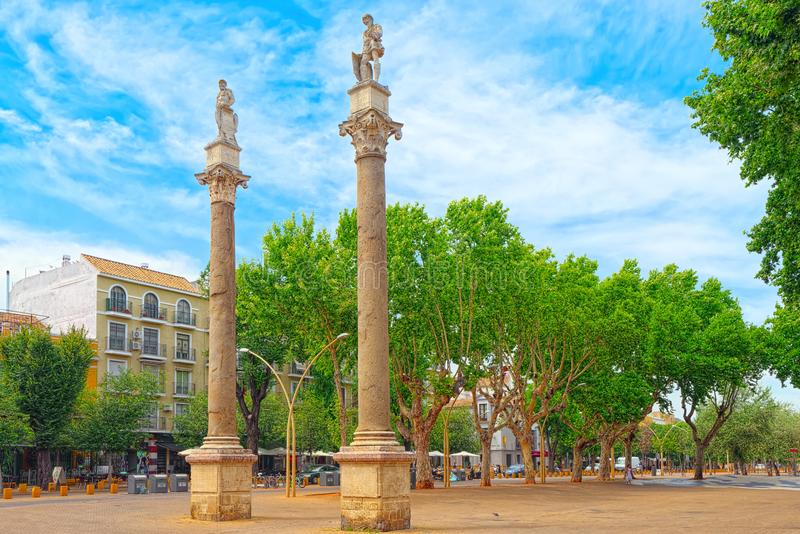 1 – Plaza de España
Anyone who knows anything about Seville will not be in the least bit surprised to find Plaza de España at the number one spot in our top 10 plazas in Seville for summer. It is this writers opinion that this is not just the best plaza in Seville, but one of the best things full stop. This breath taking edifice should be on anyone's itinerary on a trip to the city. The most famous of the buildings from the 1929 exhibition, this was the centrepiece of Aníbal González's vision and acted as the Spanish Pavilion during the event. Overflowing with symbolism and beauty, finding a shady spot or sitting by the fountain and people watching whilst admiring the famed plaza is the perfect way to keep cool in summer in Seville whilst remaining entertained. Should you like to learn more about this plaza, including the huge amounts of symbolism it hides, then join our walking tour on your visit to Seville!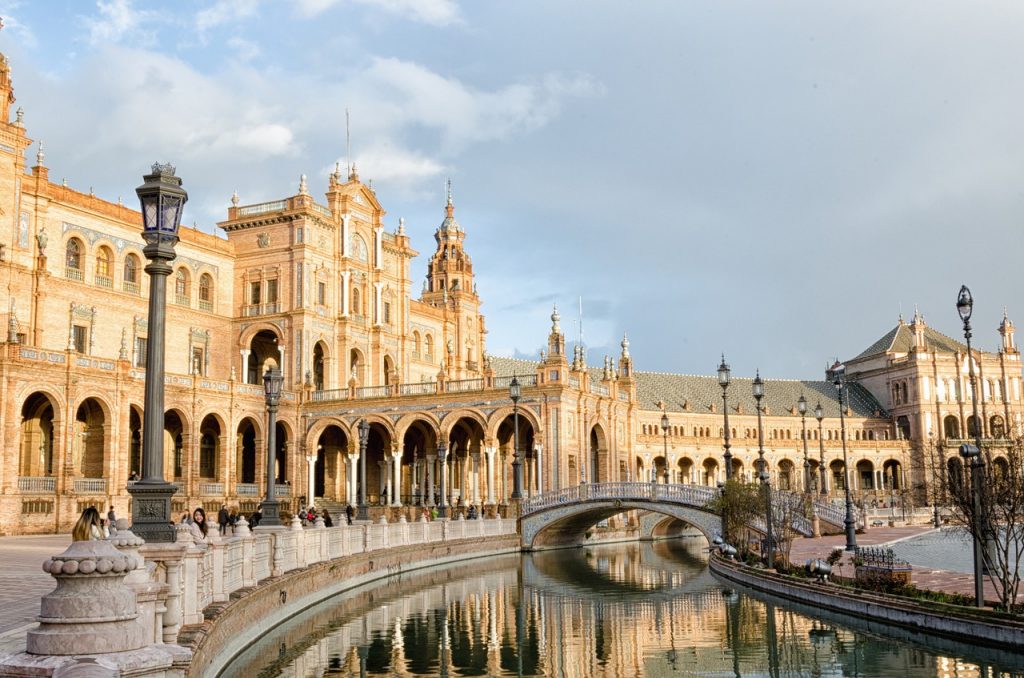 Davey Womack is a tour guide and avid traveller. Read more from his adventures in Spain and around the world by visiting his personal blog.