As the spring blooms, thousands of Sevillanos will get together this month to celebrate one of their favorite festivities: Seville April Fair or Feria de Abril. You may have heard about Feria before since it's now quite world-famous. As soon as you reach the Parque de los Príncipes (where it is celebrated), you will notice how colorful it is: the dresses, the "casetas", the flowers… Color is indeed essential in this festivity, as Feria is the emblem of spring.
If you walk around the streets in the fairly big fairground (as you can see in this map from last year) – if you manage not to get lost – one thing would catch your attention first- how all Sevillanos and Sevillanas seem to be dressed similar to each other: traditional dresses, flower ornaments, big earrings, suits, shirts… Pure elegance! Then you may stop and wonder whether you are dressing accordingly or whether you should have packed different clothes. For this reason, here we have gathered a guide about what to wear for Seville Fair that can be useful for everyone.
1. KEEP AN EYE ON THE WEATHER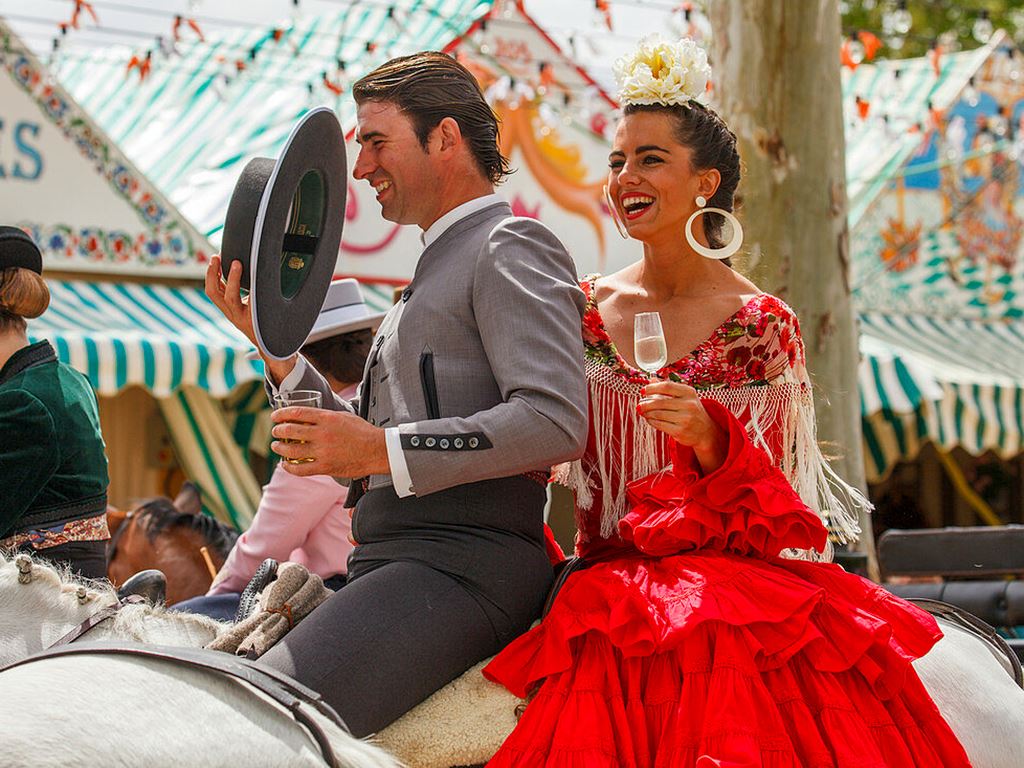 The Seville Fair 2023 is at the end of April. Although the weather is usually sunny and warm, it can also be quite unpredictable. Make sure to check the forecast throughout the month leading up to your trip and plan your attire accordingly. It is always best to bring a light jacket just in case temperatures drop! In case of rain, we recommend bringing a small umbrella – there are no covered spaces in the Fair apart from the "casetas" (which are some sort of tents – look at this starter kit about Feria to know more). Remember to dress cool but also protect yourself from any unexpected showers!
2. STEP UP YOUR SHOE GAME FOR THE FAIR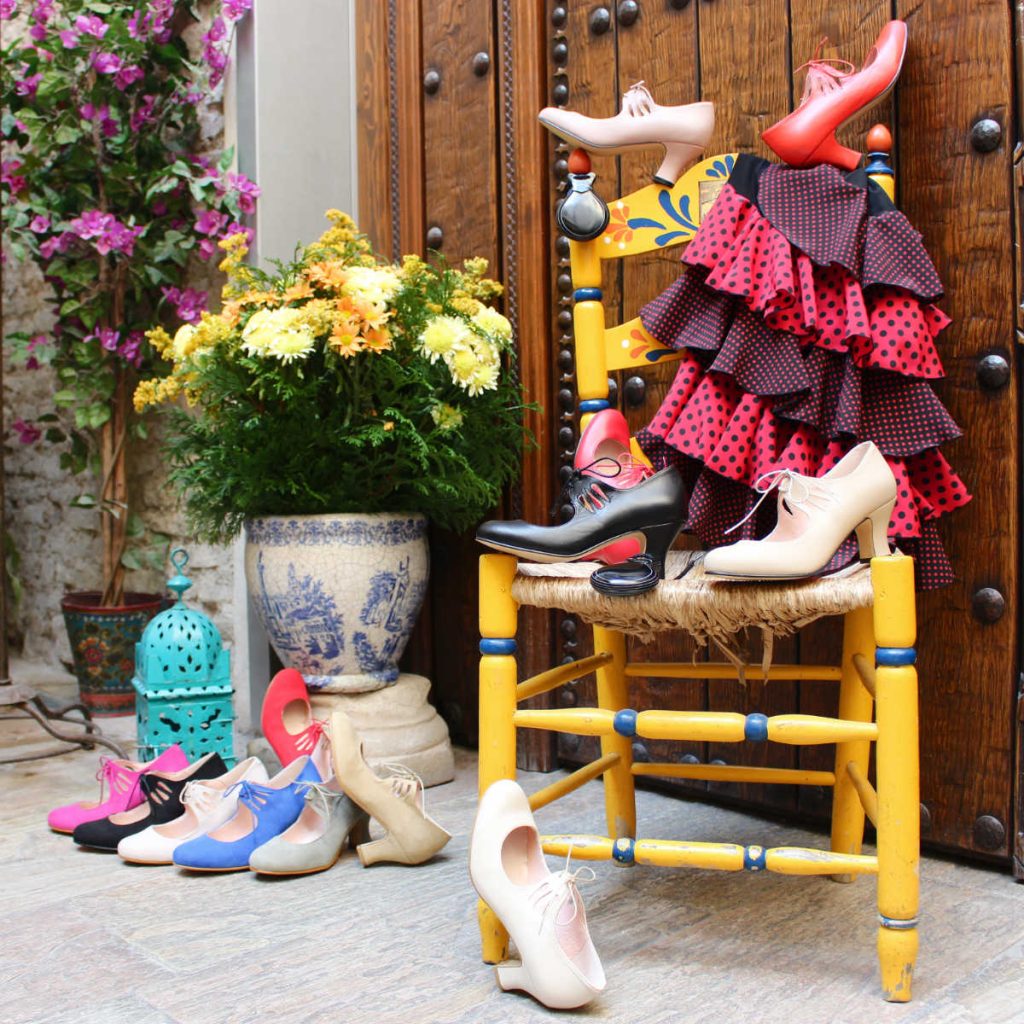 Keeping in mind that you may be walking for hours, our best tip is that you opt for comfortable shoes that are easy to walk in. It is best to avoid heels or sandals as you may walk into the mud (or even spill drinks!). Our recommendations on what to wear for Seville Fair regarding shoes would be espadrilles, smart closed shoes, or even trainers if you're able to style them a bit! Remember that while you want to look cool and like a true Sevillana, you also want to enjoy what Seville Fair offers to everyone!
It is also very popular to dance sevillanas inside the "casetas", so obviously good shoes are needed. If you'd like to practice Flamenco before heading to Feria, why not book a flamenco class with us! However, if you'd like to know how to dance Sevillanas, you can contact us and we'll arrange a Sevillanas lesson so that you're ready to enter the casetas as a real Sevillano!
3. COMFORT IS THE KEY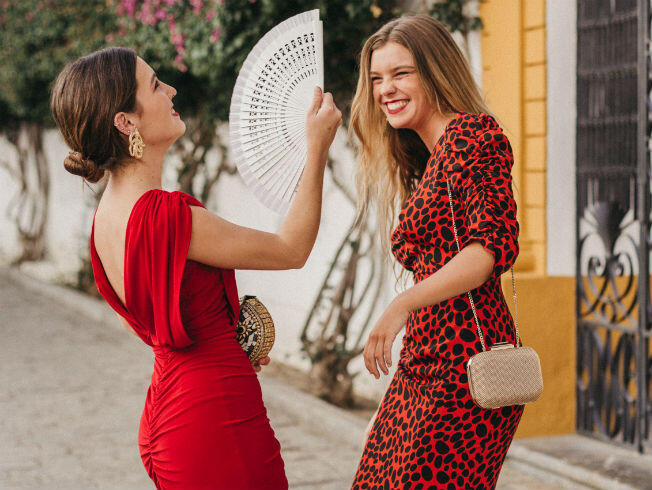 One of our best tips on what to wear for Seville Fair is that comfort is the key! The possible warm temperatures will make you feel uncomfortable if you wear thigh and heavy clothes. Instead, we recommend light materials such as linen or cotton. As pointed out before, it is a good idea to bring a light jacket in case of low temperatures or sudden showers – It is April weather and you never know what the day is going to be like! Flowy dresses, jumpsuits and light long-sleeved shirts are great options to wear for the Seville Fair.
4. DRESSCODE FOR WOMEN AT SEVILLE FAIR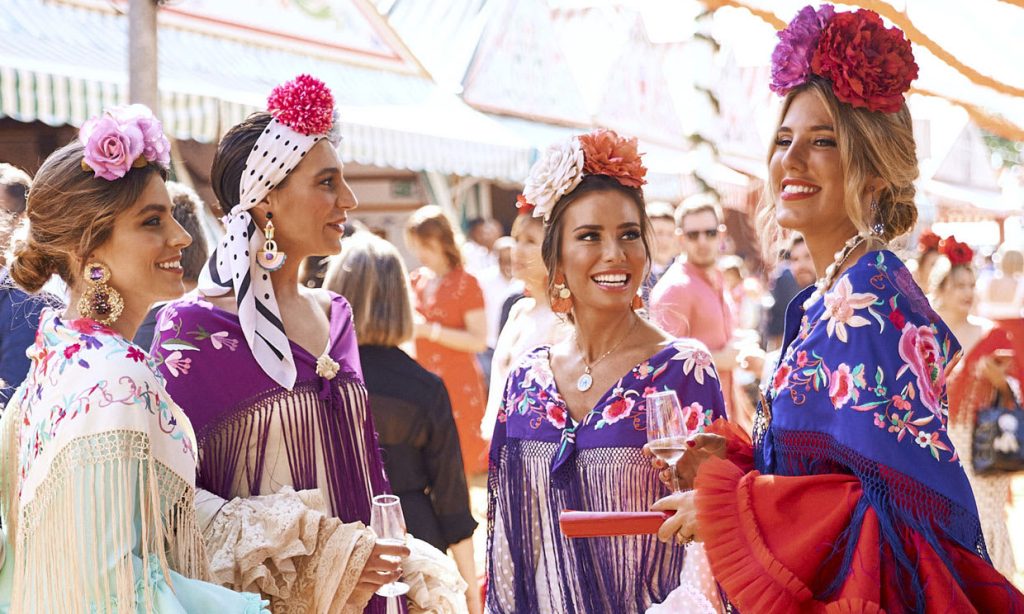 The first thing you need to know about women at the Seville Fair is that they usually wear the traditional Feria dress. You may have seen it before (or similar) at some of the flamenco shows. The dresses at Feria tend to be more colorful and stylish, and women usually embellish them with flowers, jewels and "mantoncillos" (some sort of scarf to cover your shoulders). If you'd like to get your hands on one of these dresses, then you need to know that Sevillanas get them tailor-made months before. But don't worry! Some shops will be selling last-minute ones: tailor-made dresses range from 200 up to 1000 euros – but some shops will sell cotton or lycra dresses (just as beautiful) for less than 100 euros! You can check this blog to see where to buy dresses for the Feria!
Nevertheless, you don't need to wear one to feel like a true Sevillana at Feria – many women do not wear these dresses as they could become uncomfortable after many hours. In that case, our best tips on what to wear for the Seville Fair would be a flowy dress (if the weather allows you to do so), smart trousers with a blouse, or even a skirt. Remember that you should wear whatever you feel more yourself with! If the weather cools down, we recommend bringing a blazer or any sort of jacket to go with your outfit. The "mantoncillo" here comes in help too. Check this blog by ELLE Magazine on outfit ideas if you're not wearing a traditional dress for more inspiration!
You could also wear a flower in your hair if want to blend it and give a traditional touch to your outfit. Real flowers can be found inside the Seville Fair usually sold by Gypsy women or buy synthetic ones at any shop in the city center!
5. DRESS CODE FOR MEN AT SEVILLE FAIR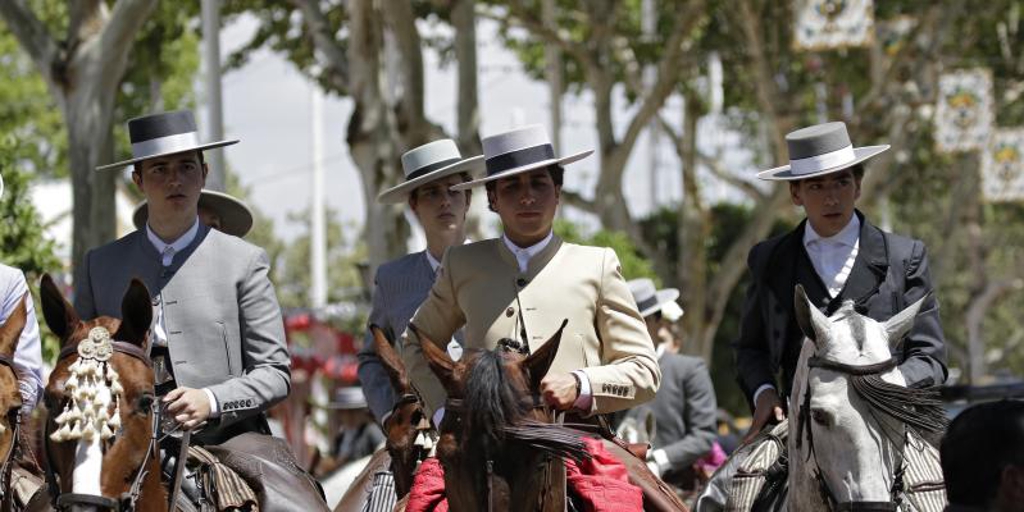 Although men do also have a traditional costume for the Seville Fair, Sevillanos don't usually wear it unless they are riding horses in the Feria. Our best recommendations for men on what to wear for Seville Fair are easy: opt for a suit if you can pack one – you will see how many Sevillanos wear their suits throughout the week, especially on the first days! Moreover, as we said before, Feria is characterized by colors. Men could have this color touch in their ties if wearing a suit. If you want to go very local- some even match the color of their tie to the color of their partner's dress! Look at how to style your suit for Seville Fair in this blog by Dappers!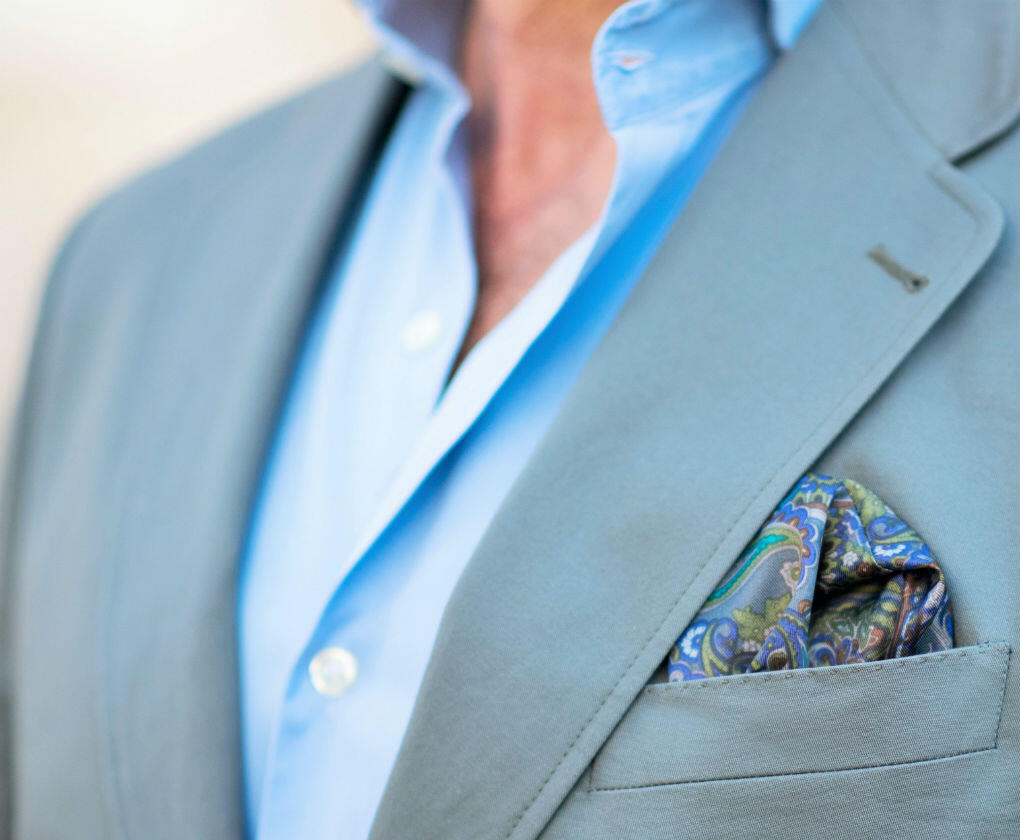 If it is too hot or you simply can't pack a suit don't worry! Smart trousers with a long-sleeve shirt are also a good option to wear at the Seville Fair. Over the last few days, Sevillanos start wearing more easy-going clothes such as polo t-shirts or shirts. They usually opt for white, pink, blue and all light colors for their shirts. This is still a smart outfit but more comfortable that will fit just as amazing for the Seville Fair.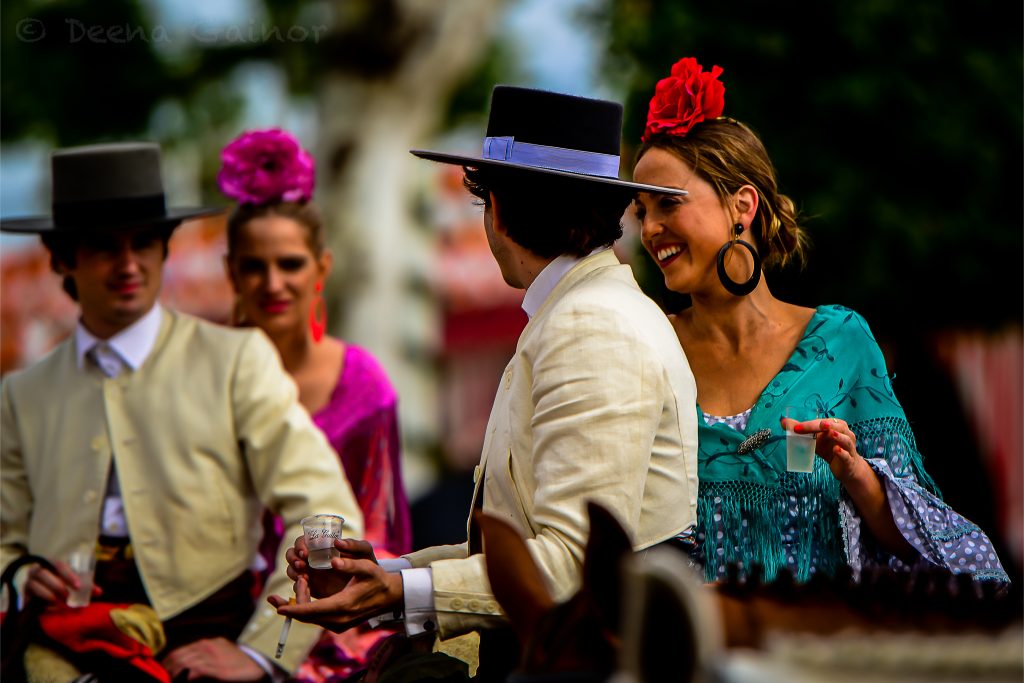 We hope that after reading this guide about what to wear for Seville Fair you'll have been able to make a list of what to pack and wear for your trip to Seville and your visit to the Seville Fair. There's nothing like enjoying these festivities like a real Sevillano, so make the most of it! Remember that Sevillanos will appreciate your presence and effort to understand and fit into their culture, so relax and have fun!!
If you haven't had enough celebrations, why not join another authentic evening a la sevillana, devouring local delicious tapas and watching a flamenco show in the company of a real flamenco dancer. And not to forget, in case you need a break from the bustling Seville during the Fair, Andalucía has a lot to offer- Take a trip to other amazing cities or join us on a walking tour of the charming old town that is much quieter yet has a very special ambiance with the locals walking in an elegant outfit and on horses!. Time for you to live up to your Spanish dream!