Why stay in the hotels in Seville city center? Because the city center is the most monumental and impressive part of Seville. It is the perfect area from which you can stroll around and visit the stunning monuments nearby. In the city center you will find everything you need. What is more, it is a very lively area where many bars and typical Spanish restaurants are located. You will fall in love with it!
The most well-known neighborhood in Seville city center is El Arenal. It is located west of the Santa Cruz quarter. This quarter extends more or less from the Cathedral to the Guadalquivir River. It is home to many tourist attractions such as Torre del oro, Plaza de Toros de la Maestranza, Teatro de la Maestranza and Tablao Flamenco El Arenal, among others. This area is one of the best places to go out and enjoy tapas. In addition to this, it is also very popular for nightlife.
So, which are the best hotels in Seville city center? Below we provide you with a few recommendations:
Hotel Doña María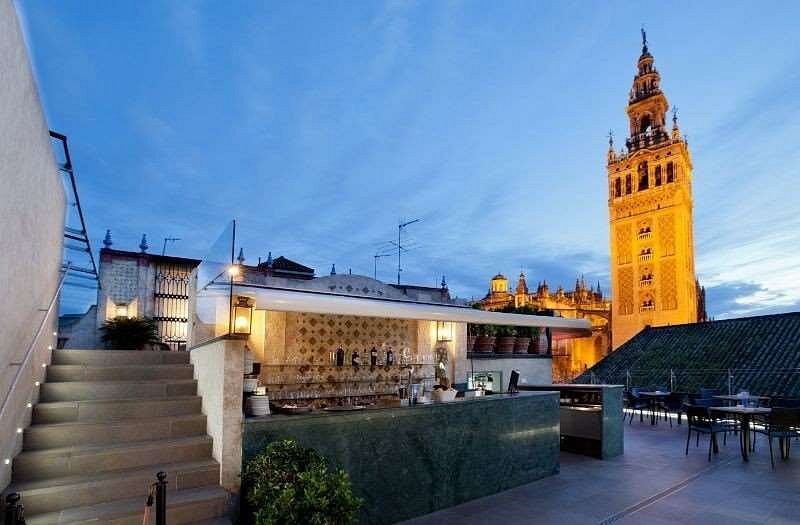 This four-star hotel named Hotel Doña María is built on an old palace house of the 14th century. It overlooks the cathedral and its incomparable bell tower, the Giralda.
One of its main attractions is its rooftop terrace. The terrace is the ideal place to have an appetizer or enjoy a drink at sunset. The Terrace-Bar is also open to the general public.
Taking advantage of the privileged location of the hotel, it has a swimming pool that offers one of the best views of the city. The pool is exclusively for guests staying at the hotel.
Considering the value for money, this hotel is one of the best hotels in Seville city center.
Hotel Palacio Villapanés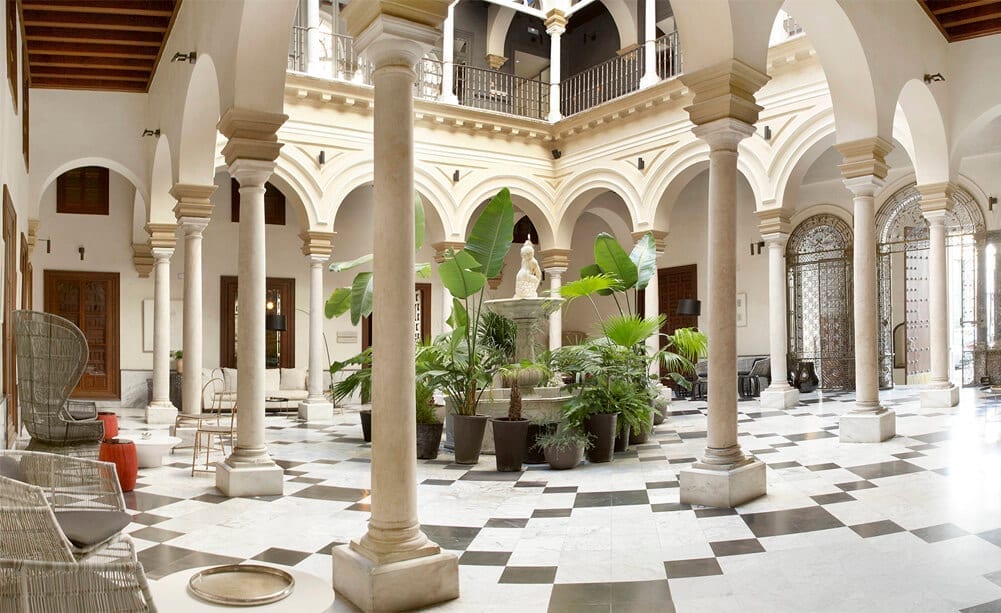 How does it feel to stay in a luxury hotel built over a palace from the 18th century? Well, you can try it at Hotel Palacio Villapanés!
This five-star hotel is located only 3 minutes on foot from Convento San Leandro, where you can buy traditional sweets. Also, Casa de Pilatos is only a 4-minute walk away and Palacio de las Dueñas is just 6 minutes away.
If you would rather try something savory, you can taste the typical Sevillian tapas in less touristy areas of the city.
From its rooftop terrace with plunge pool you can enjoy the skyline of Seville —an absolute privilege! Its terrace is a splendid viewpoint of Seville, where you can contemplate incredible views of Seville city center.
This wonderful palace is the ideal place to have a romantic dinner. Plus, the restaurant Palacio de Villapanés offers you the possibility to taste the best dishes of the current mediterranean cuisine.
You will be amazed by the beauty of its open-air interior patios. Don't forget to visit the Wellness Area. Enjoy its hammam, sauna, massage room, hot and cold water contrast shower, massage shower, and much more!
Hotel Amadeus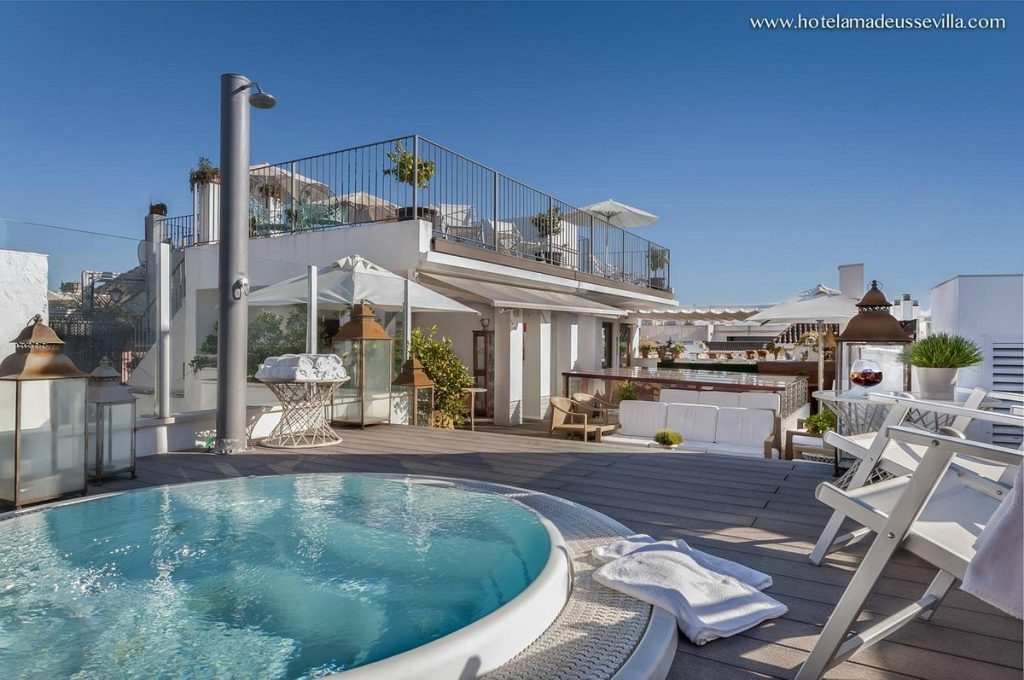 If you are a music lover, Hotel Amadeus is definitely for you. This four-star hotel is inspired by classical music. Musicians and music lovers can attend exclusive classical music concerts that are organized periodically in this hotel. In addition to this, it has rehearsal rooms and soundproofed rooms with pianos, harps and all kinds of musical instruments available for guests to practice while traveling without disturbing the rest of the guests' rest.
Hotel Amadeus is located in the emblematic Santa Cruz quarter. Hence, it is surrounded by the most important monuments of the city such as the Alcazar and the Cathedral.
Over the years, Hotel Amadeus has incorporated several manor houses from the 18th century, which have preserved their original architecture.
On its fabulous rooftop terrace you can enjoy a saltwater swimming pool. Moreover, it is available all year round as it is heated in winter. You can also relax with a drink on the terrace or enjoy the Jacuzzi overlooking the Giralda.
Hotel Fontecruz Sevilla Seises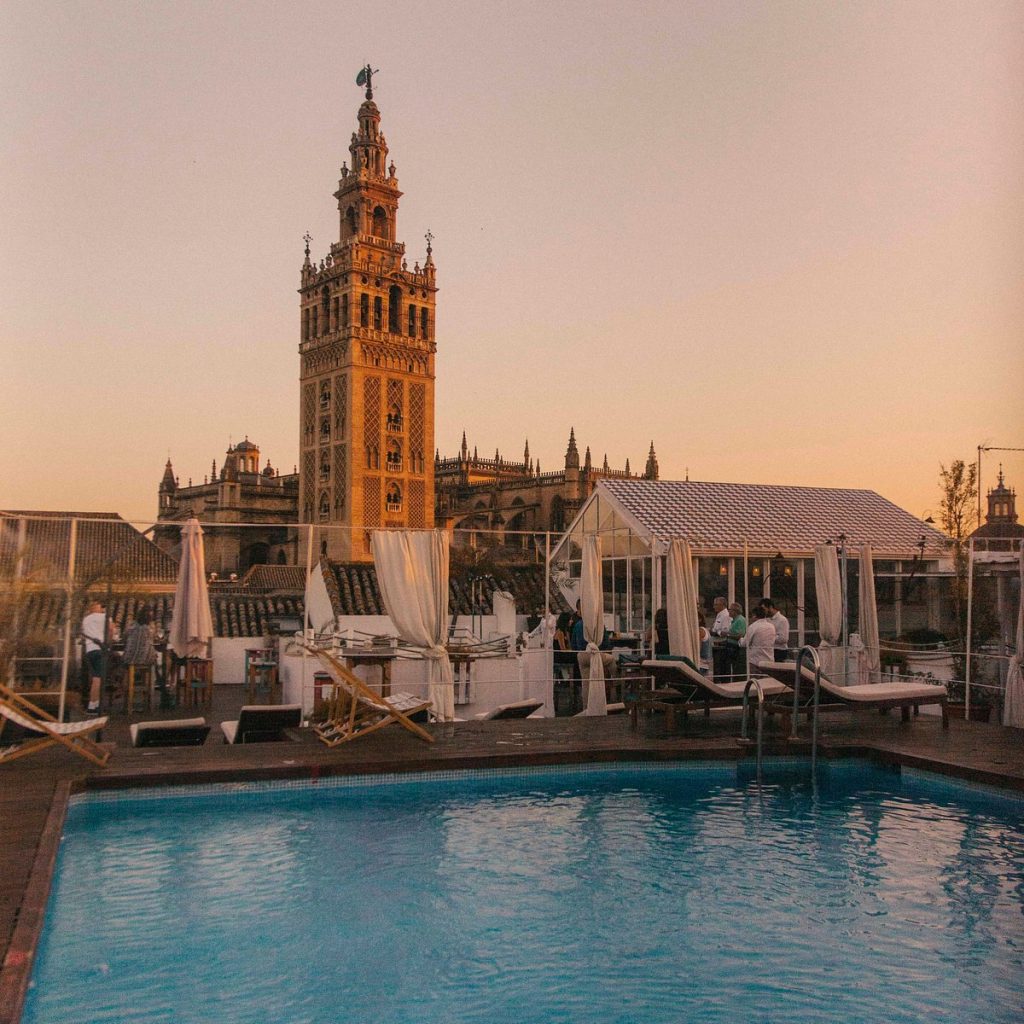 Just 150 meters from the cathedral of Seville, in Santa Cruz quarter, you will find Hotel Fontecruz Sevilla Seises. This four-star hotel is a 3-minute walk from the Flamenco Dance Museum. Plus, it is 10 minutes away from Real Fábrica de Tabacos, the most important industrial building in Spain from the 18th century.
This hotel is a restored 16th century palace. Here coexist Roman mosaics, Nasrid colonnades, pavements, tiles, Renaissance coffered ceilings and avant-garde furniture.
From its Pura Vida Terrace you can see the entire city with the silence and tranquility of being in the heights.
Hotel Las Casas de la Judería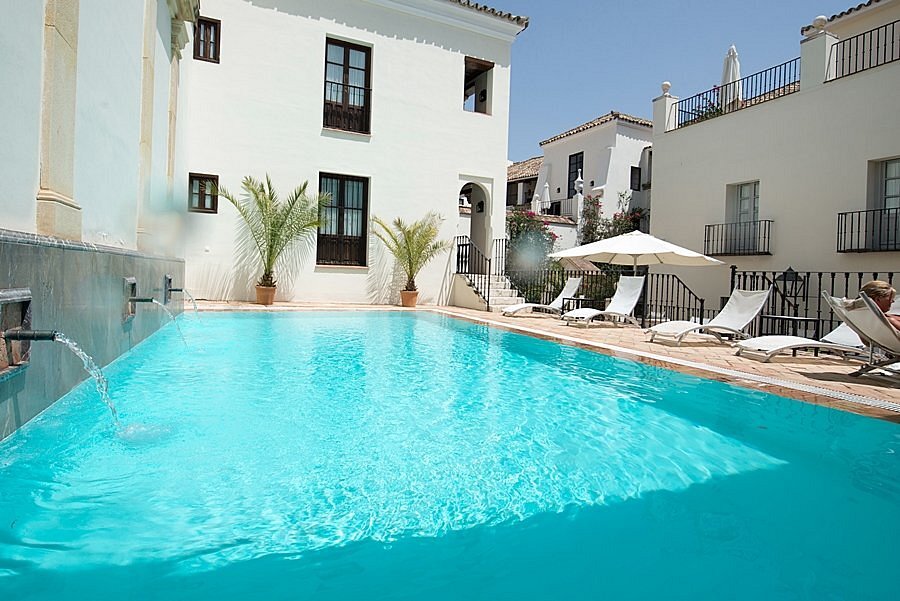 This four-star hotel is made up of 27 traditional Sevillian style houses connected by various passageways and courtyards. Some of the names of the rooms are reminiscent of historical events or characters who lived in these houses over the centuries.
Walking through the interior of Hotel Las Casas de la Judería is like experiencing what this city was like centuries ago. The fountains, statues, pedestals, columns and a good collection of furniture from the period, amphorae, water jugs andancient walls give the impression of being in a real museum.
All rooms in Hotel Las Casas de la Judería are traditionally decorated and preserve the original elements of the building. They feature antique furniture, wooden floors and French windows.
Remember to take photos in the places of the city you like the most!
El Rey Moro Hotel Boutique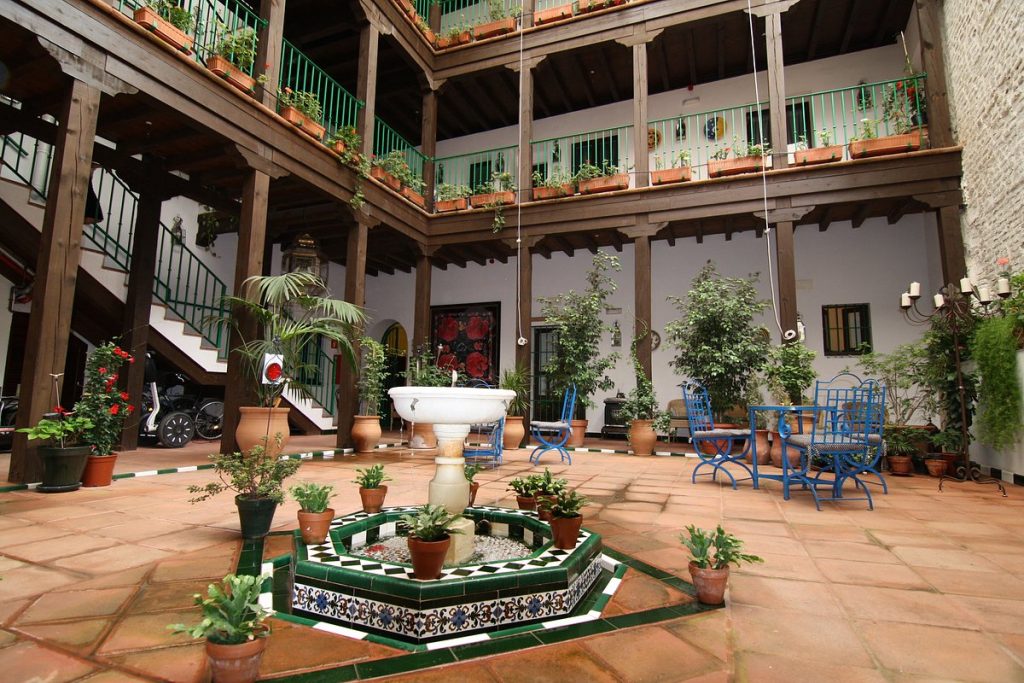 Located in a charming area of Seville, in the middle of the picturesque Santa Cruz quarter, you can find El Rey Moro Hotel Boutique. This hotel is a renovated manor house from the 16th century.
This four-star hotel is recommended for adults. However, it allows children over 12 years of age to stay in the hotel. Many of its rooms overlook a typical courtyard. Plus, pets are welcome in the hotel!
All reservations include 30 minutes of free jacuzzi, located on the terrace. Also, the hotel offers a welcome drink in Taberna de las Escobas, the oldest tavern in Spain. It also offers free bicycles throughout the stay.
To conclude, we hope that this overview of the best hotels in Seville city center has been helpful. We are sure that after visiting Seville this city will have a place in your hearts forever! And if you have any further questions, please contact us.