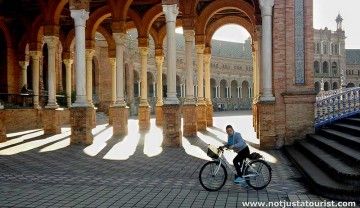 Spanish historians, as in most of the other countries, can't be praised for giving women enough credit. However, Seville's economy heavily depended on women. Especially in 18. century when all men went out of town to do business in Cadiz.
When Not Just a Tourist got a suggestion to make a "women walking tour of Seville" based on intense research of female history in the town, it clicked with them immediately.
Female history of Seville
And it clicked with me too. I'm still connected and I want that every city has it's own sightseeing dedicated to prostitutes, nons, burned witches and queens who cared.
You would never guess where was the Seville's Red district during baroque times when Seville served as the capital of Spanish Empire.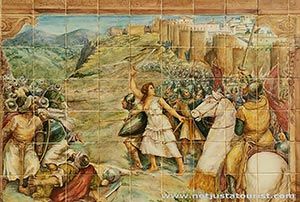 Or the biggest European tobacco factory where only women worked, sweating to the bone.
From Plaza de Espana, we crossbreed to various location in the old town and enjoyed the mysteries. In 3 hours I didn't hear a single boring data from David, our tourist guide.
Afterwards, we sat in one of the authentic tapas bars where tourists normally don't enter. There was a pleasant cold vine in front of me.
It got warm while I thought about the real Spanish woman Susona. She asked for her head to be exposed after she died: it was to warn others "not to lose your head when you love".
There were many other famous women from the Spanish past I could think about. By leaving out most of the popular tourist sites, David managed to provide an amazing tour of Seville.
With small signs on the streets, hidden buildings and stories that most locals don't know, I got to understand how lucky am I to be European women today.

Book the "women walking tour of Seville" with Not Just a Tourist by contacting HERE!
Female history of Seville, Not Just a Tourist women walking tour
Written by: Marina Damian