Do the words Semana Santa or Holy Week sound familiar to you? I'm sure they do. The processions, the music… But what about food? What do locals like to eat in Easter?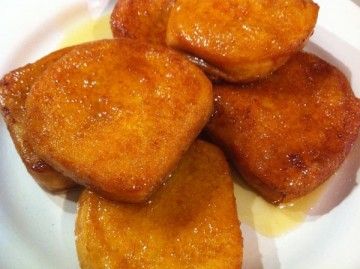 Well, if you don't have a clue, I'll tell you: TORRIJAS! That's what locals eat time and time again. But we can't blame them… Torrijas are so delicious you can't resist to have at least one a day.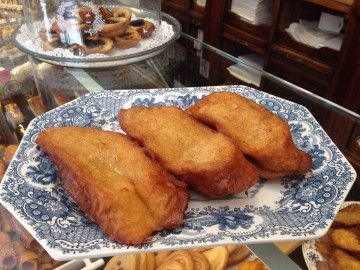 If you come to Andalusia, you'll find torrijas in almost every shop. They're usually homemade and very cheap, these are the reasons why you'll fall in love with them. And once you've had a wonderful experience in Andalusia and it's time to go home, there's no need to be sad about leaving behind all these wonderful sweets as you can prepare torrijas yourself!
Ingredients for 10/12 torrijas:
1 loaf of bread (sliced) / 1/2 liter of milk / 1 branch of cinnamon/ Powdered cinnamon / Lemon peel / 2 tablespoons of sugar / 2 eggs /1 liter of olive oil
Preparation:
Pour the milk in a sauce pan and put it on the fire. Add the sugar, the lemon peel and the branch of cinnamon.
 Stir to dilute the sugar. Before it boils, remove it from the fire and let it set for 10 minutes so the flavors mix well.
 Put the slices of bread in the milk for 10 to 12 seconds.
Heat the olive oil.
In the meanwhile, whisk the eggs and then dip each slice of bread in the batter until they are completely covered.
Once the oil is hot, fry the bread. When each slice has a golden color on both sides, remove them from the oil and put them on absorbent paper.
Put the bread in a container so that we can bathe it with honey. Sprinkle the cinnamon powder on it.
Now it's time for you to practice! ¡BUEN PROVECHO!