One of many great things about Spain and in particular about being here in Andalusia is the amazing variety of Tapas you can find everywhere you go, and I thought why not share some recipes of my favorite ones with you all. Now before you say, I can't cook, don't worry anyone can prepare and serve these very simple and easy to follow recipes. You will amaze yourself and your friends with your culinary skills.
SALMOREJO – Serves 4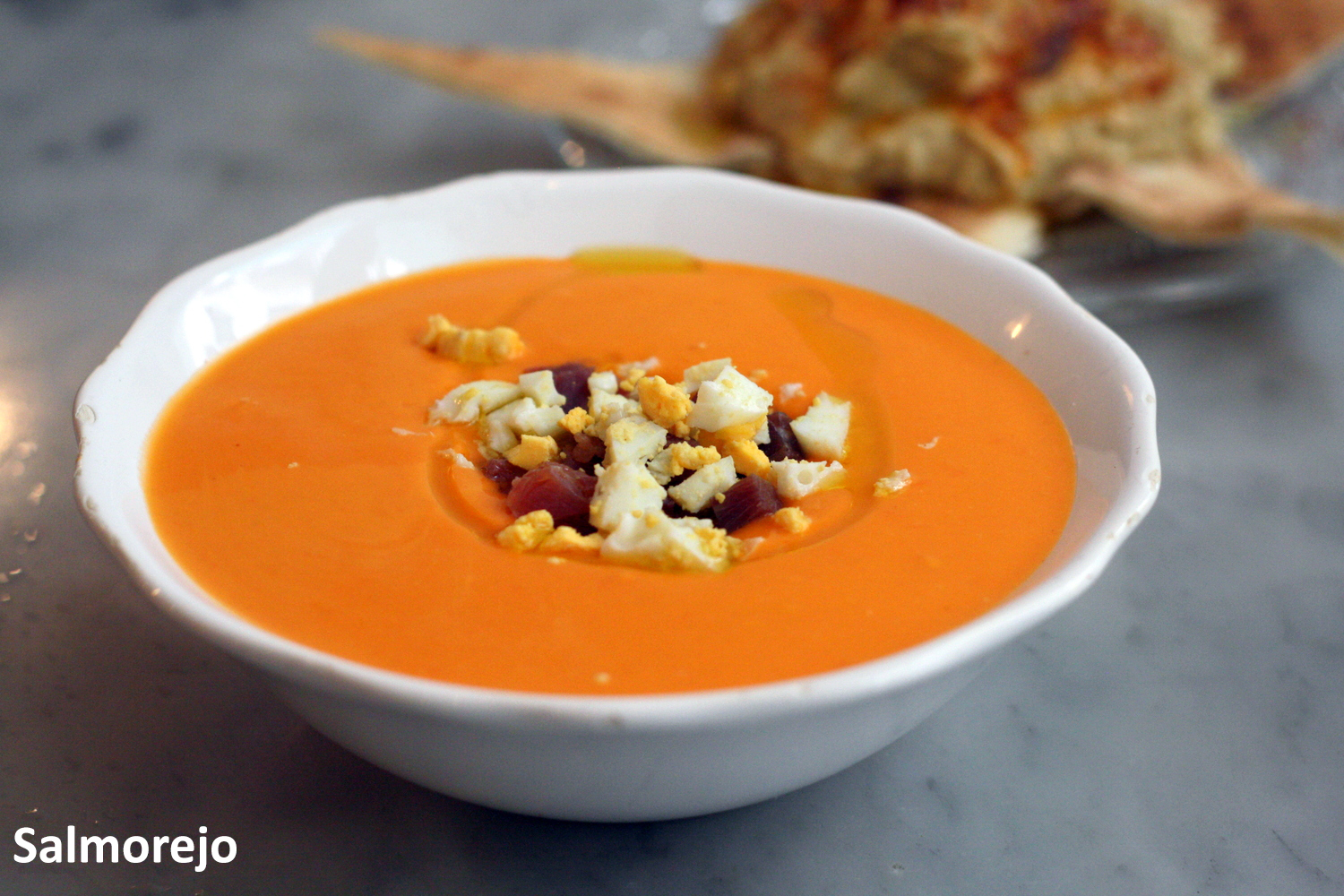 Salmorejo is the secret Andalusian recipes. It's from Cordoba and similar to Gazpacho, usually served as a starter or first course, and must be chilled before eating.
  Ingredients
1 kg of tomatoes
1 clove of garlic
a loaf of bread
100 ml of olive oil
1 egg (hard boiled)
Spanish jamon
a pinch of salt
      Method
Peel the tomatoes and chop coarsely.
Tear the bread into pieces and moisten with a little water until just soft.
Chop the Garlic coarsely.
Boil the egg until hard, and then coarsely chop, setting aside.
Dice the Jamon, setting aside.
Place all the ingredients into a blender, (except the egg) mixing until a creamy texture results. Place the mixture into the fridge and allow it to cool.
When ready to serve add the egg and Jamon to each dish.
Gambas Al Ajillo – Serves 4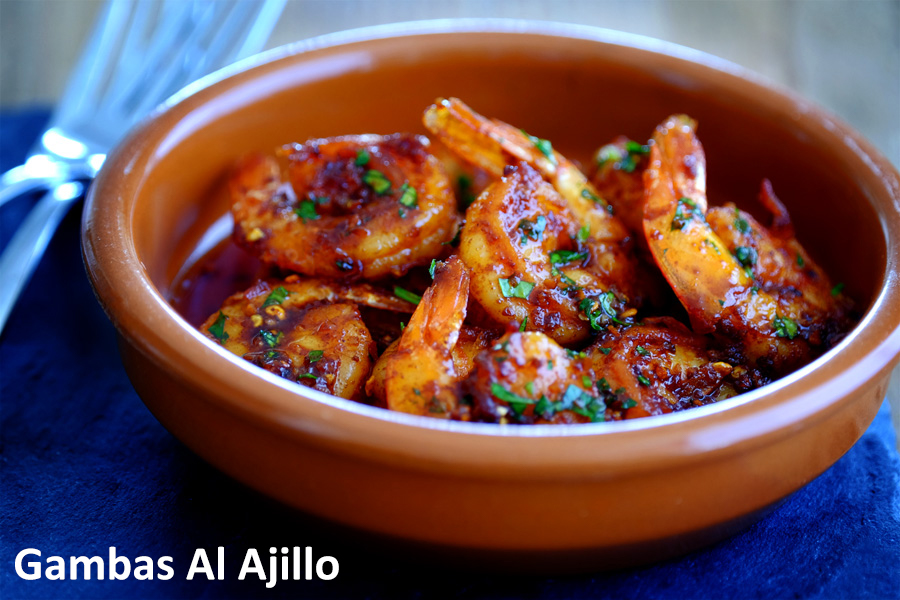 If you love seafood then you have to make this simple and aromatic recipe, simply delicious. It's also one of the only spicy recipes you can find in Spain.
Ingredients
750 grams of shrimp
8 cloves of garlic
a loaf of bread
100 ml of olive oil
small green chilli
parsley
a pinch of salt
Method
Mince the garlic.
Finely chop the chilli.
Roughly chop the parsley.
Add the olive oil to a hot pan and fry the garlic and chili until soft, adding the shrimp at the end cooking until no longer translucent.
Serve in a clay dish to preserve the heat, sprinkling with parsley and don't forget the bread.
Tortilla de Patatas – Serves 4
This really simple and delicious recipe is one you will sure to love, I call it Spanish comfort food.
Ingredients                                                      
5 medium sized potatoes.
6 eggs
1 large onion
olive oil
pinch of salt
Method
Chop the potatoes into small cubes
Coarsely chop the onions
Place the chopped potatoes and onion in a large skillet, add olive oil almost covering, and cook until they are soft but not fried.
Drain the oil, and then add the beaten egg mixture to the potatoes and onion. Cook until the egg has set all the way through, ensuring not to burn the bottom.
Carefully flip the omelet cooking the other side until golden brown.
Place on a large plate and serve cutting it into wedges.
 Spinach  & Chickpeas – Serves 4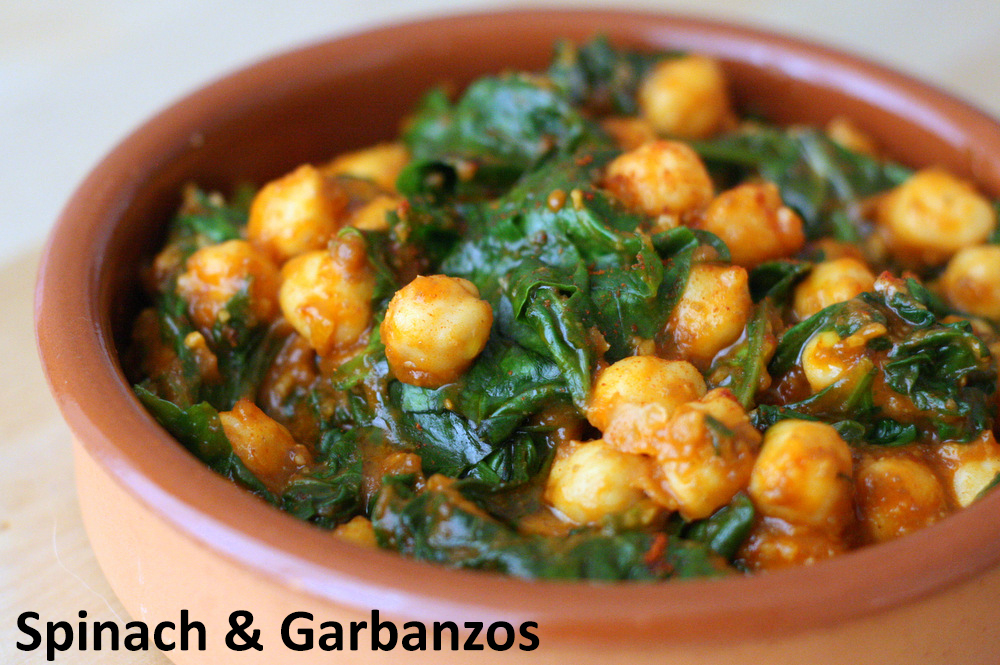 This traditional dish is so easy to make and is very flavourful and a great accompaniment to any meal. It's a typical Andalusian recipes and yes, vegetarian!
Ingredients
1 kg of spinach
300 gr of chickpeas
spicy or smoked paprika
6  cloves of garlic
a loaf of bread
cumin
a pinch of salt
30 ml vinegar
some olive oil
Method
Boil the chickpeas with some salt
Boil the spinach
Chop the garlic and add it to a pan with cumin and bread frying until the garlic has turned golden brown. Remove from heat and put into a bowl with vinegar and grind thoroughly
Add some olive oil to the pan and cook the spinach until all the water is gone and then add the ground mixture and chickpeas, right at the end add the paprika.
Serve and enjoy this Andalusian delicacy.
Pisto – Serves 4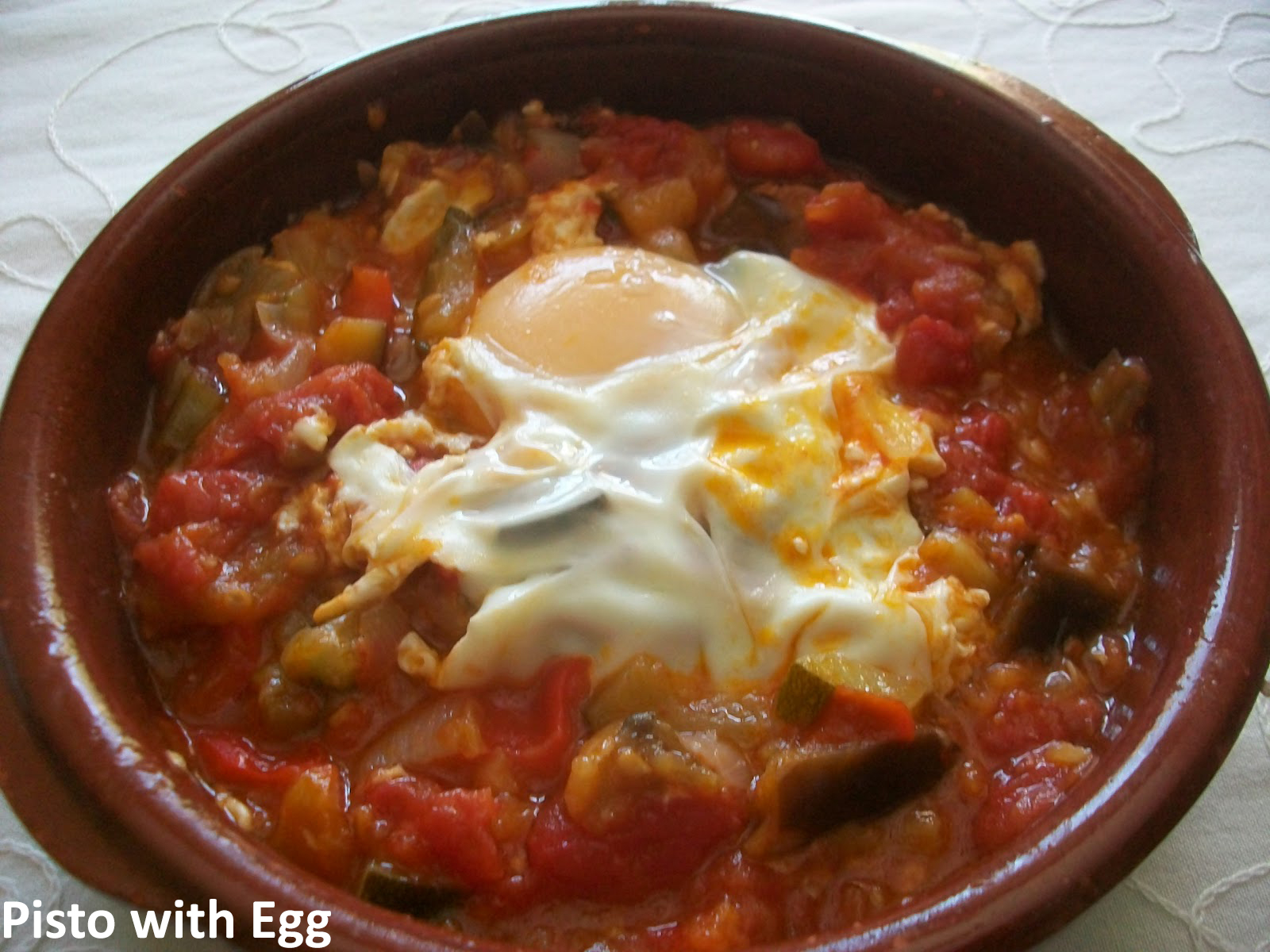 Pisto is basically a Spanish version of ratatouille and the quality of this meal comes from the quality of the ingredients and taking your time to create a sumptuous and hearty dish.
Ingredients
2 medium onions
1 green pepper
1 red pepper
1 zucchini
1 eggplant/aubergine
3 large tomatoes
a pinch of salt
cumin
sugar
olive oil
optional Egg
Method
Dice all the vegetables except the tomatoes
Peel the tomatoes
Put some olive oil in the pan and add onions stirring and cooking until they are translucent.
Add the peppers and the zucchini and eggplant cooking until brown
Taking your peels tomatoes coarsely chop and then add to blender pulsing till they are still chunky, add to the pan with the vegetables and season to taste, cooking slowly
Once throughly cooked and the vegetables are soft remove of the heat and serve
Optionally you can serve this with a fried egg on top or Manchego cheese
Serve and enjoy, great on its own or an accompaniment to fish or a meat dish.
Sangria – Serves 4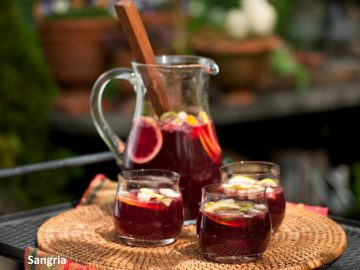 This traditional Spanish drink is easy to make and even easier to drink, a wonderful accompaniment on a warm day and goes great with any of these recipes or just on its own. In Spain this is the typical party drink.
Ingredients                                                      
1 litre of red wine – dry
2 litres of lemon flavoured soda
2 apples, some melon, seedless grapes and orange's
cinnamon
ice cubes
add some cointreau (optional)
Method
Dice the apples and melon, leave the grapes whole and slice the oranges leaving peel on.
Add ice to a large bowl or pitcher with all the fruit, pour approximately 2/3rd of wine with equal parts of soda into a large pitcher or bowl and stir
Add cinnamon to taste
Optionally you can add some Cointreau or other similar liquor
Serve and enjoy this refreshing drink.
These are but a few of the many Tapas that Seville has to offer, and if you really want to have a great experience, why not join any of our tapas tours such as Triana Tapas Tour, where you will get to try some amazing tapas and some delicious wines learning all about this traditional and still unspoiled neighborhood of Seville.
For those that like to push the boundaries and experience things not so traditional, then the Alternative Tapas Tour  is the one for you. And of course if you love to cook, then the Tapas Cooking Class is the way to go. You will visit the oldest market in Seville, lively, traditional and fun. After purchasing the fresh ingredients you will head to the studio were many artisans and artists are at work. In a 3 hour hands-on cooking class you will learn all these fantastic recipes and enjoy your Spanish lunch in good company.
Ready to try this 100% Spanish experience?
Customize your Tour