'The Life of a dancer is a mixture of extremely powerful moments and a lot of self-disipline. It is a blessing and the most 100% lived life. Every day is different and you get to know the most extraordinary people and places'.

There is so much to know about the flamenco dance experience in Seville, and why Seville is it's soul. Our Flamenco Show and Tapas Tour aims to take you into its depths, seeing as we can't offer that right now, we asked our two resident flamencas, Maria and Kati, some questions to find out more:

1. How long have you been flamenco dancing and why did you begin?
Maria: Since I was five, not just flamenco though, I danced 13 years of classical ballet
Kati: I danced many different styles in my youth : zingaro-gipsy dances, latin styles like cuban salsa (& merengue, mambo, cha cha), oriental, contemporary etc. In my mother's family there is a strong dedication for gypsy-music including flamenco, it's in my blood. After my 20s I focused on flamenco.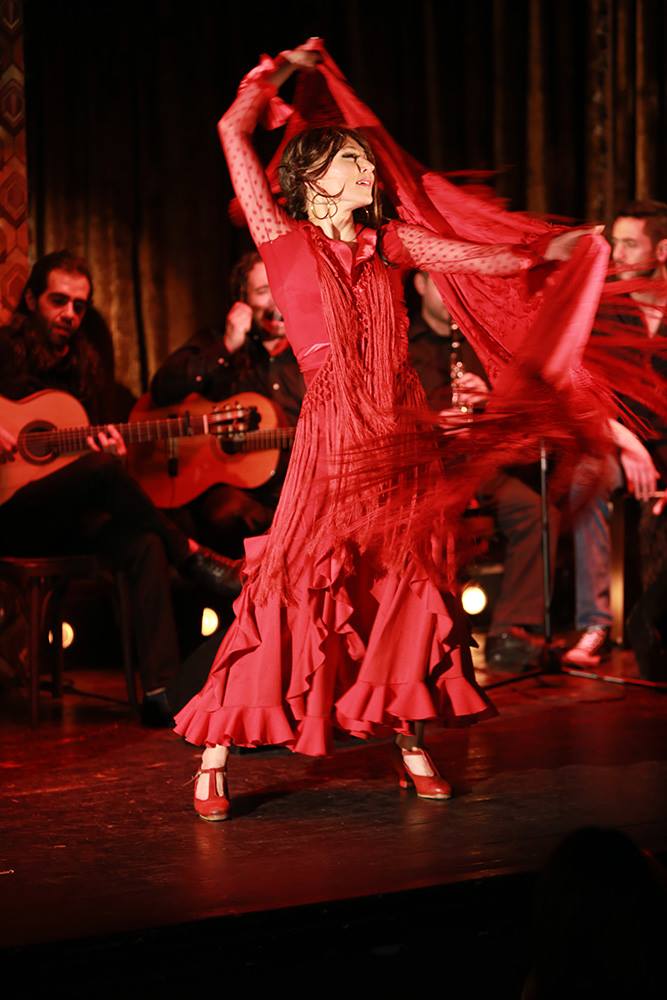 2. What is dancing in Seville like/why do you dance in Seville?
Kati: I was working for a successful flamenco-company in Northern Europe but I wanted to know more: I wanted to dance flamenco in Andalucia, to learn about flamenco in Seville, its roots. To live flamenco in my everyday life,  learn the rules, dance in tablaos…
Maria: Seville has the highest level of flamenco worldwide. Just to get on a stage in the city is difficult. Once you get there, after years of struggle and hard work, it's very rewarding. The people here know a lot about flamenco, when you are able to touch their hearts, it is an honor
3. Can you tell us a bit about the life of a dancer?
Kati: The life of a dancer is a mixture of extremely powerful moments and a lot of self-discipline. It's a blessing and the most 100% lived life. Everyday is different and you get to know the most extraordinary people and places.
Maria: The best flamenco encounters are after a show, in the middle of the night, after lots of wine. Flamenco is all about these encounters, the community. My teacher used to say, "don't party a lot. Just enough". And you still have to study! I also produce my own international tours too, so there's the paperwork, designing costumes etc
4. What have been the biggest challenges as a dancer?
Maria: To get to the level of being accepted on Seville's stages
Kati: There's inner challenges and outer challenges. You have to fight your own limitations, psychological, physical, etc. Be brave, disciplined and care for yourself. The outer challenges are facing the real world: competition, unstable income, bad conditions… 20 years ago I arrived in Seville, it was a challenge just to show what I can do, because of my blonde hair I had to use a wig.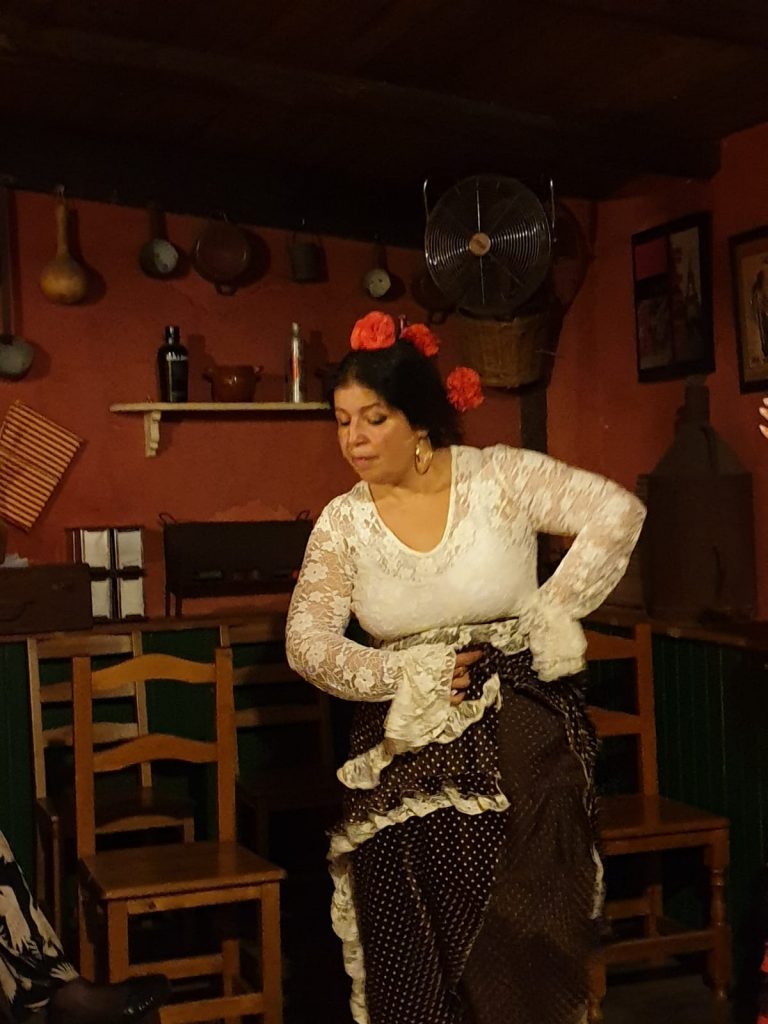 5. How much of your life is focused around flamenco?
Maria: Everyday, the whole day
Kati: Haha, yes! Occasionally we try to take a break. Go into nature, the beaches, watch movies, listen to good blues, soul, funk – and cooking!
6. I know you travel a lot with your dancing, can you tell me more about this?
Maria: We travel a lot, meet many people. It's very fast paced
Kati: Yes, I've danced in more than 15 countries
7. Where has been your favourite place to perform?
Maria: If there's good theatre conditions and a supportive public, it's great. Oh,a great flamenco dance experience and flamenco festivals – wherever!
Kati: So many places and countries. In Morocco, in a dream like arabic palace, on the desert as the moon rose. Then being able to contrast this with a project in the Medinas of Marrakesh with the homeless children here. In Spain the most memorable performances have been in the Gran Teatros de Huelva, Cordoba and Seville!  But I am also in love with our small authentic tablao in Triana, Flamencoesencia in T de Triana.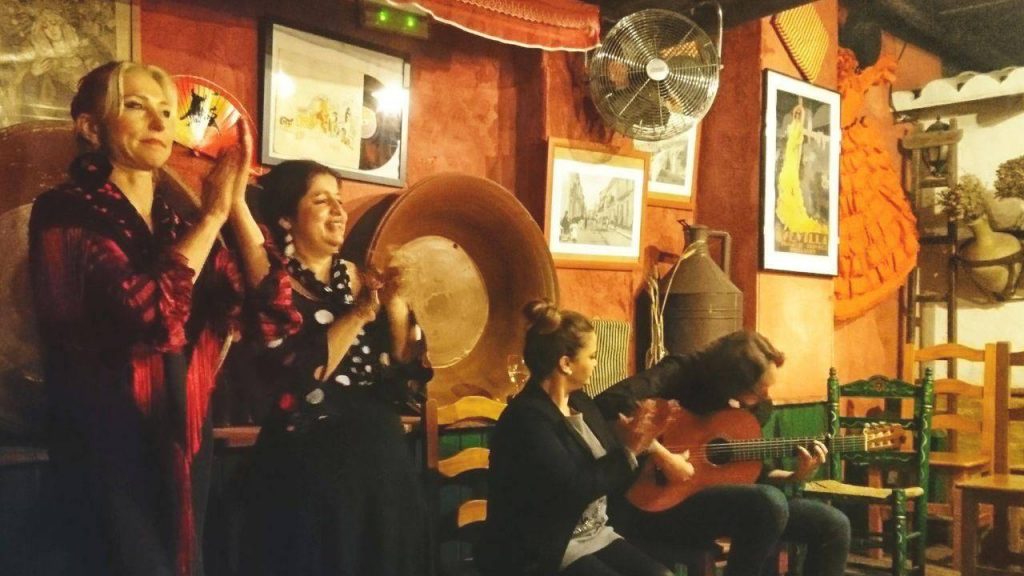 8. As a flamenco dancer that introduces visitors to the world of flamenco, What has been your most memorable tour and why?
Maria: For a flamenco dance class and later for a flamenco show and tapas tour, I had a family with three boys, the mum booked (obviously) and the dad felt obliged. I made the class more 'masculine', with beats on the body and rhythms. They all loved the flamenco dance experience. Later when we met the dad told me the boys had been dancing all day. In the shops, restaurants, the streets! 
Kati: There's several! The Bollywood-movie filmed in Alájar was amazing. One trip to a festival on Azores islands, our suitcases never arrived. We had to buy make-shift flamenco dresses from a local store for the show! (Thank God I had my flamenco shoes in my hand luggage).
Generally though, flamenco is a challenging life, but you feel realised as a person and artist, and can give a lot to people. The tours and classes, and our daily flamenco shows at the tablao in Seville – they all add to this enriching part of sharing flamenco.
9. Can you leave us with a song that has inspired you?
Maria: This touches my heart, it talks about the imprisonment of the gypsies in the galeras (this is a style of flamenco, sang a lot on the galera-ships in the 18th century. Those were the ships between Spain and Latin América, mostly slave ships. They had sails but also the inmates rowing inside).
Kati: This makes my hairs stand on end, every time!