While traveling through southern Spain, Seville and Granada are must visit cities. Their beautiful scenery and rich history will make your Spanish experience absolutely unforgettable. You must consider visiting the Alhambra & Granada while planning your trip to Spain. This stunning Alhambra palace is one of the most visited places in Spain. If you are planning to visit Seville and wondering how to get to Granada or got questions about visiting the Alhambra, we will be able to give you some advice!
Getting from Seville to Granada
Granada is approximately 250km away from Sevilla. Depending on the mode of transport, getting there can take you between 2.5 to 4.5 hours. One option is the train – Renfe for example. These trains take a scenic route to Granada twice per day and are modern and comfortable enough to meet passenger needs. You will be able to enjoy nice views. However, trains are the slowest option and it is not direct as you have to get off the train and do the last leg of the journey on the bus since it is under construction! They are surprisingly slower than buses. So if you wish for a less time consuming journey to Granada, consider the cheaper option of taking a bus. ALSA is the most popular coach company in the South of Spain with its affordable ticket prices and a variety of destinations. Nonetheless, buses aren't as comfortable as the train for instance, are usually full and the roads are not very scenic. Of course, taking a bus is still an option, but might not be the best one depending on your individual needs for your trip.
If you wish to go to Granada by car, you can use the Ride Sharing services – for example BlaBla Car. Ride Sharing can be fun and it will provide you with the opportunity to meet new people. It is important to bear in mind that most drivers may not speak English, which would make it hard to have a conversation and to arrange a pick-up point. Many drivers only advertise their services just before their journey, so it can be difficult to plan ahead.
If you wish to have the most comfortable travelling experience to Granada, we would recommend a private transfer or day trip coming back to Seville. A guide will pick you up directly from your hotel. You will be given a guided tour of this beautiful city and you will also have the chance to learn about Granada's rich history. Having a private chauffeur who can take you anywhere you wish will without a doubt make your experience much more enjoyable! Another reason for visiting the Alhambra & Granada!
Visiting the Alhambra
After figuring out a way of getting to Granada, it will be time to think about how you can get to the Alhambra Palace. As mentioned, the Alhambra is a must-see place whilst in Granada. This stunning, historical site was converted into a royal palace in the 14th century by Yusuf I, Sultan of Granada. The palace was strategically located on the hill to provide a view of the whole expanse of the city of Granada. Today, it is one of Spain's major tourist attractions, exhibiting the country's most significant and well known Islamic architecture, together with 16th century and later Christian buildings and gardens.
If you are thinking of visiting the Alhambra, there are two options. The first one is to directly book the ticket through the official website. Just make sure you do it in advance, as the tickets tend to sell out quickly. Once you have done your booking, make sure you arrive at your scheduled time but prepare to queue for your visit!
If you wish to skip the long lines and don't want to worry about tickets being sold out, you should consider booking a private tour. You won't have to worry about getting there and your time won't be wasted getting lost or waiting in line. Visiting the Alhambra & Granada with a professional, knowledgeable tour guide who will provide invaluable information regarding the Alhambra's amazing  history will certainly make your experience a one to remember.
Visit Ronda on your way back!
If visiting the Alhambra & Granada, we are sure these amazing places will inspire you to explore more of Southern Spain. One place definitely worth considering stopping off at on your way back from Granada is the beautiful, quaint town that is Ronda.
Best-known for its spectacular setting atop a deep gorge spanned by a stone bridge, Ronda has a rich cultural history, and is the home of modern bullfighting.  It is definitely one of the most stunning places in Andalusia, so visiting Ronda will be both a unique and unforgettable experience. The landscape of Puente Nuevo is mesmerising. After enjoying the breathtaking views, you can delve into Ronda's history by visiting the Arab Baths or the Acinipo Ruins.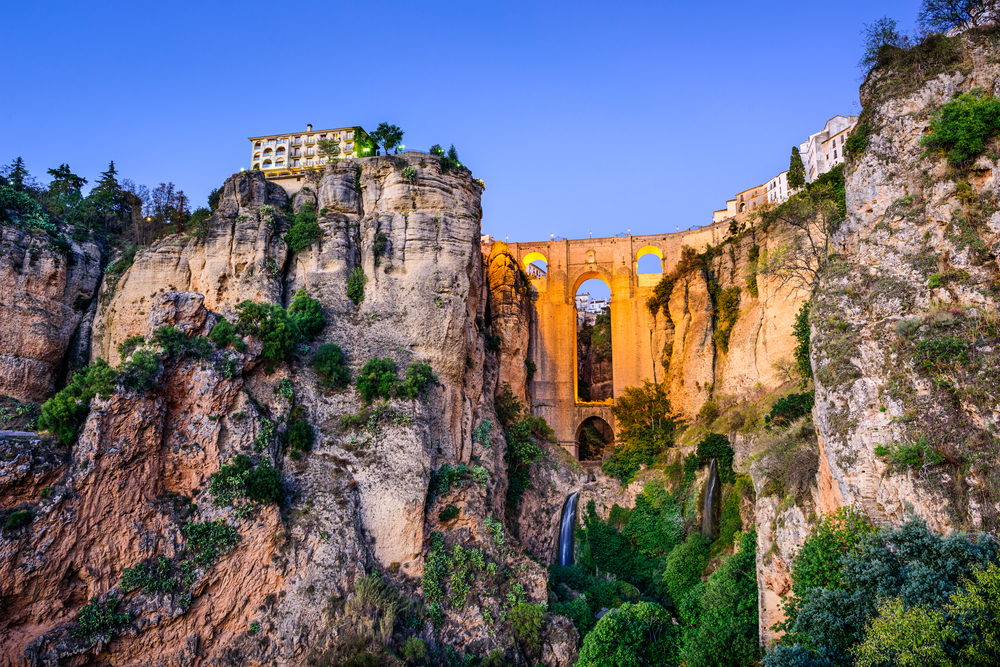 Travelling from Seville to Granada is a very popular and beautiful route. Ultimately, it's your choice on how to get there and luckily, there are various options. This means everyone can find something suitable for them.
If you're considering visiting the Alhambra & Granada, and maybe even Ronda, we would definitely recommend the private transfer option! It's the best way to ensure your journey is comfortable and that you're getting the most out of it. Whatever your choice may be, we do hope you will have an amazing time!