Located on the southwestern coast of Spain, Cadiz is one of the oldest cities in the country. It holds an amazingly rich history dating back over 3.000 years. Being home to stunning and natural beaches and impressive architecture, the city has become one of Spain's charms. If you're looking for a new travel destination, then you may consider Cadiz. Its cuisine and culture are some of the 7 Reasons why Cadiz is worth a visit if you're in Seville that you won't want to miss!
1. PROXIMITY TO SEVILLE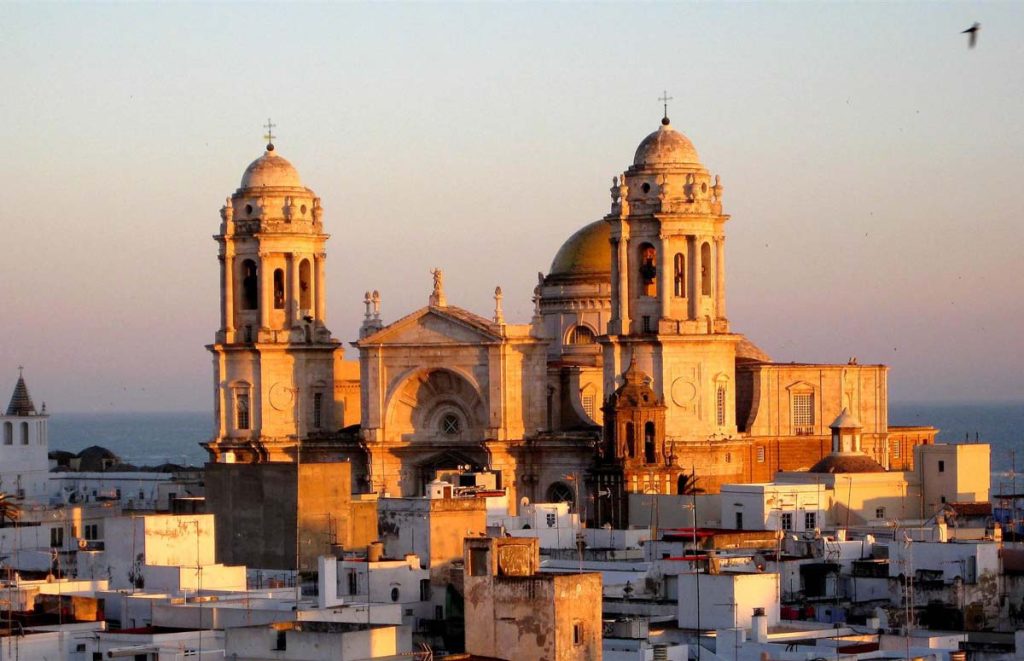 Without any doubt, one of the 7 Reasons why Cadiz is worth a visit if you're in Seville is how close the cities are to each other. There are only 128 km (around 79 miles) separating the cities, which makes Cadiz a common destination among Sevillanos. If you'd like to visit Cadiz, you can hop on the train and stop at the main station (around 1:40 h travel). You could also get off in Puerto de Santa María or in Jerez if you want to visit some other villages. However, most people just drive to the city from Seville, as it is only a maximum a 1.45 h road trip. This way, you can admire the stunning roads and landscape of the Sierra de Cadiz until you reach the coastline. If you're only in Seville for a visit, you can book a transfer to Cadiz to enjoy a fabulous and hassle-free day trip to Cadiz.
2. FESTIVALS AND CELEBRATIONS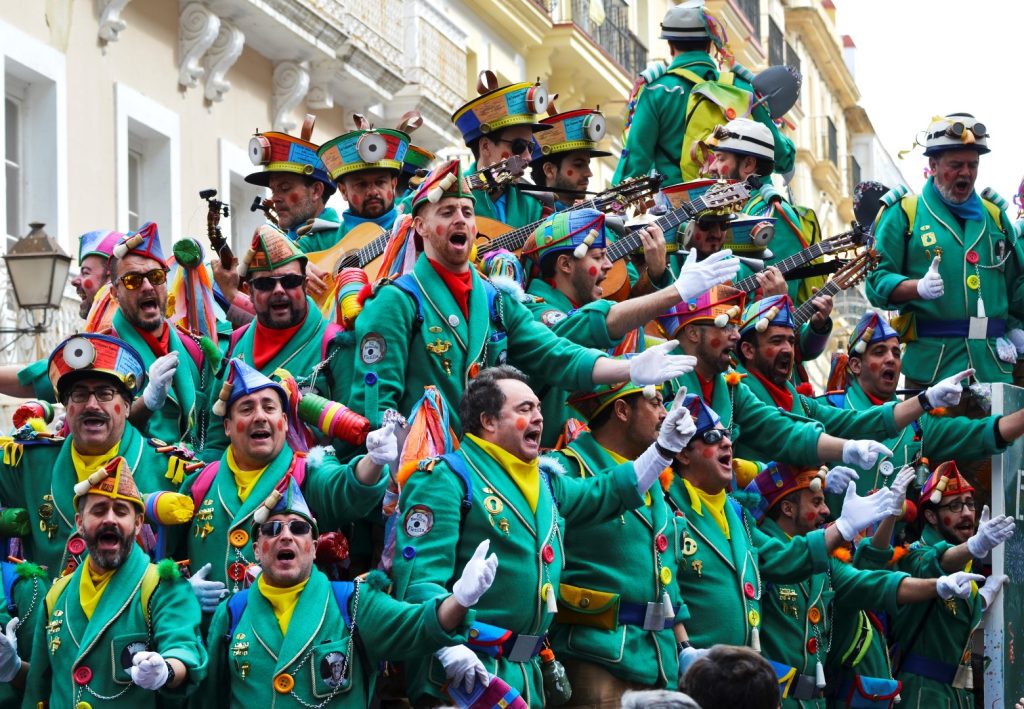 Cadiz is known for its lively and fun festival held throughout the year. No matter when you're visiting Cadiz, there will surely be a festival for you to join! The most famous one is held in February and it's called Carnavales (Cadiz Carnival). It's a bit different from the carnivals held in other places like Italy or France, but people still dress up! What is popular about it is the groups of people known as "comparsas" who take part in a song competition at the Gran Teatro Falla.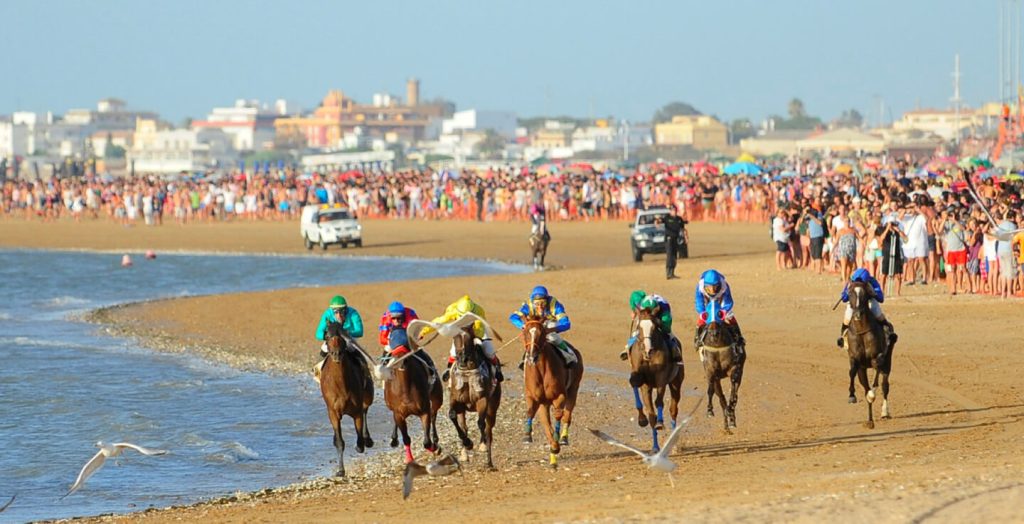 Moreover, there are also other festivities to enjoy such as Holy Week or the Flamenco Festival. Another popular festival is the Concert Music Festival held in the village of Chiclana. It is one of a kind festival that has popular acts every day throughout summer. There are some noted Spanish artists such as Alejandro Sanz and Monica Naranjo. However, they also have amazing international acts that you may find interesting: Tom Odell, Eros Ramazzoti, Zaz or Rod Stewart. You can find more information here. Also, you can find other festivals such as the Horse Fair in Jerez or the Horse Races in Sanlucar. As you can see, there are many festivities to enjoy in Cadiz province. I can imagine festivals can become one of the 7 Reasons why Cadiz is worth a visit if you're in Seville.
3. THE BEACHES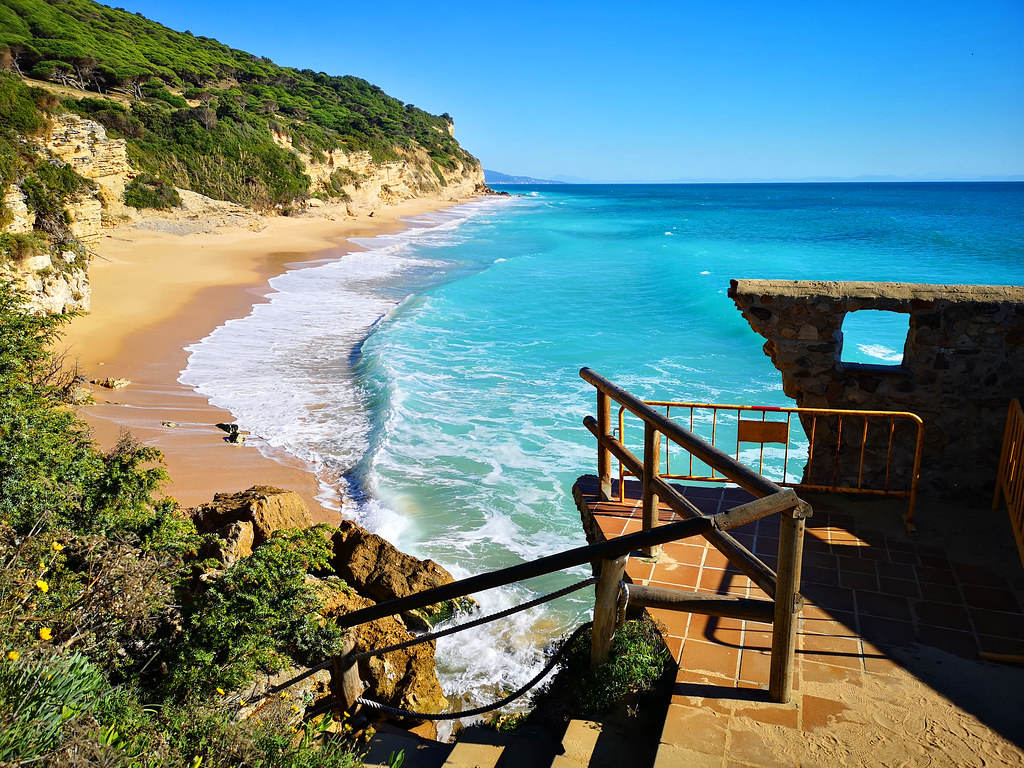 As we said before, Cadiz is one of the main holiday destinations for Sevillanos and other Spaniards. Its quite untouched coastline of over 100 km is for sure one of the 7 Reasons why Cadiz is worth a visit if you're in Seville or anywhere else in the world, really. Each coastal village has something to offer for everyone. The village of Rota is one of the most popular. It is the perfect small village with amazing beaches prepared for families and local bars. Do you prefer natural beaches? Then, you should visit Zahara de los Atunes or Los Caños de Meca for amazing crystal-like clear water and stunning rock formations. Do you like water sports and wind or kite surfing? Then Tarifa is a must-visit beach for you. Tarifa is one of the main destinations for surfers in Spain, and you will often see them practicing other sports such as windsurfing or scuba diving. You can book transfers to Tarifa and scuba-diving sessions. It is an amazing opportunity to let out your most adventurous self!
4. THE TRADITIONAL CUISINE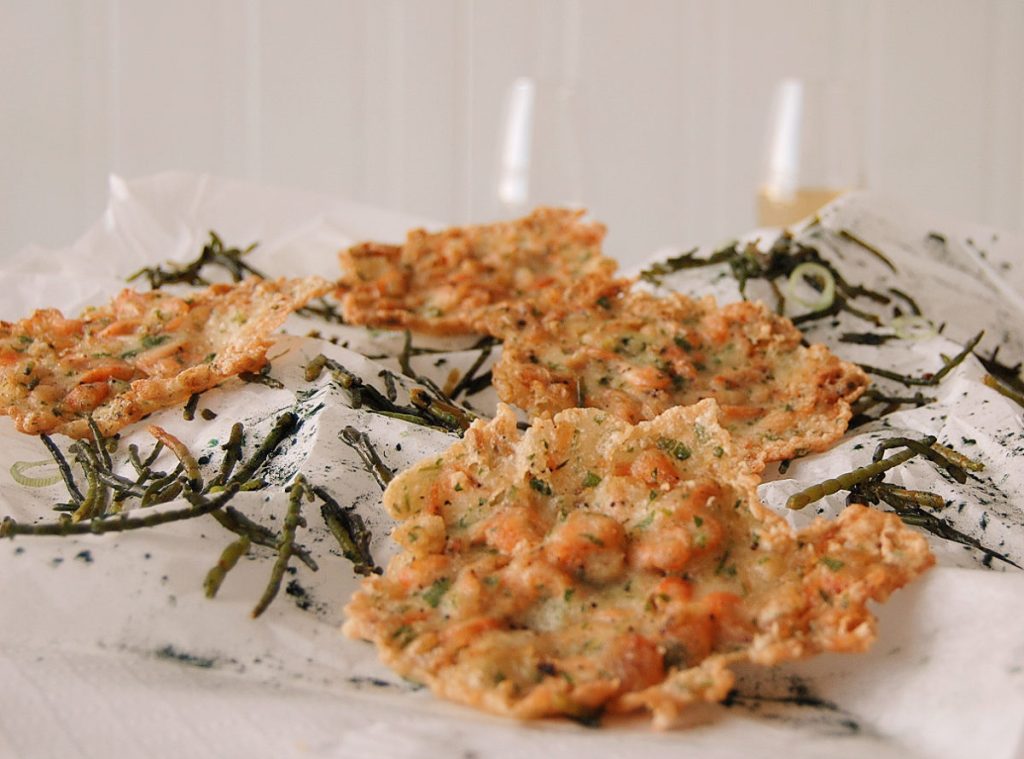 One of the highlights of any trip anywhere is the local cuisine. For instance, Cadiz is known for its incredible food and wine. The food here is simply amazing: fresh seafood, tapas, local wine… the cuisine will simply leave you stunned! We recommend that you try Tortilla de Camarones (a typical crispy fitter made with tiny shrimps). Furthermore, some other typical dishes for you to try are fried fish (our favorite ones are boquerones and cazón en adobo) and the famous chicharrones de Cadiz (a classier variation of pork scratchings). Some of the best villages to enjoy fresh seafood are Puerto de Santa María and Sanlúcar de Barrameda (its beach is formed by the end of the Guadalquivir River and the Mediterranean Sea).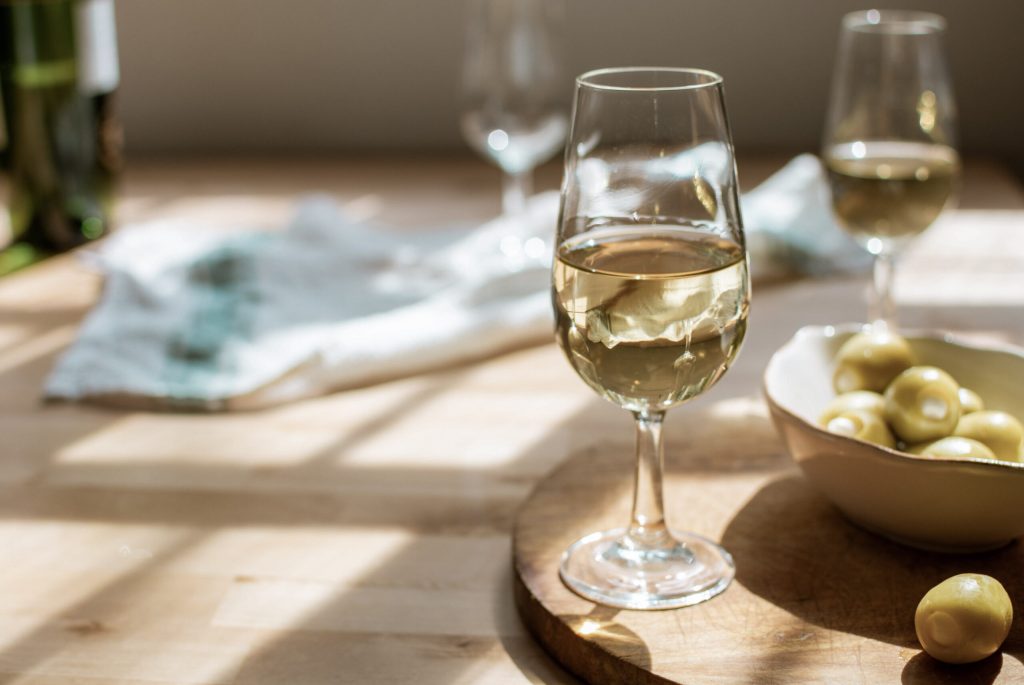 Nevertheless, if you are a wine lover, one of the 7 Reasons why Cadiz is worth a visit if you're in Seville is trying Sherry Wine in Jerez. You can savor first-quality Sherry Wine while enjoying some of the best tapas in the region. This wine is an authentic Spanish treasure and there is no better place to taste it than in Jerez. You can visit it from Cadiz or arrange a day trip and wine-tasting session!
5. SPORTS AND ACTIVITIES FOR KIDS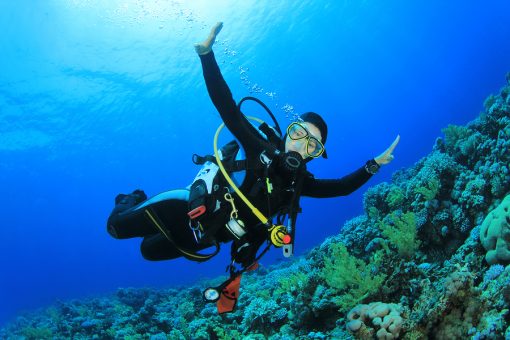 We know how important it is to have the youngest ones as happy as possible during holidays. As we may have mentioned before, Cadiz is a perfect destination for everyone, including kids! Most of the beaches in Cadiz are suitable for kids to swim, especially in Rota or Chiclana. All of these family-friendly beaches have small boats with slides to enjoy as a family (they are usually around 15 euros per hour). Moreover, kids can enjoy fun diving sessions and surf lessons, especially in Tarifa. They can also opt for kitesurfing or paddle-surf if they are not so into the surf! In addition, you can have a family boat trip to spot dolphins and whales!
If water sports are too much, you can also go hiking in the nearby Sierra de Grazalema Natural Park for a more relaxed activity. Here, you'll enjoy an amazing landscape surrounded by nature. Furthermore, if you visit Cadiz in summer and head over to Sanlucar, you'll get to see the Horse Races. During these, local children hold "bet stands" so other kids can bet on horses and get sweets in return! It's always such a fun activity for them to do and make some new friends! The fact that Cadiz is a fun city for kids too is another of the 7 Reasons why Cadiz is worth a visit if you're in Seville!
6. CHARMING ARCHITECTURE AND HISTORY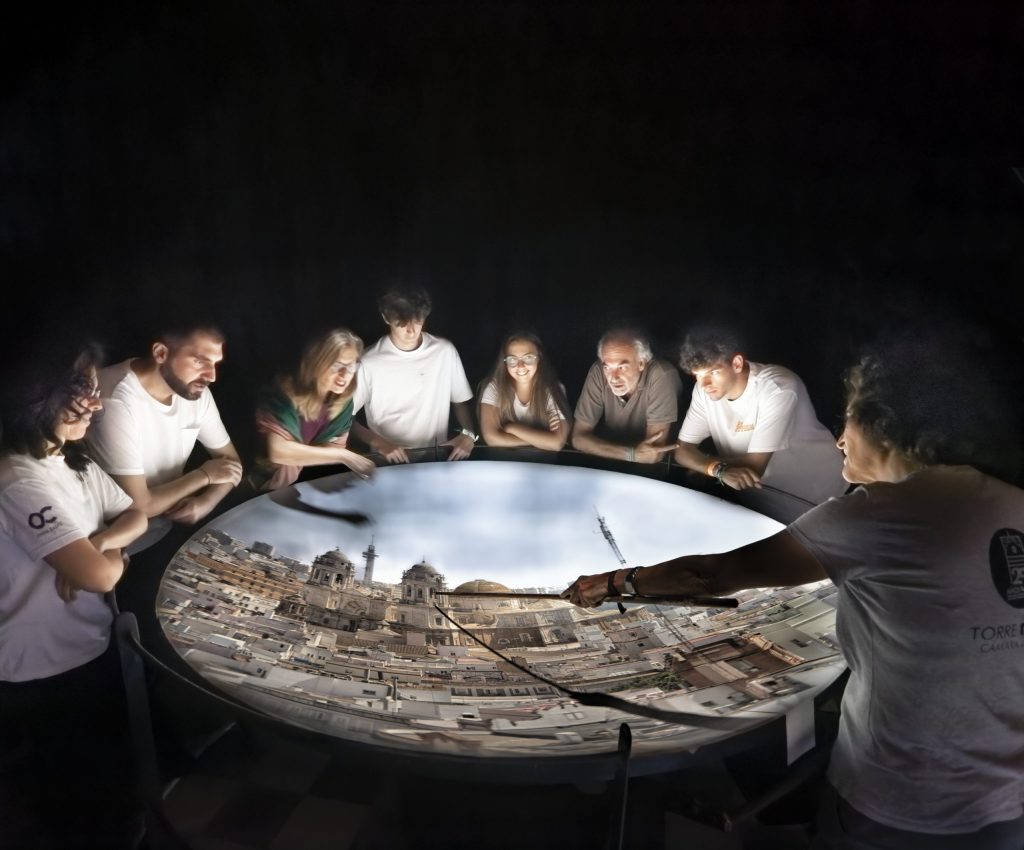 As we mentioned before, Cadiz is one of the oldest cities in Spain (and Europe too). It has an incredibly rich heritage dating back thousands of years. One of the must-stop landmarks is the Cathedral, which mixes the baroque and neo-classic architectural styles. Moreover, the Torre de Tavira is also an important stop on your visit to Cadiz. It has 45 meters of height and it was used to control the commercial port. Inside the tower, you can find the Camara Oscura, an optic system that reflects images of the exterior in real-time. You can book tickets here.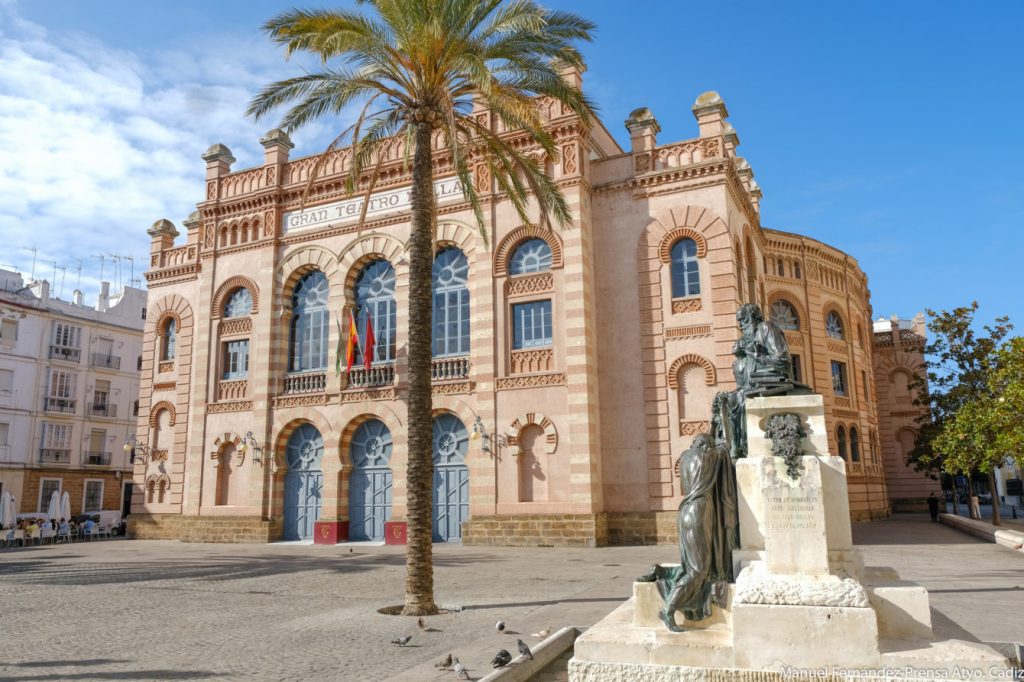 However, if there is ONE single thing you must see in Cadiz it is the Gran Teatro Falla (Falla Theatre). It is named after Manuel de Falla, one of the most important Caditaons (people from Cadiz). The Theatre holds the Concurso de Agrupaciones de Carnaval – a song contest happening during Carnival that brings in more than 12.000 visitors each year. Moving onto the coast, you will spot the Castillo de Santa Catalina (Santa Catalina Castle) in the sea. This fortification was built in the 17th century. It's in front of La Caleta Beach and it protected the city from the pirates before being used as a military prison.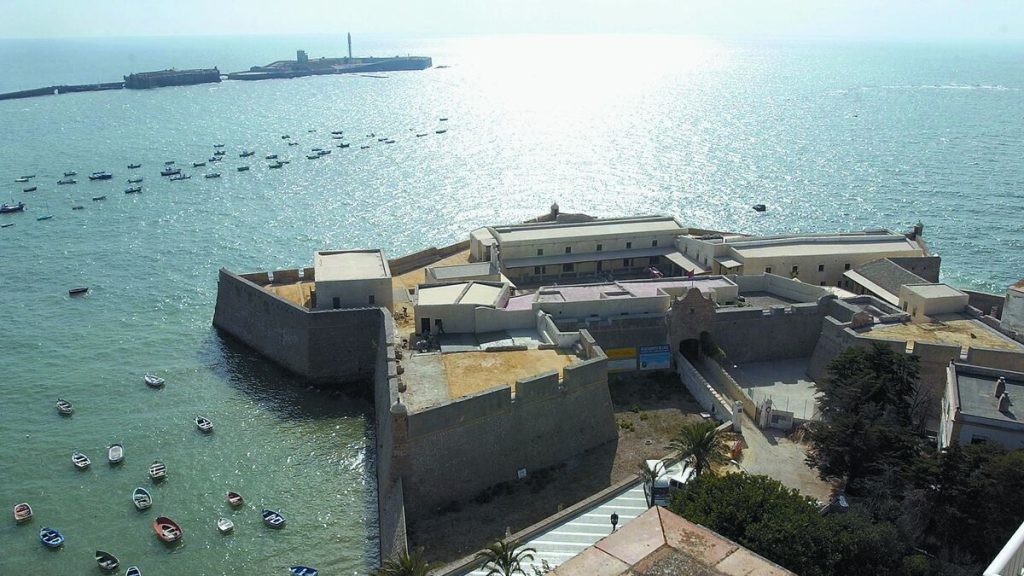 Another one of the 7 Reasons why Cadiz is worth a visit if you're in Seville is its arts scene. Cadiz has a lot of museums, galleries, and theatres to enjoy some of the best Spanish Culture. Here in Cadiz, you can also enjoy an authentic Flamenco Shows! You could also have a stroll through the city's old town and its particularly charming narrow streets and local shops.
7. NIGHTLIFE SCENE IN CADIZ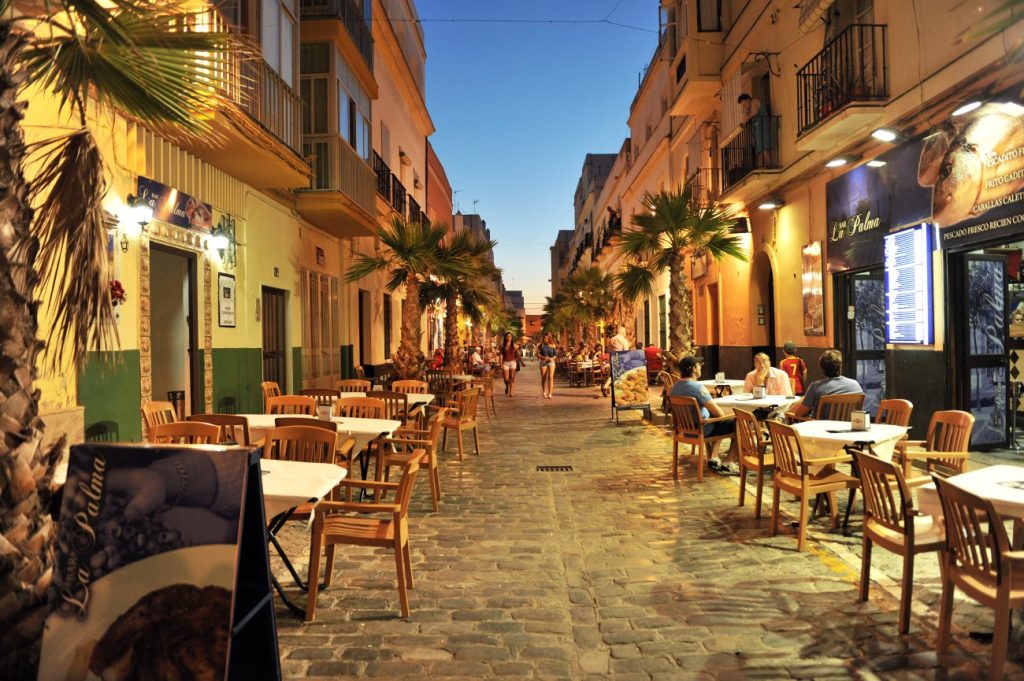 If you're a fan of live music and nice bars, then Cadiz is your place. The city is a lively place offering a vibrant nightlife scene that has something for everyone. You can enjoy some nice bars and pubs in neighborhoods such as La Vina or El Pópulo. Here you will find live music and DJ sets to enjoy and it is an amazing atmosphere to grab a drink (or two or more). If you are looking for some fun in some of the other small villages in Cadiz, you can head to Zahara de los Atunes or Chiclana, where you'll find beachside bars and restaurants with live music and performers. Moreover, other great villages with the best nightlife are Conil de la Frontera and El Puerto de Santa María. Although these places may not have the biggest nightclubs or bars, there are part of the 7 Reasons why Cadiz is worth a visit if you're in Seville as most of these bars are outdoors and on the beachline!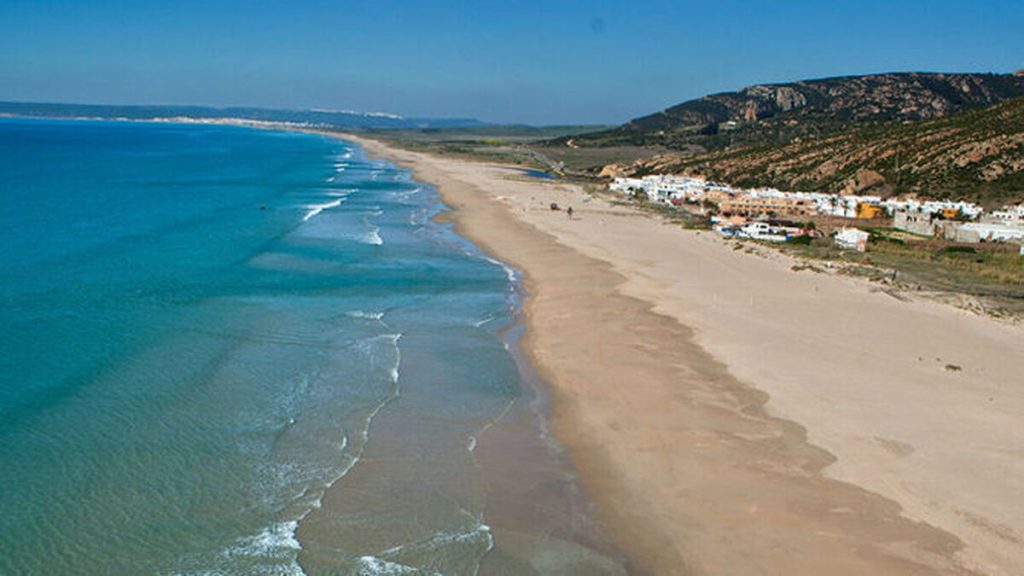 In conclusion, Cadiz is a hidden gem that not everyone seems to know and visit. Its historic old town and its many unique villages, make Cadiz a perfect destination for holidays. Every beach has something to offer for every beach-goer (including the youngest ones). The amazing local cuisine will surely leave you wanting to come back. The nightlife can top your days and create some of the best memories of your life. And the proximity to Seville and its airport makes it a perfect excuse to unveil more of the south of Spain. Don't miss the opportunity to visit some of the most beautiful beaches and villages in Spain. You could book a transfer for a worry-free trip and make the most out of your Cadiz experience. We are sure you will never regret it!