It can be argued that one of the pivotal and relatively not-so-recent points in Spanish history is the art of Flamenco. When we say Flamenco, we are talking about the song, the dance, and the guitar. The origins of Flamenco are a subject of much debate as the history has only been documented for the past 200 years. Much of what we currently know about Flamenco has been passed down from generations in music and folklore, just like the song itself.
Although many of the details of the development of flamenco are lost in history, it is certain that it originated in Andalusia. From the time that Spain was under the Arab influence, there were recorded stories of musical instruments being used to express feelings and entertain monarchs. Later, this was modified by the Christians and the Jews before finally being adopted by the Gypsies and morphed into a hybrid of what it originally was. Many Gypsies say that it is their sacred duty to pass down this art in its true form to their descendants. There is an interesting (but detailed) article about the history of Flamenco Here.
Between 1765 and 1860, the first Flamenco-schools were created in Cadiz, Jerez de la Frontera, and Triana (Seville). In this epoch, Flamenco dance started to have its firm position in the ballrooms. Early Flamenco seems to have been purely vocal, accompanied only by the rhythmical clapping of the hands. It was left to dedicated composers, such as Julián Arcas, to introduce guitar playing and merge it to the dance as a way of amplifying the emotions and feelings behind the dancers.
Flamenco is made up of four elements, Cante-Voice, Baile-Dance, Toque-Guitar, and the Jaleo, which roughly translated means "hell raising" and involves the handclapping, foot stomping, and shouts of encouragement. These shouts of encouragement are also there to convey a message that the performer wants to send across to the audience.
The handclapping or Palmas is an art itself, and although it may look easy, it is not, and the palmeros will weave intricate rhythms around the bases of the song, and in the tablaos this is used in conjunction with the zapateado.
The zapateado is the tap dance style of footwork, the dancers show their piece where they will demonstrate their skills with their feet. The rhythmic and upbeat sounds created here will be ringing in your ears long after you have left the tablao. There are several great venues where you can see an authentic Flamenco Show, and one of them is Here. We also have a juicy list of venues you can visit at the end of this article.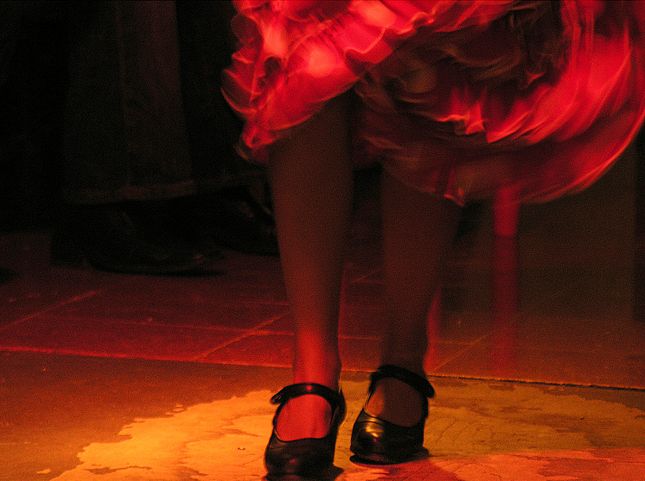 The Toñas are the family of songs which represent these styles and they include the toña, one of the oldest known styles, the martinetes, which are the songs of the blacksmiths, the rhythm being supplied by the hammer beating on the anvil, the carceleras or prison songs, and the debla, which at one time was thought to have had connections with a gypsy religious rite. Here you can listen to 1 hour of relaxing and stimulating Flamenco music which is a mix of some of these styles.
Another important component of flamenco is the element known as duende, and this is shrouded in as much mystery as flamenco itself. Writers and poets over the years have given duende a magical and mysterious meaning, a spiritual significance that goes beyond human understanding. Many will say that duende can only be experienced in certain surroundings like an intimate flamenco session where a singer will be possessed by the dark tones of the song and the spirit will enter the mind and soul of anyone who opens up to it.
Flamenco song can be broken down into two categories- Cante Gitano, gypsy songs, and Cante Andaluz, Andalusian songs.
Many believe flamenco to be the invention of the gypsies, and although they have been the main protagonists of the art, they are not its sole creators.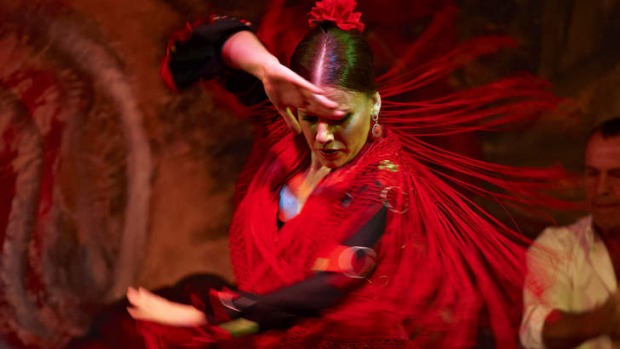 When the gypsies arrived in Andalucia from India around 1425, they brought with them many songs and dance styles that have strong Indian connections. At that time Andalucía was still under Arab rule, and along with the Jews and the moors, the gypsies were soon to be persecuted by the Catholic monarchs and the inquisition.
The moors were forced to convert to Christianity, and failure to do so resulted in expulsion from Spain, the Jews suffered a similar fate, and the gypsies were subjected to some of the worst atrocities in an attempt to exterminate them as a race. Many laws were passed by various monarchs, which forbid them from doing anything just because of their identity.
They were to stop wearing their style of dress, cease speaking in the Romany language, and to stop their wanderings and seek steady employment, which prohibited them obtaining money by the usual gypsy traits like horse dealing, trading at fairs, mysticism, and sorcery.
These laws and restrictions resulted in bands of gypsies, moors, and Jews taking refuge in treacherous mountainous areas, which were too desolate for the authorities to pursue them. These different cultures lived in relative harmony for many years, and the fusion of their music and dances are what we know today as flamenco.
Stories spread of these strange people performing their wild and erotic dances and of the harsh unusual tones of their songs. It wasn't long before the gachó, those not of gypsy lineage, became intrigued by this music, and gypsy singers were hired to entertain the señoritos, or "toffs" in private parties, know as Juergas, where the rich would entertain themselves with prostitutes, alcohol, and flamenco.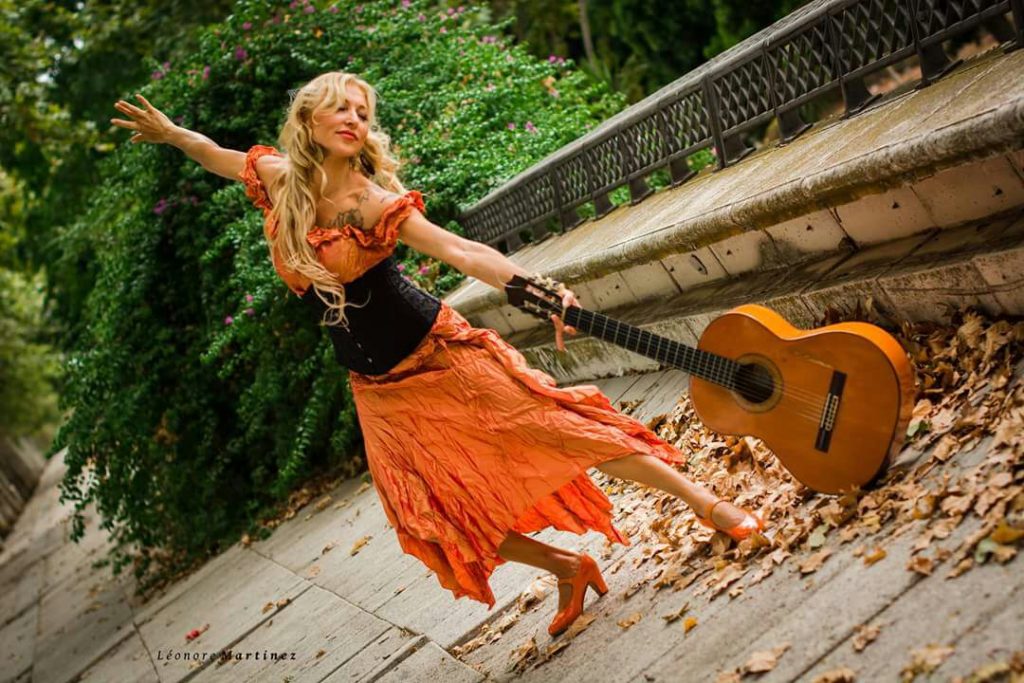 The last developmental phase to flamenco becoming the art form everyone knows and loves today was its adoption as a national dance by the Spanish dictator Francisco Franco (in power: 1939-1975).
Realizing the potential flamenco could have, the government started to use it as an instrument for government propaganda. Furthermore, films that included flamenco became a key component in the government's plan to attract more tourists to Spain. Thus, by the time of Franco's death in 1975, flamenco had established itself in the music and dance world as a prominent form of art and culture, synonymous with Spanish identity.
We are indeed very passionate about this sacred art and are always excited to share it with our clients and readers. Throughout this time, we have stumbled upon some very gifted Flamenco Dancers whom later joined our team. Together, we created a 60-minute crash course in Flamenco where you will learn the basic movements in a very fun and interactive manner. You can find more information Here. We also started a Flamenco Percussion class so that you can get your hands and ears accustomed to the sounds and beats. You can find more information about this Here.
In conclusion, Flamenco is a passionate and powerful art which has retained the original essence from which it was formed. It is a way of expressing pain, oppression, and sadness. Like all art, it is essentially a method of communication where the viewers interpret it in their own way reflecting on their own pains. This was the way communities banded together in joy and sadness.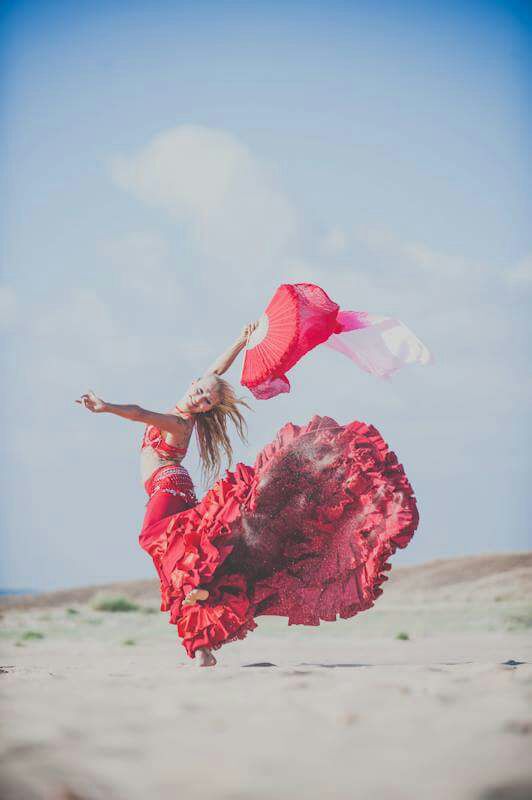 If you´re passing through Seville and whether you are interested in this type of dance and music or not, you must take an hour or two to visit one of the most local tablaos and watch a real Flamenco Performance. You never, know, it might change your life.
By the way, if you feel like combining a spectacular foodie experience with an unforgettable Tapas and Flamenco Evening, then look no further. Book your tour here and thank us later.
Here are our 5 best picks for local venues where you can watch an amazing performance:
Casa del Flamenco is indeed a very special venue where the performance happens on a traditional patio in the Santa Cruz area —the show takes place on the internal patio of a building nestled in the Santa Cruz neighborhood. When we asked them, what makes their show special, they were proud of the fact that their performers do not use microphones to amplify their voices. Expect an amazing show here that captures the essence of Andalusian Flamenco.
Address: Calle Ximénez de Enciso, 28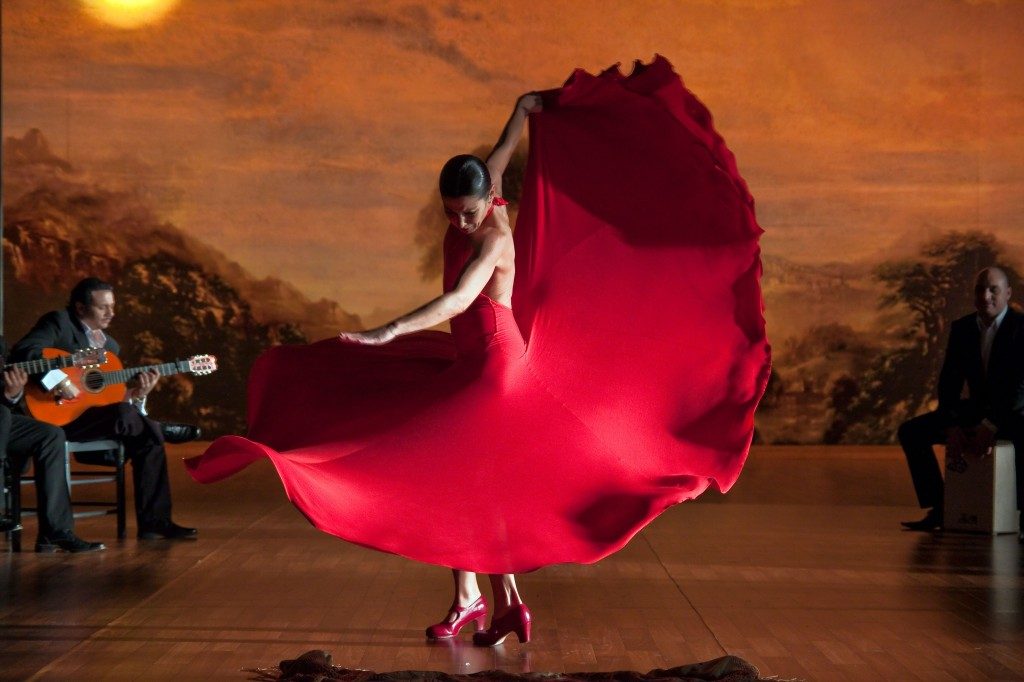 Esencia is a flamenco stage with a local, traditional and authentic character to it. Kati and Maria are two forces of nature to be reckoned with. They have captured the soul of Flamenco and project it onto their viewers with passion and power. This is the place to be if you're looking for a non-touristy experience. Shows are on Wednesdays, Fridays, and Sundays and are at a venue inside the T De Triana Bar.
Address: Calle Betis, 20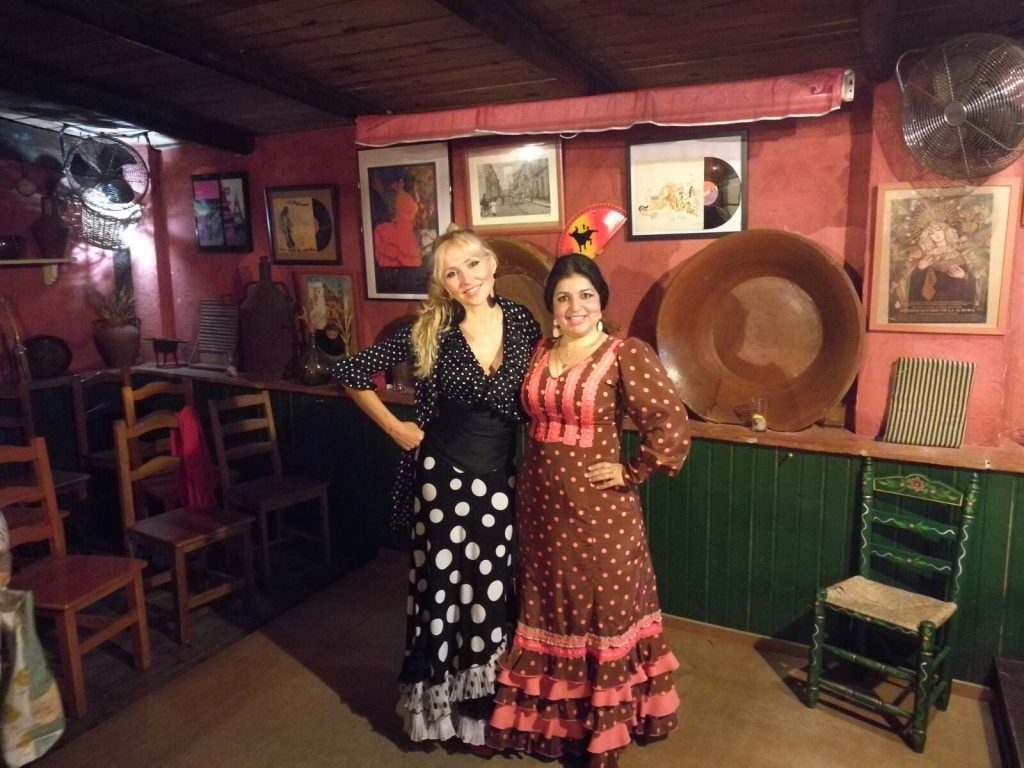 Do not be fooled by the name here, this is not your average museum! This is an all-in-one place where you can learn about Flamenco, the dance, the history, the guitar and then watch a spectacular performance right alongside the establishment. The show is definitely one of the best in Seville.
Address: Calle Manuel Rojas Marcos, 3
T de Triana is an intimate tapas bar located along a strip of bars beside the Guadalquivir River, but you are able to enjoy Flamenco shows on certain nights. The bar is very cozily decorated and the natural structure makes for impeccable acoustics. We encourage you to visit this bar as you can go bar hopping to all the nearby bars in the area.
Address: Calle Betis, 20
This establishment has been open since 1966 and is considered one of the earliest and still active establishments that promote the art of Flamenco. The location couldn´t be better but the show is significantly longer than others. At 1 hour and 45 minutes compared to the standard 1-hour show, this comes with a more expensive price tag of course. As the show is longer, you will be able to see a wide variety of flamenco music and dance. Indeed, Los Gallos boasts a very traditional atmosphere true to the nature of Flamenco.
Address: Plaza Santa Cruz, 11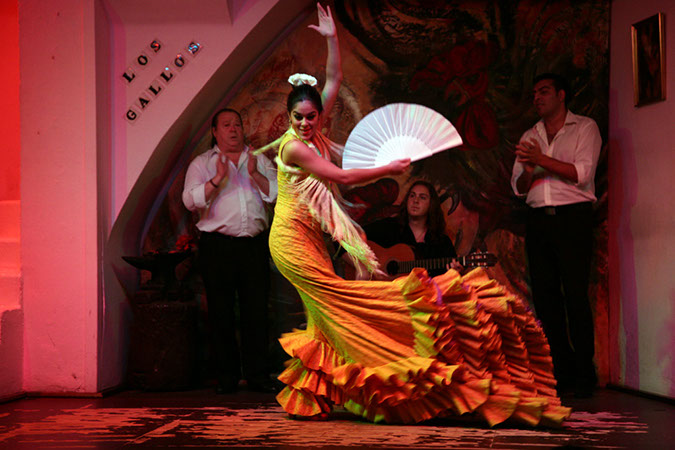 Casa De Le Memoria is tiny when you want to compare it to other venues. However, size doesn´t always matter! If you end up choosing this venue (and you´re smart enough to book beforehand), then you will enjoy one of the best shows in Seville! There is almost a perfect and harmonious balance between singing, dancing, and guitar in a very traditional and intimate setting.
Address: Calle Cuna, 6