When you think Spanish cuisine, cured meat, queso and seafood paella are probably among the first things that spring to mind. Not ideal for a plant-based traveller. If you're vegan, you might be stressed that you'll struggle in Spain. Don't worry – we've got you covered with our ultimate vegan guide to Seville!

Over the past year, interest in veganism has sky-rocketed. Forbes labelled veganism as the biggest food trend of 2019 and the movement only seems to be gaining momentum. Last year, we published a vegetarian guide to Seville but with the explosion in popularity of veganism, we had to create a dedicated vegan guide. While you certainly will encounter a ham leg or two hanging from the wall of many of Seville's eateries – it's painless to find plant-based options in the Andalusian capital. In fact, Seville has a thriving vegan scene. With an abundance of restaurants across the city catering to vegans, you'll be spoilt for choice! It's even possible to find veggie versions of Spanish favourites, like chorizo and Tortilla de Española. 

Useful Phrases
When looking for vegan options, preparation is key. A few phrases that might come in handy:
Soy Vegano (I'm vegan – masculine)
Soy Vegana (I'm vegan – feminine)
No como carne (I don't eat meat)
Sin… carne/queso/huevos (Without… meat/cheese/eggs)
¿Este plato lleva carne/pescado/huevos/lácteos? (Does this dish contain meat/fish/eggs/dairy?)
Other common ingredients to avoid:
jámon (ham)
pollo (chicken)
atún (tuna)
mantequilla (butter)
leche (milk)
nata (cream)
miel (honey)
yema (egg yolk)

Several Spanish dishes happen to be accidentally vegan:
Gazpacho – a refreshing tomato-based soup, served cold.
Pisto – the Spanish equivalent of ratatouille.
Garbanzos con espincas (chickpeas with spinach) – a traditional dish of Seville.
Patatas bravas, order sin aioli (without garlic sauce) – a staple in any tapas restaurant. 
Unsure where to start? How about joining one of our tapas tours? We offer an off the beaten path tour, a Triana tapas tour, and even a tapas and Flamenco night!
Cooking at Home?
If you're staying with Airbnb during your time in Seville, you might be planning to cook for yourself. Luckily, there's plenty of vegan options at all the major supermarkets. Keep an eye out for vivesoy milk alternatives and sojasun yoghurts. Mercadona sells tofu, seitan burgers and vegan sausages. Surprisingly, Lidl has an impressive vegan range, including an egg-free Tortilla de Española and two plant-based pizza options! You'll find the most extensive range of vegan products at Centro Ecologico Gaia (Calle Luis de Vargas 6, 41001) and thanks to Nueva Era (Calle Amor de Dios, 1, 41002) don't even have to miss out on cured meat. They stock an incredible selection of substitutes, including meat-free salami, chorizo, and ham.

Dining out?
Happy Cow, a website and app, is an indispensable tool for any vegan traveller. Complete with customer reviews, menus and opening times – restaurants can be sorted by price, distance and rating. Plus, if you're travelling with meat-eaters or vegetarians, restaurants can be filtered to include non-vegan options, to cater to everyone's preferences. According to Happy Cow, there are currently 57 restaurants with vegan options in Seville!

With that in mind, let's explore a few of our favourites!
Vegan Restaurants
Seville has three dedicated vegan eateries, El Enano Verde, VeganEat and Veganitessen.

El Enano Verde's menu is constantly changing to showcase the best of fresh, locally sourced ingredients. The menu of the day, a starter and a main course, will set you back just €8. When we visited, we were treated to wok-fried veggies in a sesame sauce and a lemongrass and asparagus risotto. 

Vegetable wok at El Enano Verde. Feria 61, 41002. Open 1pm – 4.30pm Tuesday to Saturday. 8.30pm – 11.30 Friday and Saturday.
VeganEat is a tiny, fast-food take away with a very impressive menu, ranging from seitan burgers to imitation chicken nuggets. VeganEat is open until midnight – ideal for a late-night snack after a few drinks in Alameda. Their homemade vegan aioli is not to be missed! Correduría 7, 41003. Open 1pm – 4pm, 9pm – 12am Tuesday – Sunday. 
Veganitessen, located inside Mercado del Arenal, has a laid-back vibe, plenty of seats and a varied menu including tapas, sandwiches, burgers, hot-dogs, cake and other sweet treats. We recommend the Tortilla de Española – which tastes unbelievably like the real deal.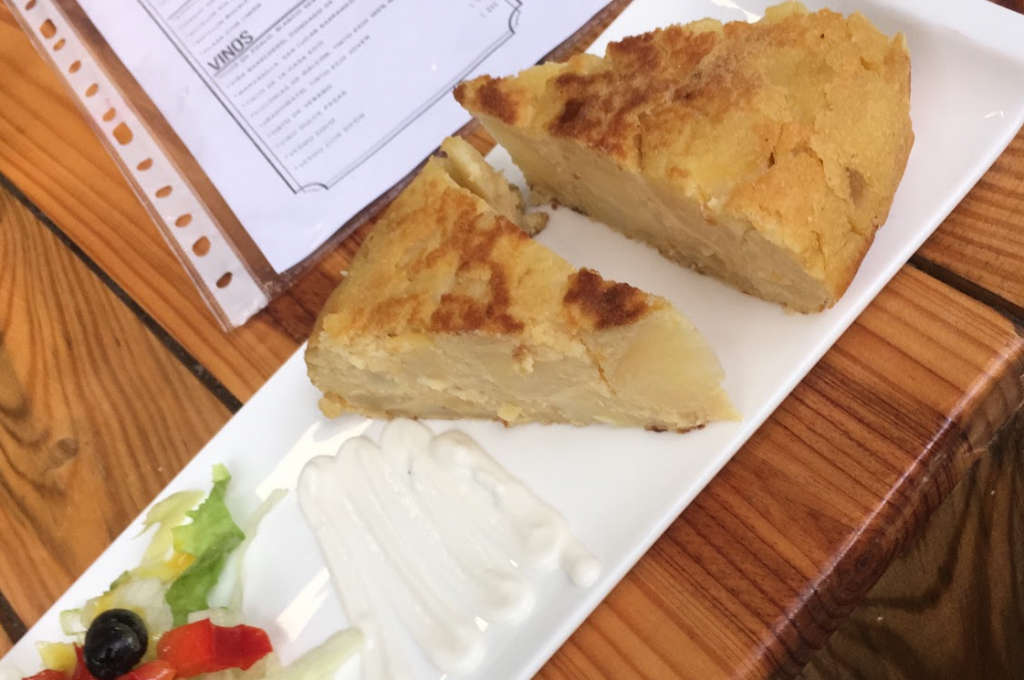 Tortilla de Española at Veganitessen. Mercado del Arenal, 41001. Open Tuesday – Saturday 1 – 4.30pm.
Further recommendations
Cocome. Build your own salad/wrap/sandwich with many vegan ingredients available. Knowledgeable staff. Delicious vegan chocolate cake. Calle Tarifa 4, 41002. Open 9am – 12pm, 1pm – 5pm Monday – Saturday.  

Milk Away. Healthy breakfast and lunch, in a relaxed and funky setting – vegan options include an acai bowl and hummus and veggie sandwich. Unmissable smoothies. Calle Pérez Galdós 32, 41004. Open 8.30 am – 7pm Monday – Friday. 9am – 3pm Saturday.

Condendê. Hidden spot in Mercado De Feria but well worth seeking out! Menu features a unique take on traditional tapas with clearly-labelled and flavourful vegan options, such as arepas, gyoza, and bruschetta. 
Gyoza at Condendê. Plaza Calderón de la Barca s/n Nave 2. puestos 92 – 93 – 98, 41003. Open 1pm – 5pm, 8pm – 12am Monday – Saturday.

Arte y Sabor. Hip tapas restaurant in Alameda, clearly-marked vegan options including burgers, salads, and falafel. Alameda de Hércules 85, 41002. Open daily 1.30pm – 12am.

La Bartola. Cozy bar with vegan options such as pasta, stir fry, and tempura sushi. Calle San José 24, 41004. Open daily 12pm – 12am. 
Amorino. International gelato chain, with delicious vegan sorbet flavours, including blackcurrant, mango, and blood orange. 

With several outlets across the city, it's easy to get a sweet fix at Amorinos. 

We hope you found our vegan guide to Seville helpful! The vegan movement shows no signs of slowing down and At Not Just A Tourist we're pleased to cater to vegans. We offer bespoke and fully customisable experiences, therefore we can easily make adjustments to accommodate any dietary requirements. Book a tour today and let us take you on a gastronomical adventure!