Seville shares its authentic craftsmanship and cultural heritage at Christmas time. Its six magical markets ignite the Christmas spirit from the middle of November until January 5, with plenty of time to enjoy the timeless tradition. Here is your quick guide to discover how each one offers its own spark this season in the Christmas market scene in Seville.
Fancy a nativity scene to light up your living room? The fair of Cribs is your Christmas market!
Feria de Belen (Fair of Cribs) is a market mostly dedicated to offering one-of-a-kind items. Traditional figurines mostly made out of wood are intricately designed to bring the nativity scene to life. The nativity scene is highly sought out in Spain and seen in Spanish homes at this time of year. Situated right next to the Cathedral and the Archivo General de Indias makes it hard to miss. It is considered to stand out as one of the most significant of its kind in the country. You will be sure to pass by this Christmas market in Seville when participating in our private guided visit of the Cathedral and Alcazar.
Its 30 stands show the beauty of the craftsmanship. Each stall offers works of its own artisan traders of whom take pride and splendour in their ornate handcrafted work. You will never see so many unique nativity scenes of such authenticity as you do here. It has the longest operational time open over four whole weeks, from November 13 until December 23 with opening times of 10.30-14h and 17h-21h. Feria de Belen simply makes the Christmas market scene in Seville. Once you have shopped till you've dropped, we have the perfect places to see Seville lit up from our rooftop tour completing your magical Christmas feeling.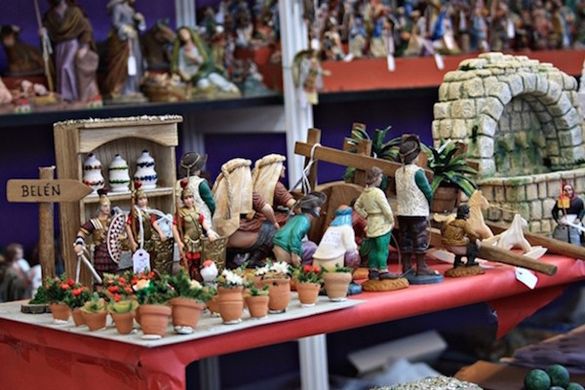 Are you searching for something handcrafted and unique? The Seville Capital Christmas Market is a must!
Mercados de Navidenos runs along Avenida Luis de Morales in Nervion next to the grand Nervion Plaza shopping centre. Despite being only 8 years old, it has been voted to be in the ranking of one of the 20 best Christmas Markets in Europe in 2019. This unique market shines bright like a star with its handmade jewellery, clothing and art on sale. The variety and creativity on display cannot be compared to any other, where creativity is key. It is comprised of individual log cabins, unique in their décor complete with clocks and trees employing the pure Christmas feeling. Along the busiest avenue of Nervion, the special stalls are open from December 1 to January 5 with opening hours from 11-14.30 and 16h-20.30. You'll find everything you are looking for surrounded by shops and restaurants. It is a perfect place to get all your gifts together completing the Christmas market scene in Seville!
Looking for some presents to win someone over with Seville's splendour? Feria de Artesania offers exactly this!
Be tantalized by this unique Christmas market in Seville dedicated to showing off Andalucia's skilled craftsmanship. 80 wooden booths are spread over Plaza Nueva with traditional Andalusian artsy gifts on offer. From ceramics and pottery to wooden toys and lamps, local craft workers take pride in presents that suit all styles and ages. Not only will you be embracing Spanish culture, but supporting the locals pursue their passion. From December 14 to January 5 there is plenty of time to check out one of the soundest arrays of stalls. A plethora of traditional Spanish gifts will make you marvel at this Christmas market in Seville. Feria de Artesania could be considered to be the icing on the cake in the Christmas market scene in Seville.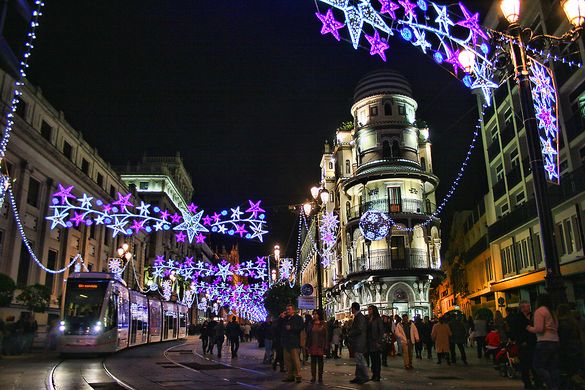 Free parking and endless shopping? Stop by at San Pablo Christmas Market to make your Christmas market scene in Seville complete!
Right next to Seville's biggest and first shopping centre, Los Arcos, there is no better spot for a buzzing Christmas market in Seville. If you are all about the shopping scene then get yourself down to Avenida de Andalucia. Wooden cabins are set up stringing the perfect shopping experience together alongside high-street stores. Surrounded by a massive complex, it is easy to get lost in the crowd finding gifts for all the family. Ideal to spend the whole day with free parking and convenient opening times from 11h-14.30 and 16h-20.30. Some traditional retail therapy is assured to be satisfied at the Christmas Market of San Pablo from December 15 to January 5. We offer transfers for those who are worn out after a shopping expedition and wish to check out more of Andalusia's endless beauty by visiting neighbouring cities such as Ronda and Granada.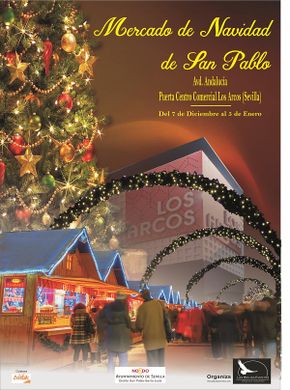 Want to see the Seville's best sites whilst shopping? Mercados de Navideno Christmas market takes you through the most thriving parts of the city!
This distinctive double Christmas market covers the most lit up and lively streets of Seville. The stalls start at the Metropol Parasol and go along the popular social spot of Alameda de Hercules. The stretch of Alameda is buzzing with bars, known for its nightlife as well as the family-friendly environment. There is something for everyone with this double bonanza making the Christmas market scene in Seville come alive. Equally comprising to be must-see spaces in Seville, why not kill two birds with one stone and explore the sites accompanied by shopping and socialising. The Alameda focuses on family, providing plenty of fun for the kids. Allow us to capture your special winter wonderland getaway with our photo tours meticulously placed in the most beautiful spots in Andalucía.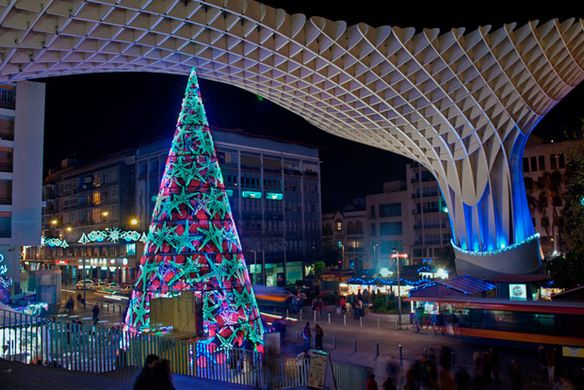 Christmas markets are worldly acknowledged as a way to embrace and enjoy the festive season. The capital of Andalucía specifically offers its own style of magic making it a must to visit. Make your Christmas brighter by visiting the Christmas market scene in Seville- we are here to help you embrace Spanish tradition with our tailored tours to suit your sparkle at this time of year!
Grace Grossmann enjoys writing and travelling. Follow her adventures.