Seville is the capital of Andalusia. Being Spain's fourth biggest city, Seville has much to offer. The city is packed with monuments, museums, restaurants, tours, history, and culture. So if you are on a time limit getting the correct transport could be the difference between seeing an extra exhibition or being stuck in traffic somewhere. During this article, we will answer all your questions about Seville transport. Questions like does Seville have a metro? Is uber in Seville? How to buy bus tickets in Seville? Is one day enough to spend in Seville? But what are the best ways to get around this magical city? We have created the ultimate guide of easy ways to get around in Seville.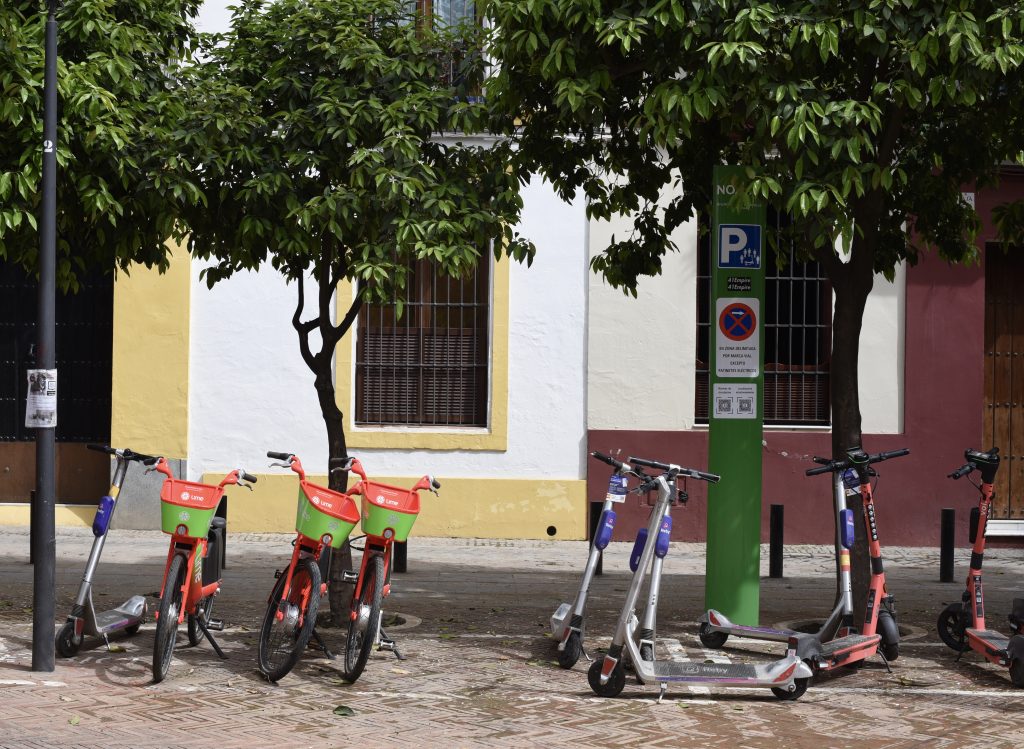 1. Sevici Bikes
One of the best things in Seville is the rentable bikes service called Sevici Bikes. There are more than 250 stations dotted around the city, not to mention the bike lanes are spread over 77 kilometers of Seville. There are two ways to use these bikes a short-term subscription for €13.99, which allows you access to this service for seven days. An annual subscription is also available for €33.33, granting you unlimited access for a year. You can access this service through the website or the app: sevici . It is valuable to know that the first 30 minutes of bike use are free, and after that time, you get charged €2 per hour.
The first step is to register, giving your credit card details for safe-guarding. Once the verification process is complete, go to the access menu and press the button "remove bike," then, an option will select the most convenient bike for you, and enjoy your ride.
The Sevici service is very user-friendly; it is one of the best things in Seville, Spain. After your cycle, you can find a docking station. Within a minute or two, you should hear a double beep, and the bike should be secure. These bike are top of our list of easy ways to get around in Seville!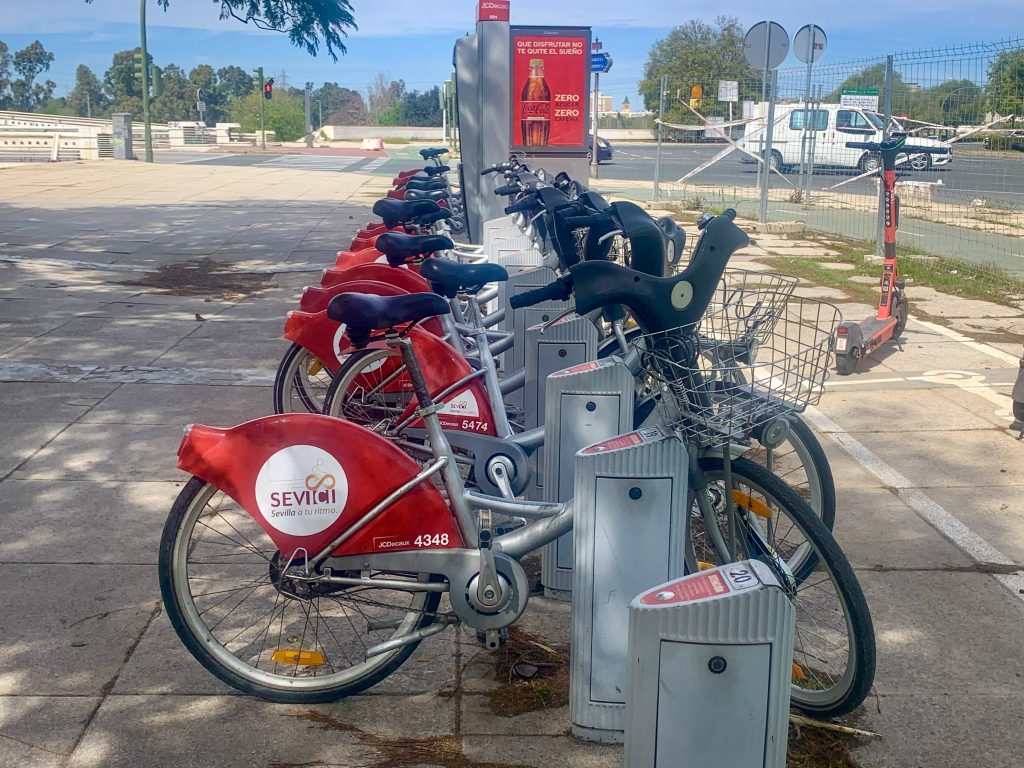 Lime
Another valuable biking service is Lime. This company has a range of electric transport, including electric bikes, scooters, and mopeds. It cost €1 to unlock the bike, and after that, it cost 0.15c per minute. Similar to the sevici you can use an app to start and complete your journey. Electric transportation is an easy way to get around in Seville.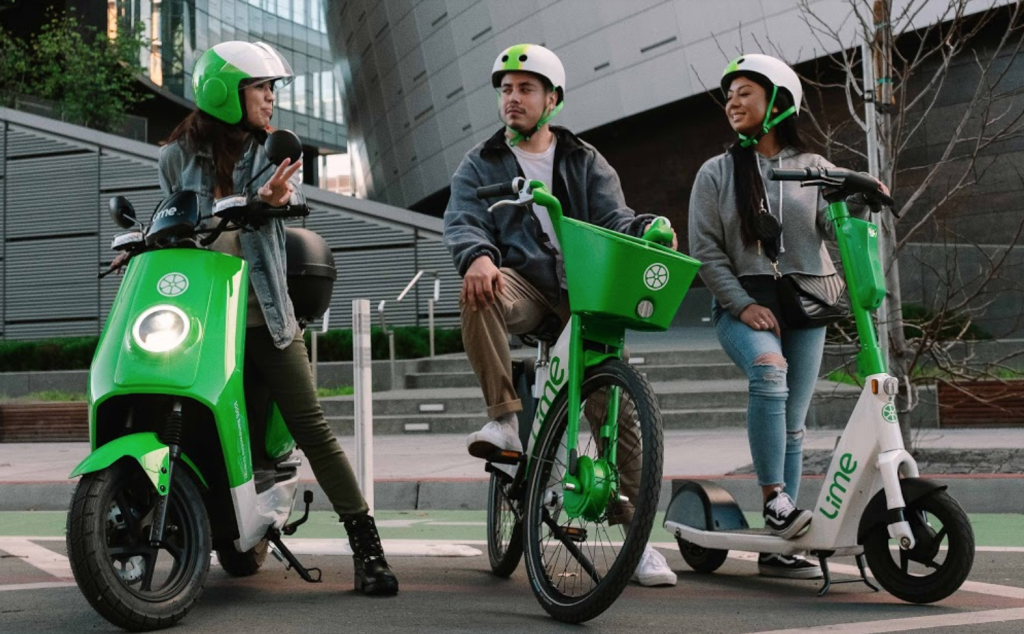 2. Voi Scooters
Many people ask whether one day is enough in Seville. If you choose the proper transport, you can accomplish a lot in one day. One of the easiest ways to get around in Seville is the Voi electric scooters. They are quick, easy, and perfect for the old town's narrow streets.
First, you need to download the app and register with your mobile number. You locate a voi scooter near you using the map on the app, then scan the QR code on the handlebars to unlock it. The best way to get started is to hop onto the scooter and push it with your foot before using the acceleration. If it is your first time using the scooters, you can choose a beginner's mode before starting your journey. With the number of bike lanes in Seville you can go anywhere. Once you have zipped around the city, to end the ride, find a docking station, scan the Qr code again, take a photo of the packed scooter and you are all set. For more information on the voi scooters, see here voiscooters.com .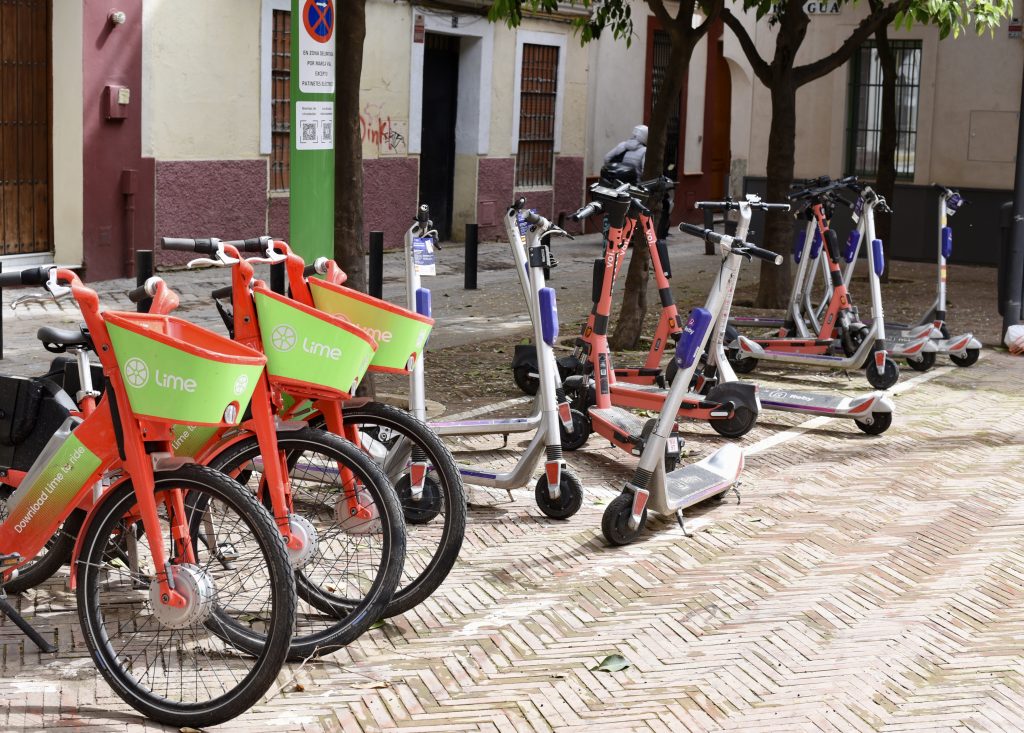 3. Buses
When you arrive in a new city, it is often difficult to know where to buy bus tickets. The buses are frequent and are well connected, making traveling by bus easy. You can purchase the bus tickets from the bus driver for €1.30, or you can visit a kiosk. Another option is to buy a "Tarjeta Tussam" you treat this as you would a pay-as-you-go phone card and can continue to top it up and ride the bus for just 60c. The red card is for buses around the centre of Seville and the green card for further distances, for example, Colegio britanico de Sevilla. You can buy the red bus tickets here tussam and the green bus tickets here consorcio transportes sevilla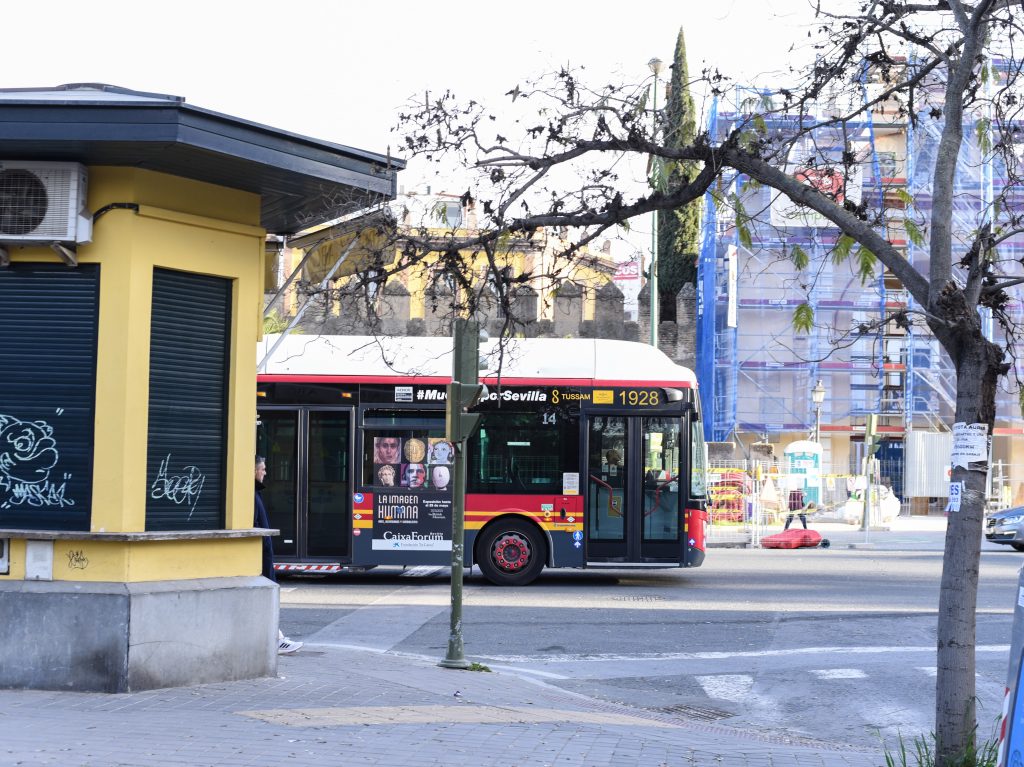 4. Cabify/Uber
On our list of easy ways to get around in Seville, cabify and uber take the number 4 spot. The affordable prices of taxis are one of the best things about Seville. Many people love the ease of a taxi and are left wondering, is uber in Seville? The answer is yes! Another way to order a taxi by using the Cabify app. It is sometimes a good idea to jump between the two apps to see which can give you a better price. Masks are still mandatory while using these services. If you don't want to use apps, you can also hail taxis. You can find taxi ranks in popular tourist places such as Corte Ingles. or alternatively call this company introducing seville.com.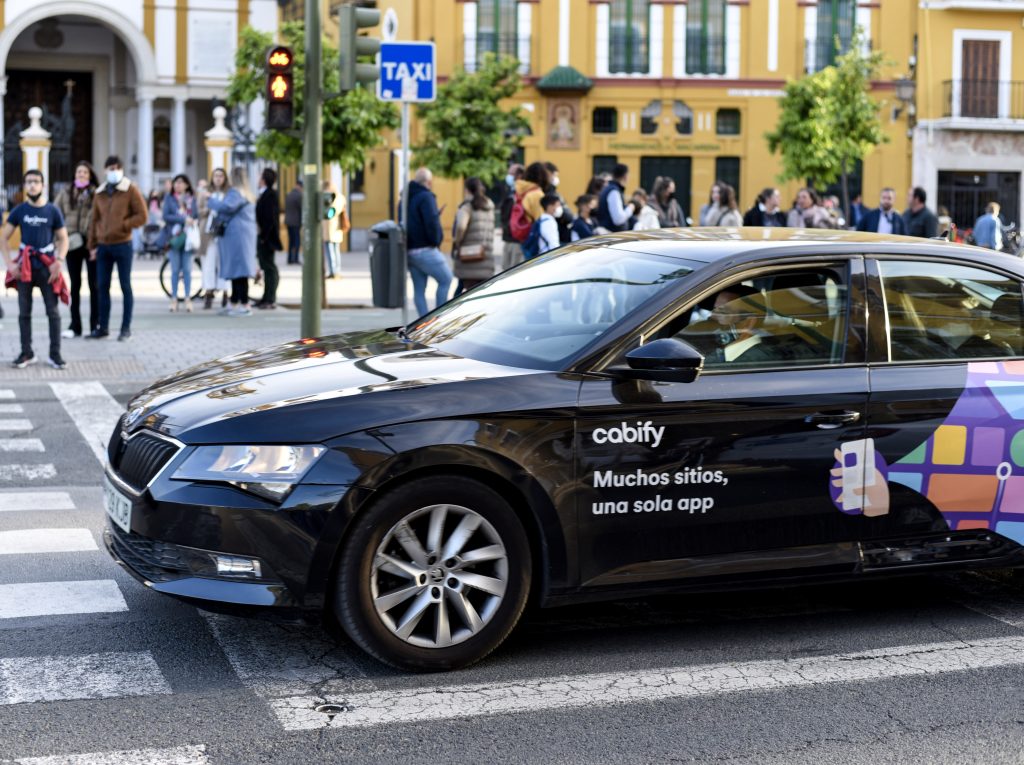 5. Metro
There is one metro line in Seville. The tram goes south from Plaza Nueva, the city center, and travels to Bernardo train station. From Monday to Thursday the tram runs from 6.30 am to 11.30 pm. Friday and Saturday's service extends to 2 am. Sundays the tram runs from 7.30 to 11.30 pm. All information can be found here Metro-sevilla.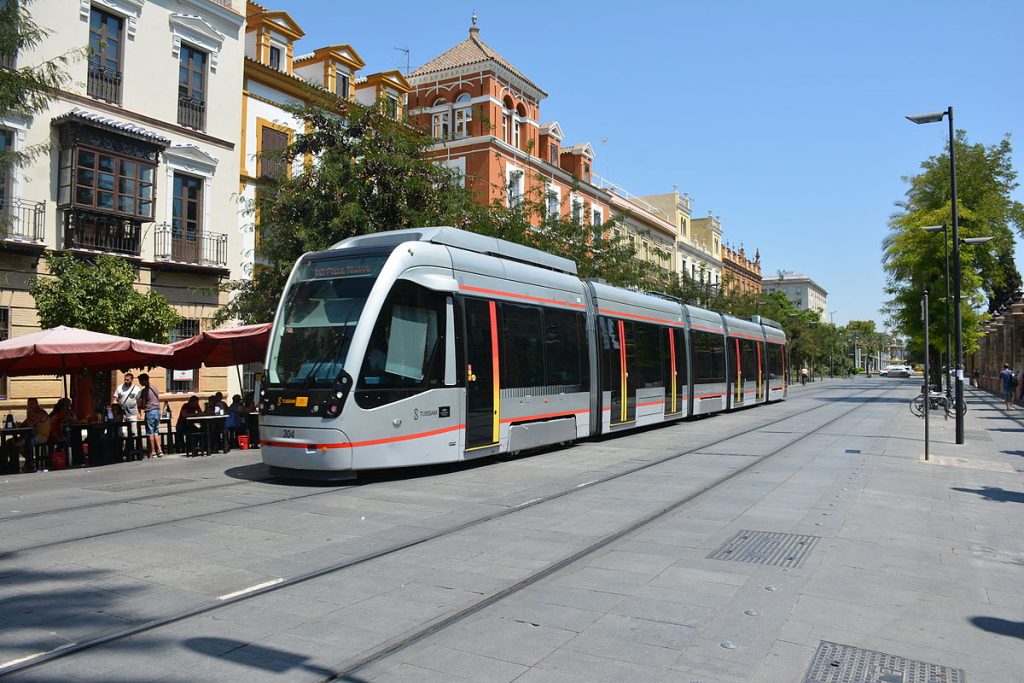 6. Walking
Walking is definitely an easy way to get around in Seville. You will be distracted by the colourful buildings, decorated balconies, and general splendour of Seville's streets. Especially if you stay near the centre, most tourist attractions are within 20 minutes of walking distance. Discover secret corners in the old neighbourhoods of Seville on a 2-hour walking tour: Off-beaten-path-seville-walking-tour? You will be in awe of all the hidden gems this city offers.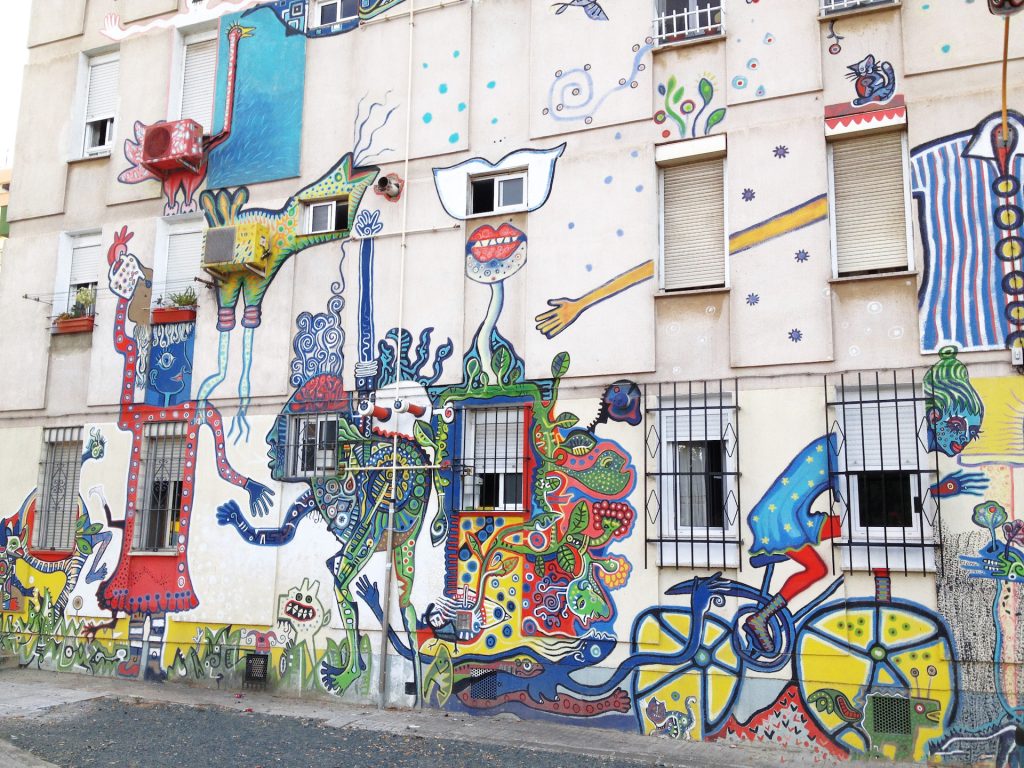 7. Horse and carriage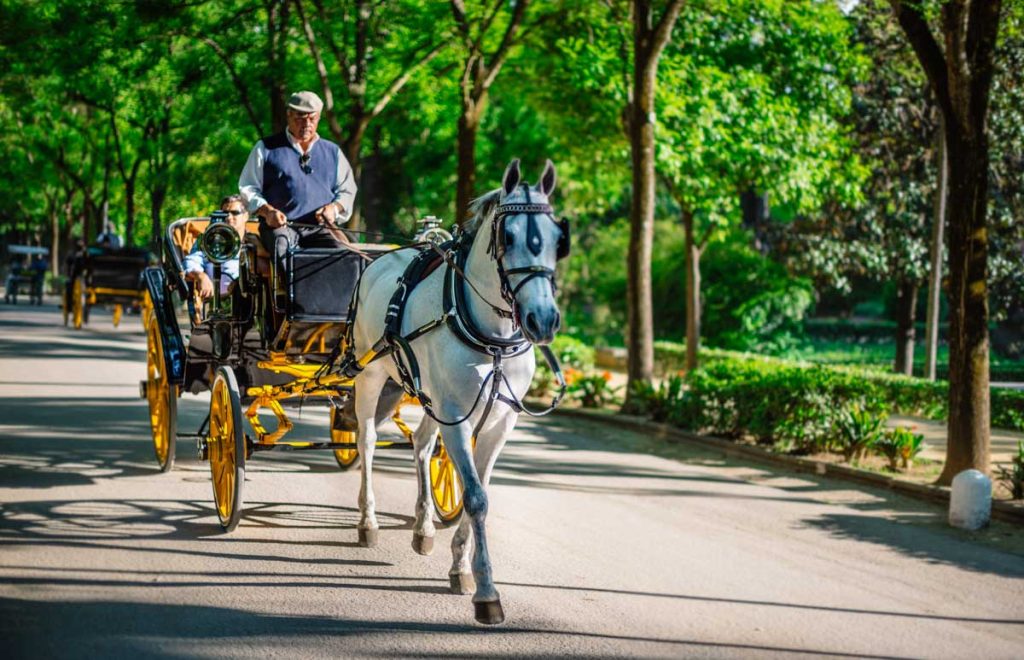 If you visit Seville, you will notice a row of horses and carriages with bright yellow wheels to match the city's aesthetic. Believe it or not, they are an easy way to get around in Seville. Click here: to find one of the best rides, Horse and carriage tours in beautiful Seville. Romantic, majestic, and a once-in-a-lifetime experience.
8. Kayaks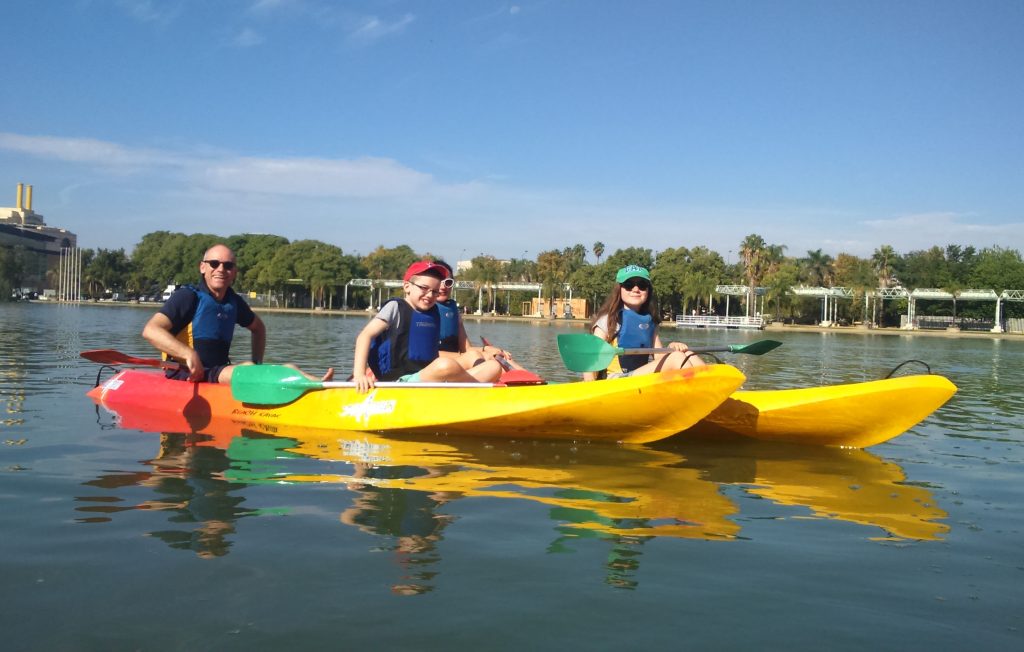 If you want to move differently around this city, kayaks are an easy way to get around in Seville. You can be along the water, guiding your way up and down the riverfront. The best part of all is combining an outdoor activity with sightseeing. Seville is known for its roaring heat in the summer, and kayaking down the river will cool you down too. Contact Mahsa to book the alternative and vibrant tours around Seville.