A complete insiders list of the top 5 hotels with a pool in Seville you must not miss! (also a special bonus of local tips and advice which will be extremely useful for your next trip in Seville). Join us now while we countdown these great hotels and even more spectacular views!
Let´s make the best of this warm weather for your enjoyment!
Are you in Seville or are planning to visit this magnificent city and wonder what spaces you can find with nice, fresh vibes and most importantly, a great pool with an even greater view? Well, this post is just for you, where we will be recapping the 5 top best hotels in Seville with a pool and a unique view. Do not worry, summer is still not over and our geographical location makes Seville a great city to enjoy all year long. Whatever your requirements are, there´s an option for everyone.
Great vibes and even better location and pool
Our first choice will be HOTEL DOÑA MARÍA.
What used to be a private palace of the 19th century now serves as one of the most emblematic spots in the city of Seville. Decorated with chequered floors and a wonderful mist of oranges and vanilla, this place welcomes you in the best way possible. It has a beautiful terrace where you can have designer signature cocktails or a regular beer, and dive into their lovely pool while the famous Giralda is watching. Get into a surreal experience with this great spot and also the nice staff.
It is definitely one of our main stops for our rooftop walking tour, where you feel you can almost touch the famous bell tower of the cathedral, Giralda.
Tile art and peaceful views from an intimate space and pool
Our second choice will be by the always great HOTEL AMADEUS. As you can guess from its name, it is completely decorated with objects that refer to classical music and merging it with the Andalusian heritage which is our very famous intricate tile art.
Deep in the famous Jewish quarter of Seville, you can enjoy a very relaxing and quiet experience. Still having great sites of the cathedral, you will be able to see the rest of the famous quarter of Santa Cruz and even some further located buildings. It's a tiny yet heated pool which makes for a great escape if you are looking for a more intimate experience visiting the city of Seville.
Enjoy their typical universally known cocktails or a cup of coffee/tea while you cool down watching the sunset in Seville, being pampered by the attentive staff.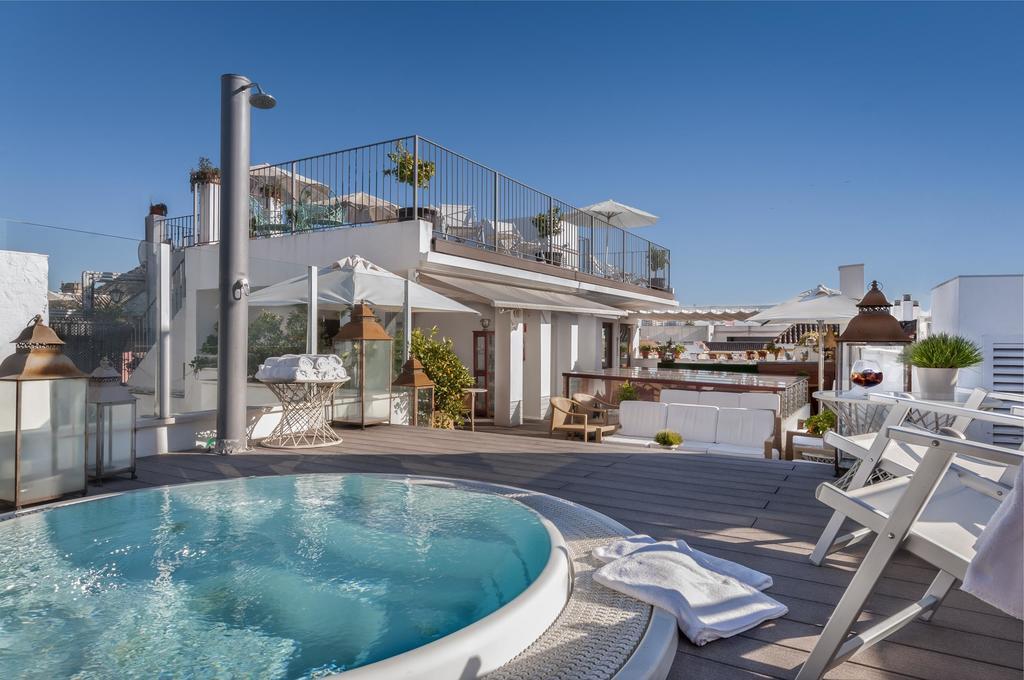 Exclusive location close to the main monuments
Third spot without a doubt will be assigned to HOTEL CASA 1800, which shares some similarities with DOÑA MARIA.
It is a former private palace of the 19th century and it also has great views of the Giralda but, here you will have an even wider view of this iconic monument and a more intimate experience. The pool also has a bigger size while giving more exclusive vibes; this place is part of our countdown for its great location and feedback from our own clients. Get into the 1800 experience also still being very close to main monuments and inside the Jewish quarter of Santa Cruz.
The wise king and great location
The fourth place goes to HOTEL ALFONSO X, located also in the Jewish quarter, honoring the wise king who is responsible for Seville´s motto: "no me ha dejado" (NO-DO) which is stamped everywhere you go in the city. A great addition to this place is that it is closer to other very important landmarks such as the church of "San Luis de Los Franceses" and of course, Plaza de España. (A must in all of our walking tours.)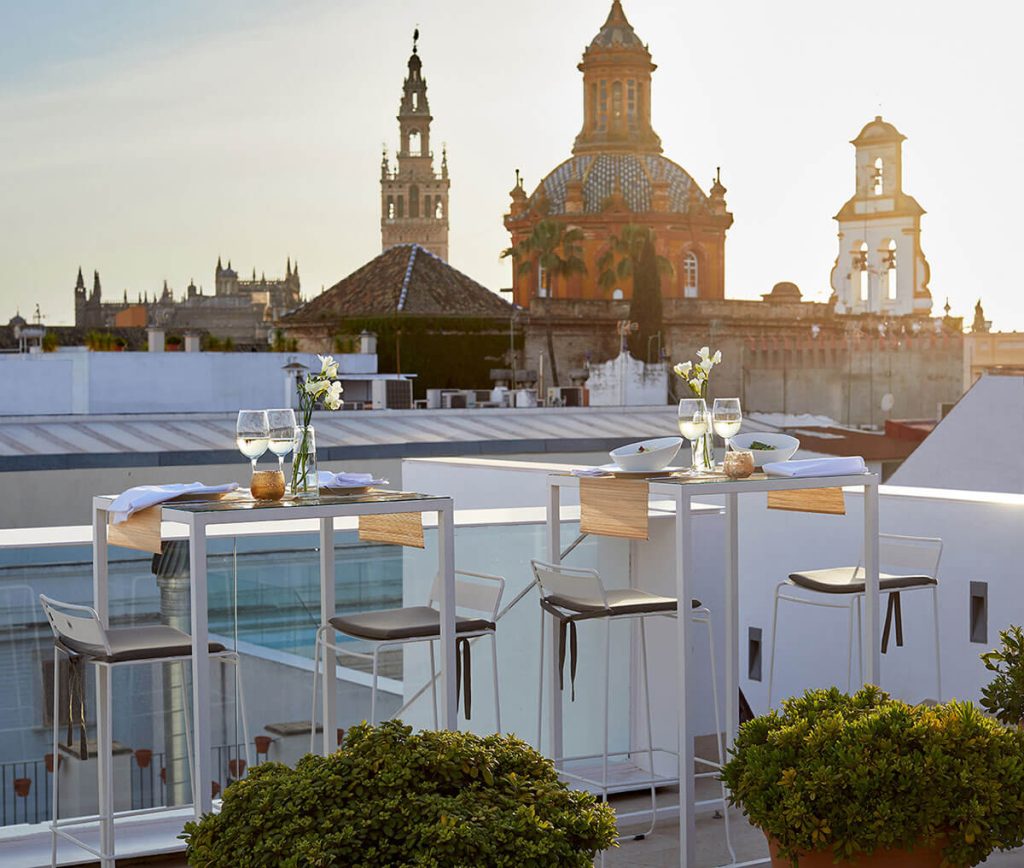 Famous guests and history of the 1929 Exhibition
The fifth place goes to one of the most luxurious hotels in Europe, receiving many famous personalities such as Princess Diana, Brangelina, the whole cast of Game of Thrones, and has even been used for scenes for the legendary movie "Lawrence of Arabia", released in 1963 with Peter O'Toole. Hotel ALFONSO XIII A LUXURY COLLECTION stands tall among many important buildings and locations in the city, such as the University of Seville (old tobacco factory) and San Telmo Palace, one of the main buildings of the government of Andalusia.
Inaugurated for the Iberoamerican Exhibition of 1929 as a hotel built for the king of Spain Alfonso XIII to stay here during his visit, this place offers you the complete luxury experience.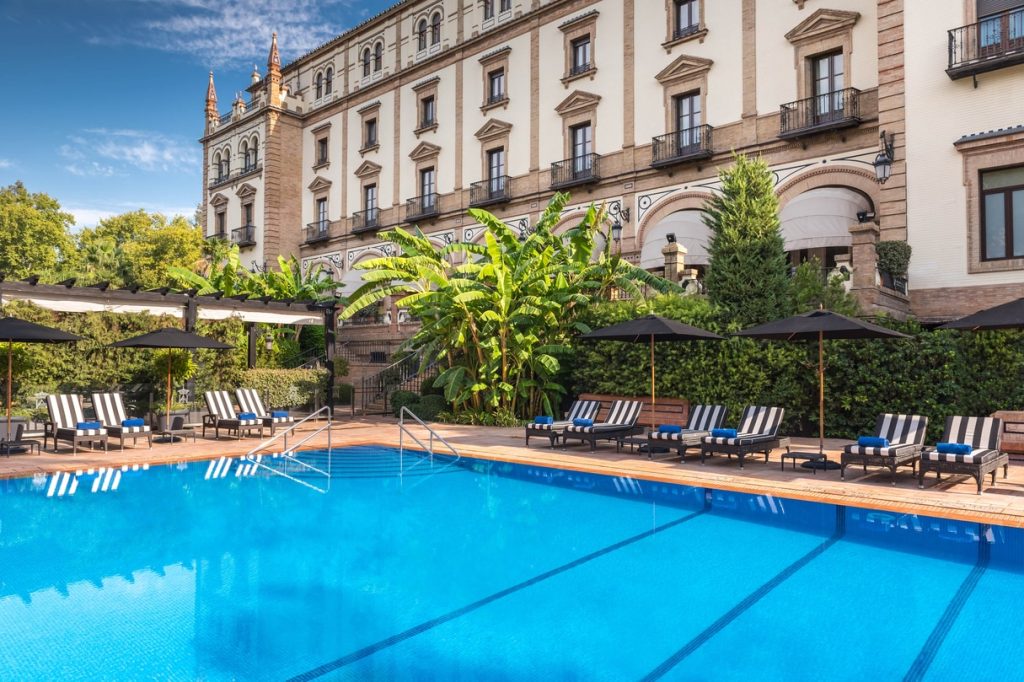 Honorable mention and tips
We focused on great hotels, with great location and even greater views for the making of this list. The pool was also a main subject to cover.
As an insider tip, I would like to give an honorable mention to HOTEL INGLATERRA and PURA VIDA TERRACE in this countdown of the Top 5 hotels in Seville with a pool for you to be checking out.
In HOTEL INGLATERRA while there is no pool, they have one of the best views from the rooftop, with their chill-out vibes and minimal decoration it's almost reminiscent of Ibiza. A very popular stop in our walking tour through the rooftops, enjoy an amazing view of the cathedral and Giralda, and even the towers of Plaza de España and the city hall. Designer cocktails and even live music, the great staff is willing to pamper you while you enjoy a relaxing moment and take the best pictures for your visit.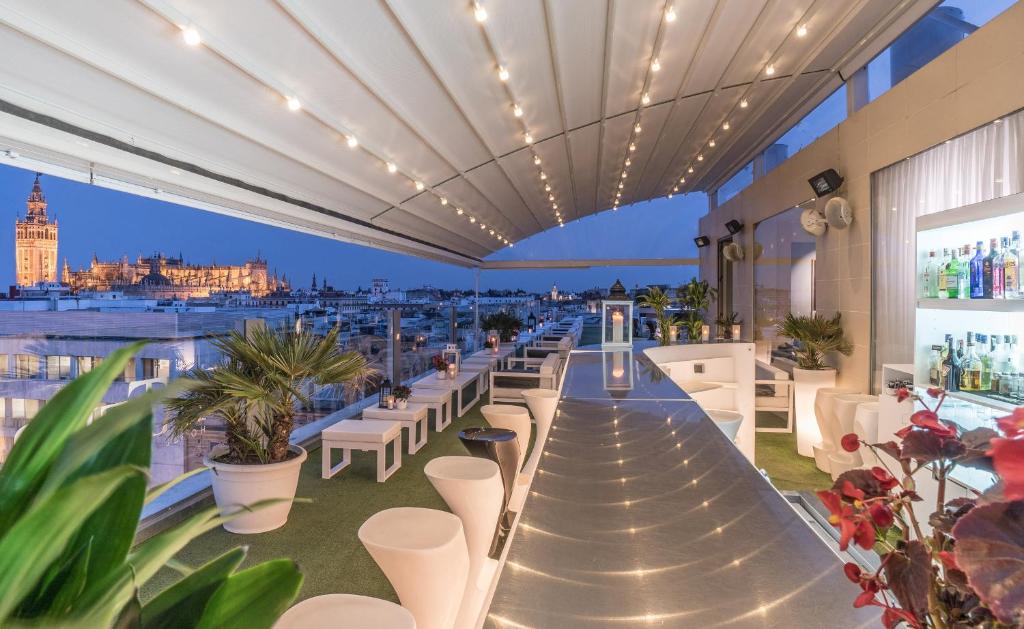 Finally, we have PURA VIDA TERRACE, located in the Jewish quarter as well, PURA VIDA offers a lively experience with cocktails and music and even impromptu flamenco (which is the best flamenco to see really). The historical views will be surrounding you and is an interesting contrast of the decoration which will take you somewhere in the Caribbean.
FINAL INSIDER TIPS
Always check the schedule for each hotel and their pools; it can be very different from time to time according to weather and also local festivities.
Check the official website of each place (linked in this article), to verify what are the charges or fees for the use of the pool or even cocktails.
If you are not used to very high temperatures, always use good skin care protection, SPF. The ultraviolet radiation is no joke but it won't keep you from having fun as long as you use proper sunscreen.
The most important insider tip is: to have FUN. Enjoy your stay, research all the rich offers Seville has for you to enjoy a nice sunset, a gathering with friends or even a marriage proposal!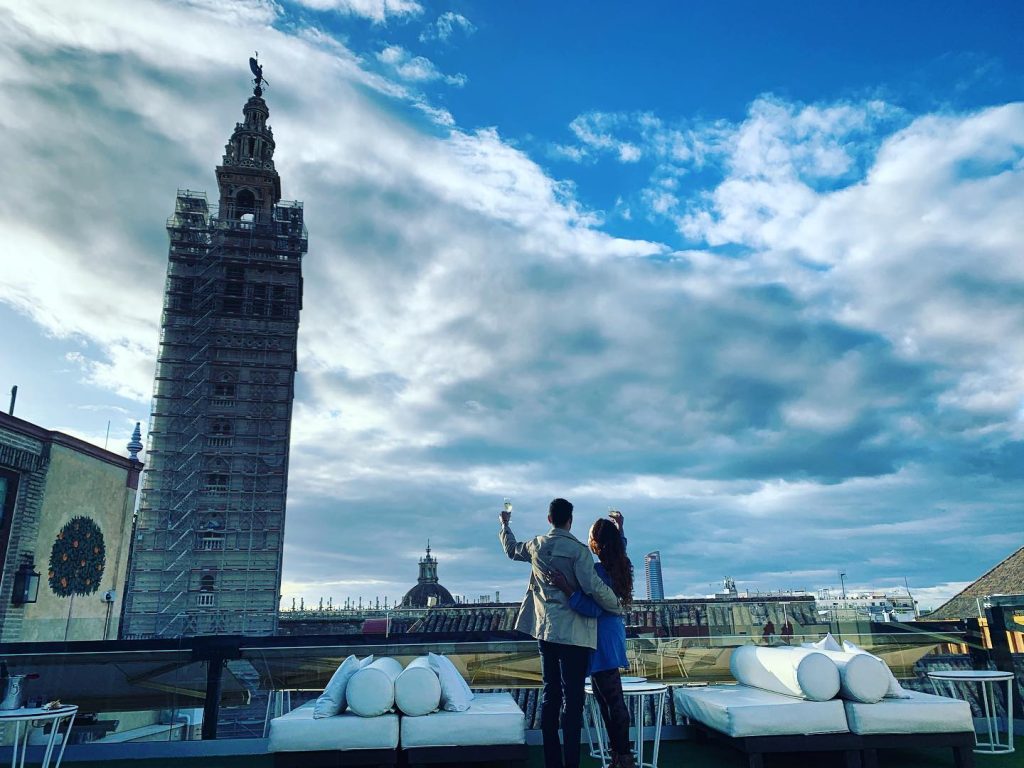 So, now that we have covered an in depth list of the top 5 hotels in Seville with a pool, how about you join us for an unforgettable experience? Take out your bikinis, ray bans, and sunscreen and soak up the never-ending Andalusian sun!