Especially if you are visiting Seville during the summertime, a cocktail can be the perfect way to cool you down and get you through the remainder of the museums. In Spain, cocktails are not usually served as commonly as beer and wine. That doesn't mean that you won't be able to find a cocktail with the perfect level of sweetness and sourness. However, you have to know where to look. Even though bars have an entire liquor stock, they don't make cocktails for the most part. Don't be deceived. Here are Seville's top 12 cocktail bars.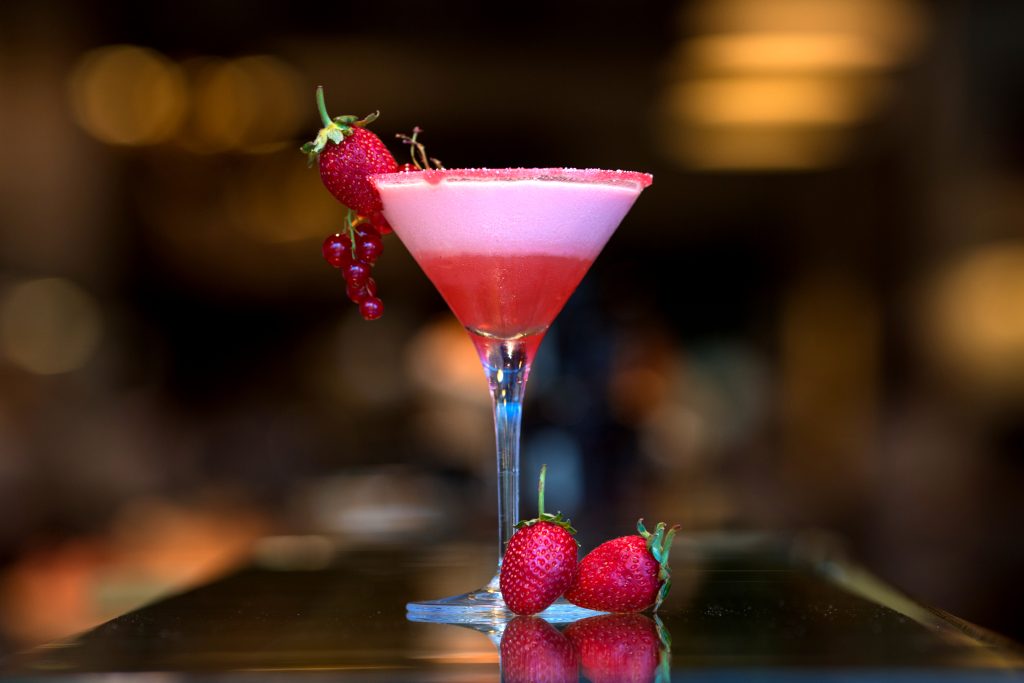 La Bicicleteria
Firstly, of Seville's top 12 cocktail bars is La Bicicleteria . This bar is full of colour, infectious energy, and tasty cocktails based in Feria. So set the scene, there are lampshades made out of flamenco dresses, seats made from bicycles, a dog with dreadlocks and most importantly, cocktails made with love. We recommend the mojito; it's refreshing, sweet and only costs €6. An insider's tip is to bring cash; this bar does not accept the card. There is an Atm here if needs be.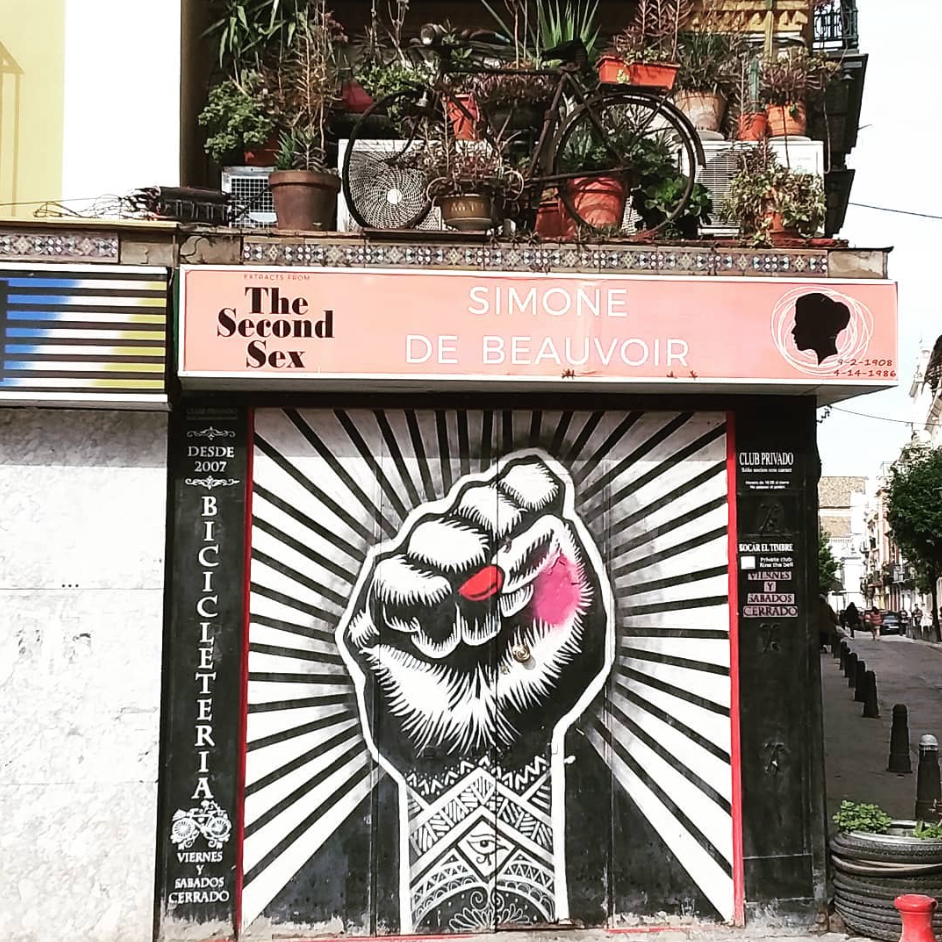 The Second Room
The second room is a small but lively cocktail bar. This fully stocked cocktail bar does not sell tapas, just cocktails. Old fashioned tasted sharp; the Seville orange flavour came through. Other popular drinks are white Russians and Daquiris. The staff are friendly and welcoming, and if you are staying near the cathedral, you are only a two-minute walk away. The google maps location is here: Seville's top 12 cocktail bars, The Second Room.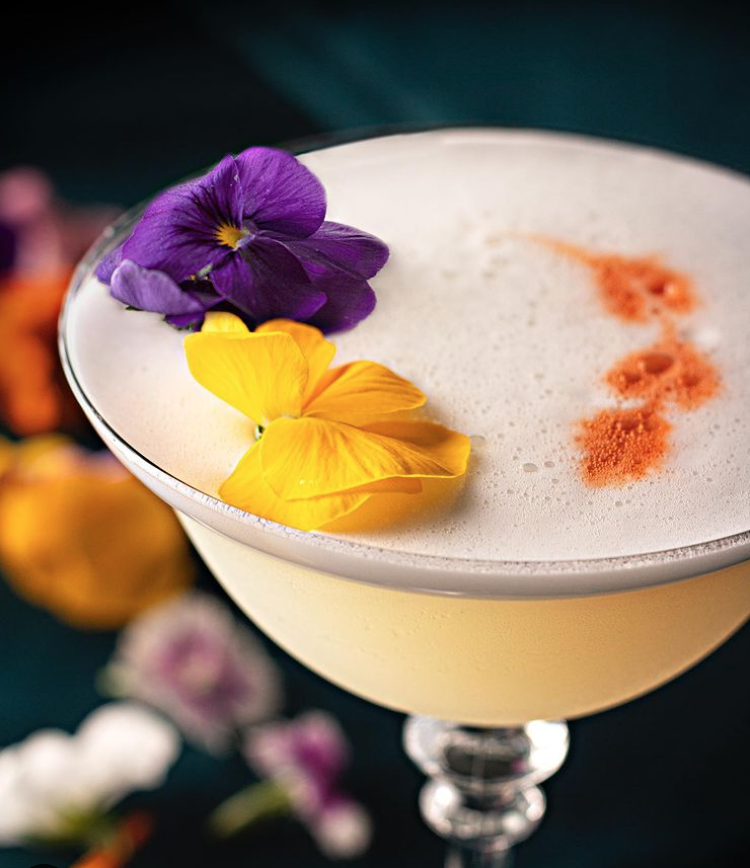 An Authentic Bodega. Donaire house is a buzzing restaurant with an elaborate cocktail menu. If you visit the Alcazar palace or the cathedral, this restaurant is very close. Not only are they serving out of this world tapas, but they are also keeping the people in Seville refreshed and happy with a cocktail in hand. We recommend trying the Moscow mule. Served in a classic copper cup, the Moscow mule is fiery, sweet, and the lime juice brings balance to this drink.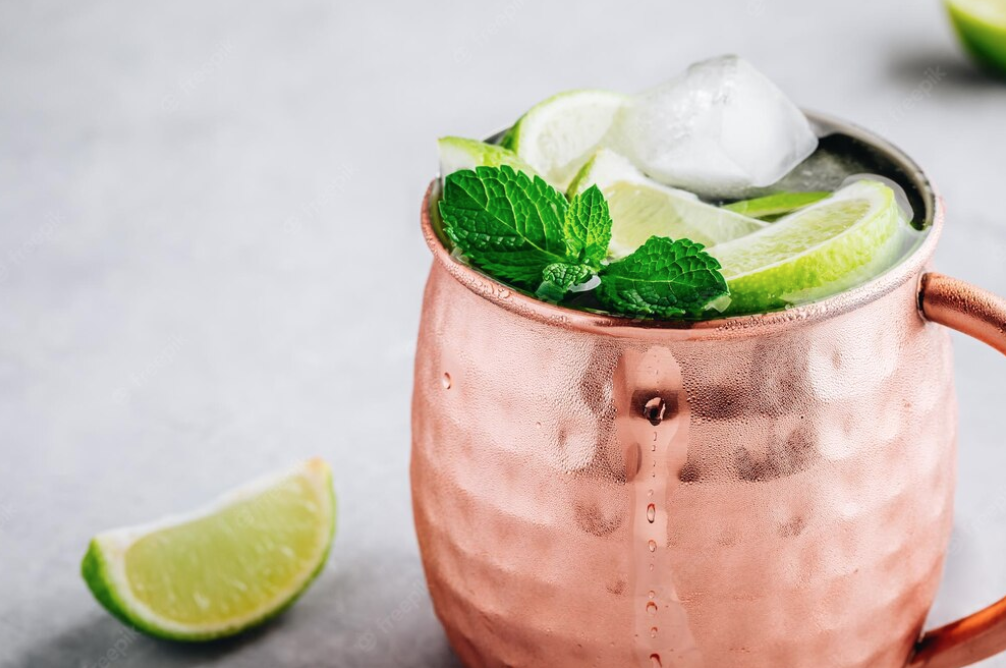 Mano de Santo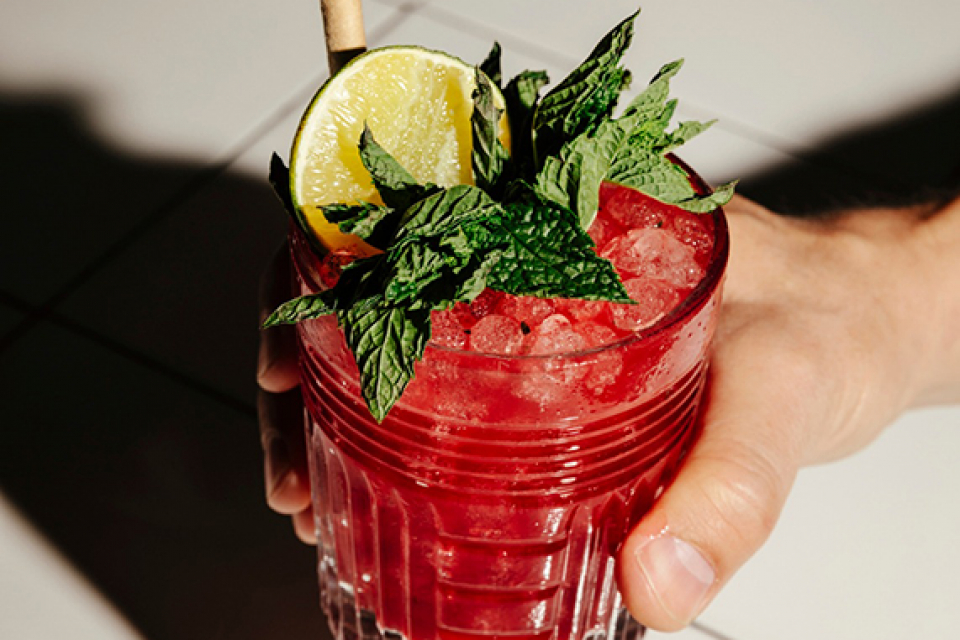 El Mano de Santo is a vibrant and colourful Mexican restaurant. They carefully craft a wide range of cocktails where mezcal and tequila are the real stars. The menu includes more than eighty references to Mexican spirits. Some shining cocktails are the Margarita de Guayaba, the Oaxaca Punch and the Michelada con Clamato. If you visit the branch in Alemeda, there are two restaurants, one that serves only drinks and another that serves both food and beverages. Here is the address for the Mano de Santo Cocktail Bar.
EME Terraza
EME also has one of the best rooftop bars in the city. With unbeatable views of the cathedral and a swimming pool, no list of Seville's top 12 cocktail bars would be complete without this destination hotel being mentioned. Cocktails are slightly more expensive than other establishments, but we think the view is worth it. Another thing worth mentioning is taking a Rooftop walking tour. Visiting Seville's best rooftops is a magic way to see the city.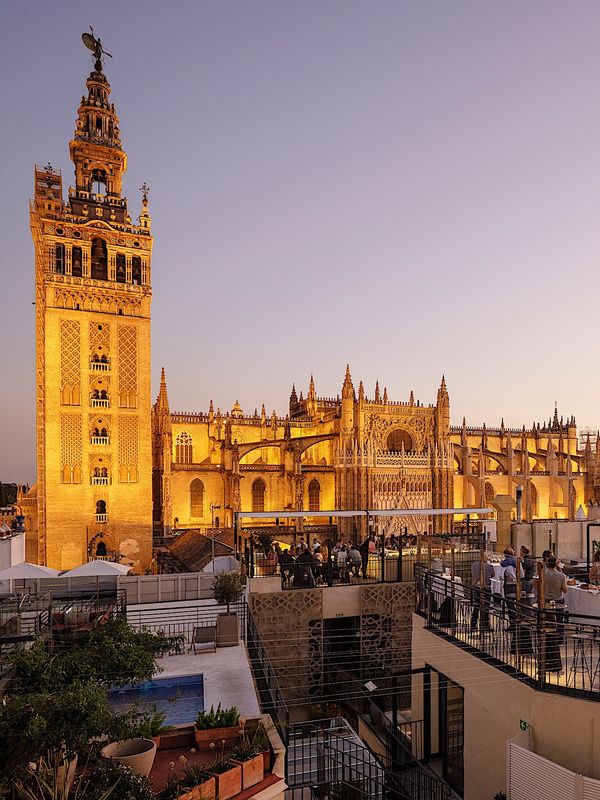 Bar 17
Bar 17 is a rooftop bar that shares the floor with the Hotel Doña María. Go on Fridays for live music an energetic atmosphere, and a guaranteed fun time. Enjoy the stunning views of la giralda and finish your day with a cocktail in your hand. The flourishing garden is one of the reasons why Bar 17 made it onto our list of Seville's top 12 cocktail bars. Go and see for yourself!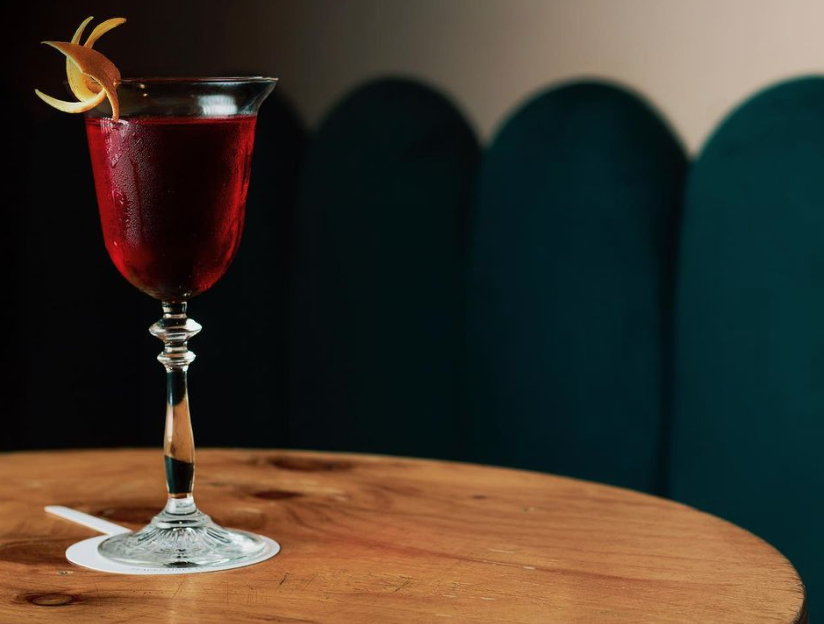 Situated in the city's heart, Club San Francisco has been called the coolest bar in Seville. With the air of a New York lounge, the deco is sleek, and the cocktails are every bit as classy. The bartenders are talented mixologists, and sometimes they even take requests. The cocktail bar has three floors and a terrace too!. If tou are in town, this bar is a wonderful place to watch the Semana Santa parade.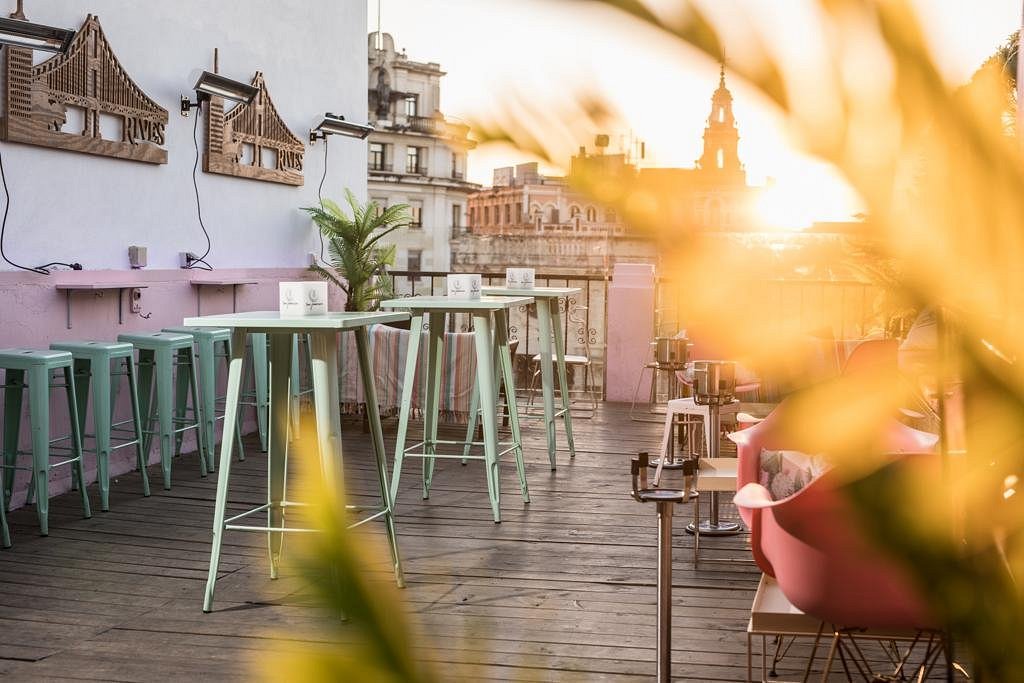 Premier Garden Cocktail Bar
Premier Cocktail Bar has a rich menu of classic and signature cocktails that they renew every season, keeping the establishment's taste evolving and fresh. In addition, this cocktail bar has a garden terrace; the twisted trees create shade and a majestic atmosphere to add delight as you enjoy your cocktail. Consult your bartenders and let them surprise you with a cocktail suited to your tastes. Located near Prado de San Sebastian park, this bar had to be mentioned among Seville's top 12 cocktail bars. Click here for the: Premier Cocktail Location.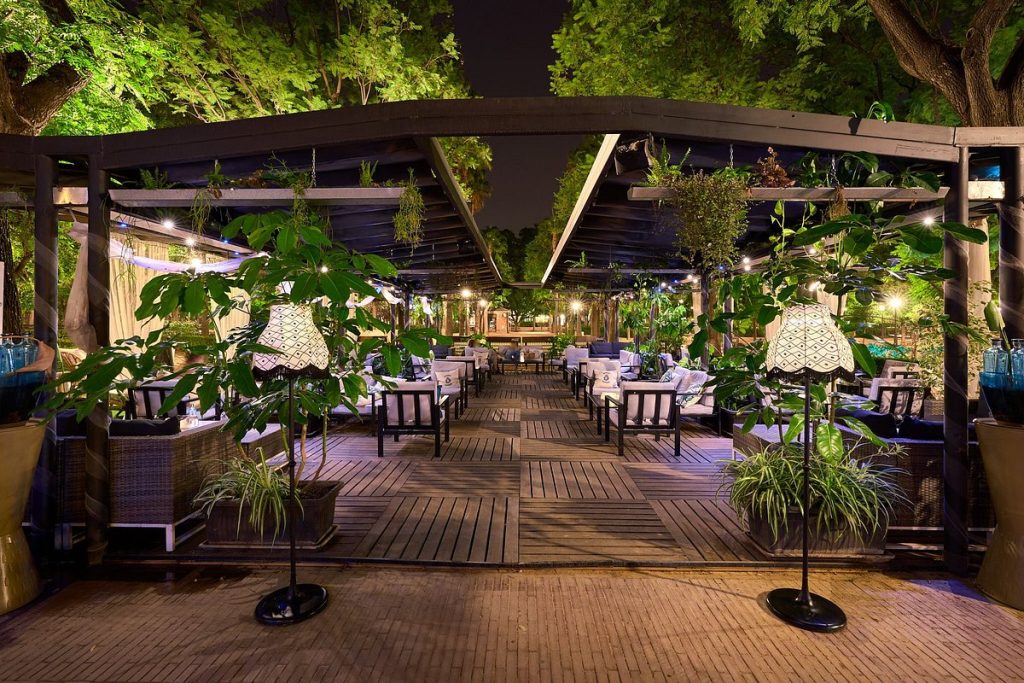 Premier Nervion
Regarding their Spanish gin selection, Premier Nervion forefronts Seville's top 12 cocktail bars. You will receive generous measures and welcomed information from knowledgeable staff. Furthermore, this bar isn't overly fancy, but with over 300 varieties, this is the place for you if you are a gin fan.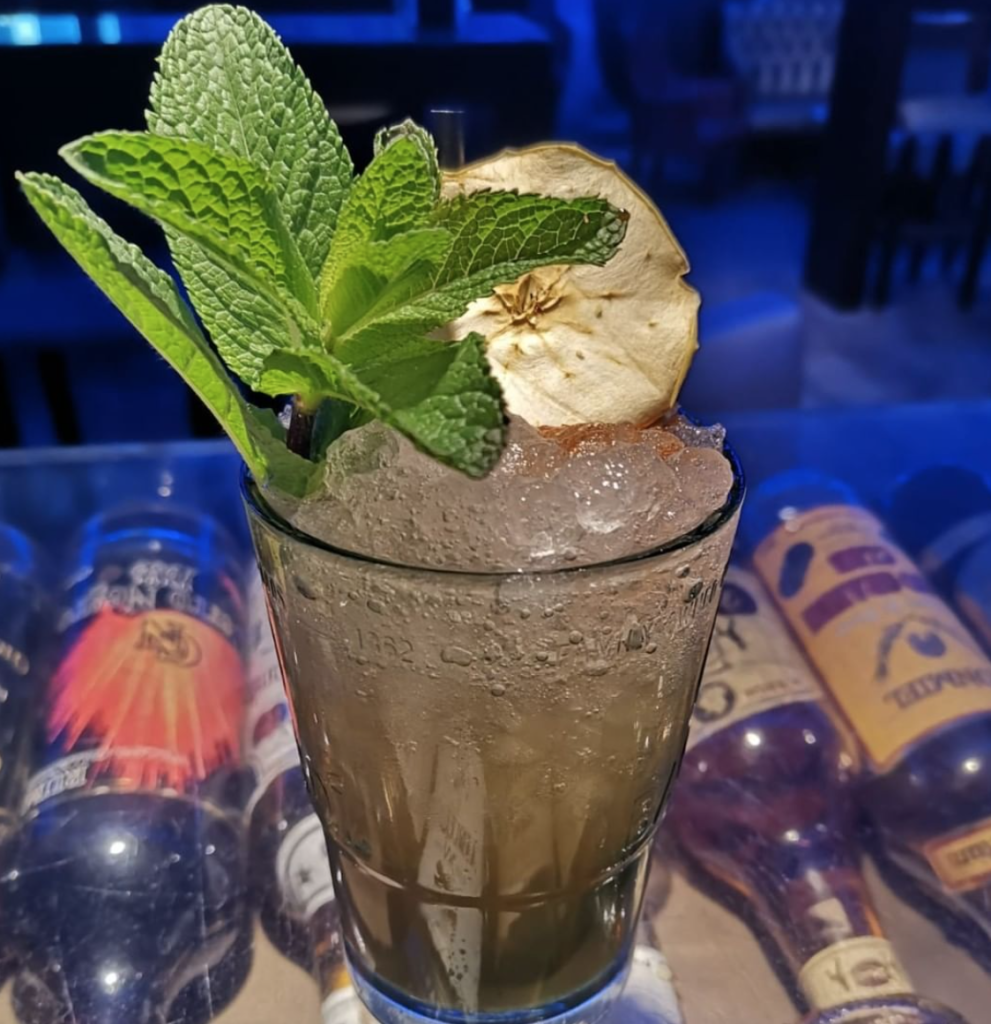 Level 5 Cocktail Bar
Located on the top of hotel Ribera de Triana, this rooftop bar looks over the banks of the Guadalquivir River. Not only is the bar an excellent place for people-watching. After kayaking and sweating in the river have a chilled cocktail kayaking, this is the place for a drink after an adventure. Compared to other rooftop bars, the price of the cocktails are cheaper, one reason why Level 5 makes an appearance on Seville's top 12 cocktail bars.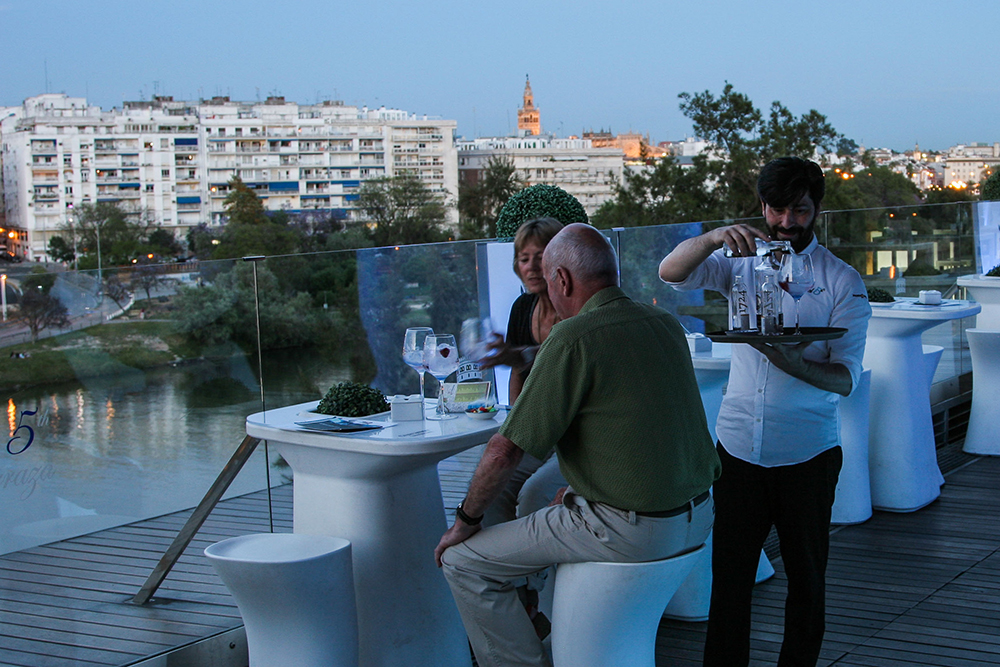 This warm bodega is next on our list of Seville's top 12 cocktail bars. Looking down to la Giralda tower, this restaurant has a pleasant buzz. Furthermore, the wooden furnishings are quaint, and the walls are covered in historical photographs. We couldn't forget to mention the Sangria: it is fresh and uses local fruit. For a glass of Sangría, order a "copa", and for a jug, order a "jarra". Equally important is the celebrated Rebujito. Made with manzanilla wine, a soft drink (7up or lemonade) and infused with fresh mint, this Andalucian drink is usually drank during Feria. Suppose you want to learn more about Jerez's famous dry dessert wines. Click here to find out more about our: sherry wine tasting tour. 
Bar Americano
Bar Americano serves first-class drinks in an Iconic Hotel. Located in the hotel Alfonso, this swanky cocktail bar is home to a lovely central patio and an ample soft seating area. Only 15 minuets away from Real Alcazar, this bar is very central, and the cocktails are delicious too! In addition, this bar is an excellent choice if you are hungry and caught between traditional serving hours or are looking for an excuse to visit this hotel.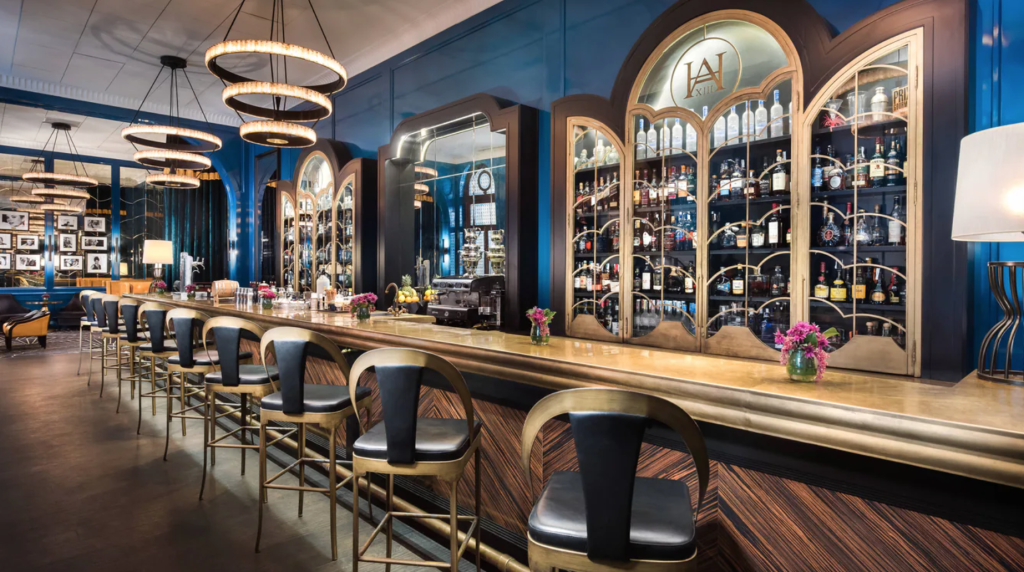 We hope you enjoyed reading about Seville's top 12 cocktail bars. Hopefully, next time you are in Seville and are craving a mixed beverage, this guide will take you to the bar that suits you best. For information on any of the tours mentioned above, you can contact us here.