There is no better way to discover a new city than by visiting its museums showcasing all its history. So, you could learn about significant aspects of its culture.
Seville is a city full of culture and history. Apart from food, traditions, and cultural offers, its museums display more than 2000 years of history. Keep reading the post to discover the 8 best museums in Seville. You will immerse yourself in a cultural experience.
1. Museo de Bellas Artes (Museum of Fine Arts)
One of the favourite museums in Seville is, undoubtedly, the Fine Arts Museum. In the past, it was an old convent.
It was founded by St. Peter Nolasco and lovingly restored. This magnificent art museum is nowadays the second most important one in Spain. Its galleries are placed around the central patio, decorated with salmon colours and flowers. The museum contains important paintings from well-known artists, such as Zurbarán, Murillo, or Velázquez.
In this museum, religious art predominates. Its impressive collection of Spanish art and culture extends from painting dating back to the 17th century.
Here you have a #traveltip: If you visit the museum on Sunday, make sure to stroll through the outdoor art market. There, the local painters sell their watercolor scenes of the city. Have a look at the prices and opening hours in advance. Don't sit back and do nothing as I did when I visited the day was closed.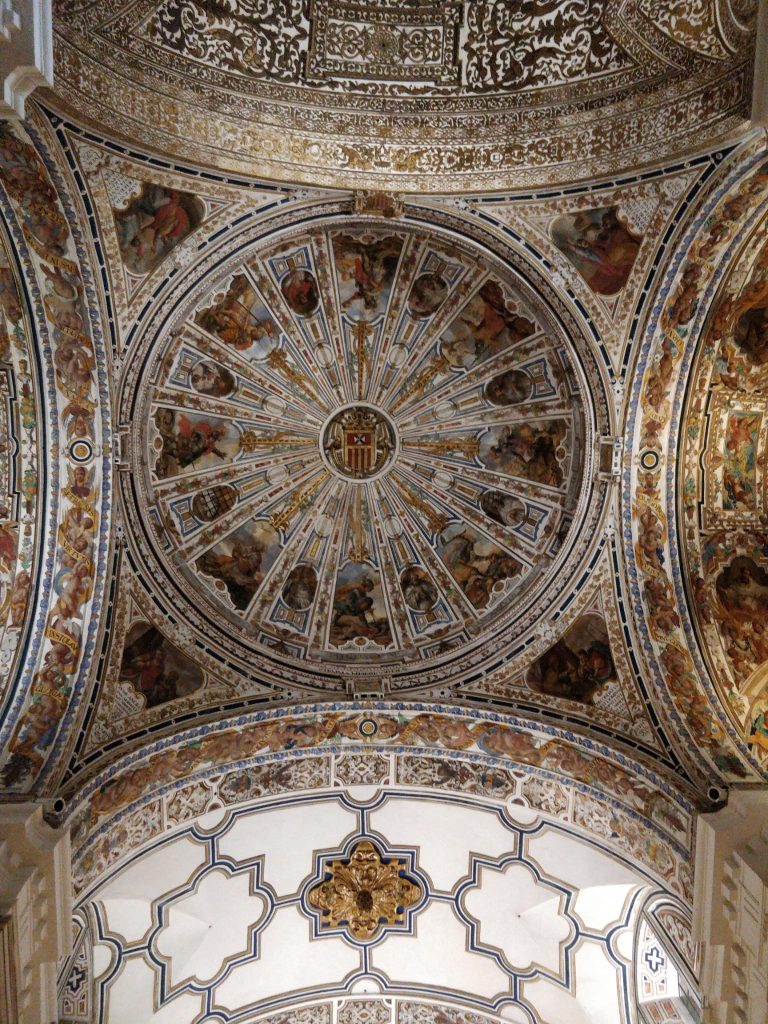 2. Centro Andaluz de Arte Contemporáneo (Andalusian Museum of Contemporary Art)
Located in the magnificent 15th-century monastery of Santa Maria de las Cuevas, this museum is also known as CAAC in Spanish. The collection focuses on the history of contemporary Andalusian art.
Opened in Seville's Cartuja Business Park in 1998, it showcases both art old and new artworks through temporary exhibitions. Apart from the rotating exhibits, there are also held workshops, concerts, film cycles, and lectures, among other activities and events.
In the past, Columbus stayed here at the Carthusian monastery before his voyages. Nowadays the gallery is part of the new cultural hub together with the Caixa Forum cultural centre and Pabellon de Navegacion museum. Have you ever visited it? If not, take advantage of your stay in Seville to discover some traditional and cultural characteristics of the Spanish and Andalusian culture.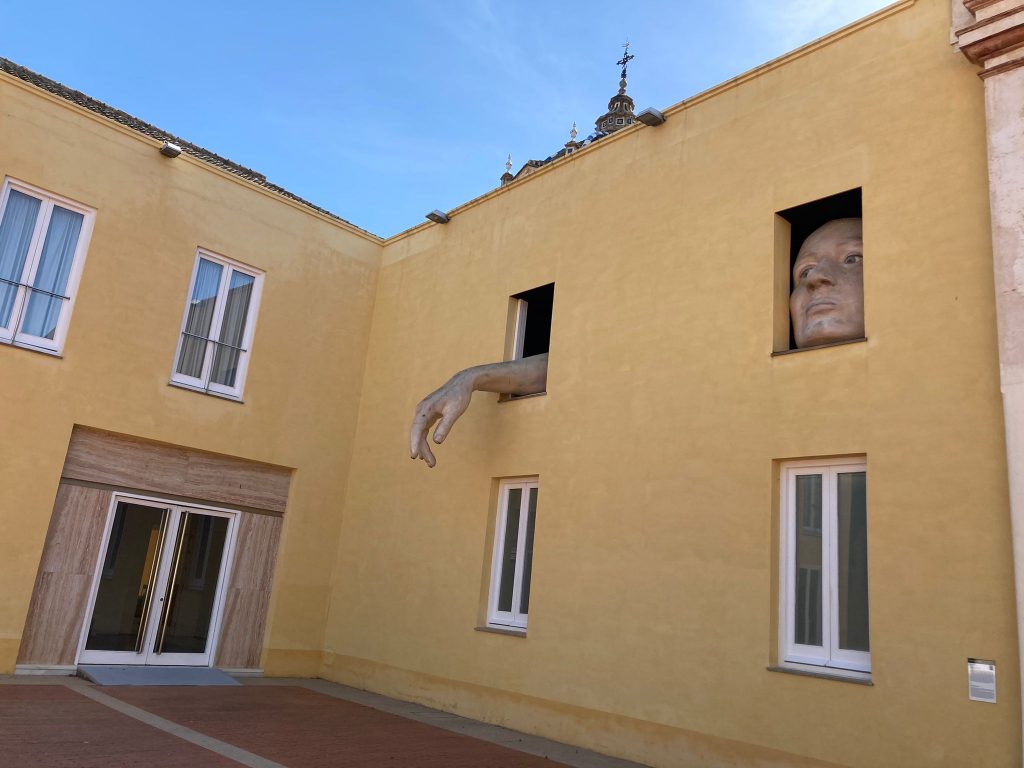 3. Museo del Baile Flamenco (Flamenco Museum of Seville)
Flamenco is one of the most important treasures and wonders associated with Seville and Southern Spain. Tourists crave flamenco, tablaos, and flamenco shows. Consequently, what they are looking for while they visit the city is discovering the Andalusian culture. If you are interested in flamenco, here you have the best way to delve into some other aspects of flamenco.
Founded by a flamenco dancer, it opened its doors just a few years ago.
In a beautiful 18-century Palace House, the Museo of Flamenco commemorates the history of art through its four floors full of interactive material. Considered one of the most authentic museums and one of the most visited by international travellers, the Museo of Flamenco is a must to visit. Make sure to buy your tickets in advance to be able to enjoy its workshops, shows or flamenco classes!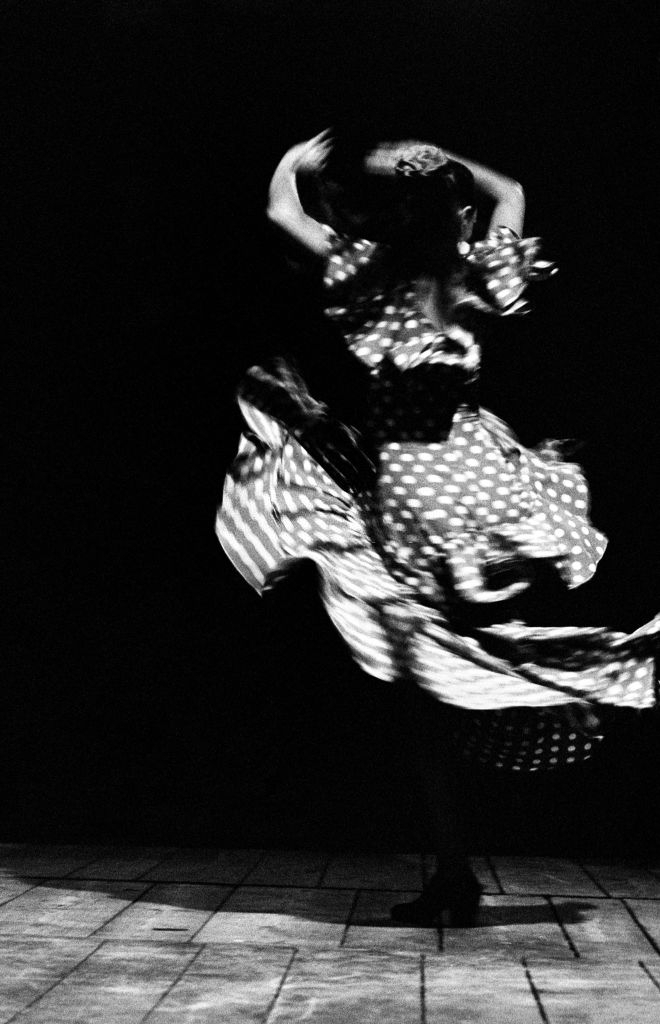 4. Museo Arqueológico (Arqueological Museum)
Situated in a building designed for a mid-19th century exhibition and near Maria Luisa Park, Seville's Archaeological Museum is nowadays considered one of the most important architecture museums with a mixture of baroque and neoclassical styles.
The Archaeological Museum includes in its collection works even from the Roman time. There, you could find some statues of the emperors as well as other recreations of Roman tombs. There you could also see other pieces from prehistoric times. Undoubtedly, it should be one of your 8 best museums in Seville. In case of being interested in continue learning about the Romans and their legacy in Spain, you should also visit the Roman Ruins in Santiponce called Italica.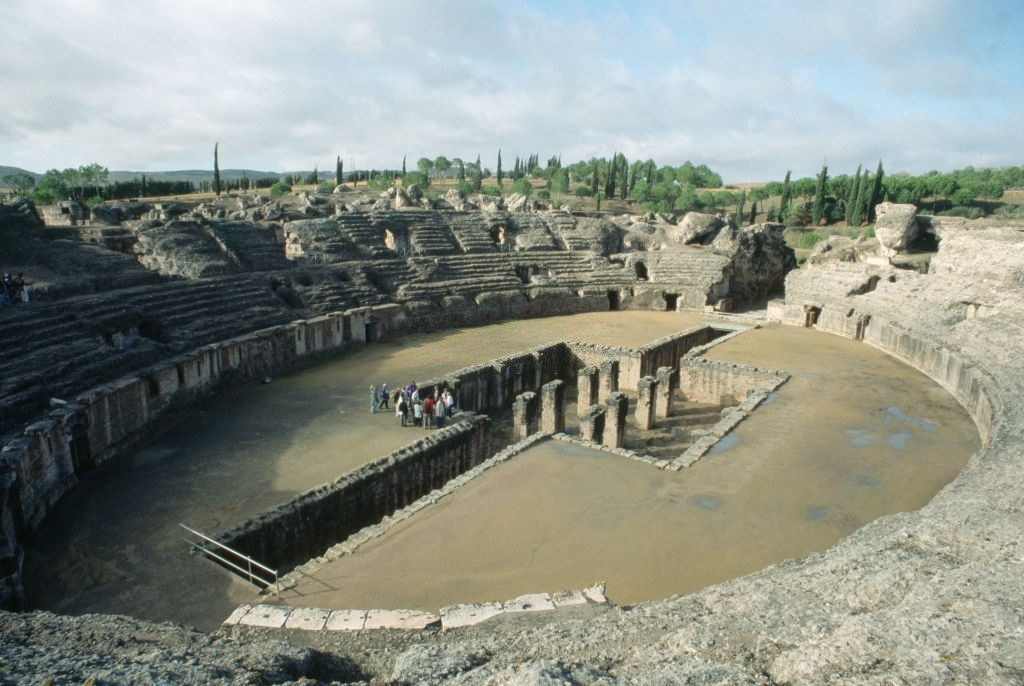 5. Museo de Artes y Costumbres Populares (Museum of Arts and Traditions of Seville)
Are you into fashion? Maybe you would like to check out a collection of traditional clothing and decorative arts of the Andalusian culture. Here you will discover some of the detailing crafts or ceramics made by the sevillanos. This is your museum, keep reading to uncover some of the top curiosities.
Just on the other side of Maria Luisa Park, next to the Archaeological Museum, you will easily find the Museum of Arts and Popular Customs. Housed in a stunning Mudejar Palace, you could see some permanent workshop scenes. Moreover, other displays of 19-century accessories, pieces of furniture, Semana Santa, April fair, etc. are there. Without any doubt, it is worth a visit. So, why not stop by when strolling along Maria Luisa Park?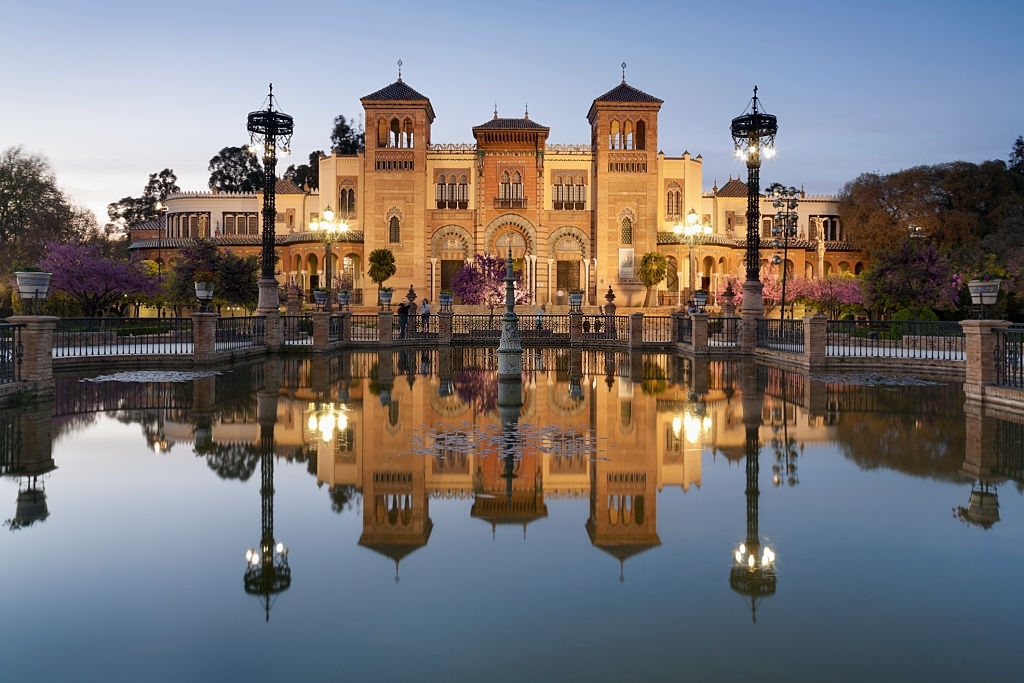 6. Castillo San Jorge (Inquisition Museum)
Although it is situated in Triana neighbourhood with the remains of the ancient Castillo de San Jorge, the Museum became the seat of the Spanish Inquisition and the dark period of the Catholic Church's history.
Visiting it you could choose the free audioguide to discover the captivating historical context accompanied by some multimedia media and other pictures of some key sites of the Inquisition. You will also see some of the castle ruins and the location of some jail cells.
It is surely worth a visit not only for the views but also for everything this museum hides. All the suffering, dark side of human history are here to remind of us what we have achieved in terms of human rights.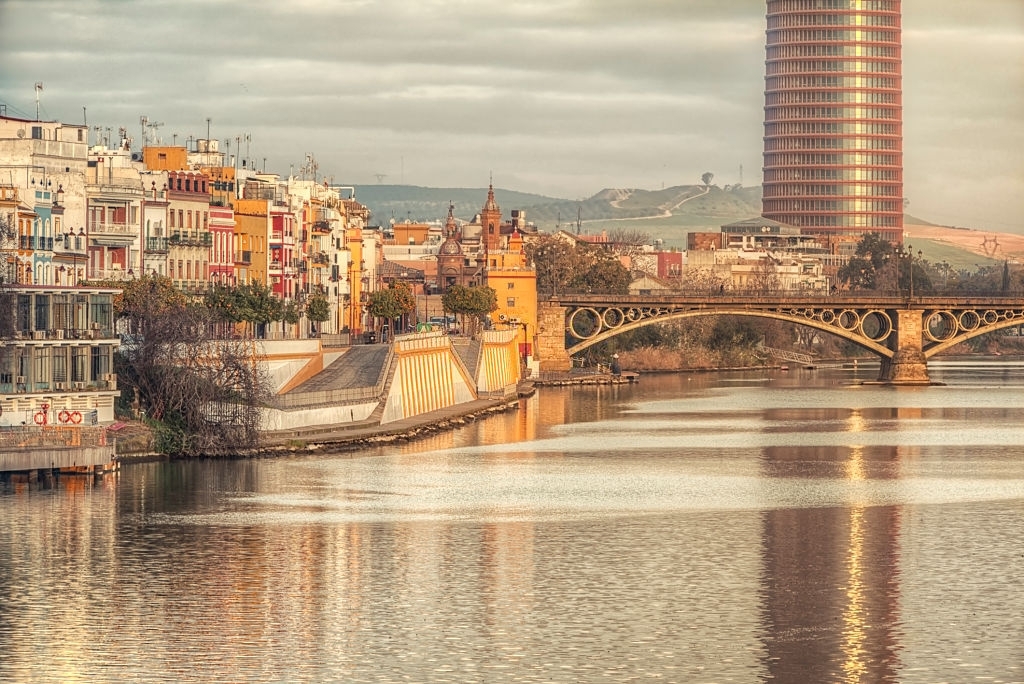 7. Museo Naval Torre del Oro (The Torre del Oro Seafaring Museum)
Surely, you know where Torre del Oro is, but do you know what did it represent in the past and for what it was used? This tourist attraction, also known as the Golden Tower, was a Moorish watchtower designed to protect and guard the banks of the river Guadalquivir.
Nowadays and before the Spanish Civil War, inside of the tower is a naval museum. It is composed of flags and some diving equipment. Distributed over various floors, the tower which was once a treasure of the New World contains some illustrious examples of what was used in the past. Visiting it, you will discover some curiosities and facts about the Torre del Oro. Add The Torre del Oro Seafaring Museum to your 8 best museums in Seville. It will be worth a visit for the interesting information that it entails. Similarly, because of the spectacular views over the river that you will have if you climb to the roof terrace.
Why not stop while strolling along the Paseo de las Delicias and enjoy it?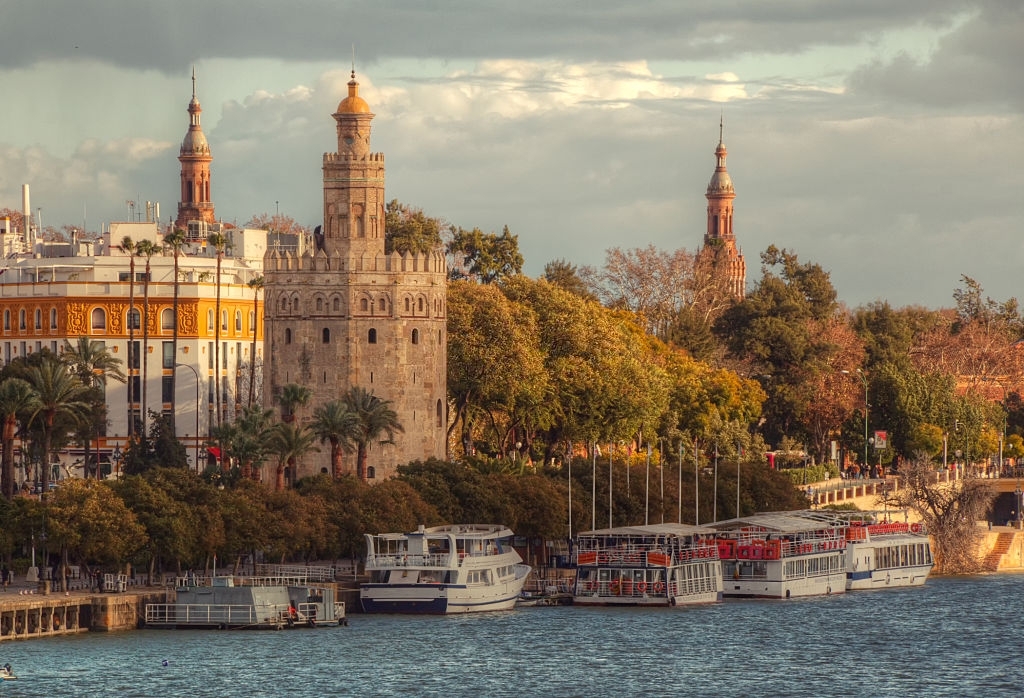 8. Plaza de Toros de la Maestranza (Maestranza Bull Ring)
What is completely sure is that together with flamenco, bullfighting is one of the most celebrated and typical traditions in Spain. Have you ever visited the Maestranza Bull Ring? Considered one of the finest and oldest in Spain, this magnificent bull ring is of worldwide importance.
In case, you would like to learn about it, but bullfight is not your thing, don't worry at all! You can visit its small but interesting museum. There you could discover about its history from the 18th century until today. You could see some of the traditional costumes, posters of famous bullfighters as well as some famous paintings.
If you want to travel across bullfighting history, here you have the occasion. Don't miss it!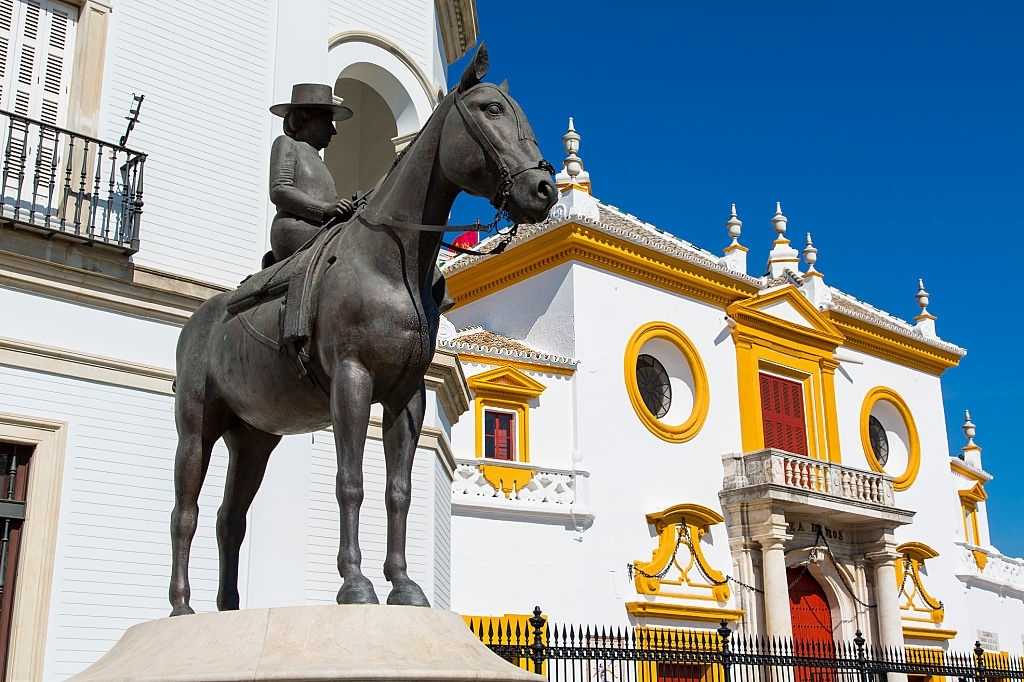 In short, Seville is a city full of art, culture, and history. There are plenty of things to do. You had enough of museums? Don't forget to taste the famous Andalusian tapas, to watch a flamenco show.