Now that you know why Seville is the perfect city to celebrate a stag/hen party, you will probably be eagerly looking for some original ideas in this city. Let's go through some of the coolest stag and hen party ideas in Seville:
Tour around Seville while tasting traditional dishes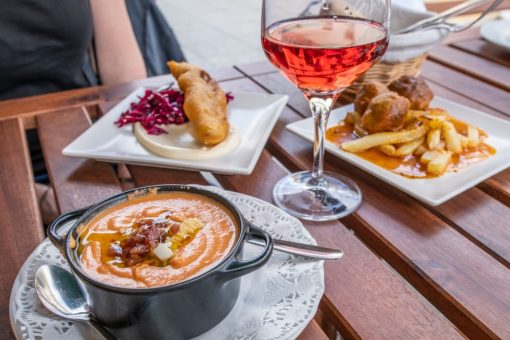 If you have never visited Seville before, you should take a city tour. It is totally worth it and one of the most popular stag and hen party ideas in Seville! If your visit is short, 2 hours are enough to get to know the highlights of Seville. If you have a little more time, why not invest 4 hours in discovering this wonderful city in more depth?
Whatever you decide to do, don't forget to visit the Cathedral of Seville and the Alcazar. Together with the General Archive of the Indies, they make up a monumental ensemble that has been declared a World Heritage Site since 1987. They are located in the center of Seville, which is exceptionally beautiful. Take this opportunity to enjoy the fantastic views and the good temperature. Soak up the incomparable city's atmosphere!
On top of your list should be the less toursity Triana quarter. There are plenty of tapas bars, flamenco venues and restaurants. Your mouth will water with Seville's traditional dishes.
Another quarter that is well worth a visit is Alameda. It is the oldest public garden in Spain —and in Europe! Walking along this wide boulevard and seeing the crowds, some artisan stalls from time to time, people playing guitars, etc. is a real treat. The bars in the area have quite affordable prices. You will also find many pubs where you can have a beer or any other drink you like.
I hope your camera returns full of photos and memories of this beautiful city. Besides, your stag/hen party is sure to be full of moments to immortalize.
Clubbing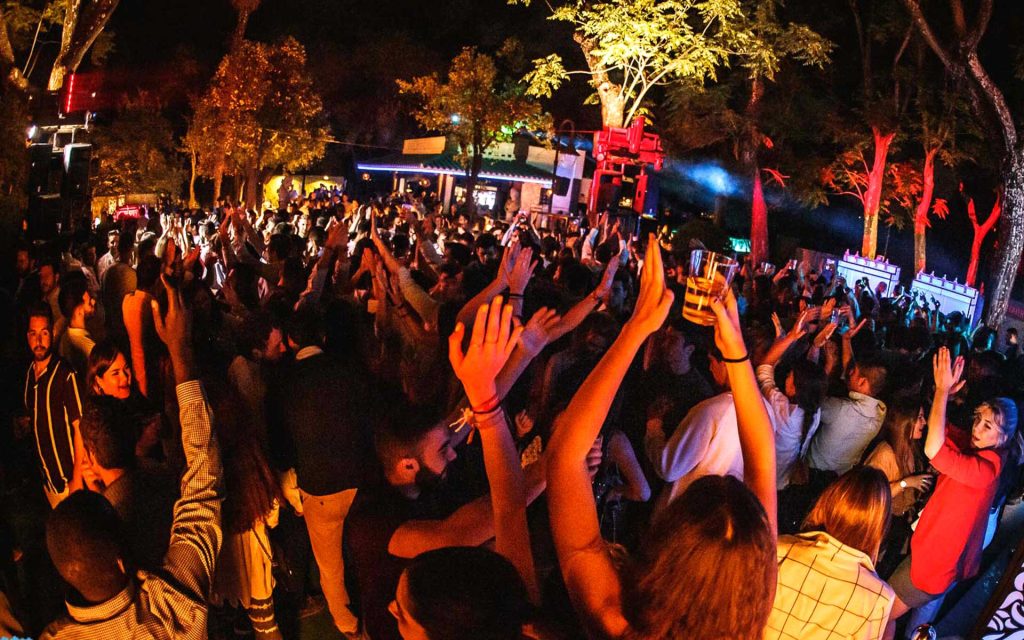 Limousines are one of the typical stag and hen party ideas in Seville. Going on the move while enjoying some good music accompanied by your friends and having a drink sounds great. But Seville has much more to offer.
If limousines are not your cup of tea because you get dizzy, you think that they are pricey, you don't feel like going on a ride… how about partying the traditional way and getting to know Seville's nightlife?
Who better to party with than Spanish people? In Seville, there are nightclubs in almost every quarter. Anyway, the party areas par excellence in the city are Alameda de Hercules, Paseo de Cristóbal Colón, `Paseo de las Delicias, Calle Betis and Alfalfa square.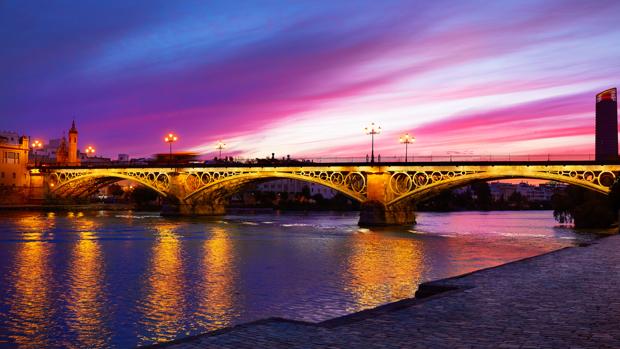 In addition to this, one of the most original stag and hen party ideas in Seville is to take a boat ride on the Guadalquivir river. On this ride, you will see some of the most well-known monuments of the city such as Torre del Oro. While enjoying the views you will also be enjoying the music, carefree!
Adventure time: paddle surf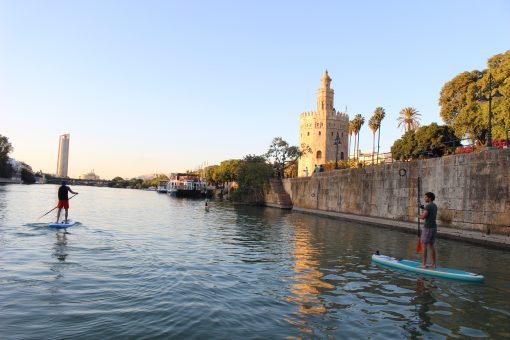 Still talking about the Guadalquivir river, I would like to ask you something… do you dare to try paddle surf? Go for it and try this different way of sightseeing. It is challenging but absolutely great fun. Laughter is guaranteed.
Adventure time: kayak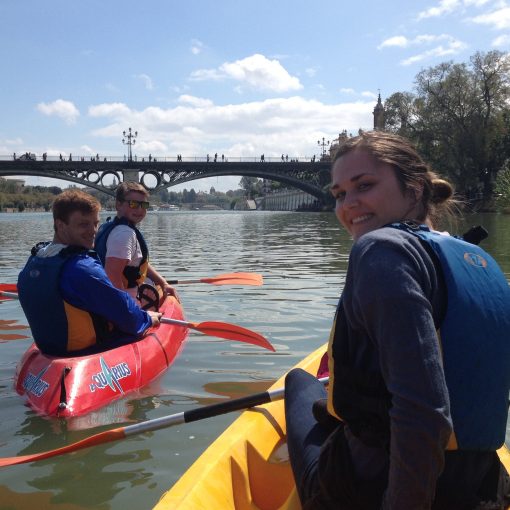 Another fun activity that takes place on the river is kayak. Seville's sunshine as well as warm weather will allow you to enjoy this activity throughout the year. On a hot summer day, it helps to refresh a bit and on a warm winter day, it's a great way to get tanned.
Horse riding plus picnic in the dunes of Doñana National Park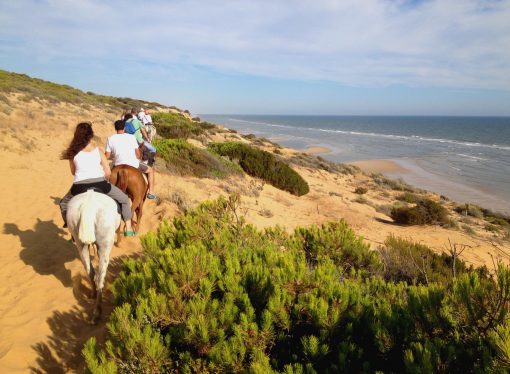 Have you ever ridden a horse before? Are you familiar with Doñana National Park? If your answer is no, let's kill two birds with one stone. Located in Huelva and Seville, Doñana National Park is home to unique biodiversity. Its marshes and dunes are what stand out the most. Plus, it was declared a World Heritage Site.
Why not have a picnic in the dunes of this park and enjoy this unrivaled place?
Discover flamenco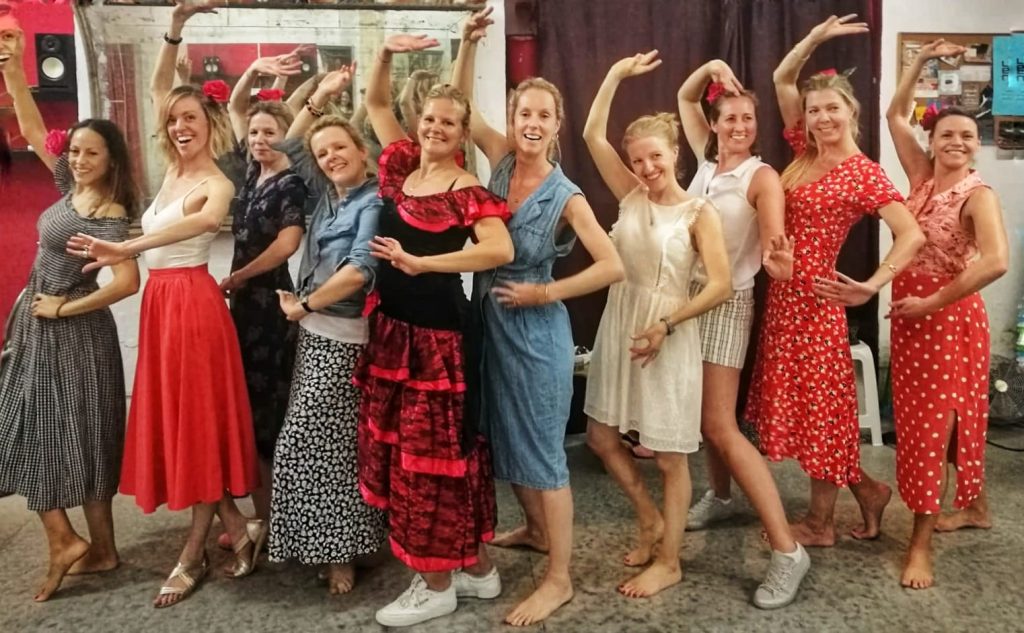 You've heard of flamenco, you probably know what it is. But do you know how to dance it? Give it a try, it's really enjoyable.
Seville is the best city where you can learn flamenco dance. In addition, you can watch some flamenco shows in quarters like Santa Cruz or Triana. Besides, in these quarters there are plenty of tapas bars and restaurants. Is there a better plan for your stag/hen party night?
Other cool options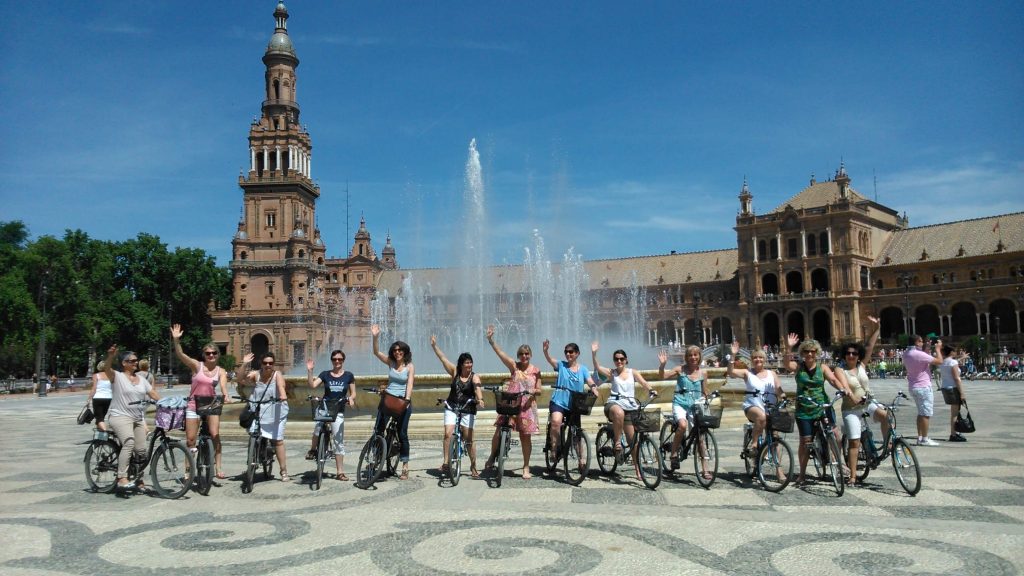 Why not take advantage of the fact that Seville is an easy, flat, sunny city and explore it by bike? Discover this bike-friendly city through its more than 180 kilometers of bike pathes. You can even ride it with electric bikes!
Also, escape rooms are always a lot of fun, and the bigger the group, the better you will have a great time. Keep in mind that going to an escape room in Seville is not only to overcome the challenge itself but to overcome the challenge of the Spanish language.
You should try Encrypted Sevilla Escape Room, Sam & Cooper Escape Room, El Secreto Escape Room or Brain2Brain Escape Room. It is sure to be an unforgettable experience.
Hopefully all these stag and hen party ideas in Seville have been useful and will help you to enjoy the city to the fullest. You can always leave your doubts or experiences in the comments, or if you prefer, contact us.