Choosing the city's old town to stay in during your visit to Seville, you are already one step closer to discovering charming Seville! As you may already know, Santa Cruz neighborhood is the old Jewish quarter of Seville. It is located west of the center of Seville, in the heart of the city. This labyrinth of narrow streets is one of the liveliest and most historic quarters of Seville.
Seville's old town is home to an important monumental ensemble: the Cathedral, the Reales Alcázares and the General Archive of the Indies. All of them have been declared World Heritage Sites by UNESCO.
Santa Cruz neighborhood is also one of the most visited quarters in the city. The downside of this is that it is very touristy. It is usually crowded and it is a more expensive area than others in the city. Thus, while you are staying in this fascinating quarter we encourage you to explore less touristy parts of the city too, such as Triana and Alameda.
In any case, if you are wondering where to stay in Seville's old town, here are a few options you should consider:
EME Catedral Mercer Hotel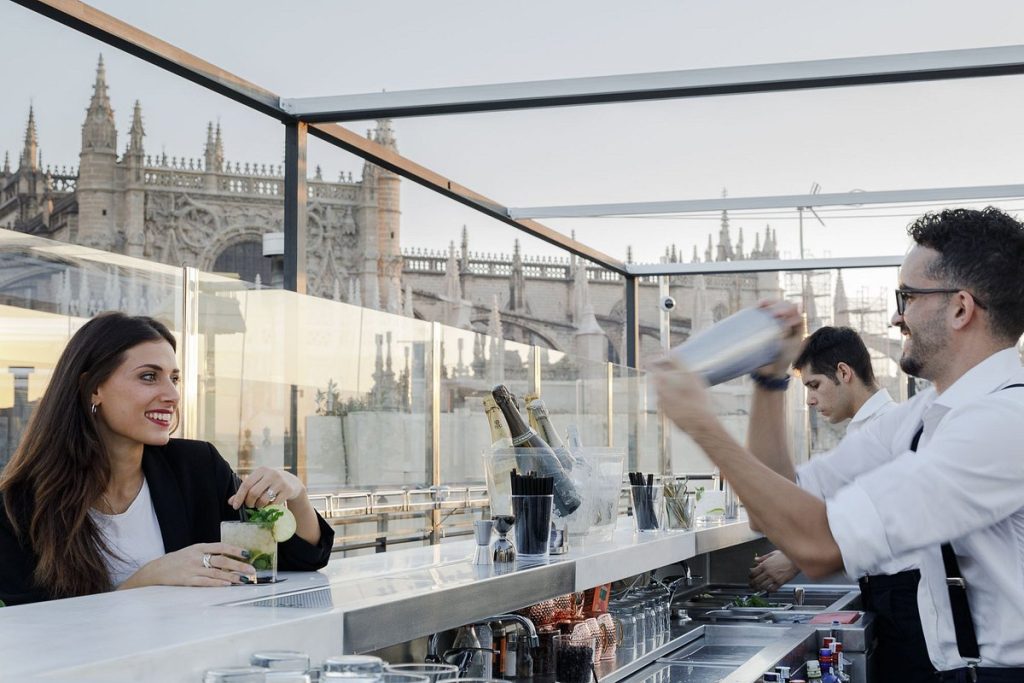 If you ask locals where to stay in Seville old town, they would probably say EME Catedral Mercer Hotel. This five-star hotel is very well-known to Sevillians. EME Catedral Mercer Hotel is a cosmopolitan hotel in a historic and monumental setting, with luxurious facilities. Also, its location is peerless, facing the magnificent Cathedral of Seville. It is a modern and contemporary hotel in a typical Andalusian building from the 16th century. This central hotel allows you to visit the main points of interest. Additionally, it is close to the most exclusive shopping area in the city.
Admiring the views of Seville old town from the roof terrace at sunset over a glass of wine is a very romantic plan. Then why not give it a try? Plus, from here you can see the typical Sevillian cofradías during Holy Week. 90% of them pass in front of the hotel.
Hotel Boutique Casa del Poeta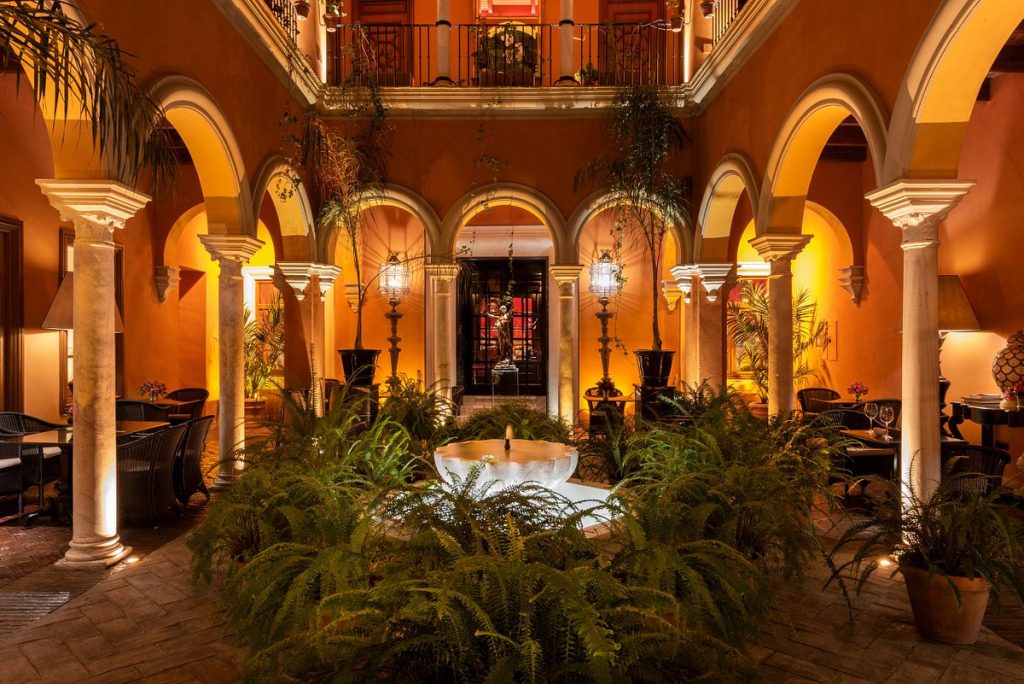 This four-star hotel is situated just 3 minutes walk from the Cathedral of Seville. It is located in a central pedestrian area surrounded by prestigious landmark buildings.
Hotel Boutique Casa del Poeta is a 17th century house restored in the 21st century. It has preserved its architecture and the original noble materials. It has a central courtyard with a fountain and all the rooms are arranged around it.
The hotel offers live classical Andalusian guitar music every day. It has a private terrace with views of the Santa Cruz dome and the Cathedral. What's more, it also has an exhibition of artwork.
Hotel Hospes Las Casas del Rey de Baeza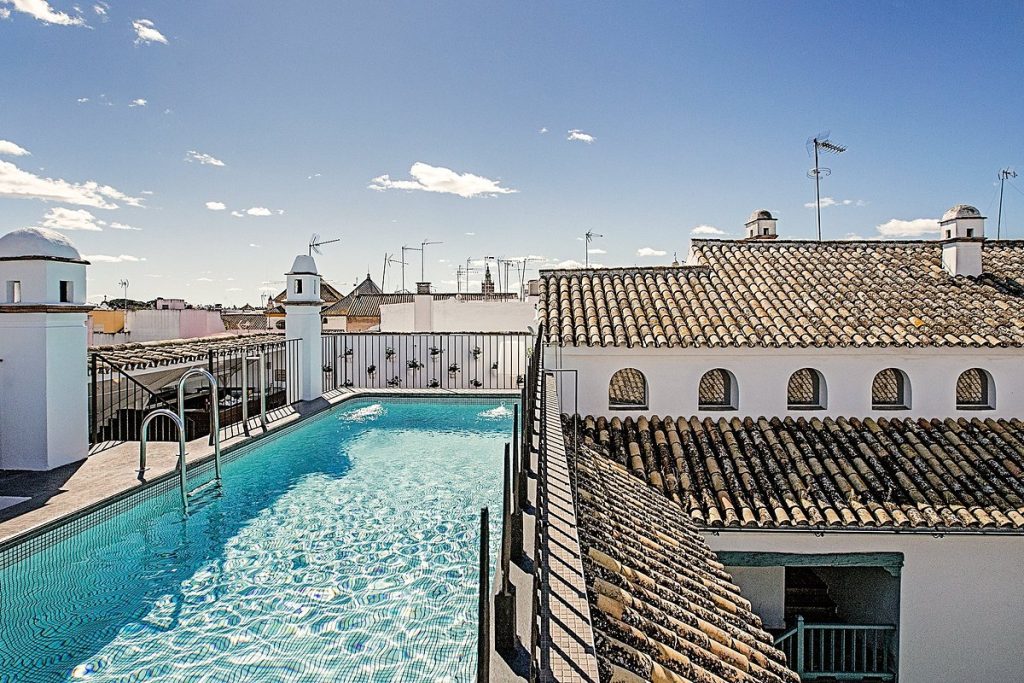 This four-star hotel is located in the historic center of the city of Seville. From Hotel Hospes Las Casas del Rey de Baeza you can make interesting visits to La Casa de Pilatos, the Museum of Fine Arts and the Flamenco Dance Museum. Don't forget that it would be a great idea to immortalize your visit through photos!
The hotel's rooftop terrace gives you the chance to enjoy a tempting menu of tapas, salads and soft drinks while relaxing in the hotel's swimming pool.
Its Spa has an area for massages and beauty treatments. It also has an outdoor swimming pool and a solarium terrace. There you can enjoy the Andalusian sun while savoring healthy fresh fruit juices made in the hotel's pool bar.
As a souvenir, you can buy typical sweet desserts of the area: yemas from the convent of San Leandro or tocino de cielo from the convent of Santa Clara.
As this hotel is also located in Cordoba, Hospes Palacio del Bailío, don't you feel like visiting this neighboring city?
Hotel-Palacio Alcazar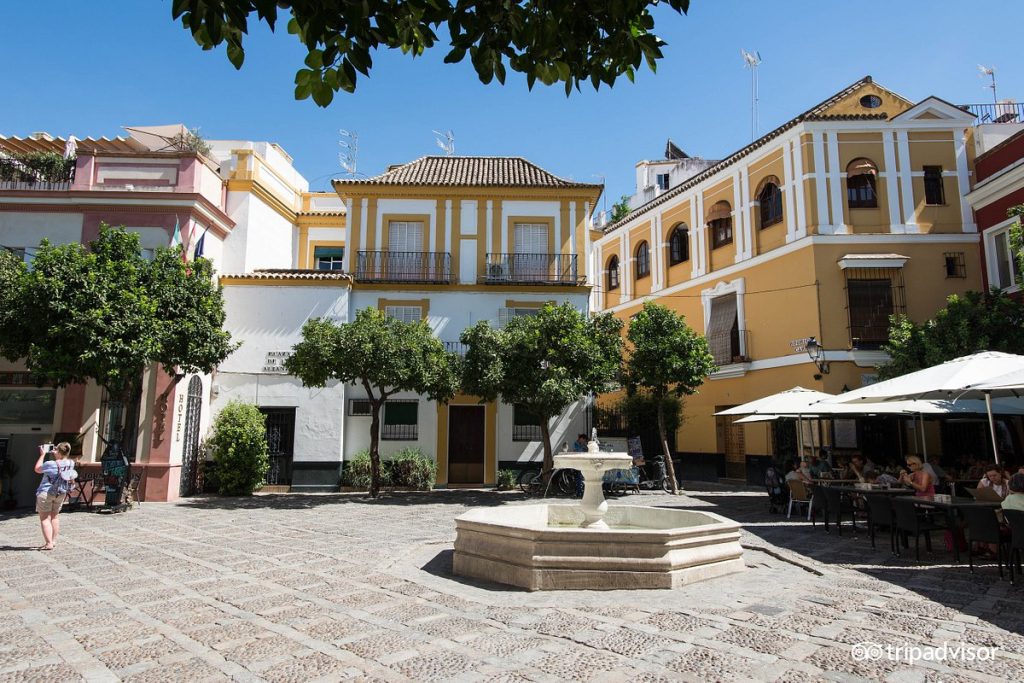 This charming 18th century house converted into a four-star hotel is located in the Plaza de la Alianza. It is considered one of the most beautiful squares by locals. It is surrounded by the walls of the Alcazar and traditional-looking houses, as well as abundant vegetation. In spring you will be captivated by the orange blossom scent of the orange trees, utterly incomparable!
We recommend that you take advantage of the hotel's location —an area full of restaurants and tapas bars— and taste traditional Andalusian food!
Hotel 1800 Casa Sevilla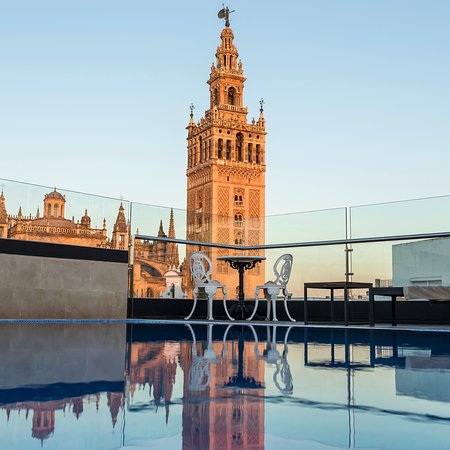 Just 130 meters from the Cathedral, in the heart of Seville's historic center, you can find a four-star hotel called Hotel 1800 Casa Sevilla. Therefore, take advantage of its privileged location and enjoy its rooftop swimming pool. Its panoramic views of the Cathedral and its bell tower, the Giralda, are impressive.
While staying in this 19th century palace house and enjoying the intimate and personalized treatment characteristic of the best boutique hotels, you shouldn't miss the opportunity to get to know Seville in just 2 hours!
In addition, since this hotel can also be found in Granada as Hotel Casa 1800 Granada we suggest that you visit this wonderful city. Do not miss the chance to discover the well-known Alhambra and Albaicín quarter while enjoying tapas and flamenco!
Hotel Fernando III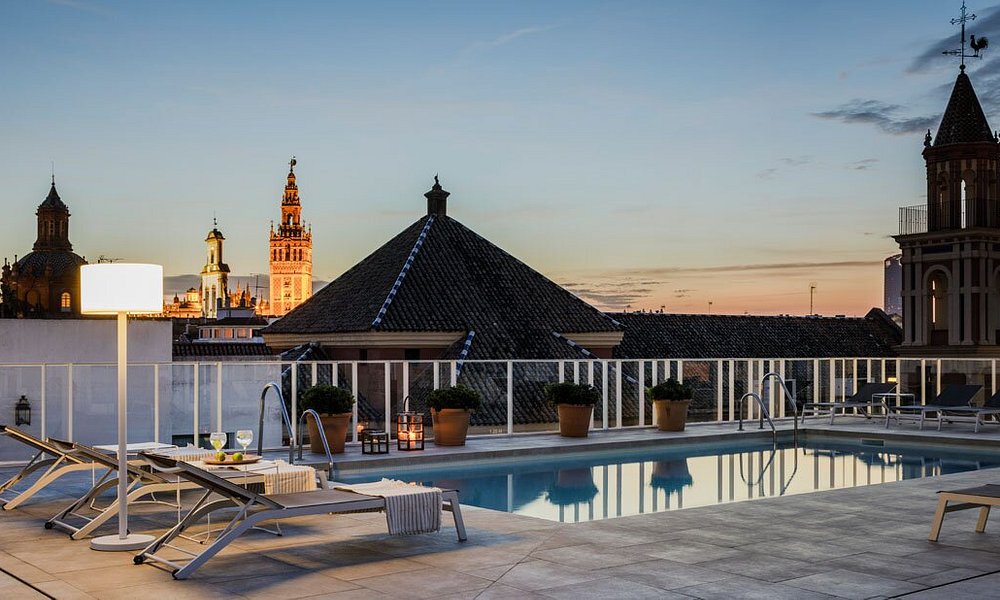 If you decide to stay in this classic and distinguished four-star hotel in the center of Seville, you should visit La Casa del Flamenco. It is located just 2 minutes walk away. In case you would like to attend another flamenco show, the ¿? show (enlace al espectáculo de flamenco que aún no está disponible) is totally worth watching.
You will notice that art is one of the main characteristics of this hotel since it has a remarkable collection of paintings by renowned artists.
You will also have the opportunity to take a dip in the swimming pool located on the outstanding terrace of the building, a relaxing and calm place in the gardens. There you can have lunch or a snack while enjoying one of the best views of the center of the historic city of Seville.
We recommend that you take a look at the hotel's restaurant menu, which includes a selection of innovative dishes of Andalusian and Sevillian gastronomy.
Legado Alcazar Hotel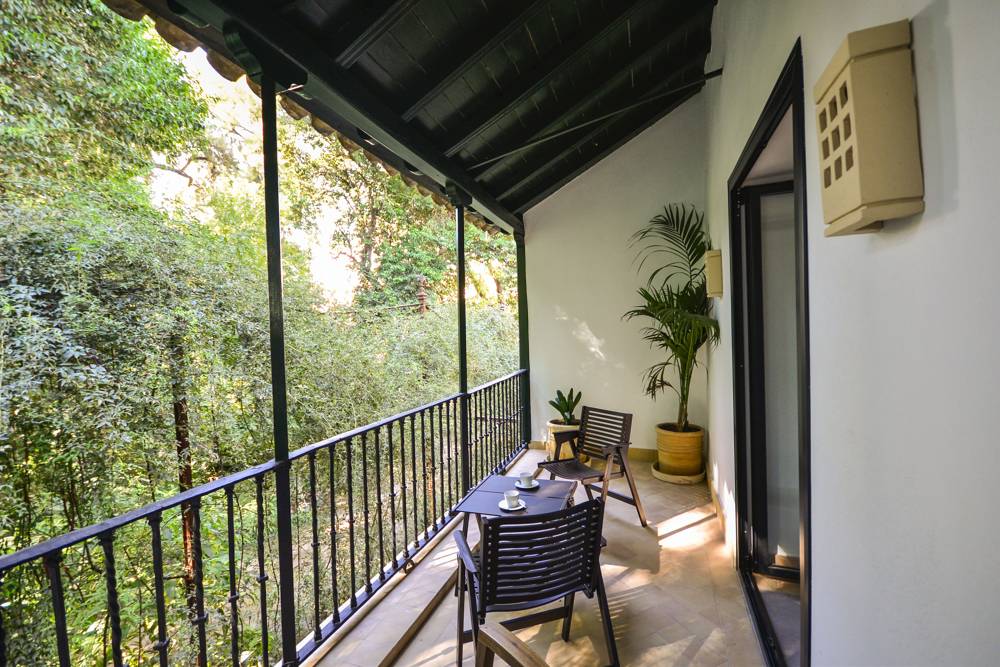 This four-star hotel is located next to the gardens of the Real Alcázar. In fact, some rooms of Legado Alcazar Hotel have terraces overlooking the gardens of the Real Alcázar. This is definitely one of the best hotels where to stay in Seville old town.
Did you know that the common areas of the hotel (the breakfast area and the reception at the entrance) contain the remains of the original walls of the Real Alcázar, some areas even dating back to the 12th century?
Petit Palace Santa Cruz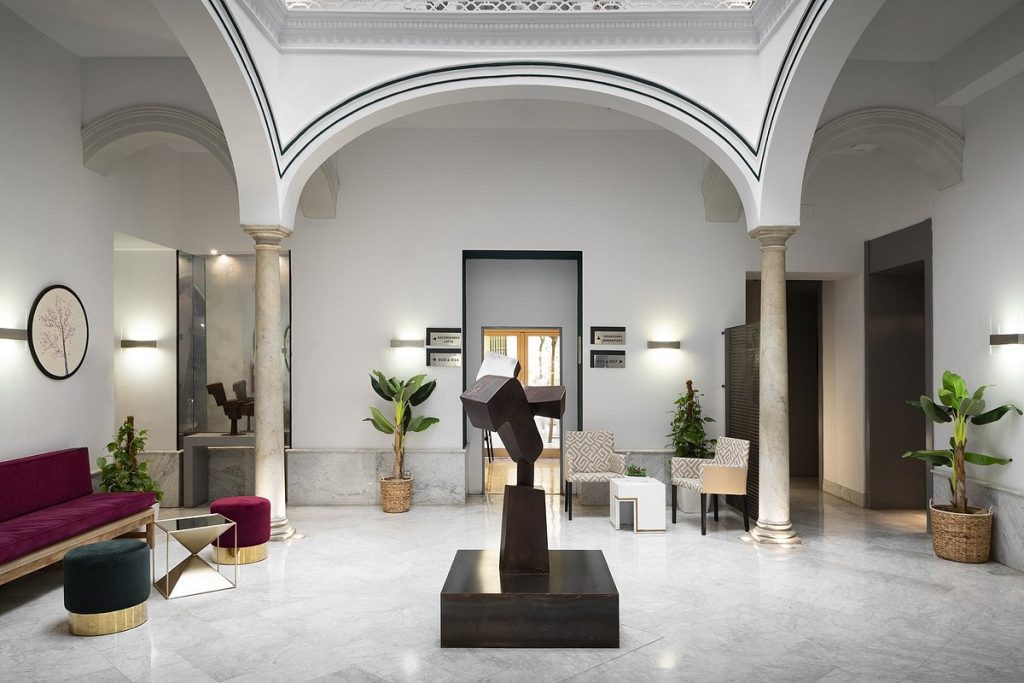 If you are still uncertain about where to stay in Seville old town, we suggest that you stay in Petit Palace Santa Cruz. It is a four-star hotel located 2 minutes on foot from the Flamenco Dance Museum. And it is just 8 minutes from the Flamenco Cultural Centre Casa de la Memoria.
This hotel has the charm of a 16th century palace house. It was declared an Asset of Cultural Interest for its architectural value. In addition to all of this, Petit Palace Santa Cruz is pet friendly!
Given that Seville is the perfect size and the perfect city in Spain to explore by bike and this hotel offers free bikes to explore Seville, what are you waiting for to discover its streets while taking a relaxing ride?
To conclude, we would like to share with you some other recommendations of hotels in Seville old town which are also worth staying at: Hotel Doña María, Hotel Palacio Villapanés, Hotel Amadeus, Hotel Fontecruz Sevilla Seises, Hotel Las Casas de la Judería and last but not least, El Rey Moro Hotel Boutique.
Regardless of the hotel, you choose to stay in, we are convinced that Seville will captivate you to such an extent that you will be willing to come back a second time. We would love you to share your experiences in this city with us! And if you have any further questions please do not hesitate to contact us.