Long time ago there was a Tuareg who had a dream. We all have a dream but his was a very special one: to bring together the music legacy of all the Tuareg tribes and show the world who the Tuaregs are and how magical their music can be.
We just got back from the 12th edition of this dream called, "Festival au Desert". No words to describe this gathering of music, tradition, sand, wind, Tuaregs, non Tuaregs, balck & white.
The festival was originally meant to be a nomad festival faithful to the nomadic origin of the Tuaregs. But times have changed the Tuaregs don´t move any longer and a festival needs some logistics that cannot be carried out in a nomadic way. So this time it took place only a few km far from Tombuktu, the most important town in northern Mali, the gate to the desert and all the hostility that the desert can bear.
Timbuktu is far from anything you can imagine, being only 1000 km far from Bamako it´s hard to get there and even harder to get out of it. I saw a t-shirt saying: "I was in Timbuktu AND BACK"! And this is true. It took us 3 days to get there using many almost means of transport: bus, boat & 4×4 and then a fair bit of walking in the dunes.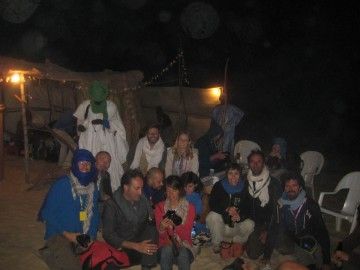 Theoretically we were a bunch of western volunteers who were heading for the festival to work in return for free access. Most of the volunteers flew to Bamako from Europe or North America just for this reason. So the expectations were quite high about the role they had to play.
But practically we were a bunch of western "benevoles" –French word for volunteer- put up in a huge tent in the middle of the sand dunes on the Festival site, who didn´t know what to do, where to go, what to eat, when, where and even why.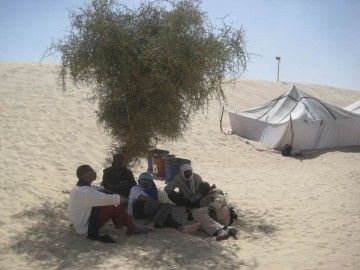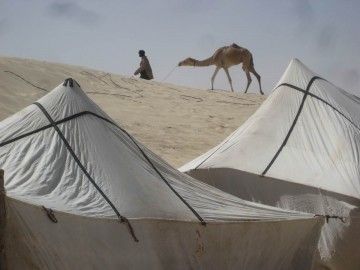 The Tuareg-white organization was so helplessly bad that we found ourselves abandoned in the desert under the simmering sun with no clue. The first day when the dinner time arrived we started asking each other about where we could get something to eat and much to our surprise we found out that nobody knew anything. Imagine a bunch of foreigners left alone in the desert. That´s how we felt on back then. It was a kind of survival quest. We divided ourselves into small group and went on in different directions around the sand dune to look for a tent that could possibly serve us some food.
The food we found was "the desert cuisine", mainly made of rice, tomato sauce and SAND. Day after day, 3 times a day we were eating sand looking at each other with disbelief trying to understand why everything was so chaotic. The white organizers would blame the Tuaregs saying that "this is a Tuareg festival and they do it their way". We never found out if it was true and who we had to blame for the plentiful sand in the food and the surprising breakfast menu which was bread, mayonnaise and jam!
Still we could consider ourselves lucky and fortunate as we had running water, showers and western toilets in the middle of the dunes. In the evenings when the local crowd was flocking to the festival I had great fun sitting in front of the showers and toilets and watch the spectacle of locals walking in and out trying to figure out what they were for. It seemed that many of them had never seen before any showers or toilets and didn´t know how to use them.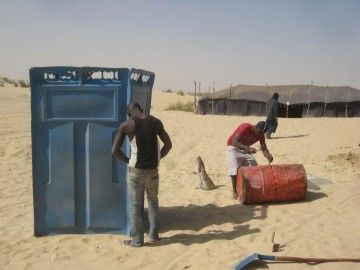 At dusk the music would take over the desert and an unimaginable "mélange" –my French is gaining ground- of black locals, Tuaregs, journalists, tourists, Americans, Russians, Slovenians, Europeans and even one Vietnamese and apart form me another Iranian, volunteers, band members would gather around the stage and dance to the rhythm of the Tuareg music.
The Tuareg dream came into life in a very surreal way. It seems that many elements that should have never been together happened to be at the same place at the same time.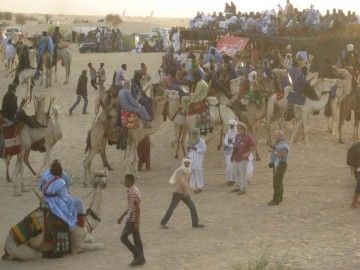 An exotic mix of Tuaregs wrapped in scarves with covered faces would play electric guitar, American tourists with their contracted guides and body guards would watch the concerts, overweighed and posh Tuareg ladies looking like fat seals would observe the show with an air of apparent superiority and indifference, simple black Africans probably as unfamiliar to the Tuareg culture as us would dance with wide smiles, white camels and their fairytale looking riders would roam around the site, 4×4 would race between the dunes, food stalls would sell Nescafe and croissant as if there were ordinary street cafes in any French neighborhood, and the "benevoles" would jump form one dune to the other in the search of their "raison d etre"!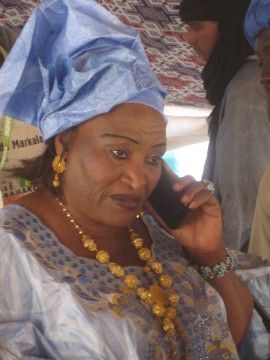 Recalling all these impressive images I was exposed to during the 5 days I spent in the middle of the dunes I have the feeling that I spent one of the most memorable weeks in my life in Timbuktu. And I am back.